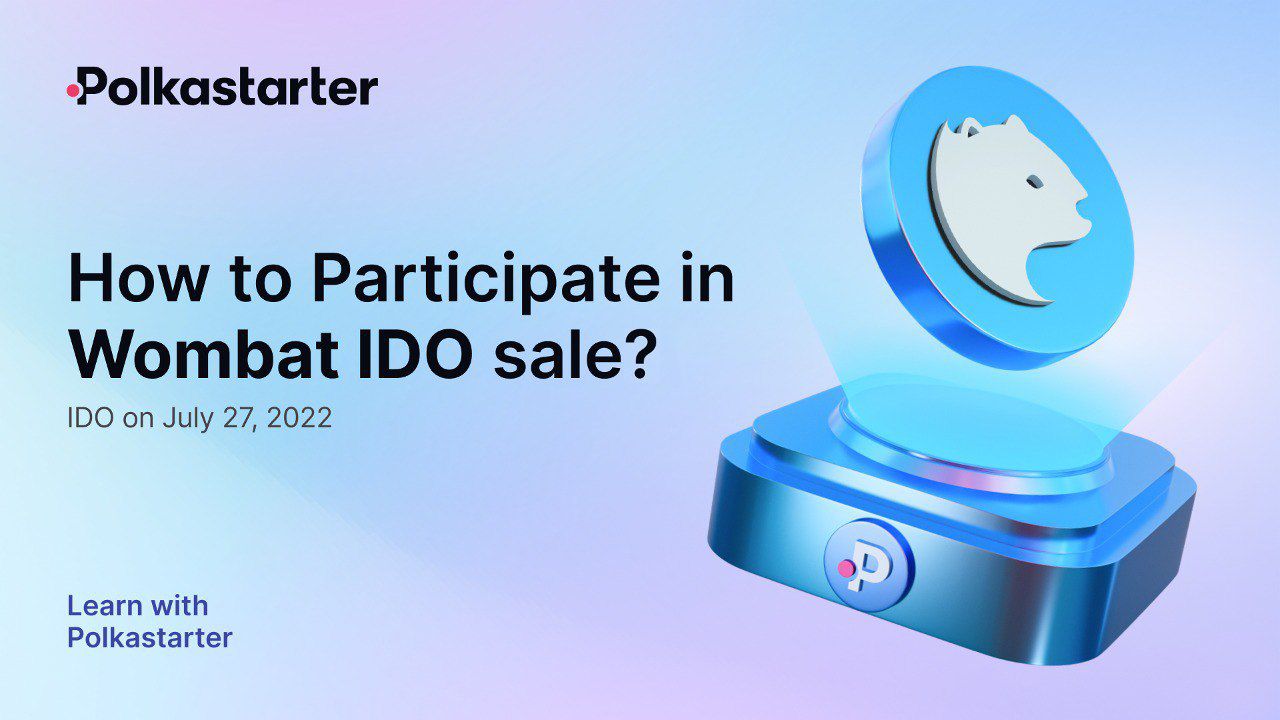 How to Participate in Wombat IDO Sale?
IDO on July 27, 2022
Since the announcement of the $WOMBAT IDO sale on Polkastarter, we have seen tremendous community interest and support.

We're grateful to everyone who applied and can't wait to bring many of you on board as Wombat's ecosystem's early backers on July 27th, at 1 PM UTC.

The allowlist is now closed, and pre-selected users have been contacted via an email address: [email protected]. All the pre-selected users are required to complete the KYC before Monday, July 25th, 1 PM UTC. Without it, their entries will be disqualified, and their admission to the IDO will be revoked.

There are 2 ways to complete the KYC process:
1️⃣ Wait for the email from the project. It will contain the KYC link. Always check the validity of the email with the project team!
2️⃣ When your application status changes to 'KYC open,' users can do the KYC straight from the Dashboard. Just click on the 'KYC open' status.
For more on how to check your application status, read our dedicated blog post.
Wombat IDO Sale Details
Here is all the information you need about the sale.
IDO Date: Wednesday, July 27th, 13:00 UTC
Public sale token price: 0,006 USD
Token ticker: WOMBAT
What you need to buy the token: $MATIC (Polygon network)
Max. amount of tokens for POLS Holders: 2000 USD worth of tokens
Max. amount of tokens for non-POLS Holders: 1250 USD worth of tokens
Release schedule: 25% at TGE / 25% per month over the next 3 months

Learn more about the vesting schedules and allocations in the Wombat whitepaper.
How to participate in a Polygon Pool
If you're wondering how to participate in a Polygon pool during a Polkastarter IDO, navigate to the dedicated blog post.
If you're new to the Polygon Network, learn how to add Polygon to MetaMask, please read the dedicated blog post.

About Wombat
Wombat is the most effective way for gamers to join and experience Web3 games. The Wombat ecosystem delivers on premium Web3 gaming experience through the Wombat wallet. Tailored to gamers, it offers premium UX focused on their needs, the best game performance, and the most accessible asset handling.
Moreover, the Womplay loyalty system rewards users with NFTs and crypto for playing AA/AAA games.

About Polkastarter
Polkastarter is the leading decentralized fundraising platform enabling crypto's most innovative projects to kick start their journey and grow their communities. Polkastarter allows its users to make research-based decisions to participate in high-potential IDOs, NFT sales, and Gaming projects.
Polkastarter aims to be a multi-chain platform and currently, users can participate in IDOs and NFT sales on Ethereum, BNB Chain, Polygon, Celo, and Avalanche, with many more to come.
---