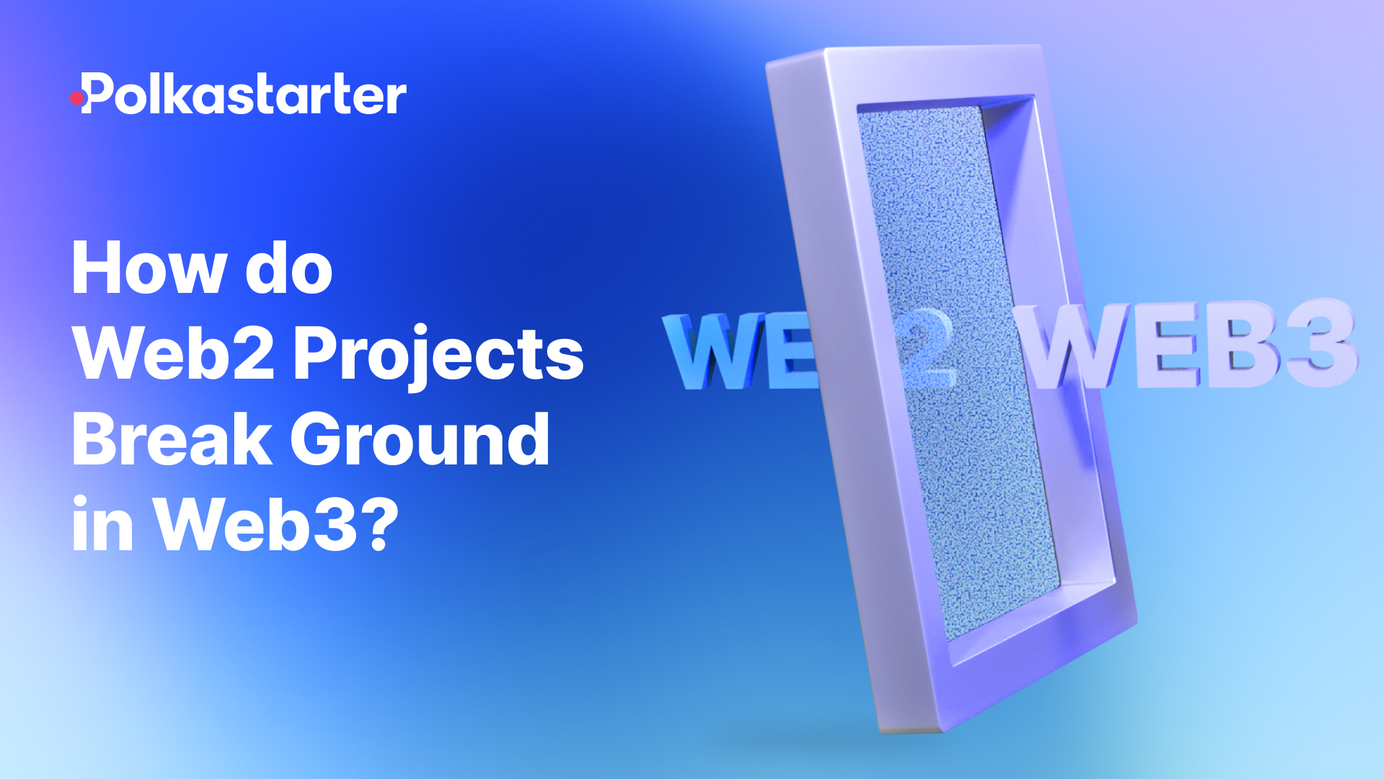 How do Web2 Projects Break Ground in Web3?
Making the transition to Internet's third generation
Web3 has gone from obscurity, to trend, to a new reality, in a relatively short period of time. What's the next step for the third generation of the Internet? Mass adoption. The promise and potential of blockchain technology are hampered by market resistance and unwillingness to let go of what we're used to.
What if we didn't have to relinquish Web2 but simply carry it over to Web3? What if some of the Web2 projects we love and trust made a seamless transition? Would that solve the Web3 mass adoption riddle? Let's explore.
How are Web2 projects tackling their transition to Web3?
Some of the most well-known brands and companies in the Web2 space are taking steps into the Web3 realm. Each company approaches the transition in their own way, resulting in different adoption levels. Here are some prominent examples.
Exploring different use cases
Conglomerates like Google and Amazon explore different use cases when venturing into Web3. Amazon recently announced the introduction of token-based access to Ethereum node APIs on Amazon Managed Blockchain. Moreover, it wasn't long ago when Google unveiled their Blockchain Node Engine to simplify and accelerate provisioning while aiding safe development.
The two prominent technology companies are putting their time, effort and resources into infrastructure-related use cases to help developers and users alike make the transition with them.
Large-scale adopters
Then there's large-scale adoption where Web2 projects go beyond use case exploration and integrate Web3 into their core products. Let's take Nike as a first example.
In 2021, Nike acquired RTFKT, a crypto project, to combine blockchain technology with sneaker culture and fashion, which allowed the brand to invest in one-of-a-kind products.
"Our plan is to invest in the RTFKT brand, serve and grow their innovative and creative community and extend Nike's digital footprint and capabilities," said John Donahoe, CEO and President of Nike.
This is an excellent example of established Web2 businesses tapping into the startup system to acquire Web3 players that could potentially become competitors.
To use a different example, earlier this month, Meta announced that "Creators will soon be able to make their own digital collectibles on Instagram and sell them to fans, both on and off Instagram. They'll have an end-to-end toolkit — from creation (starting on the Polygon blockchain) and showcasing to selling."
The company is not stripping down Instagram or Facebook to build its Web3 iteration. They are keeping the platform people trust and use but gradually adopting it to the Web3 technology we have to date — NFTs. This is the perfect way to take their projects into the Web3 era without putting any transition woes on the back of their users.
Then there's the Reddit example. Back in July, the social news aggregation, content rating, and discussion website launched its own NFT marketplace. The result for existing users? They have reportedly opened over 2.5 million crypto wallets on the platform. The transition is gradual and seamless, giving users incentives to have their own wallets. Apart from buying NFT avatars, the wallet allows them to manage community points and use them for various in-app purchases.
Venture building
Another way we've seen the Web2 projects transition into Web3 is by prospecting new ventures and joint ventures in an attempt to expand their reach.
In the world of High Fashion, Gucci joined forces with The Sandbox to create Gucci Vault Land, a realm where users can explore the heritage of Gucci. With this move to Web3, the well-known brand found a way to celebrate and showcase rare vintage Gucci pieces, create a dialogue between contemporary creators and the House, and explore new audiences while expanding their business to NFT artworks.
Another great example is a brand that believes "Impossible is nothing". In December 2021, Adidas announced they were entering the Web3 era with intent and purpose. Almost a year later, the largest sportswear manufacturer in Europe is delivering on the promise by launching its inaugural NFT wearable collection. With 16 outfits designed to be worn by online avatars, this venture reaches audiences that might have never been interested in Adidas merchandise.
Strategic partnerships
Twitter and Stripe are partnering to allow cryptocurrency payments, making it easy for content creators to get paid in cryptocurrency and unlock broader access. That's a big step for the up-and-coming Web3 creator economy and decentralized payments.
Another excellent example of a strategic partnership is the one between the NBA and Dapper Labs for creating Top Shot store. Users can sell and trade official digital collectibles of the NBA and WNBA's greatest plays and players in this marketplace. Considering the global reach of the NBA, this partnership helps people of different ages, cultural backgrounds, and Web3 knowledge get a taste of the web3 realm while enjoying their favourite sport.
What tools make the transition possible?
As one would rightly expect, the transition is highly technical. Services like magic.link, bitski or even moralis are plugging Web2 projects into the Web3 world. These types of tools and services will play an essential role in the transition, but nothing is as crucial as getting users to have their own wallets. Introducing Web3 tech into today's businesses means nothing without people using it. Mass adoption relies on how easily people can get their wallets and clearly understand the product. It all depends on the Web3 user experience.
Poolside Accelerator: Helping projects
Transitioning a Web2 project to Web3 comes with its own challenges, but it can be done. Household names and market leaders are paving the way, but how do you get started? What if your idea is new, original and never had a Web2 predecessor? How do Web3 founders take their ideas to market?
Enter Poolside Accelerator.

We have recently announced our partnership with Poolside Accelerator — a 12-week hybrid program designed to accelerate the next wave of Web3 founders, starting on 16th January 2023. This initiative empowers founders to build, launch and scale in the Web3 space.
The Accelerator was put together to address the lack of a proven blueprint for getting a Web3 idea to market. The market is still young, and entrepreneurs need as much help as possible. From live sessions with top mentors and on-hand support on tokenomics and marketing strategy to 1:1 meetings with potential stakeholders, Poolside creates the perfect platform and environment to build or transition ideas into Web3.

Applications are open until December 19th, 2022. Apply here!

About Polkastarter
Polkastarter is the leading decentralized fundraising platform enabling crypto's most innovative projects to kick-start their journey and grow their communities. Polkastarter allows its users to make research-based decisions to participate in high-potential IDOs, NFT sales, and Gaming projects.

Polkastarter aims to be a multi-chain platform. Currently, users can participate in IDOs and NFT sales on Ethereum, BNB Chain, Polygon, Celo, and Avalanche, with many more to come.
Website | Twitter | Discord | Telegram | Instagram | Newsletter | YouTube | Poolside
Polkastarter Blog - Latest Polkastarter News & Updates Newsletter
Join the newsletter to receive the latest updates in your inbox.
---