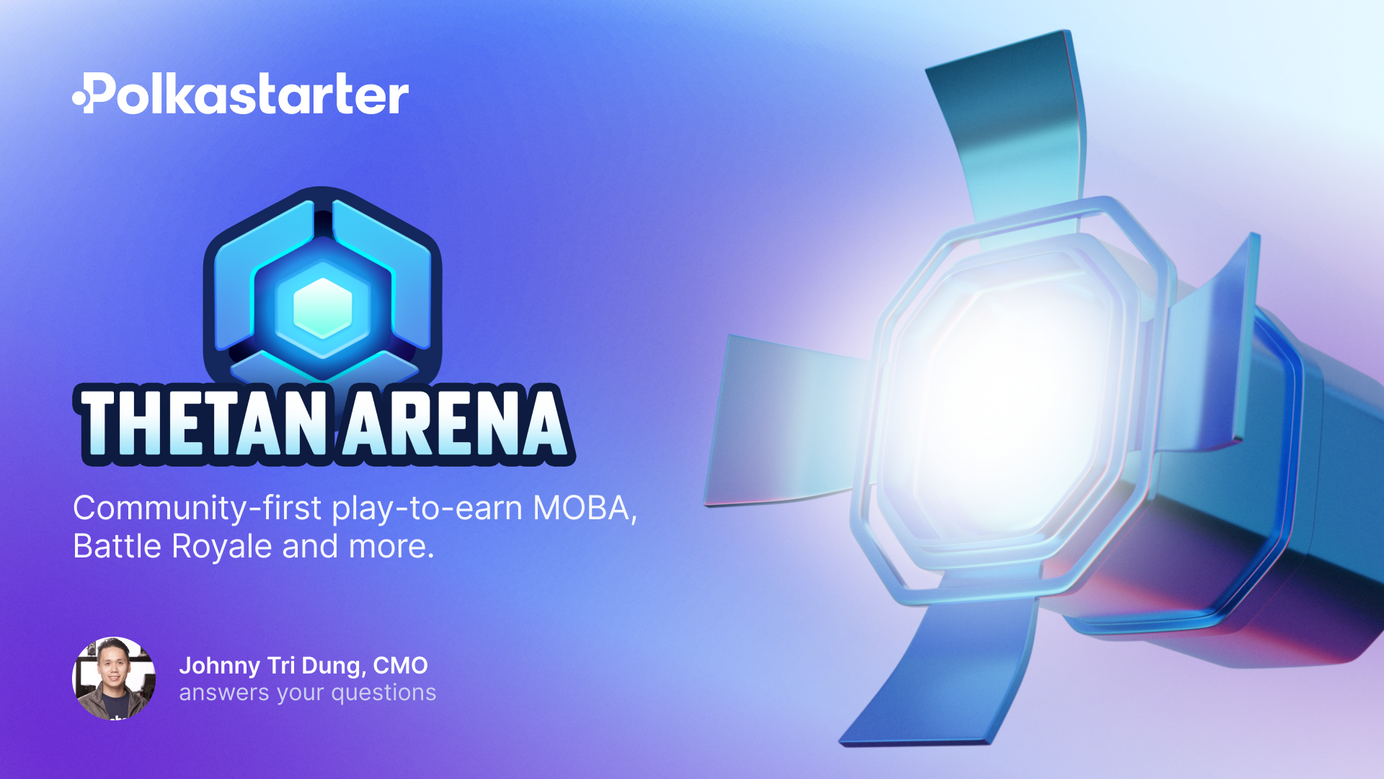 Get to know: Thetan Arena
Learn about future Polkastar Thetan Arena, set to IDO
And yet another AMA is now in the books! Just yesterday, we had the pleasure of hosting Thetan Arena CMO Johnny Tri Dung, who gave us a brief on Thetan, its founding team and future roadmap. During the second half of the AMA, Johnny also answered the community's questions and awarded the community member with the best question a Whitelist spot to Thetan's upcoming IDO.

Founders

Thetan Arena is founded by seasoned gaming and technology veterans who have been in the industry for a long time and also understand the intricacies of blockchain-enabled gaming. CEO Khanh Nguyen spent 7 years in game development as part of Wolf Fun Studio, where he was working together with other members of the founding team. Overall, Thetan has a very well-rounded team, with complementary skill sets and backgrounds, with each co-founder having a deep understanding and exposure to blockchain too. Currently, there are over 50 Thetan employees supporting the founding team.
Product & Vision


Thetan Arena is a blockchain-based eSports video game enabling players to gather their friends, form teams and battle with others in a competitive environment, while also earning rewards for developing and applying their skills.

Thetan Arena is free to play and combines the competitive elements of MOBA (e.g. Dota, League of Legends) and Battle Royale (e.g. Fortnite) games. Those are the two mods that players can currently choose and Thetan is actively gathering user feedback to enable the community to choose the next battle mode.

Thetan's overarching vision is to become a market leader in its category and to give players a unique decentralized play-to-earn gaming experience. To go with that, Thetan is additionally premised on inclusion and player participation, looking to actively incorporate players' feedback into their games and incite in-game community participation.
Roadmap


Thetan Arena's roadmap is filled with new initiatives and product rollouts, including tournaments, new game modes and even offline events to get the gaming community together. Here is what that looks like for the future: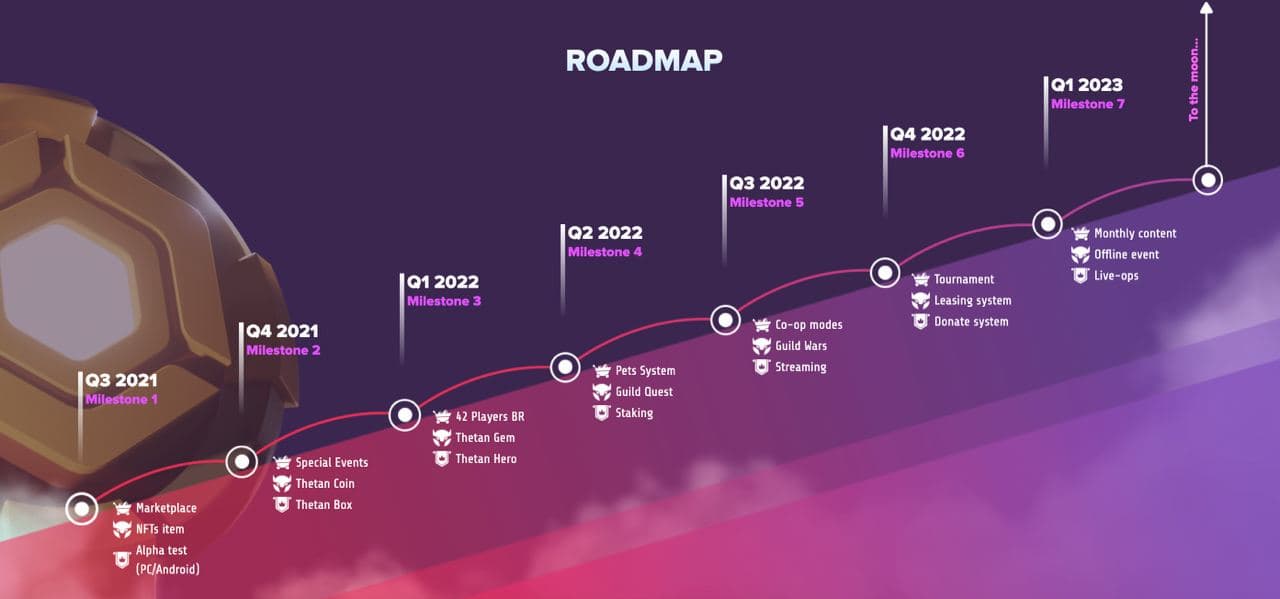 Community Questions
Sergio: Can you list 1-3 killer features of Project ThetanArena that make it stand out from other blockchain-based Battle Royale Projects? What competitive advantage does your platform have that you believe in the most? How can I play it give the steps?
Johnny: For game features: We are having a lot of heroes with custom skills that can make the game very unique and different combinations of team play.
Imagine a tank with a splash spell, or an assassin with tank skills. This is gonna bring fun to people while competing.

And yes I've pointed out the 5 differences in our game that make us unique:
1. Real time Multiplayers with large scale of people in Battle Royale.
2. Free to earn model while most of them are Pay to win/ Play to earn.
3. Thetan Heroes with unique skills combination on any class/ hereos.
4. E-sport tournament will be opened and this gonna be huge.
5. Streaming for streamer/ creators. Also the donation system that available next year.

Adebili: It is said that $THG will be rewarded to players for interacting with the ecosystem's special events and tournaments. But what do you give for the people that actually contribute in building your project and making some actual value?
Johnny: Do you mean the community or in-game features developments?

Forget to mention 1 use case for $THC, it will be used for donation on our streaming services: It can be streamers that help to create contents for us, it can be used also to contribute to top contributors within the community, with their custom mode/ map ....

APO NOC: I found out that most projects are owned by men. How do Thetan Arena feel? Are there women who work or manage Thetan Arena and if so, what are their jobs?
Johnny: We do have female members in our team, you should check out the website, and guess what she is working on in the core team 😉

Zen Michael: What problems have you encountered when trying to implement the product in active businesses? What is difficult to explain to non-crypto users about Thetan Arena and what are the benefits of using it?
Johnny: With FREE - TO - PLAY model, everyone including non-crypto-people can download the game easy from iOS/ Android/ PC and play altogether.
different with most P2E titles, which require purchase in advance, and create a barrier for non-crypto-people to adopt.
Hopefully with being the 1st of MOBA/ Battle Royale and one of the 1st Free - To - Earn, we will have a mass adoption for our game.
And bring GameFi to the rest of non-crypto.

Jesse: In getting solutions, some problems with MOBA games include: Match fixing, Corruption, Gambling, no players union and cheating. In what way will or has Thetan Arena tried to curb this problem since it's inception?
Johnny: For e-sport cheating is terrible.
A lot of titles are dead because of this.
At Thetan Arena, we have Wolf Fun Studio who has been developing games for 7 years, and get 10m downloads on store.
So surely the cheat has been handled well, and we get 50 developers fighting with you all while you report any suspicious cheat tools.
Stay strong and healthy together, and let us know asap while you see someone cheats.

MOBAY | When sir?: THETAN ARENA whitelisting event have gotten much attention, I'd like to inquire about the status of Thetan whitelist. How can the users get involved in the whitelisting process? How would you ensure that all participants, including whales and small investors, have a fair chance?
In this type of game, ping is an important issue, can ping be played stably in Indonesia?
Johnny: We have a strong infra team working on the servers, and can be scale using cloud servers across the globe.
On some certain strong markets with high demand, surely we will scale more servers for you guys to ensure on the ping stuff. No worries, ID is in good hands.
---
And that's a wrap! To read the full AMA, you can head over to our Telegram and see the chat from the beginning.

To stay on top of all news relating to Thetan:

Website: https: //thetanarena.com/
Facebook: https: //m.facebook.com/thetanarena
Discord: https: //discord.com/invite/Wfx2XDSuwe

News:https://t.me/thetanarenanews

---

Connect with us and learn more about Polkastarter
Website | Twitter | Discord | Telegram | Instagram | Newsletter
Polkastarter Blog - Latest Polkastarter News & Updates Newsletter
Join the newsletter to receive the latest updates in your inbox.
---