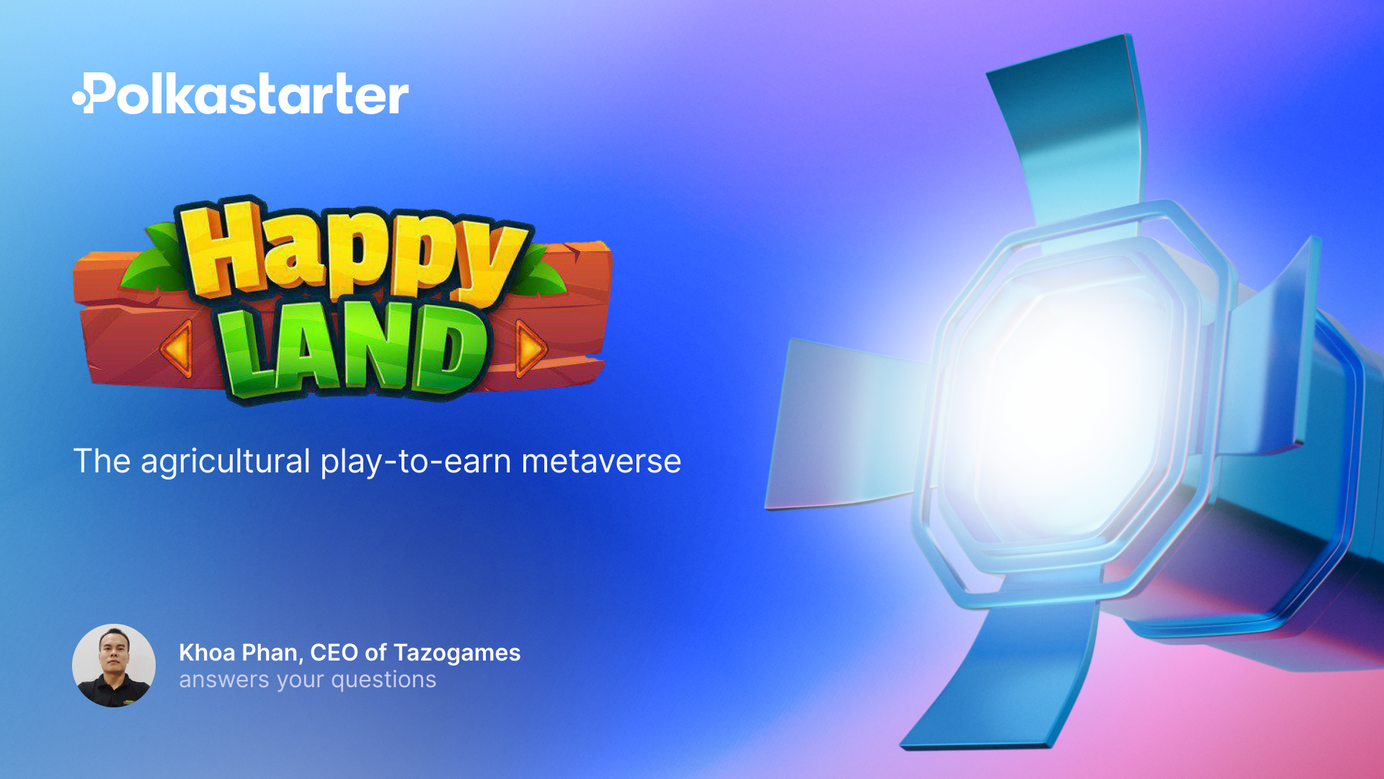 Get to Know: HappyLand
The agricultural play-to-earn metaverse

An agriculture-simulation game? Yup, pick up your sun hat, and let's explore HappyLand. On November 30, we gathered with Khoa Phan, CEO of Tazogames, for an AMA to learn more about their vision, team and roadmap.
Read the complete AMA here.
Looking forward to learning all about HappyLand? Go check their dedicated project page.
Roadmap

In the first quarter of 2022, HappyLand aims to launch the mainnet version 1. Next on the second quarter their team will be focused on building upon the version, improving visuals and creating minigames into HappyLand metaverse. HappyLand 3D avatar, tech labs and factories coming also later on 2022.


HappyLand Vision
Happyland is a complete reflection of what's life at a real farm looks like. In HappyLand's P2E model, players have almost unlimited earning potential, with only small investments. Players initially need to buy HappyLand's native token $HPL to acquire land, crops, and animals. Through participating in the in-game economy, players are in turn rewarded $HPL.

On top of that, HappyLand metaverse is constantly updated, constantly changing, and improved upon, guaranteeing players a P2E and entertainment experience.


HPL

$HPL is the main utility token in Happyland, it will be used for governance purposes, farm upgrades, P2E rewards, marketplace transactions, staking.
As the main liquidity medium, Players can use $HPL to buy NFTs in Happyland metaverse and other valuable in-game items (seeds, animals…).

Community Questions


Draco Malfoy
hello everyone, I have been playing the HappyLand demo, it is really simple and interesting but i'm always worried about security! can you share to me and everyone knows about how HappyLand security?

Khoa Phan (HappyLand)
​​Dont worry. HappyLand is built on a BSC a major and proven secured blockchain. Our token/ smart contract is audited and verified. We also have a bug bounty program, which encourages users to discover errors and flaws in the game.


Sienna Stirling
Is your platform suitable for Crypto beginners? Or does it only appeal to professional users?

Khoa Phan (HappyLand)
Yes. Happyland is a metaverse platform, it is build upon the P2E model, or a farm 2 earn model. The tasks to commence playing Happyland is relatively simple, user simply need to have a metamask wallet, follow our simple instruction. If not, the community is always there to aid beginner on every step. With more experienced crypto user you can start earning and trading tokens to have unlimited income.


Sy Béo
Many projects have problems with UI / UX and this one turns off new users. How do you plan to improve the interaction with new users and with users outside the crypto space?

Khoa Phan (HappyLand)
Sure. As I said earlier, our team has been doing lots games and we have expericene in build great user experience. For HappyLand, as we see on our website stats, there are lots of users coming from Southeast Asia, Europe, and USA also. A single server wont be enough to get best user experience as there will be connections. To improve this, we are doing multiple servers/clusters each of which takes care of processing for users in the same region. For users outside of crypto, as we use an account/password model for playing game, this model is very similar to users outside of crypto. This makes HappyLand easy to onboard new users

Follow HappyLand
🎉 Twitter: https://twitter.com/HappyLand_HPL
🐥 Telegram: https://t.me/HappyLand_HPL
Vietnamese: https://t.me/happylandgroupVN
🐱 Discord: https://discord.gg/happyland
🐄 ANN Channel: https://t.me/HappyFarm_Land

About Polkastarter
Polkastarter is the fully decentralized launchpad to launch new ideas in the blockchain and digital assets space. With an industry-leading curation process and market access, we select the most innovative projects in the space and offer them long-term support after their IDOs.

With Polkastarter, crypto projects can increase their reach, grow their communities and receive support from crypto's most well-versed experts. IDO participants, on the other hand, are offered an opportunity to invest in a secure and compliant environment, as well as participate in IDOs not solely on Ethereum, but also on Binance Smart Chain and Polygon.
Media Contact Polkastarter: [email protected]
---
Connect with and learn more about Polkastarter
Website | Twitter | Discord | Telegram | Instagram | Newsletter | Youtube
Polkastarter Blog - Latest Polkastarter News & Updates Newsletter
Join the newsletter to receive the latest updates in your inbox.
---