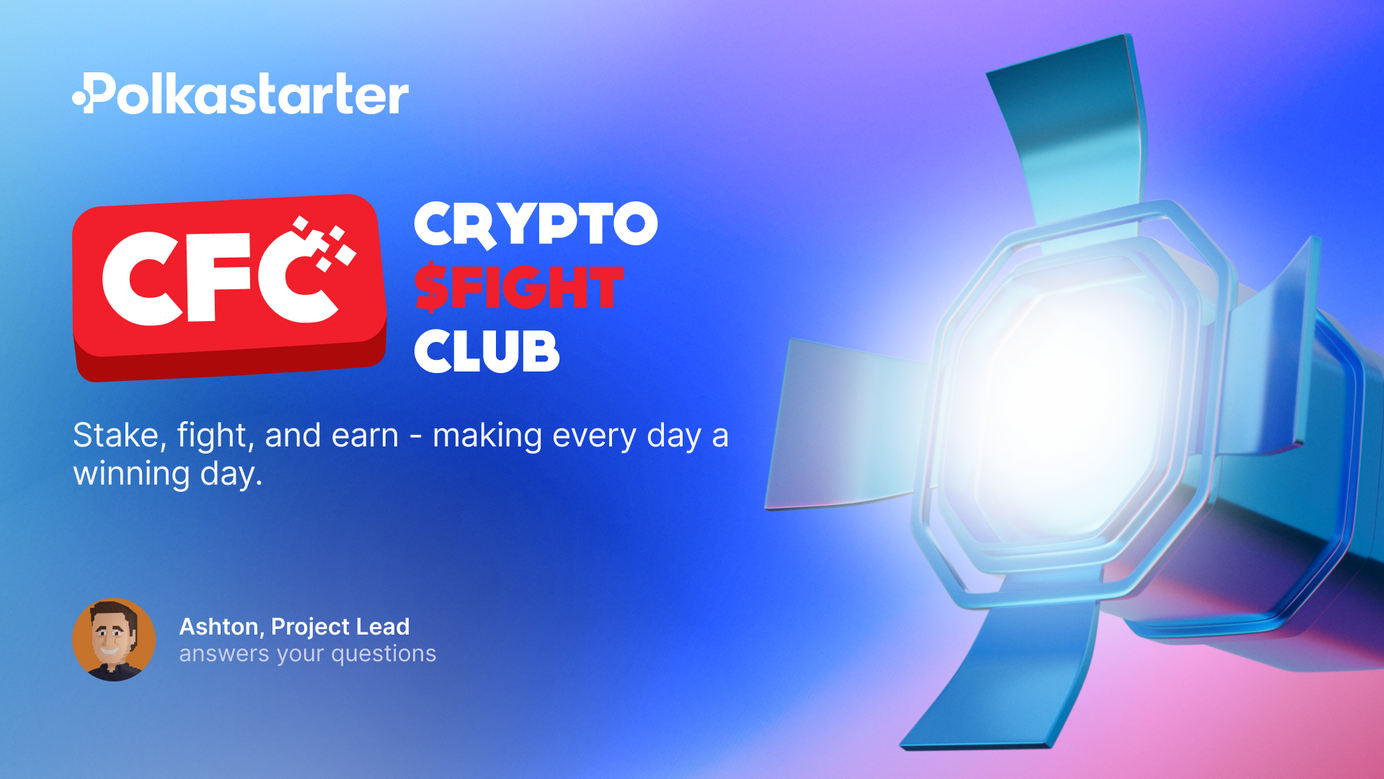 Get to Know: Crypto Fight Club
Reimagining the 1990s turn-based games style.

Ready, set… FIGHT! Crypto Fight Club, an NFT-enabled game that allows players to properly stake, battle opposing fighters and even compete in championship events for real rewards, has just entered the Polkastarter arena.

We got together on Telegram with Ashton, Project Lead at Crypto Fight Club, to ask all the important questions!

You can read the complete AMA here and explore

🥊 Crypto Fight Club IDO is coming to Polkastarter on December 17. Go explore their dedicated page on Polkastarter before you miss the match!


Team

CFC team has 14 full-stack full-time members ranging from everything marketing, Unity/URE game development, smart contract, and blockchain development, design and web development, JSON scriptwriters, front end/back end devs, and business developers.

The team is absolutely stacked and looking forward to expanding as the business develops.


Competitive Vision
Crypto Fight Club merges both worlds of PvP with open-world mini-metaverses through a series of game modes like minigames, PvE challenges, and PvP. To top it off, the fee structure on BSC is far more appealing than anything else out on Ethereum today, so that excuse can be thrown out the window.

Crypto Fight Club also offers multiple revenue streams, even if you do not have an NFT fighter to play with. These users can participate in the earn2learn trivia mode (recurring campaigns), participate in the bid2earn auction house where they can acquire NFT wearables and sell them on a marketplace, and back teams or individual fighters with tokens, as sponsors do in eSports. Should your sponsored fighter win the championship round, you get a piece of that pie based on how much you backed the future victor with. At the end of the day, Crypto Fight Club is built to be for the people.

$FIGHT

Crypto Fight Club's native token $FIGHT fuels the ecosystem with an arrow of utilities. In short, future fighters will use $FIGHT to acquire both BEP-721 NFT fighters as well as most BEP-1155 NFT wearables.

Not only is it used for obtaining goods, but it is also creating an innovative staking product that keeps users in control of theirs coins. Fighters need $FIGHT to acquire NFT mystery packs, obtain wearables for their fighters, and participate in earning models throughout the platform.

The main utilities of $FIGHT include:
- Decentralized token for staking within the NFT (both native and LP versions),
- Participating in the NFT auction house events (bid2earn)
- Acquire new fighter skins based on seasonal events and campaigns Back fighters in tournaments to prospectively earn based on the victor's spoils
- Evolving your fighter via staking
And much more…

Over the course of the next year to obtain the NFT fighters, future holders will burn $FIGHT in the acquisition process. For each NFT drop, the amount of $FIGHT will match the same amount of tokens inflated annually. There will be multiple drops each year. Prospectively, there will be more $FIGHT burned in the first 3 years of circulation, allowing the fixed 1% inflation to catch up to the original fixed supply of 1 billion.


Community Questions

BimmerBoez ZZ
⚔️ What do you, @AW808 mean by evolving your fighter via staking? How does it evolve? Is there a minimum amount you need to stake for this to happen and how long should you keep that staking? ⚔️

Ashton(Crypto Fight Club)
Good question!

Staking rewards are primarily rewarded most by length. Longer pays better, is what we say.

It doesn't matter how much you stake, but if you stake for a minimum of 1 year, your fighter's stats will grow 20% in statistical value AND you will also receive a bonus in APY. This is compounded annually until fighters reach max stats.


Rana Dalinus
MY QUESTION: 👉👉 Tell me about the varities of staking $FIGHT tokens within Crypto Fighting Club ecosystem? I have read there are many options 😎

Ashton(Crypto Fight Club)
Staking is facilitated in 2 different pools: staking the native $FIGHT token and staking the LP version of $FIGHT you'd receive from providing liquidity on Pancake Swap.

The inflation of $FIGHT grows 1% a year and the pools are divided by 30/70. 3 million tokens are distributed annually to those staking native $FIGHT tokens inside their NFT and the remaining 7 million tokens are distributed to those staking the LP version of $FIGHT.

Not only does the liquidity pool of Pancake you reward you for providing said liquidity, we also incentivize our stakers to provide liquidity to earn a higher APY. Evolutionary mechanics remain the same regardless of the pool staked in.


Christian Elbon
Instead of providing 3D real-picture games, why did #CFC choose pixel-based games? What are the advantages of pixel-based games? Is it better when run in an operating system?

Ashton(Crypto Fight Club)
For low-poly 8bit games, they aren't as heavy to run as some AAA games would. Because we're primarily building on Unity, it allows the game to be played on web-based apps versus having to download something. The transition to mobile gaming would be easier as well.

PLUS, who doesn't miss pixel-based games from back in the day? It's like a shot of nostalgia!


Funazer
I saw in your roadmap that you're planning an integration of real-life gyms & fighters.

What do you mean by this? 👀 @AW808
Ashton(Crypto Fight Club)
Yes, so we've partnered with two already - Elite Fight Club in Bangkok and The Ring in Singapore.

With these two gyms, we will gamify them in which NFT hodlers can play around and explore in these mini-metaverses. We are also minting them into NFTs for an array of possibilities to earn tokens through rev streams. We will also push for co-marketing campaigns like merchandise and gear.

The gyms make for a great environment for playing the game.


Follow Crypto Fight Club
🥊 COMPANY
Website | Whitepaper | Pitch Deck | Staking Deep Dive

🥊 COMMUNITIES
Telegram Chat | Telegram Announcements | Discord

🥊 SOCIAL MEDIA
Twitter | TikTok | Instagram

About Polkastarter
Polkastarter is the fully decentralized launchpad to launch new ideas in the blockchain and digital assets space. With an industry-leading curation process and market access, we select the most innovative projects in the space and offer them long-term support after their IDOs.

With Polkastarter, crypto projects can increase their reach, grow their communities and receive support from crypto's most well-versed experts. IDO participants, on the other hand, are offered an opportunity to invest in a secure and compliant environment, as well as participate in IDOs not solely on Ethereum, but also on Binance Smart Chain, Polygon and Celo.

Media Contact Polkastarter: [email protected]
---
Connect with and learn more about Polkastarter
Website | Twitter | Discord | Telegram | Instagram | Newsletter | Youtube
Polkastarter Blog - Latest Polkastarter News & Updates Newsletter
Join the newsletter to receive the latest updates in your inbox.
---