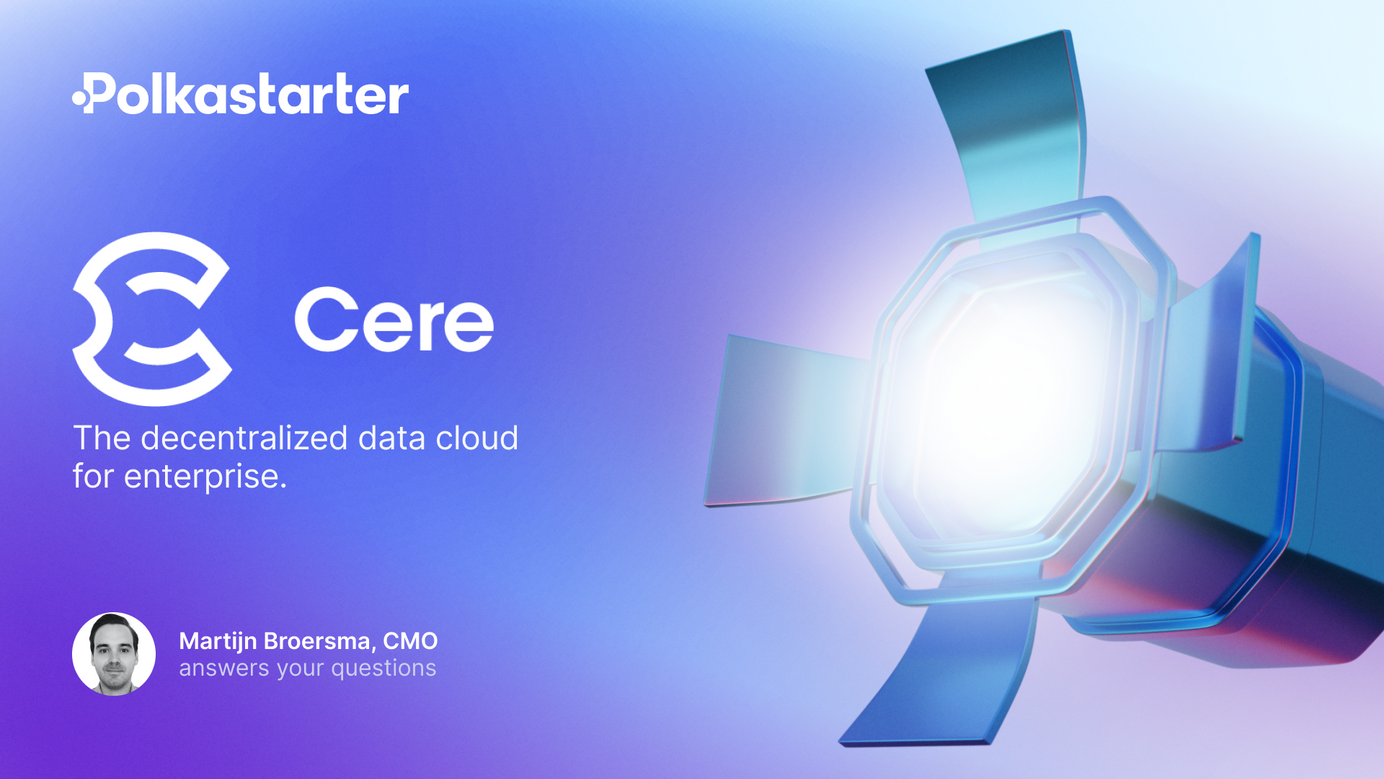 Get to Know: Cere Network
Meet Cere, the future of enterprise CRM, ahead of their Polkastarter IDO via our AMA with CMO Martijn Broersma.

Team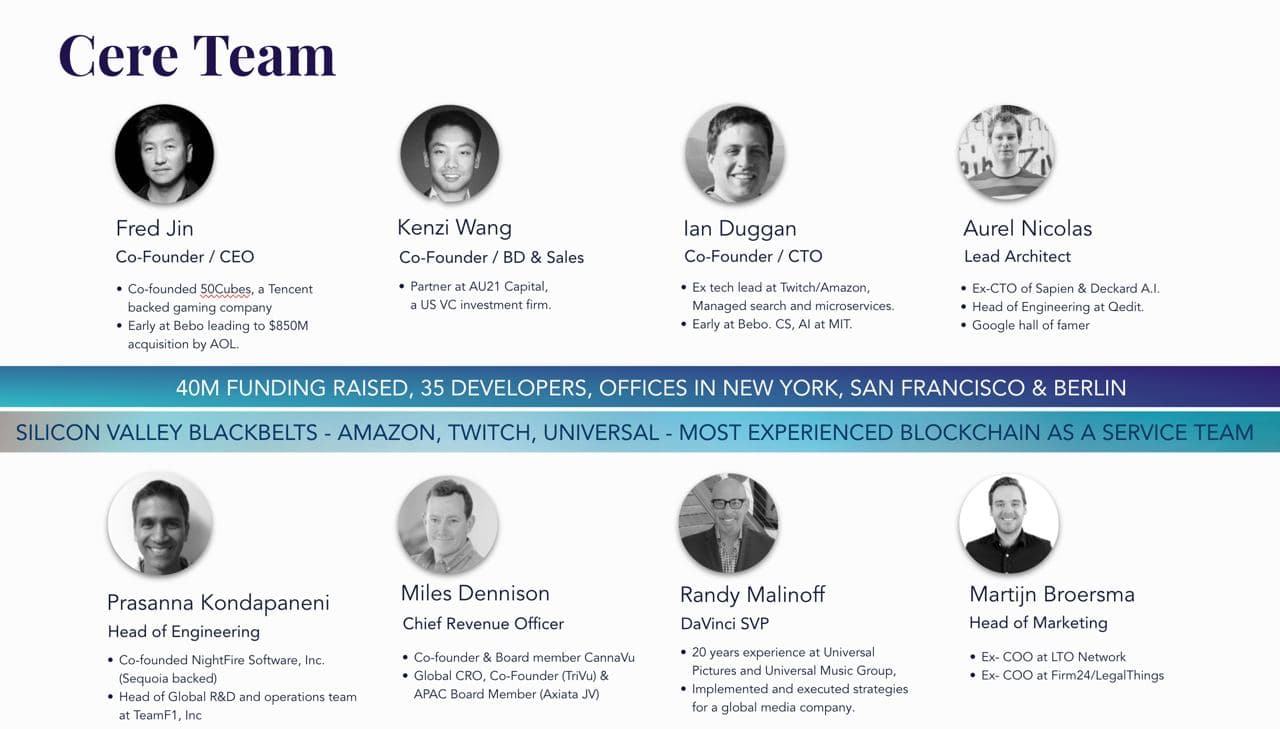 The team experience really speaks for itself. We have an incredible group of silicon valley & industry experts who all contribute massively to the project and their respective company teams. Growing the team rapidly during Covid has been a challenge, but for us it might have turned out for the better, however the future will turn out.
Product & Vision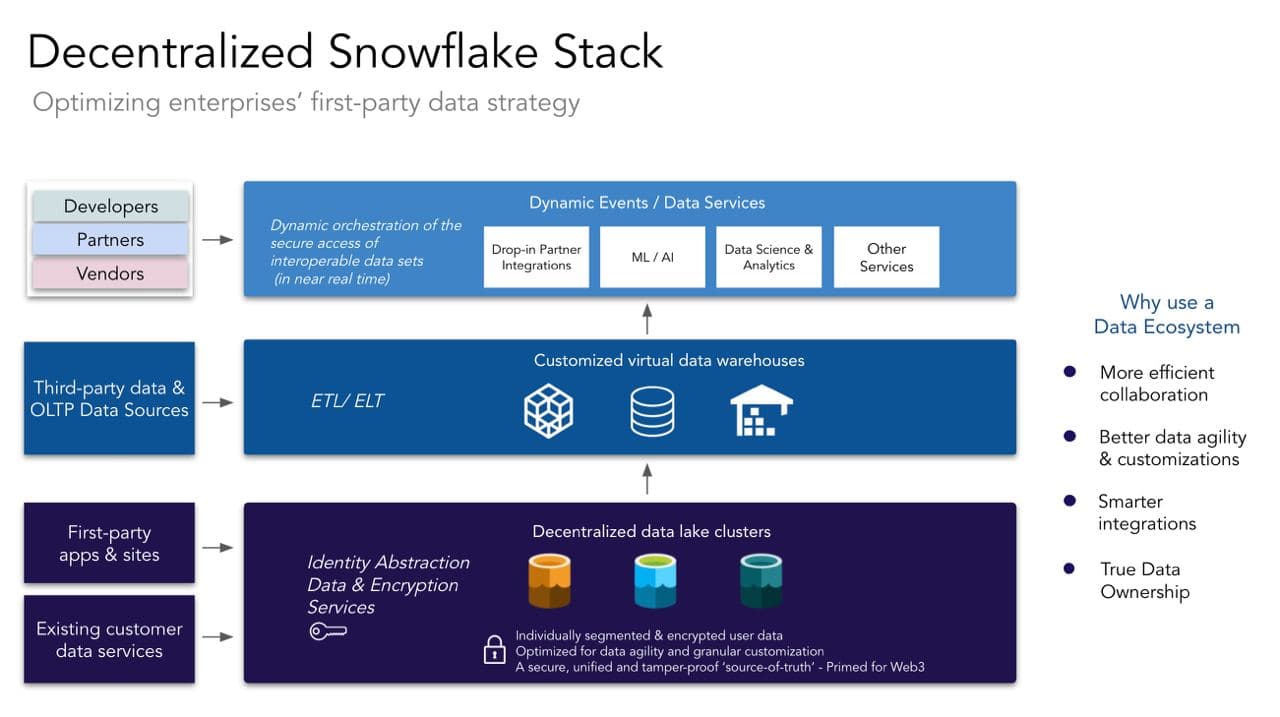 Cere's Decentralized Data Cloud (DDC) can be used to securely share data for businesses, developers, and token holders. "Your key, your data": Cere provides the tools and solution to securely store, access, and use these data for all participants.  
$Cere tokens provide security, utility, and incentives to this data cloud. Think about how developers pay AWS and Google cloud (huge sums of money) for data storage & queries, while using Snowflake to segment the data and Braze to optimize the data for consumer engagement & loyalty. We solve this complexity with our all in one platform that is economically driven by the Cere token for the validator & data nodes that facilitate this unprecedented realm of data optimization.
Cere's vision is the vision of CEO Fred Jin, who has been in Silicon Valley over the past 25 years, where he was techlead at Bebo (the first social media network), which was bought by AOL for a billion dollars, after which he started his own gaming company, backed by Tencent with 30m daily active users.
The main pain point was always data interoperability over social media and gaming users. Now, with the tech (mostly substrate/polkadot) catching up, we are now able to solve all these pain points, by combining our native decentralized data cloud with the polkadot ecosystem. Data agility and interoperabilty is the next big wave in the data space, and Cere is leading the pact. A very interesting read on this subject can be found in our vision paper. https://blog.cere.network/ethical-efficient-and-interoperable-data-for-enterprises-the-cere-vision-paper/
Key Differentiating Factors
Traditional CRM's are outdated, expensive, hard to integrate with today's intelligent (AI) and data-driven solutions. New data cloud solutions like Snowflake are disrupting these traditional CRM's by offering much more flexibility and faster integrations, e.g. bringing near real-time computing onto highly dynamic and customizable datasets.
The key to Cere's approach is that we bring even more data agility and more data interoperability, and we have an open approach compared to the proprietary Snowflake; also we are more focused on consumer enterprises with more highly customizable solutions in special verticals.
Next to that, our Decentralized Data Cloud will become an industry standard for extending any NFT platform and standard out there. More on this soon!

Roadmap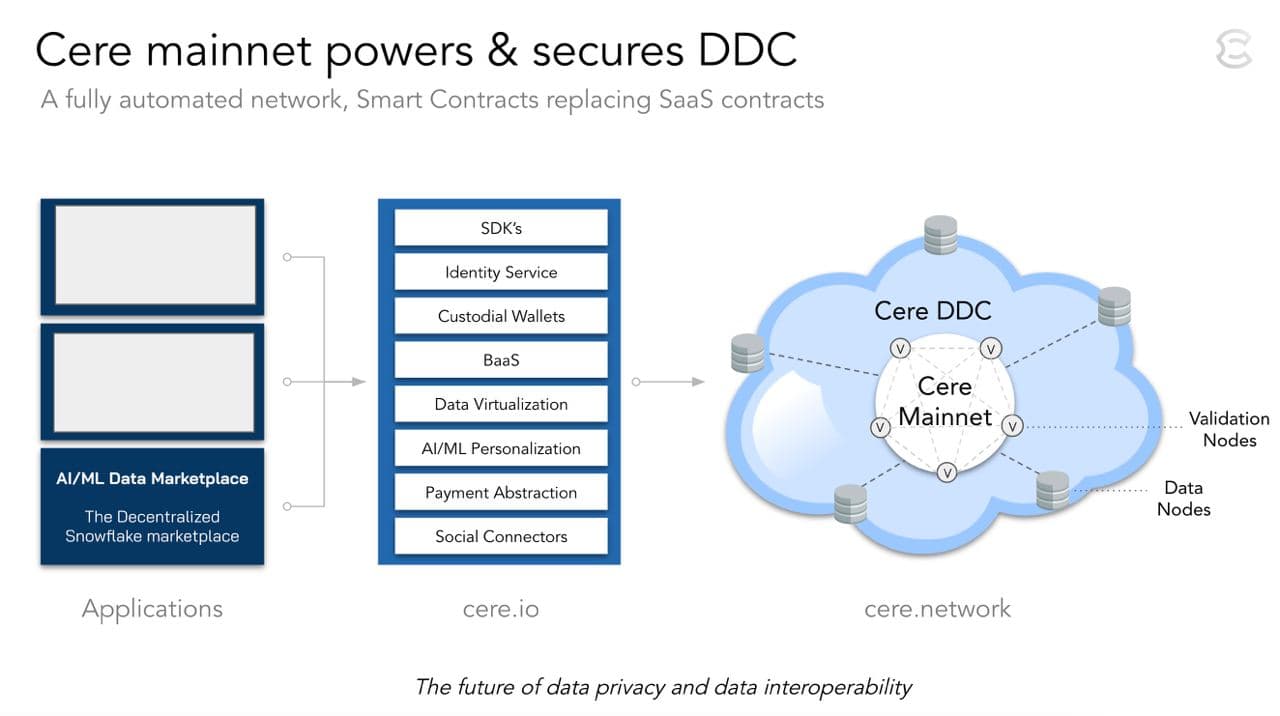 All of the above has been technically finalized, meaning that we're ready for scaling. The mainnet is currently transitioning from beta to full decentralized mainnet, the decentralized data cloud is operational with clients and proprietary apps, and the toolkit to use all these abstract fundamentals will be released in the coming weeks.
The DDC will also function as a tool to extend every NFT project on every other Layer 1 - with currently ETH and DOT integrated already.
Finally, our proprietary NFT experience platform is planned for an October release, and that's going to be an absolute facemelter.
Community Questions
Christian Elbon: After checking your platform, I see that Cere Network has 2 different Testnet. Could you explain why you need 2 testnet and what is the use for? Also how about your mainnet, when will it be officially launched?
Martijn: Yes - 1 testnet is for integrations with clients who need a stable basic testnet, the other testnet is for continuous upgrades and testing. At the moment, we're abandoning our testnets and moving to full mainnet, which will be ready in the coming months (Beta mainnet oct'20, decentralized mainnet dec'20)
The Dog: I read from your site that Cere Network has backing from Binance Labs, does that mean Cere Network will be launching in BSC blockchain? Is there any plan in the future to expand to other blockchain like ETH, HECO or maybe polkadot?
Martijn: From the head of BSC BD:
""As one of the Binance portfolio companies, we are excited to work with the Cere team in an area of new innovation for DeFi. The blockchain industry at large is longing for solutions which can close the gap between enterprises adoption and decentralized networks and to push DeFi into the next stage. The familiarity and the synergy between our projects allowed us to quickly identify a path of innovation that can drive real-world enterprise and SaaS demand from Cere to BSC, and into the overall DeFi ecosystem" - Samsul Karim, Business and Ecosystem Development at Binance Smart Chain.
Sergio: Polkadot is still in the development phase and not ready for big applications like this. Do you think building your project with polkadot is the correct choice?
Martijn Broersma: We're building with Substrate, since one can't 'build' with Polkadot. We will be joining the parachain auctions and crowdloans!
Adebili: You are already being called a future competitor of companies such as SalesForce and Oracle. And your offer of full integration of various operational areas of the company is a miracle solution. So what do you offer companies to manage their cash reserves? You have huge support from serious players in the crypto industry. This inspires confidence, but so far it is absolutely not clear what innovative you can offer us
Martijn: We use our SaaS-DeFi tooling for this. Have a look at the Cere Litepaper for more info on the subject!

https://drive.google.com/file/d/1oxbVQtKJoHDhK_McHeXEh9ivtJJoK5gJ/view
JS88: Cere Network decided to join the Republic platform, what benefits does this union bring to the consumer and do they plan to join other TGE platforms?
Martijn: Republic has been fantastic to work with, and it shows in the success of our raise. We're good friends (just like with the amazing Polkastarter team!), and i'm sure there will be may more collaborations in the future between our parties. DDC would be a great addition to both platforms to better serve their users!
EmperorWalk: You say the way customer data is collected, processed, and used by the top 5 companies is about to change (Amazon, Apple, Google, Microsoft, and Facebook). Do you think people can abandon the services they provide? Can you create alternatives to compete with all of them?
Martijn: We dont aim to 'beat' them in the short term. Its about chipping away at their margins, with the help of regulators. You see that these big tech companies are under increased scrutiny. Think cookies that are being cancelled, or apple vs. epic lawsuit that allow for (crypto!) payments outside of the apple realm.
Moon: In "Enterprise Interoperability," they mentioned Cere as a next-generation distributed network inspired by Polkadot. But what benefits does Polkadot bring to Cere Network? Why not build on another Ethereum or BSC network? Do you plan to add another network in the future?
Martijn: Cere is part of a consortium of projects such as Polkadot and Cosmos, united by the vision of cross-chain interoperability between blockchain networks, for the purpose of an inclusive, trustless, and scalable global decentralized ecosystem for all businesses and consumers.
With Cere, businesses can easily plug in their existing apps and the power of contextually relevant data, insights, and predictive analytics in real-time to supercharge their value streams via our Decentralized Data Cloud (DDC) Platform. This can only be made possible by using a platform like polkadot.
pak rt ini bang senggol dong: What's your most valuable work experience at LTO Network and how it will impact your Cere Network development?
Martijn: B2B enterprise blockchain SaaS is a hell of a difficult product to bring to market. With LTO, we achieved a lot. My personal highlight would be the Afghanistan Land Registry (https://unhabitat.org/un-habitat-oict-and-lto-network-release-first-open-source-urban-land-registry-solution-for-the), which took over 18 months to bring to life. It teached me patience and virtue, which i can now bring into practice at Cere, with a (to me personally) more compelling offer for our enterprise clients
Indz.Florenztha🌼: Hello sir🤝👋
✨By the end of Q2, mainnet alpha will be launched but also Cere Open Data Marketplace (ODM). Can you tell us more about this Cere Open Data Market? How does your project plan to get all the data, developers and work into this platform?
Martijn: The current process of sourcing, vetting, and hiring a trusted data expert is often cumbersome, only to face an even longer cycle of setting up an environment and extracting data from walled-garden data for the contracted expert to use in a data delivering service.
Cere disrupts this multi-billion dollar data analysis industry through its Open Data Marketplace Marketplace (ODM), solving many of the current pain points in the process. The Cere ODM is the service layer of the Cere Ecosystem through which businesses hire and make their data available to one or several data experts. Businesses can request information on or analysis of the data they make available in the marketplace from their DDC.
Marsa: Hello🙌
While building a CRM, why do you need blockchain? Tell us, some unique advantages besides the advantages of blockchain-like decentralization, Do you have any uniqueness in your project?
Martijn: Cere is the missing link that enterprises need to adopt blockchain, providing fully integrated solutions, packaged similarly to the SaaS platforms that they are already using, creating immediate efficiency improvements and cost savings to core business units. With three Cere executives who have built venture-backed businesses in Silicon Valley across the enterprise, media, social media, gaming, and mar-tech sectors, we've long embraced this difficult challenge of needing to build both 1) a sustainable SaaS initiative which can drive 2) an open blockchain network optimized for real-world utilities.
Sami | 404 DailyCrypto: I see you just issued your new NFT, can someone like me get that NFT? And when I get it where can I sell his NFT?
Q1. I saw the #Cere SAAS DeFi concept on your official site, what is it and what is the difference between Cere SAAS DeFi and the current DeFi concept?
Q2. How does #Cere ensure the security and privacy of user data? thus #Cere is invested by a reputable institution that is very optimistic about its prospects. then When will #Cere launch its governance token? How will #Cere organize its community after its token launch?
Martijn: Yes, you can buy our NFTs in the coming 30 days! SaaS-DeFi is well explained on our website www.cere.network
ShelenaMarsya: I read from Cere's website about "Cere's Decentralized Data Cloud (DDC) elevates the standards of the data ecosystem to a whole new level in terms of privacy, compliance, interoperability and agility. It enables enterprises to fully leverage the power of their most valuable assets. - their customers"
Sir, please explain about what is new in the ecosystem standard on Cere
Martijn: Lets say Netflix wants to have insight in Spotify listening data to optimize my watching recommendations. Now, this would be impossible for dozens of reasons (compliance, privacy, security,etc). Cere allows for integrating our DDC into these platforms to actually facilitate this, today! Imagine the possibilities that come with this, for the whole consumer ecosystem
Faruk Yüksel: Even APPLE company could not secure cloud data in the past, and too much user data was leaked. What is CERE's greatest strength in security?
Martijn: Encryption is the simple answer. We use the same technology which secured bitcoin and other notable blockchains to make sure data can only be accessed by the company, and the user. Not even we as creators of the DDC have insight to this data, as opposed to apple, google, etc.

Cho1249: actually the name and logo are important for the right image. Can you tell me, does the name "CERE NETWORK" have any special meaning for your project or team? The name "CERE NETWORK" is indeed interesting.... . What inspired this name? Can I find out why you decided to choose such a name?
Martijn: Cere comes from Cerebellum. The part of the brain that sees to voluntary movement. If you look closely, youll see that the Cere logo is a brain on its side!
CHEEMS INDEHOY •|• 404 Daily: I think it's fair to say that the Turing community is very happy with what Cere is doing with its decentralized data cloud (DDC) and ODM. It has the potential to become the most widely adopted blockchain solution in the entire enterprise space. you give your opinion on this statement?
Martijn: Thats kind of a statement to make haha! But personally, i would say were definitely frontrunners in the space. We have been building in stealth for 3 years, now its time to open up the repo's and let the (developer) world decide!

Read the full AMA from the beginning here.
---
Stay up to date with everything Cere Network

Telegram: t.me/cerenetwork
LinkedIn: https://www.linkedin.com/company/cere-network/
Twitter: twitter.com/cerenetwork
Blog: blog.cere.network
---
Connect with us and learn more about Polkastarter

Website | Twitter | Discord | Telegram | Instagram | Newsletter

Polkastarter Blog - Latest Polkastarter News & Updates Newsletter
Join the newsletter to receive the latest updates in your inbox.
---