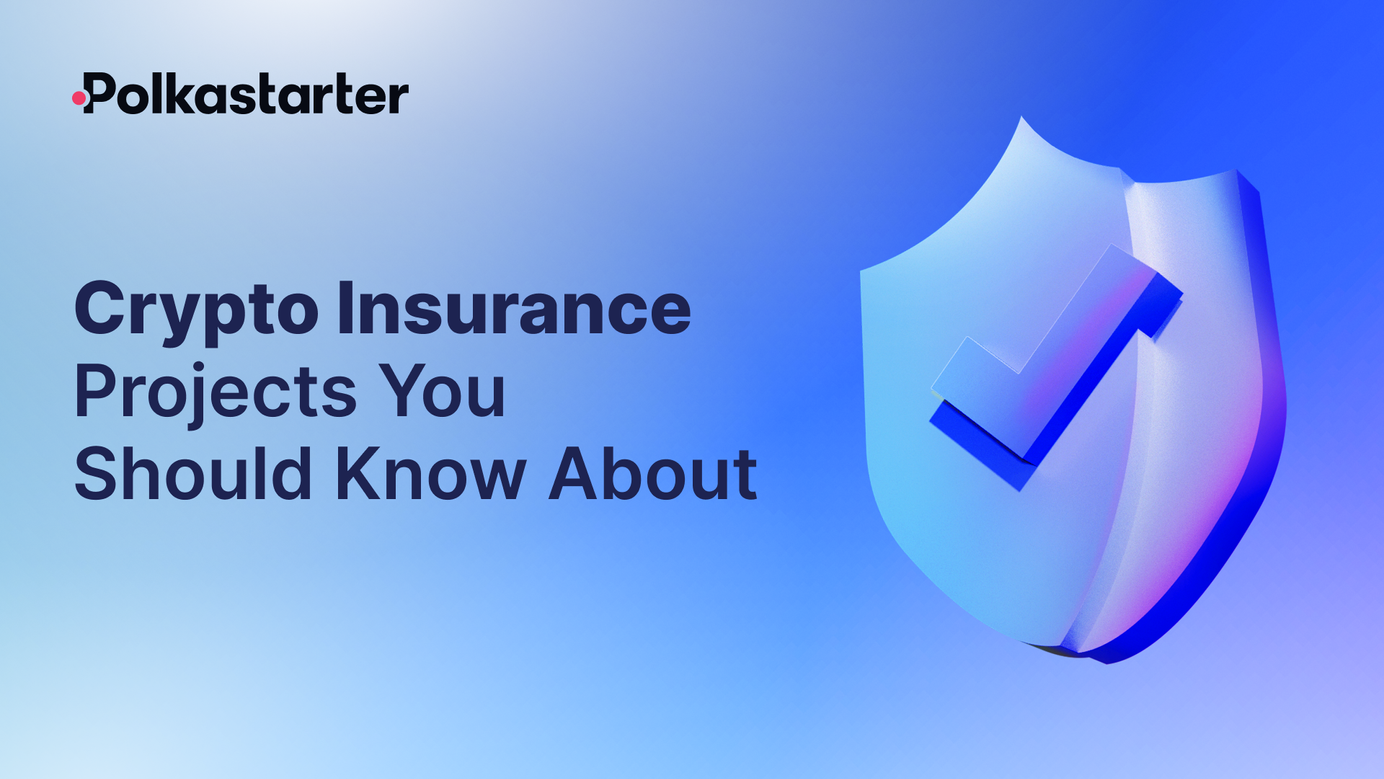 Crypto Insurance: Projects You Should Know About
When talking about the crypto space, insurance is not the most common or obvious use case.
With blockchain technology evolving at such a rapid pace though, crypto insurance is rising up in popularity. According to Accenture, the global market for blockchain in insurance is expected to grow from $64.5 million in 2018 to $1.39 billion by 2023—a compound annual growth rate of 84.9%.
Today, we'll examine some of the most interesting projects operating in the crypto-insurance industry.
What is crypto-insurance?
Crypto insurance protects digital assets against losses from security breaches and theft but also has the potential to act as insurance the way we now know it - life, health, home, etc.
Why is crypto insurance becoming more important?
Crypto insurance will reach mainstream news in no time. Why? Because it's a breed of technology that will be necessary for the entire blockchain ecosystem to function. Here are some of the most obvious reasons crypto insurance is becoming increasingly important:
The instability and volatility of the cryptocurrency ecosystem
The need for bespoke insurance products for different use cases
The opportunity for insurance products and services to generate wealth
Protect against hacks and exploits which are very common in crypto
Now let's have a look at the insurance projects we helped launch on the Polkastarter platform.
CoverCompared
CoverCompared bills themselves as "...the world's first platform that will enable crypto-holders to purchase not just specialized covers for their crypto-based assets, but also fulfill their needs in the traditional sectors of insurance such as life, health, home, etc."
They are a DeFi insurance marketplace for the global crypto ecosystem and their main goal is to lower the transactional and administrative costs that have traditionally made insurance unapproachable for end-users.
By connecting people with multinational insurance providers and creating a frictionless experience sprinkled with tokenized incentives, CoverCompared wants to give power back to the people.
They have recently launched on Polygon, one of the fastest-growing blockchain networks. This is an important step towards becoming a multichain aggregator.
Learn more about CoverCompared:
👉 Website
👉 CoinMarketCap
👉 Twitter
👉 Medium
👉 Telegram
Bridge Mutual
Bridge Mutual is a decentralized and discretionary coverage application, allowing users to "insure" each other's risks. Bridge Mutual is reimagining insurance as we know it, trying to eliminate the need for physical offices, claims specialists and all the confusing, litigious and bureaucratic elements that have made insurance a stale, outdated industry.
The goal is to help users protect their crypto assets while earning profits in exchange for coverage liquidity. The official description for the project is "Bridge Mutual is a permissionless, decentralized, and DAO-managed discretionary risk coverage platform that provides coverage for smart contracts, stablecoins, centralized exchanges, and other services."
The app wants to make it easy and fast for users to insure themselves against hacks, rug pulls, or other malicious attacks on their digital assets. Bridge Mutual also offers a separate feature where users can insure their stablecoins when they de-peg from their pair.
Learn more about Bridge Mutual:
👉 Website
👉 CoinMarketCap
👉 Twitter
👉 Medium
👉 Telegram
👉 Discord
Tidal Finance
Tidal Finance is a flexible DeFi insurance platform and marketplace, offering the highest Annual Percentage Yields (YAPYs) in the industry.
They have recently launched a collaboration with NAOS Finance to bring an industry-first service — real-world asset loan insurance. They cover 100,000 USD for the lender's loss in case of the borrower's default, with NAOS's insurance (beta) pool covering another 100,000 USD. This is a monumental step in blending DeFi insurance with real-world assets loans and broadening the DeFi insurance horizon beyond smart contract coverage.
Tidal creates multiple cover pools where Reserve Providers (RPs) can stake their stablecoins to provide reserve capital to any pools. They are incentivized through a stablecoin premium paid by cover buyers and the $TIDAL governance token. Cover buyers can then purchase the mutual coverage token for any specific protocol/token specified in any of the cover pools.
Learn more about Tidal Finance:
👉 Website
👉 CoinMarketCap
👉 Twitter
👉 Medium
👉 Telegram
👉 Discord
Uno Re
Uno Re is the world's first insurance and reinsurance trading platform allowing the community to invest in and design innovative insurance products, thus propelling a new generation of Insurtech-based companies, with a foundation in the Uno Re ecosystem.
What makes Uno Re stand out from other insurance solutions is that allowing trading of risk-based assets intends to give anyone access to the "risk" asset class, in order to increase profits.
Uno Re has been working on some interesting collaborations the past couple of months. Recently they announced a partnership with Age of Tanks- a turn-based NFT P2E military strategy game, where Uno Re will be safeguarding the NFT marketplace and staking pools of Age of Tanks against possible smart contract hacks.
Uno Re is also providing staking pool coverage to Router Protocol through a recent collaboration between the two companies. Should an attack targeting any Router pool occur, Uno Re will compensate for the losses of up to $184,095.
Another partnership is the one with Trias. Thanks to the partnership, Trias users will be able to take full advantage of the newly launched Cover Portal and can get insurance coverage for all their assets in the Trias ecosystem.
Learn more about Uno Re:
👉 Website
👉CoinMarketCap
👉 Twitter
👉 Medium
👉 Telegram
👉 Discord
Conclusion
There's a reason crypto-insurance is not making headlines  — it's quite a niche and technical and not the sexiest use case to talk about. It's such an important topic though that it won't be long before we see the discussion flaring up on mainstream news. Keep an eye out for it as we will be back with more information.
Disclaimer
The presentation of these projects does not constitute financial advice. The crypto market is extremely volatile and you should always conduct your own research before making any decisions.

About Polkastarter
Polkastarter is the leading decentralized fundraising platform enabling crypto's most innovative projects to kick start their journey and grow their communities. Polkastarter allows its users to make research-based decisions to participate in high-potential IDOs, NFT sales, and Gaming projects.
Polkastarter aims to be a multi-chain platform and currently, users can participate in IDOs and NFT sales on Ethereum, BNB Chain, Polygon, Celo, and Avalanche, with many more to come.
---
Stay tuned for more upcoming IDOs
Website | Twitter | Discord | Telegram | Instagram | Newsletter | YouTube | Spotify
Polkastarter Blog - Latest Polkastarter News & Updates Newsletter
Join the newsletter to receive the latest updates in your inbox.
---