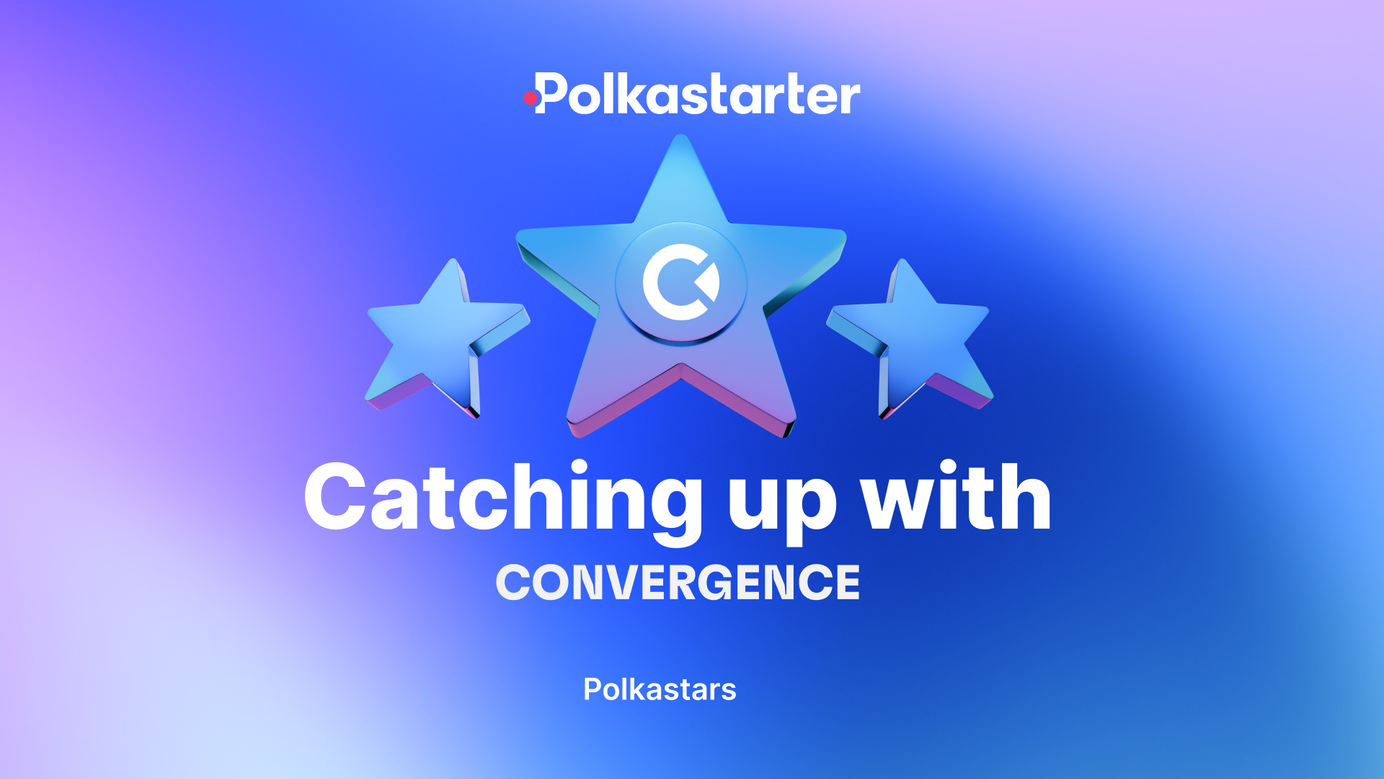 Catching up with Polkastars: Convergence
New products, more integrations, and increased accessibility are all coming to the DeFi platform
In this edition of Catching up with Polkastars, you'll learn more about an awesome DeFi project - Convergence. The last Polkastar we touched base with was Unmarshal. They have just started integrating with more chains like Solana, Moonriver, Polygon, and Moonbeam.
Here's a quick recap of what Convergence is all about.

It's the first automated market maker (AMM) that makes private tokens interchangeable in the DeFi space by fractionalizing them. Convergence takes advantage of its easy-to-use interface and composability with other DeFi protocols.
It allows originators to take advantage of  DeFi's liquidity while providing users with access to exotic private investment opportunities previously unavailable to them. Convergence Finance lowers the barrier to entry using the liquidity, transparency, and automation features of DeFi to bring new opportunities to its users.

Let's see what they have been up to.
Convergence's major product announcements

The team hasn't wasted any time and has continued building the platform. They have added ConvPool and ConvO to Convergence.

ConvPool is a liquidy pool that allows anyone to provide liquidity and earn instant rewards from the transaction fees. It supports yield farming, so liquidity providers can maximize their CONV rewards by staking LP tokens.
ConvO is a launchpad that gives users access to exclusive private-sale tokens. Convergence's team carefully selects these investment opportunities. ConvO allows for fair allocation by using a verifiable random function. Also, it gives users decentralized distribution thanks to its smart contracts.
Convergence performed a dual listing on ConvO and Polkastarter for their first pre-IDO project. We will find even more ways to collaborate in the future.
But that's not all! Convergence has deployed two separate AMMs:
ConvX is an AMM-based decentralized exchange (DEX) that allows anyone to swap their private-sale tokens. With ConvX, you get an instant exchange rate and best order routing.
Moonlit is a standalone AMM-based DEX that adds cross-chain compatibility to the Convergence. That's because it's connected to Moonbeam and Moonriver. The expansion to Moonriver will lead to an eventual merge of Moonlit into Convergence. This merge will give users full cross-chain compatibility, so they can take advantage of the Polkadot and Kusama's parachains while enjoying the convenience of Ethereum.

Convergence will literally give us the best of both worlds.
The upcoming Moonbeam DEX will provide more people with access to exotic private-sale tokens like 𝑓LIKE and 𝑓MATIC. Users could buy them while enjoying Polkadot and Kusama's low gas fees and fast performance. This process will add more liquidity to Moonlit, which will flow into future-unlocked tokens and other private-sale tokens, making these opportunities available to everyone.
These additions to the Convergence platform have allowed them to successfully offer two private sale tokens. They will continue to focus on making private-sale tokens and VC-style investments available to DeFi enthusiasts. Their end goal is to democratize investing by making private markets public.

What's next for Convergence?
Convergence has tons of exciting things planned for 2022 based on their roadmap. They will launch their ConvDAO that will give users governing rights. Convergence will add a few new features to Moonlit, like yield farming and staking rewards, allowing even more people to provide liquidity while earning rewards.
But it doesn't stop there. Convergence will add its own native bridge, called ConVBridge, to support cross-chain swaps, giving more users access to their platform. It will also start offering GameFi and NFT private-sale tokens in the middle of 2022, tapping into the gaming market.

Convergence will continue to expand to other EVM and non-EVM blockchains like Binance Smart Chain, Enjin, and Solana, increasing its accessibility and liquidity. Overall, the project is on track to reach its goal - allowing more people to access great investment opportunities.
We are super excited for Convergence because their team hasn't stopped executing. They have added a ton of features, expanded their users base, and aim to do the same in the upcoming 2022.
Want to learn more about Convergence?

Here are all of their relevant links:
👉 Whitepaper
👉 Twitter
👉 Medium
👉 Telegram
👉 Discord
About Polkastarter

Polkastarter is the fully decentralized launchpad to launch new ideas in the blockchain and digital assets space. With an industry-leading curation process and market access, we select the most innovative projects in the space and offer them long-term support after their IDOs.

With Polkastarter, crypto projects can increase their reach, grow their communities and receive support from crypto's most well-versed experts. IDO participants, on the other hand, are offered an opportunity to invest in a secure and compliant environment, as well as participate in IDOs not solely on Ethereum, but also on Binance Smart Chain, Polygon and Celo.

Media Contact Polkastarter: [email protected]
---