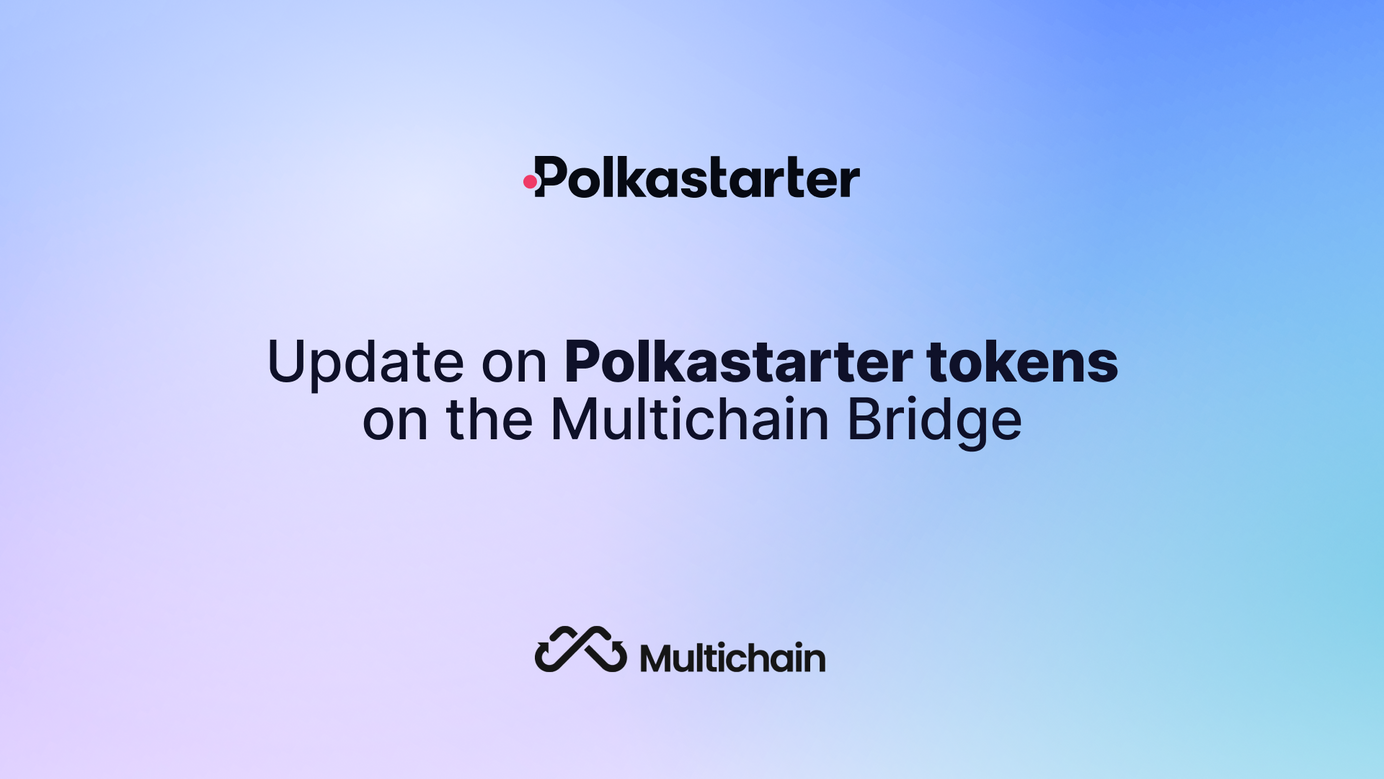 Update on Polkastarter tokens on the Multichain Bridge

TLDR
- The Multichain bridge is ceasing its operations
- This means it's not possible to bridge the $POLS token between ETH and BNB
- Funds are safe and token holders action is not required at this moment
- We are working on a solution and will share it over the next days


Dear Polkastarter community,

As you know, the Polkastarter Token ($POLS) is available on the Ethereum network and BNB Chain. When we launched on BNB Chain, we chose Multichain as the bridge provider, and it quickly saw big adoption as the only way to bridge our tokens between these two chains.
At the time, we saw a huge demand from our community to launch on BNB Chain, and simultaneously, we trusted that the Multichain bridge was the right choice, as Binance Labs and other major players in the market supported it.
Today we learned that the Multichain bridge is ceasing operations, as the Chinese authorities arrested the CEO Zhaojun. The current team cannot interact with contracts and stopped all bridging activities.
This situation affects $POLS because holders can't move tokens from ETH to BNB chain and vice-versa.
We already have a solution planned out that won't affect token holders, but first, it's important to understand how the Multichain Bridge works.
How Does Multichain Work?
Bridges like Multichain connect two blockchains, in our case, Ethereum and BNB Chain. When $POLS is transferred from Ethereum to BNB Chain, tokens are locked in a smart contract vault on Ethereum.
A secure, distributed set of Multichain's SMPC Network nodes detects this and sends a message to the token vault on BNB Chain, which then releases a corresponding amount of tokens to the user's wallet on BNB Chain.
When tokens are returned to the smart contract token vault on BNB, they are destroyed, and the original assets are released back on the Ethereum blockchain.
What Happened To Multichain?
A supposed hack was reported last week that affected the Multichain bridge for nearly +$200M across several smart contracts and assets.
Today we learned that it wasn't a hack but an interaction between Multichain's family and Chinese authorities, as you can read in this statement.
The bridge that handles $POLS was unaffected, and tokens weren't moved from the vault.
What's The Implication For $POLS Holders?
Multichain is ceasing operations, and it's currently unresponsive to our team. This means that holders cannot bridge tokens and can only interact, stake, or sell tokens on the current chain they are holding the tokens on.
What Are The Next Steps?
We are analyzing all our options and working closely with several projects and exchanges affected by this situation. We will share an update over the next few days.
Please follow these instructions for now:
1. Do not try to bridge tokens using Multichain. They might get stuck in transactions, and you won't be able to recover your tokens!
2. Although unlikely, you might have given permission to Multichain to interact with your assets. Please check if you indeed gave such permissions and revoke access asap.

You can use this link to check approvals that you have given to smart contracts on Ethereum: https://etherscan.io/tokenapprovalchecker
Enter your wallet address, and should you see anything mentioning "Multichain" in the column "Approved Spender", then revoke the allowance using the button. (It's actually a good idea to check what other contracts may have access to your tokens while you are at it).
Do the same on BNB Chain: https://bscscan.com/tokenapprovalchecker