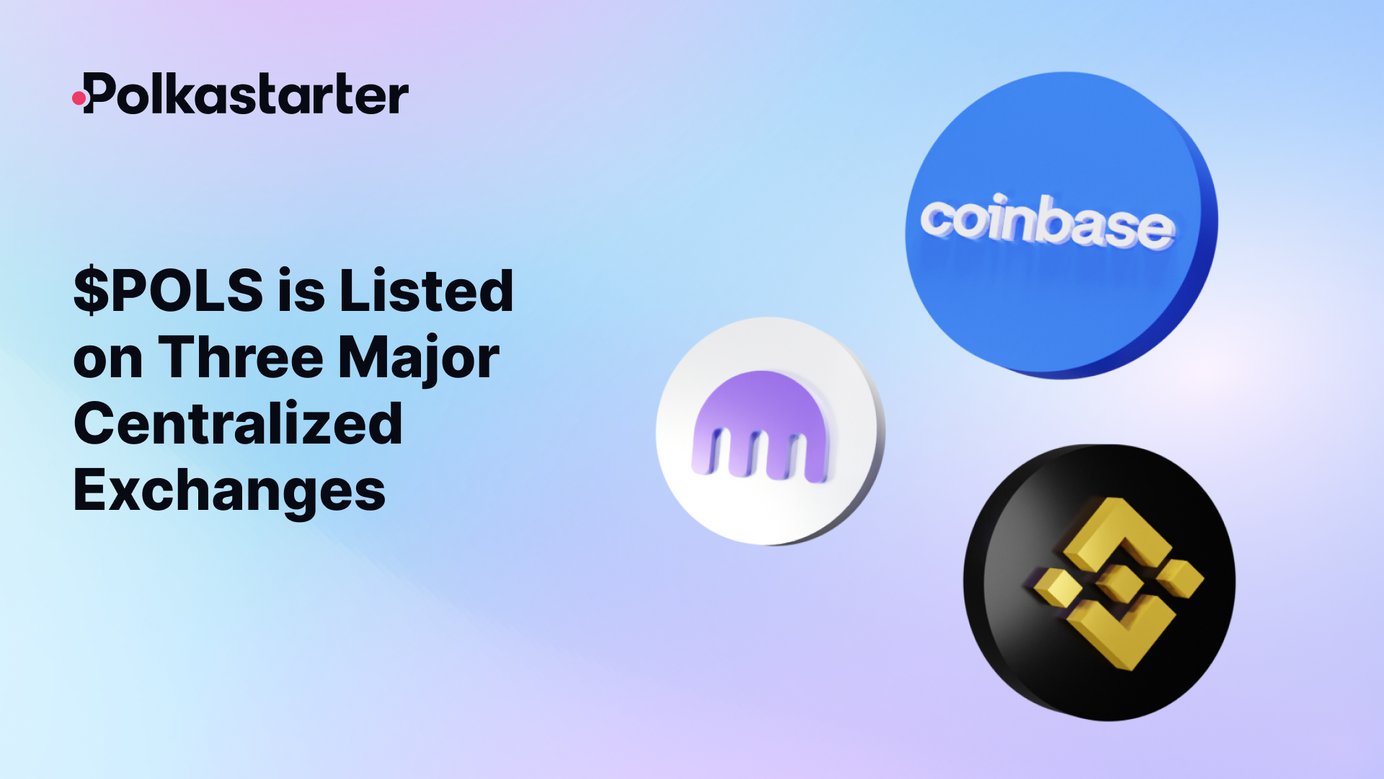 $POLS is Listed on Three Major Centralized Exchanges
Why are we the only decentralized launchpad listed on Binance, Coinbase and now Kraken?
Last week, Polkastarter's native token POLS was listed on leading exchange Kraken, making POLS the first decentralized launchpad token to be listed on Binance, Coinbase and Kraken, three major exchanges. In this article we recap the possible reasons behind this, read on! 👇
As you may know, centralized exchanges are heavily regulated entities and have strict KYC procedures in place for both retail and enterprise users. Due to the nature of their business and their large user bases, they need to carry out ruthless due diligence processes before listing a token.
What do exchanges take into account?
Exchanges will go deep into the founders' backgrounds and history, assessing any previous successes or failures and checking for any malice. Senior team members usually receive the same rigorous background checks, looking for signs that they are capable of maintaining high standards of delivery.
When it comes to the product itself, exchanges prioritize projects with an ambitious but realistic roadmap, indicating potential value in their listings further down the road. An engaged community of holders will certainly help, but a clear token utility strategy is essential as it will make or break the adoption of a token when speculation blows over.
In a space where rug pulls and scams abound, exchanges will also ensure projects and founders are behaving ethically, such as having solid liquidity across exchanges without resorting to market-making practices.
It is no coincidence that these are the key items Polkastarter takes into consideration during the due diligence process with projects before IDOs: we like to lead by example.
What does this mean for Polkastarter and our vision?
If you haven't noticed, we don't discuss our token price or the token price of our projects. At Polkastarter, we think backers should support projects they believe in and actively want to help grow over time.
The credibility these listings bring is great, but ultimately we aim to act as an example for new projects entering the space. We do not want to foster a greed mentality in Web3 fundraising and instead, focus on building and launching meaningful projects within the entire ecosystem. Onwards together!
We're incredibly proud of these achievements and we have our community to thank. There are thousands of loyal POLS holders who have stuck by us from day zero and continue to ride the Web3 journey with the projects we launch.
Now listed on these three global exchanges, POLS will reach a wider audience of crypto enthusiasts interested in participating in token sales and supporting projects with great visions. If you would like to get in on the action, learn how to buy POLS and how to participate in a sale.
About Polkastarter
Polkastarter is the leading decentralized fundraising platform enabling crypto's most innovative projects to kick start their journey and grow their communities. Polkastarter allows its users to make research-based decisions to participate in high-potential IDOs, NFT sales, and Gaming projects.

Polkastarter aims to be a multi-chain platform and currently, users can participate in IDOs and NFT sales on Ethereum, BNB Chain, Polygon, Celo, and Avalanche, with many more to come.