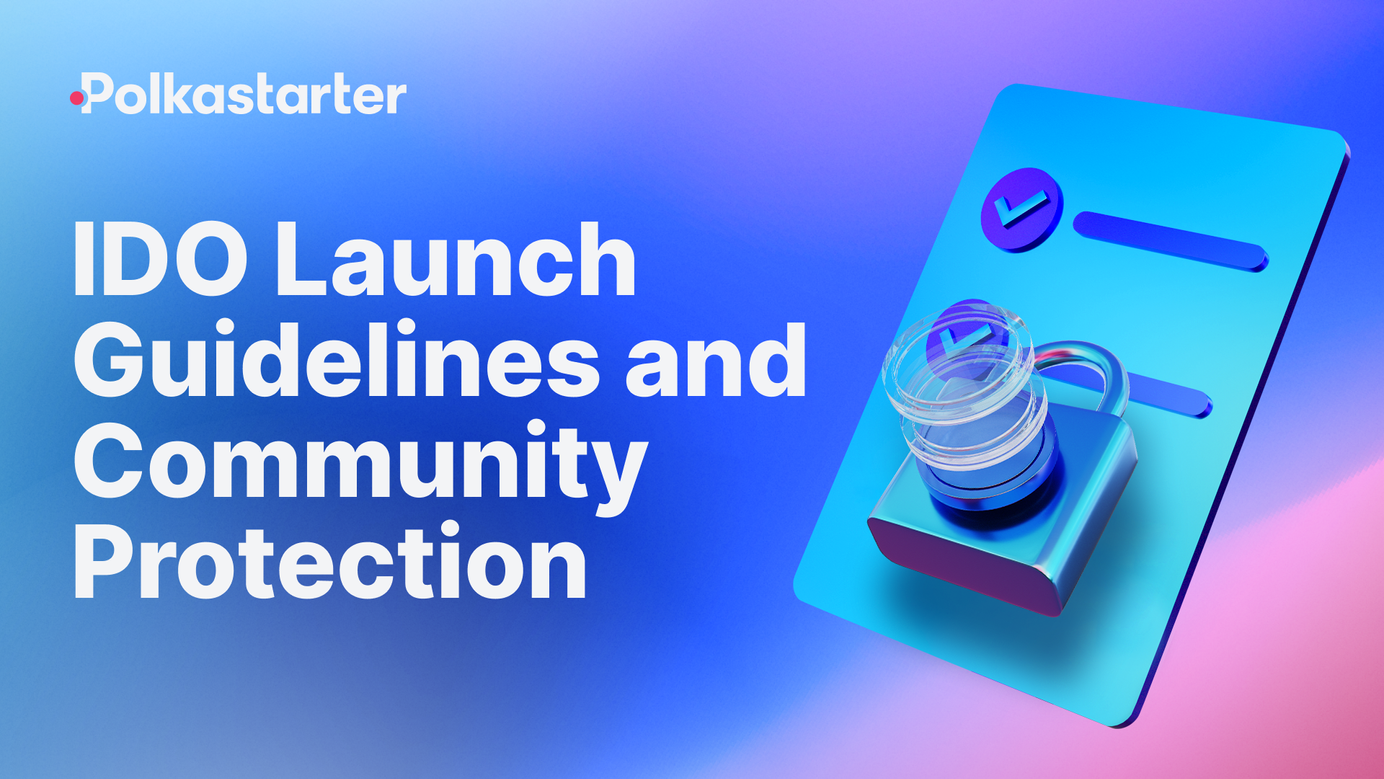 Polkastarter IDO Launch Guidelines and Community Protection
From now on, all projects that launch on Polkastarter are required to follow our renewed clauses.
Over the past few months, we have received questions from our community members on the ways in which they are protected, and how we manage project launches.
At Polkastarter, we have always advised projects to follow our guidelines, which 99% have adhered to. We are therefore now publicizing these guidelines, and have also heavily updated our terms of commitment that projects will sign and follow from hereon.
Polkastarter is a decentralized protocol that allows projects to raise funds and connect with our community. We truly believe in decentralization, and we will continue to build Polkastarter around decentralized products and services. However, we have strengthened our terms and conditions with projects as laid out below.
In the past, Polkastarter and its Council enforced a variety of necessary steps, such as mandatory liquidity on exchanges, a fully audited token contract and a pre-approved marketing plan, among many others.
Going forward, there is an even more stringent list of mandatory steps that projects must adhere to. To be fully transparent, not only with our users but also projects that intend to raise funds on Polkastarter, we've outlined the most recent requirements below.
From now on, all projects that launch using Polkastarter's software are required to follow our old and new terms of service and use as laid out below in a signed agreement:
Listings
a) It is mandatory for projects to have a confirmed listing on at least one of these exchanges: Binance, Huobi, FTX, Kucoin, OKX, ByBit, MEXC and Gate (subject to change).
b) Projects must list on a decentralized exchange that ranks in the top 2 by volume on a given chain.

Distribution
a) Tokens must be distributed within 1 hour of the initial token listing.
b) Public tokens will be prioritized when distributing tokens at TGE, i.e. if, according to a vesting schedule, private and public allocations unlock at the same time, public tokens will be distributed first.

Liquidity
a) Projects must provide a minimum of $200,000 liquidity on DEX listings per individual pair.
b) It is mandatory to disclose a known and trustworthy liquidity management provider that will be approved by Polkastarter.

Audits
a) Projects must provide certified proof of fully audited token contracts carried out by an industry-recognized auditing firm
b) An exception to the token audit can only be made if it is an unmodified OpenZeppelin contract.
c) Tokens must have a max supply, or have a timelock-secured minting function.

Marketing
a) It is mandatory for projects to submit their pre-launch and IDO marketing strategy for approval to Polkastarter, which, if approved, has to be executed by the project according to the approved plan.

Transparency
a) All funding rounds and full tokenomics must be public information before applications open.
b) All details of prior funding rounds, such as total raise and price per token must be public information before applications open.
c) All allocations and vesting of tokens per category (such as team, marketing, etc) must be public information before applications open.

Refunds
a) Refunds after distribution and listing are not possible, given the decentralized nature of Polkastarter.

Communication
a) The project must remain in reliable, daily communication with Polkastarter in the established channels (usually Telegram).

Exceptions and failure to comply
a) These rules are only applicable for PUBLIC sales, not private or any other type of sale.
b) Some clauses laid out in this agreement are subject to change based on market conditions or temporary volatility
c) A failure to comply with any of the above clauses will result in warnings, and if unchanged, will lead to the project being removed from Polkastarter.

Warranties
a) Polkastarter provides a software solution for Projects to launch their tokens and while doing so does not control any funds or third party assets. Due to the decentralized nature of cryptocurrencies and non-fungible tokens, Polkastarter cannot warrant the legal enforcement of all of the above points. Investing in such early stage products will always carry some risks and therefore one should only invest what they can afford to lose. The cryptocurrency market is volatile and Polkastarter bears no responsibility for any losses.


About Polkastarter
Polkastarter is the leading decentralized fundraising platform enabling crypto's most innovative projects to kick start their journey and grow their communities. Polkastarter allows its users to make research-based decisions to participate in high-potential IDOs, NFT sales, and Gaming projects.

Polkastarter aims to be a multi-chain platform and currently, users can participate in IDOs and NFT sales on Ethereum, BNB Chain, Polygon, Celo, and Avalanche, with many more to come.