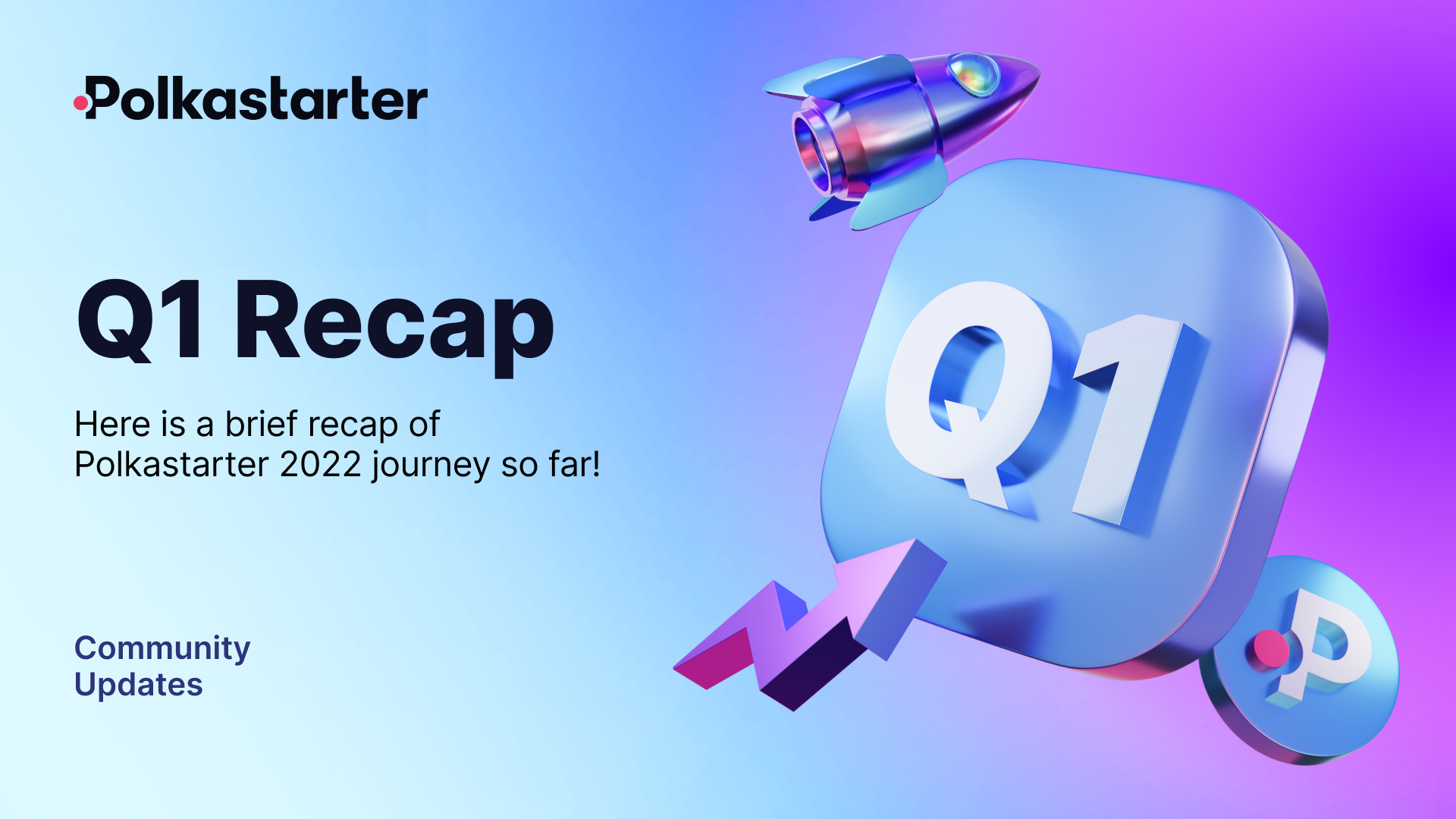 Polkastarter Q1 Recap
Here's a brief recap of Polkastarter 2022 journey so far!
We made it through the cold winter months! Now, we are more than ready for the warm weather and to set new milestones for Polkastarter.

But we could not kick off a new quarter without looking back on what we have accomplished in 2022 so far.

Let's do a brief recap of our Q1 journey!

Q1 2022 Highlights


Project Launches
As we entered a slight crypto winter in 2022, we launched 8 projects, reaching an incredible $7.5M raised in only 3 months, increasing our total raised to $46M across 105 projects.

Namely, our first NFT Land Sale with Cryptoverse, smashing a record-breaking $3M between 3628 unique wallets.

As we start to see more life in the market, we've got a very exciting 2022 ahead with some amazing projects in the pipeline.

Community Growth
We welcomed new members and tried out new community initiatives.
In Q1 Twitter community reached more than 620k followers and our posts got over 7m impressions
Our Telegram channel has now more than 100k members
We had 2,066,677 visits to the Polkastarter website and saw over 500,000 new users to the website
Polkastarter Gaming Guild saw Twitter reach 30k followers and Discord hit 74,000+ players, with scholarship applications passing 3,000. We have over 200 active scholars playing 5 different games in our guild.

Networks
Sticking to our goal of being truly multi-chain, we integrated the Avalanche Network into the platform. Avalanche can reach transaction speeds of up to 4,500 per second and proves to be very popular.
Although our Solana integration is currently in development, we have integrated a short-term solution where projects can raise via a Solana Airdrop solution. Stay tuned for the first project using this airdrop solution!

New Council Member
SkyVision Capital has joined Polkastarter Council in February 2022.
SkyVision Capital (SVC) is a crypto advisory company that accelerates disruption in the blockchain space. SkyVision Capital has assisted many projects built on different ecosystems such as Terra, Solana, and Secret Network.

Polkastarter's Team is growing
During Q1 we needed some extra hands to help us develop the Polkastarter platform and community to the next steps.
We've hired 5 new team members - Welcome to the team! 👊



About Polkastarter
Polkastarter is the leading decentralized fundraising platform enabling crypto's most innovative projects to kick start their journey and grow their communities. Polkastarter allows its users to make research-based decisions to participate in high-potential IDOs, NFT sales, and Gaming projects.
Polkastarter aims to be a multi-chain platform and currently, users can participate in IDOs and NFT sales on Ethereum, BNB Chain, Polygon, Celo, and Avalanche, with many more to come.
---
Stay tuned for more upcoming IDOs
Website | Twitter | Discord | Telegram | Instagram | Newsletter | YouTube | Spotify
Polkastarter Blog - Latest Polkastarter News & Updates Newsletter
Join the newsletter to receive the latest updates in your inbox.
---