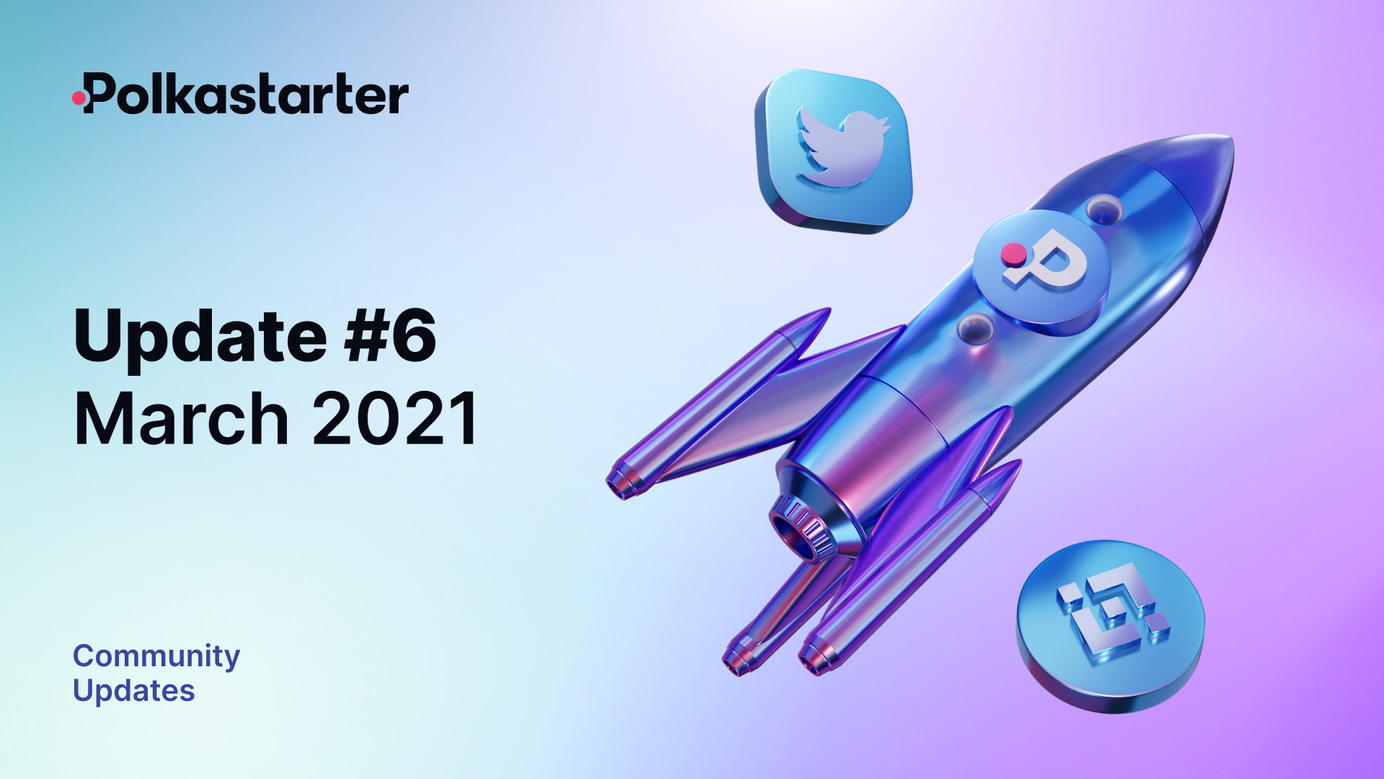 Polkastarter Community Update #6 — Another Record Month for Polkastarter
Looking back on our March IDOs, community updates, & product launches
March 2021 was another outstanding month of growth for Polkastarter. Some highlights from our 6th community update:
We Polkastarted 14 IDOs in March, which in total received 1741 ETH from thousands of backers.
Polkastarter has now completed a total of 80 Pools, 40 Projects, and 6592 ETH raised! 🎉
The combined market cap of all projects that have raised on Polkastarter is over $2 billion (as of March 28).
Our global Polkastarter community has grown over 76,000 community members combined across Telegram and Twitter in just the last month. 🙋‍♀️
One project highlight was Shyft, which became the largest IDO ever on Polkastarter, with more than 1000 people participating.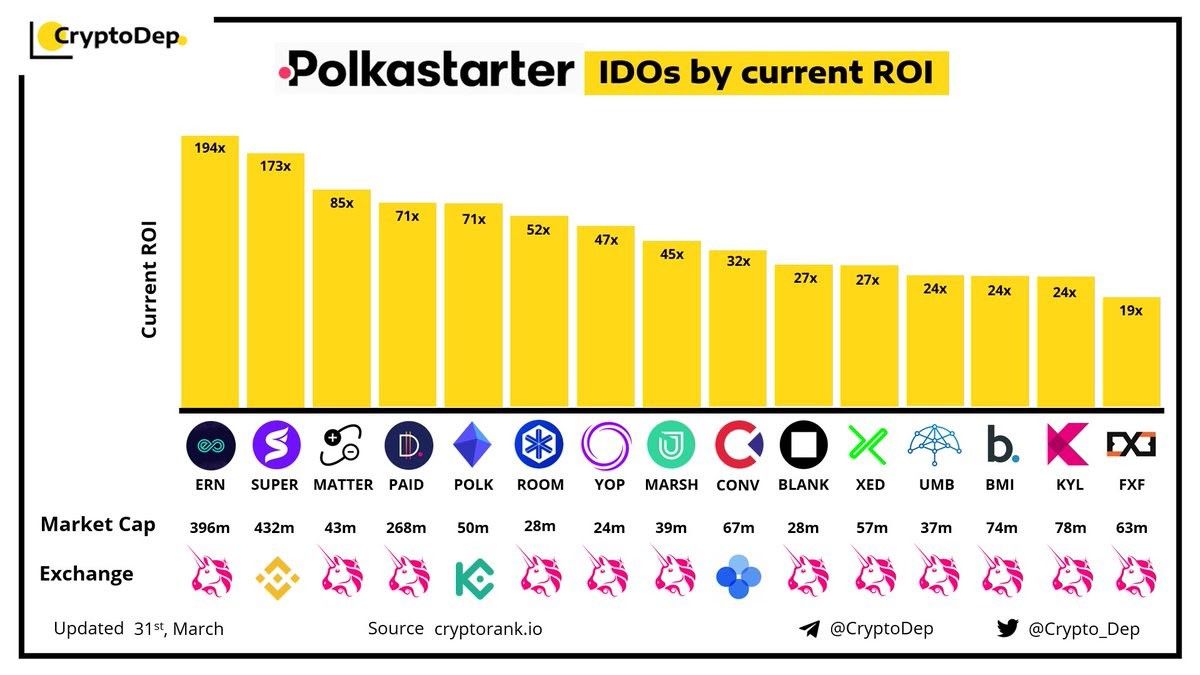 Since the launch of Polkastarter three months ago, we have been blown away by the growth of the platform and by the incredible Polkastarter community. In order to support Polkastarter projects in this process, we have compiled new and improved guidelines on best-practices for allowlisting to enable projects to support their users and supporters in the best possible way throughout their launch for a smooth and fair experience. Read the full Allowlisting Guide.
Product and Technology ⚙️

In March, we announced our integration of the Binance Smart Chain (BSC) for fixed swaps on Polkastarter which will unlock greater liquidity for token project IDOs on Polkastarter and foster interoperability for the Web3 ecosystem at large. This means:
Projects will be able to launch their Polkastarter IDOs on both Ethereum and Binance Smart Chain simultaneously, unlocking greater liquidity and reaching wider audiences with their initial token offerings. Interoperability for the win! 🤝🤝
The POLS token is now available on BSC as well as on Ethereum, opening access of Polkastarter IDOs to the BSC ecosystem.
BSC token contract: 0x7e624fa0e1c4abfd309cc15719b7e2580887f570
If you are a project planning an IDO soon and are interested in launching on BSC, apply to Polkastarter through our governance app. We are always seeking strong and expertly-led teams, and firmly believe expanding our offerings into the Binance ecosystem will help us identify more early, high-potential startups and support them in their efforts to bootstrap their product and community. Get more details on this announcement on our blog.
Other March Product Updates
Vesting module ready for production
Stablecoin pools module ready for production
Offchain staking ready for production
Continued work on front end migration
Completed Polkadot crowd-loans module research prototype
Launched v2 of governance app
Continued work on design v2
Completed research prototype on Signature Based Allowlisting (this is going to decrease allowlisting costs to zero and increase token holder limit per pool contract)
Adapted our dapp for multichain support (BSC support is in quality assurance)
Implemented various security countermeasures
Marketing, Awareness & Community 📣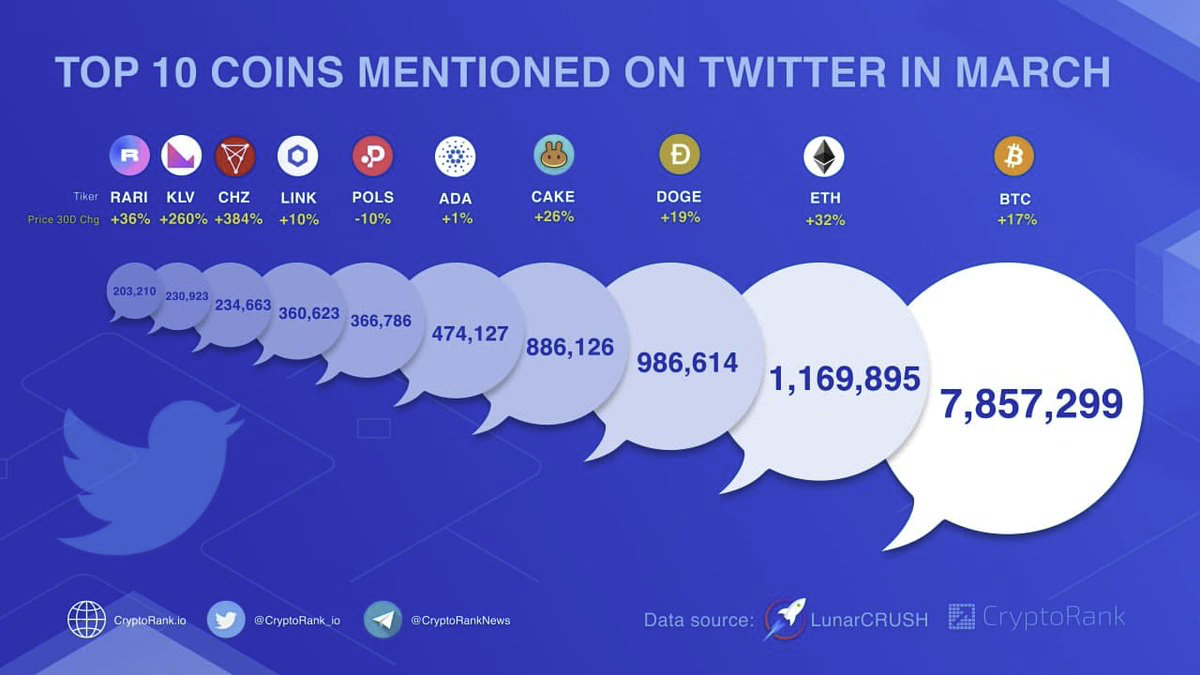 The success of Polkastarter and of our Polkastars would simply not be possible without you. Thanks for helping us build the future of IDOs, and redefining how groundbreaking tech projects go to market!
Some March community stats and highlights:
700k+ website visits
+36,000 + Twitter followers
Over 6 MILLION Twitter impressions for March 😮
Our Telegram communities more than tripled since January, and now include over 95,000 members across 7 global channels
We are the #4 cryptocurrency with more mentions on Twitter
Updated Selection Criteria
At Polkastarter, we pride ourselves in supporting world-class teams through IDOs. We select projects that not only benefit the participants, but also advance and strengthen the industry as a whole.
Our selection criteria is rigorous and thorough, and is constantly being refined as the ecosystem evolves. In the spirit of transparency and decentralization, it's important for us to share the selection process, criteria, and analysis framework that all applying projects go through. With this framework, our analysts and Council members can continue to select the highest potential and most innovative teams.
As always, our mission is to attract the highest quality projects and founders in blockchain and crypto, so in March we launched our updated Polkastarter Project Selection Criteria. You can read the full criteria on our blog.
Featured Pools 🚀
We help projects build community and long-term support, and our access and curation enables us to offer the best projects. Here is a summary of the pools that were on offer in March:
Blockchain Cuties: Received over 247 ETH to build the first multi-blockchain collectible NFT game based around adorable little pets called Cuties.
Ethernity: Received 166 ETH to leverage DeFi and merge it with NFTs to create an exclusive pipeline to rare and collectible content.
Shyft: Received over 312 ETH to build bridging across siloed datasets and allow for layering of context on top of data turning raw data into meaningful information
ChainGuardians: Received over 120 ETH to create imaginative, innovative and immersive cross-chain gaming experience.
Convergence: Received over 186 ETH to build the first decentralized interchangeable assets protocol.
Blank: Received ~82 ETH to enable wallet users to hide the amounts and origins of cryptocurrency held in a decentralized and frictionless manner.
APYSwap: Received over 80 ETH to enable trustless trading of tokenized yields
Unido: Received over 68 ETH to enable enterprises to manage crypto assets and capitalize on DeFi.
Kylin: Received over 64 ETH to build a cross-chain platform powering the data economy on Polkadot.
Unmarshal: Received over 112 ETH for a multi-chain DeFi data network that includes a decentralized network of blockchain data indexers and transforming tools to power DeFi applications on any chain.
Konomi: Received over 110 ETH to provide money markets for assets in the Polkadot ecosystem.
Oddz: Received over 82 ETH to create a fast, secure, and flexible settlement of trustless option contracts, conditional token agreements, and futures contracts
Tidal: Received over 59 ETH for a high-yield insurance platform enabling custom cover pools.
Polkamon: Received over 49 ETH for beautifully animated digital collectibles with varying scarcities, each backed by a truly unique NFT.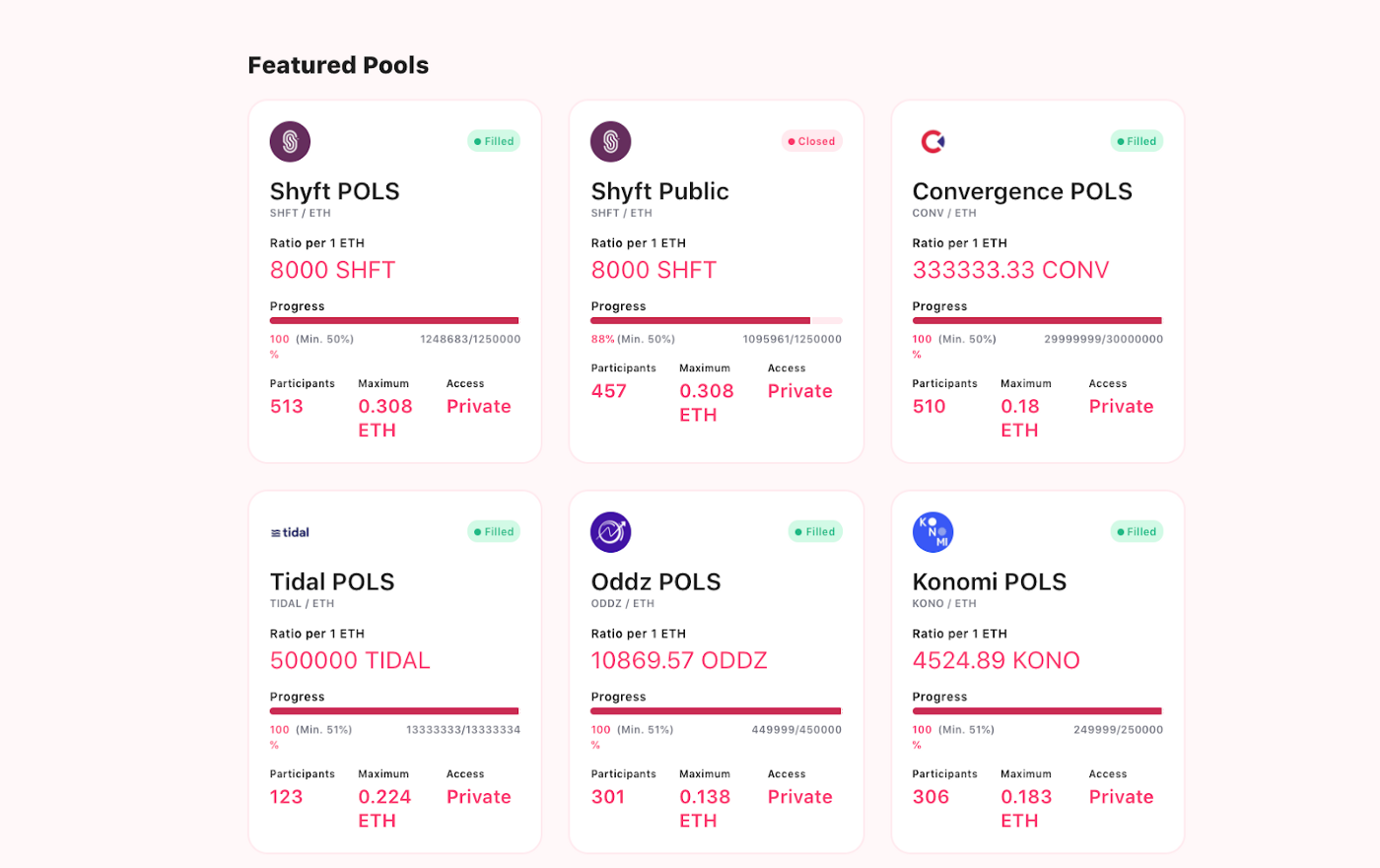 Token ($POLS) 💎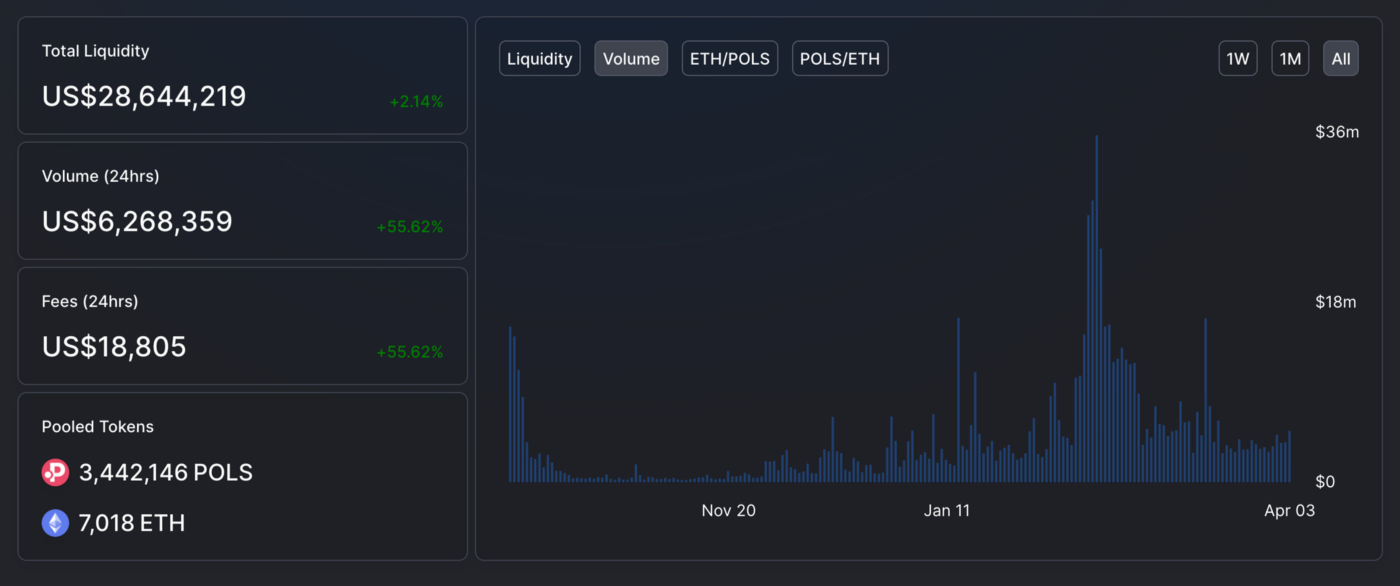 We now have over 35,350 active token holders
More than 3,000 liquidity providers are delivering $28,644,219 in liquidity to our Uniswap pair
Trading activity is impressive, with some days reaching +100 million USD in volume across exchanges
We extended our Uniswap Liquidity Program, and will be distributing 35,000 $POLS at the end of March (over $140,000 at the time of this writing). For more information on the Uniswap Liquidity Program, please see the details here.
DEX:
CEX:
Press 📰
Recent Headlines:
Bitcoin.com: Tidal to Launch Balancer LBP Following 500x Oversubscribed Polkastarter IDO
Blocktelegraph: Six Up and Coming Polkadot Projects to Watch in 2021
BTCManager: Polkamarkets Readies Hyped IDO in Preparation for Its Gamified Prediction Markets
Coinpedia: Countdown to Convergence Finance's Polkastarter IDO Sale as 1000 Winners Announced
Cointelegraph: Umbrella IDO sees record participation on Polkastarter
EIN Presswire: SHFT Network lists on UniSwap after successful Polkastarter IDO
FXStreet: Polkastarter Price Prediction: POLS primed for a 50% breakout towards $6.5
The Cryptocurrency Post: Polkastarter — The DEX for Cross-Chain Token Pools
Other News:
AltcoinBuzz: Polkastarter ($POLS): Bringing Fundraising To the Masses
Coinspeaker: Polkamarkets Disrupting Prediction Markets with Its DeFi-Powered Platform
CryptoGlobe: Crypto Analyst Picks Five Altcoins With 50x Potential
DailyHodl: Here's How To Find 100x Altcoins Before They Burst on the Scene, According to Crypto Trader Lark Davis
Hackernoon: Polkadot and its Funky Family!
NASDAQ: 5 Alternative Cryptocurrencies Besides BTC, ETH and DOGE For 2021
TechBuillon: With It's Unstoppable Rise, DeFi Can Never Be Too Simplified
— — -
NOTE: If you are interested in Polkastarting your project with us, you should get in touch via our application form. Keep in mind that the selection process is rigorous and thorough. Applicants should expect to provide basic information and details about their company, team, professional backgrounds, and business model.
About Polkastarter
Polkastarter is the fully decentralized protocol for launching new ideas. Our curation process and industry access enable us to offer the best new projects in blockchain and digital assets. With Polkastarter, decentralized projects can raise awareness, build a loyal community, and receive long-term support. Users of the platform will be able to participate in a secure and compliant environment, and use assets both in and beyond the current ERC20 standard.
Website | Telegram | Medium | Twitter
Polkastarter Blog - Latest Polkastarter News & Updates Newsletter
Join the newsletter to receive the latest updates in your inbox.
---