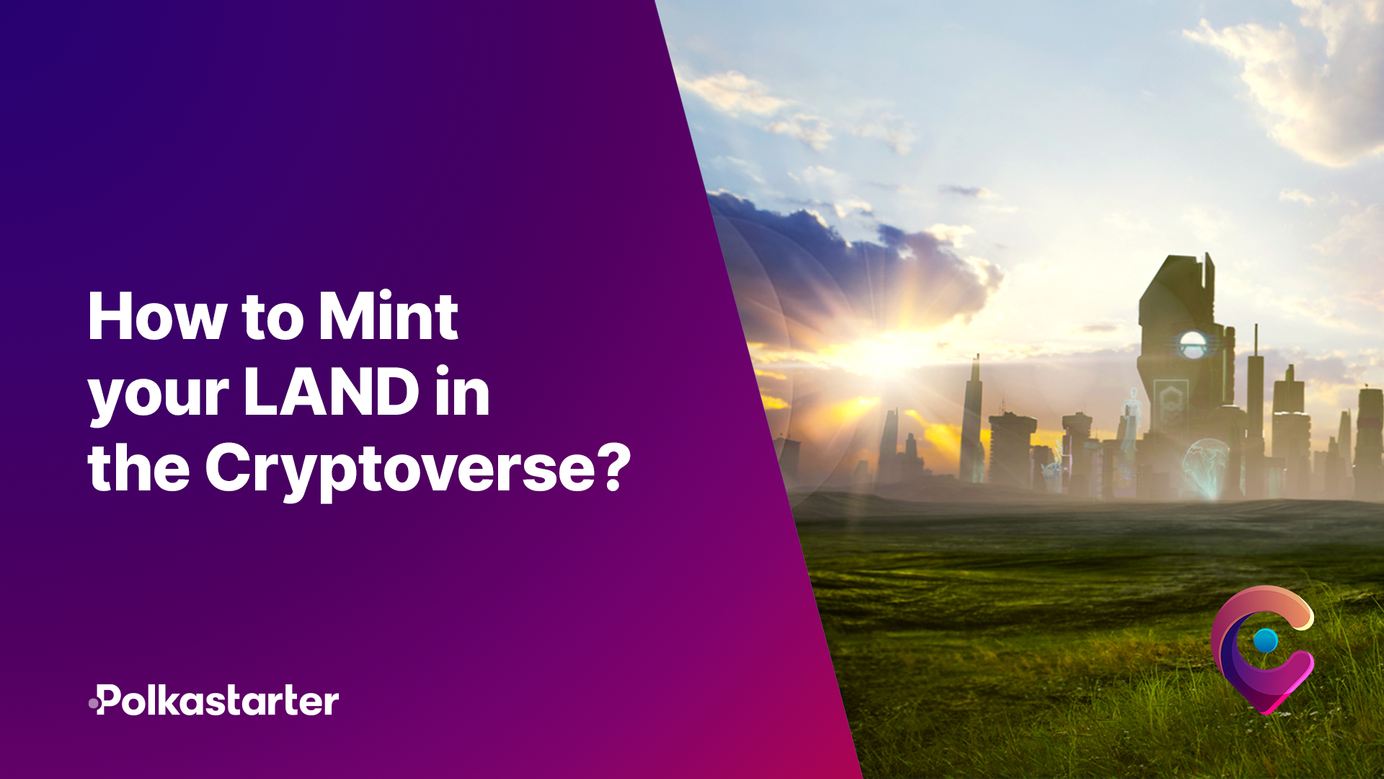 How To Mint Your LAND in the Cryptoverse
Everything you need to know about minting your land
About a month ago, we shared a blog post with all the information you needed to know about Cryptoverse's NFT LAND sales. Fast-forward to today, and it's time to show you that you can mint your LAND in the Cryptoverse.
Are you ready to own your virtual land?
How does the minting process work?
Step 1: Cryptoverse will send you ERC-20 tokens
Cryptoverse has a list of users who purchased different land types through Polkastarter. If you are on the list, Cryptoverse will airdrop ERC-20 tokens to you, which will be the currency you will redeem the land with.
Instead of whitelisting a list of addresses on the minting website, Cryptoverse will be airdropping the tokens directly to you, and you will then be able to trade them in for the land. The token airdrops will likely happen by the end of next week, between 9 and 13 May.
Step 2: Land size corresponds to specific tokens
There are 6 sizes of land which correspond to 6 types of tokens.
The first 5 estates - Epic, Giant, Large, Medium to Small - will all be on Ethereum, therefore, 5 tokens will be on Ethereum. As for the 6th estate, named Singles, which cost $180 in the sale, it's going to be on Polygon for better gas. Therefore only 1 token ERC-20 will exist on Polygon, and that's for the Single land type.
You will be airdropped the tokens based on the land you have purchased. If you purchased 1 X Epic and 1 X Small you'll be receiving 1 X  Epic and 1 X Small ERC-20 tokens.
Step 3: Use the Land Picker tool
Once the airdrop process has been completed and the ERC-20 tokens are in your possession, you'll be able to start land picking at the beginning of June. Hold tight more news coming soon!
The Land Picker tool will be on the Cryptoverse website, where you can log in and connect your MetaMask. Once you do, you can pick any area based on the token you have, on a first come first served basis.
For example, if you have 1 X Epic token, you can pick an Epic estate, zoom in on the map and select where you want it. Once you are ready, you are a MetaMask transaction away to approve and transact. The transaction will take the ERC-20 token (or tokens) from your wallet, thus using this token as currency to mint the actual NFT.
Buying land in the Metaverse is a new experience for most people and hopefully, this blog post will help you get through the minting process in a simple, stress-free way.
About Cryptoverse
The Cryptoverse is an immersive 3D virtual world built in Unreal 5 which is underpinned by blockchain technology. Within the Cryptoverse, users will be empowered to create, own LAND, govern and monetize experiences using $CGG, the token which also underpins the ChainGuardians and ChainBoost ecosystem.
To learn more about Cryptoverse, check out the following links:
Website | Twitter | Discord | Telegram | Medium