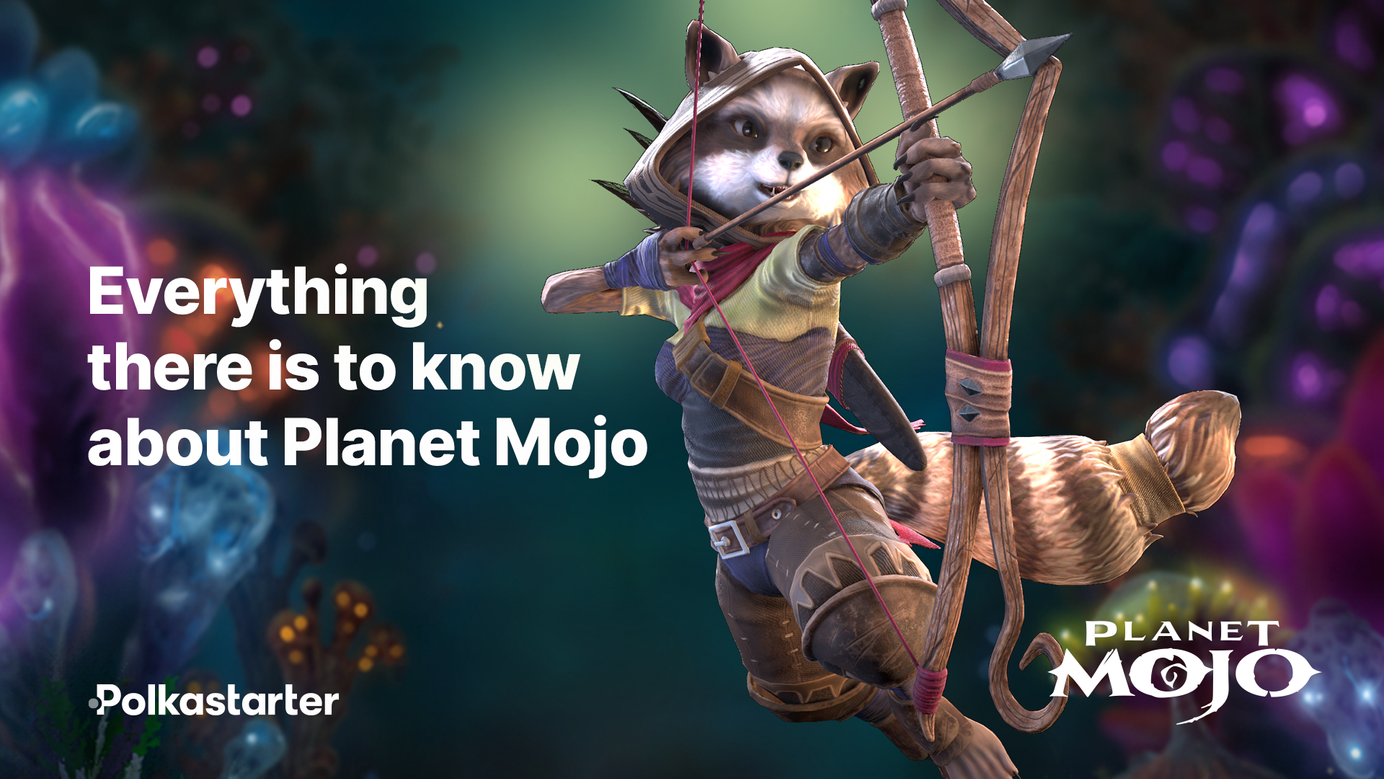 Everything there is to know about Planet Mojo
Get ready for Planet Mojo NFT sale on June 1, 2022

Our first NFT sale is around the corner! Planet Mojo is ready to entertain you and take you on a memorable gaming ride.
Let's uncover what makes Planet Mojo different from other blockchain games.
What is Planet Mojo?

Powered by Polygon and Unity, Planet Mojo is a blockchain gaming multiverse with a suite of E-Sports PvP and Play-And-Earn games set inside a rich new world where players can operate with their customized teams.

Planet Mojo brings different elements to the gaming experience shifting the paradigm to Play-and-Earn. It's all about the gameplay!
2 Upcoming Games
Planet Mojo will release its first two games: Mojo Melee (auto chess) and Biomes (land play). They will first debut on desktop browsers and later as mobile apps. Based on their roadmap, we may expect early access for the games in Q3 this year followed by an Alpha launch in Q4.
Biome
Biome is a land play game in which players can purchase land Biome NFTs - the homes for the Mojos NFTswhich are homes to their Mojos NFTs (which are players' main characters to go into battle).
It's important to note that players can only deploy a maximum of 3 Biomes during a game. Biomes can be assigned just one Mojo NFT at a time. Players can then build Altars and harvest Energy which is the basic resource required to create Battle Stones (the passes to get players into paid tournaments - they are buyable and sellable on Marketplace).
The Biome will have daily quests and the ability to craft items to use for upgrades or trade-in the Mojo Marketplace. They will evolve over time with new features, serving as a "home base" and launching point for new games and adventures. Biomes will have different types (forest, arctic, etc.) and rarity levels (common, rare, mythic) which will determine how much a player can earn on their land and what improvements might be available.

Mojo Melee
Mojo Melee is Planet Mojo's upcoming player vs. player (PvP) auto chess battler game. Players will have the ability to own their in-game playable 3D Champions NFTs characters and teams and compete in ongoing play-and-earn tournaments with crafted Battle Stone NFTs made in Biome gameplay.

Tokenomics and Game Economy Design
We've talked about the importance and value of good tokenomics for projects such as Planet Mojo. Here is a bit more information about the tokenomics and overall economy design of the game.
Planet Mojo has adopted a dual currency model - $MOJ the native ERC-20 Token which is essential for staking, in-game payments, governance, etc. AND ORE is the in-game utility and reward soft currency, which is earned in Auto Chess, that allows players to upgrade their NFTs.
The below diagram sets out the game economy which has been rigorously tested by Machinations to ensure a healthy game economy.

Meet Planet Mojo Team
Team plays a huge role in the success and validation of a project. The team behind Planet Mojo is no different and has extensive experience of over 25 years in creating, launching, and shipping commercial titles for the gaming industry's top legacy publishers - LucasArts, EA, Activision, ILM and more.
Planet Mojo team aims to give everyone a chance to play their games and create a long-term and sustainable project that also has an impact on society and helps protect the environment.
About the INO
Planet Mojo will be offering a subset of 2000 Mojos of the first and only "Origin" Mojo through this NFT Sale. All participants will receive a "Moj-Seed" (a special seed from Planet Mojo), which will later be manually sprouted into a one-of-a-kind Mojo!
The Mojos are Planet Mojo's 3D devilishly powerful plant creatures that enable you to play the games of Planet Mojo! Every mojo has unique attributes and rarities, as well as poses and animations which will be able to be updated when the game comes out. Moj-Seeds will be available to be minted as NFTs to early adopters after the INO and then sprouted into Mojos on the week of June 20, 2022 on their website.
Planet Mojo is poised to become a long-term sustainable gaming project and platform for the next generation of gamers, where they own their in-game assets and have a say in the future direction of the project.

Dive Deeper into Planet Mojo world on their project page and get ready for their NFT sale on June 1, 2022 at 1:00 PM UTC!

See you there!

About Polkastarter
Polkastarter is the leading decentralized fundraising platform enabling crypto's most innovative projects to kick start their journey and grow their communities. Polkastarter allows its users to make research-based decisions to participate in high-potential IDOs, NFT sales, and Gaming projects.
Polkastarter aims to be a multi-chain platform and currently, users can participate in IDOs and NFT sales on Ethereum, BNB Chain, Polygon, Celo, and Avalanche, with many more to come.
---
Stay tuned for more upcoming IDOs
Website | Twitter | Discord | Telegram | Instagram | Newsletter | YouTube | Spotify
Polkastarter Blog - Latest Polkastarter News & Updates Newsletter
Join the newsletter to receive the latest updates in your inbox.
---