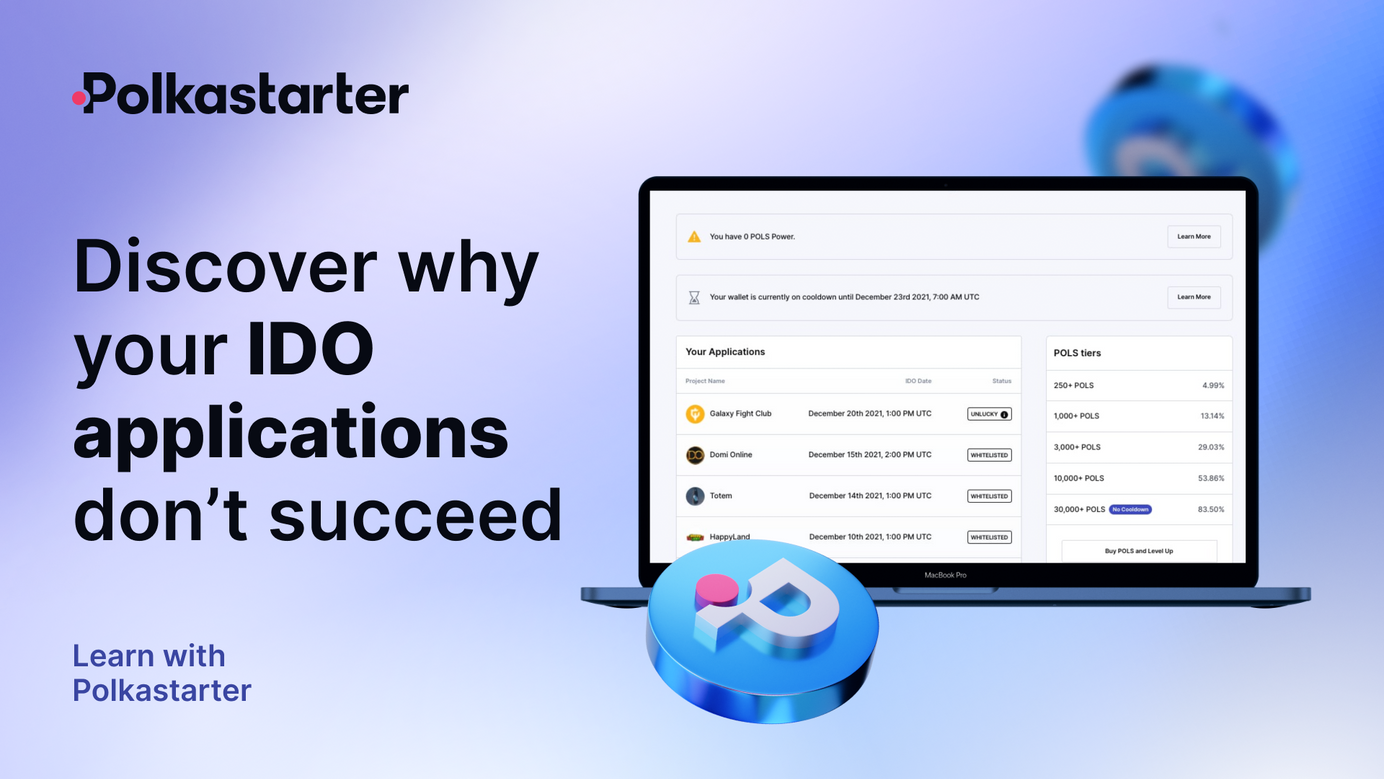 Discover why your IDO applications don't succeed
Adding a new feature to your dashboard: the Reason Tooltip!
Participating in Polkastarter IDOs is the fun part! Getting rejected on your application is not. And what's even worse is not knowing the reason why you're rejected.
We hear you!
That's why we added a brand new feature to your dashboard called "Reason Tooltip". It will show you information about your application status. You'll see it on the web version of our site.
Here are the possible reasons why your IDO application didn't succeed:

1. Didn't KYC: You failed or didn't complete the KYC process
Make sure you check your email spam for the KYC email from the project. Here's a full guide on how to do KYC properly.

2. Blacklisted country: You're living in a non-eligible country

These countries are listed in the application form of the project.

3. Wrong answer(s): You've put a wrong answer or answers
You haven't answered the questions correctly in the application form. For the next IDO, make sure you follow the project's social media channels and site. There you'll find the answers.

4. Insufficient POLS Power: You don't have enough POLS Power
You need to have at least 250 POLS to get allowlisted for an IDO. Make sure you don't unstake those POLS between applying and when you are pre-selected for the IDO. Here's everything you need to know about POLS power.

5. In cooldown period: You're in a cooldown period
A cooldown period starts after you participate in an IDO. You'll need to wait 7 days before you can apply for the next one. This doesn't apply if you hold over 30,000 POLS.  Here you'll find more information about the cooldown period.

6. Didn't pass AML: You didn't pass AML
Each project conducts its own Anti-Money Laundering checks. Polkastarter doesn't know the criteria for these checks or the reasons for rejection.

7. Unlucky without '!': You were just unlucky
You did everything correctly and your application is still unsuccessful. Don't worry! If you keep following the allowlisting process, you'll get your chance.

About Polkastarter

Polkastarter is the fully decentralized launchpad to launch new ideas in the blockchain and digital assets space. With an industry-leading curation process and market access, we select the most innovative projects in the space and offer them long-term support after their IDOs.

With Polkastarter, crypto projects can increase their reach, grow their communities and receive support from crypto's most well-versed experts. IDO participants, on the other hand, are offered an opportunity to invest in a secure and compliant environment, as well as participate in IDOs not solely on Ethereum, but also on Binance Smart Chain, Polygon and Celo.

Media Contact Polkastarter: [email protected]
---