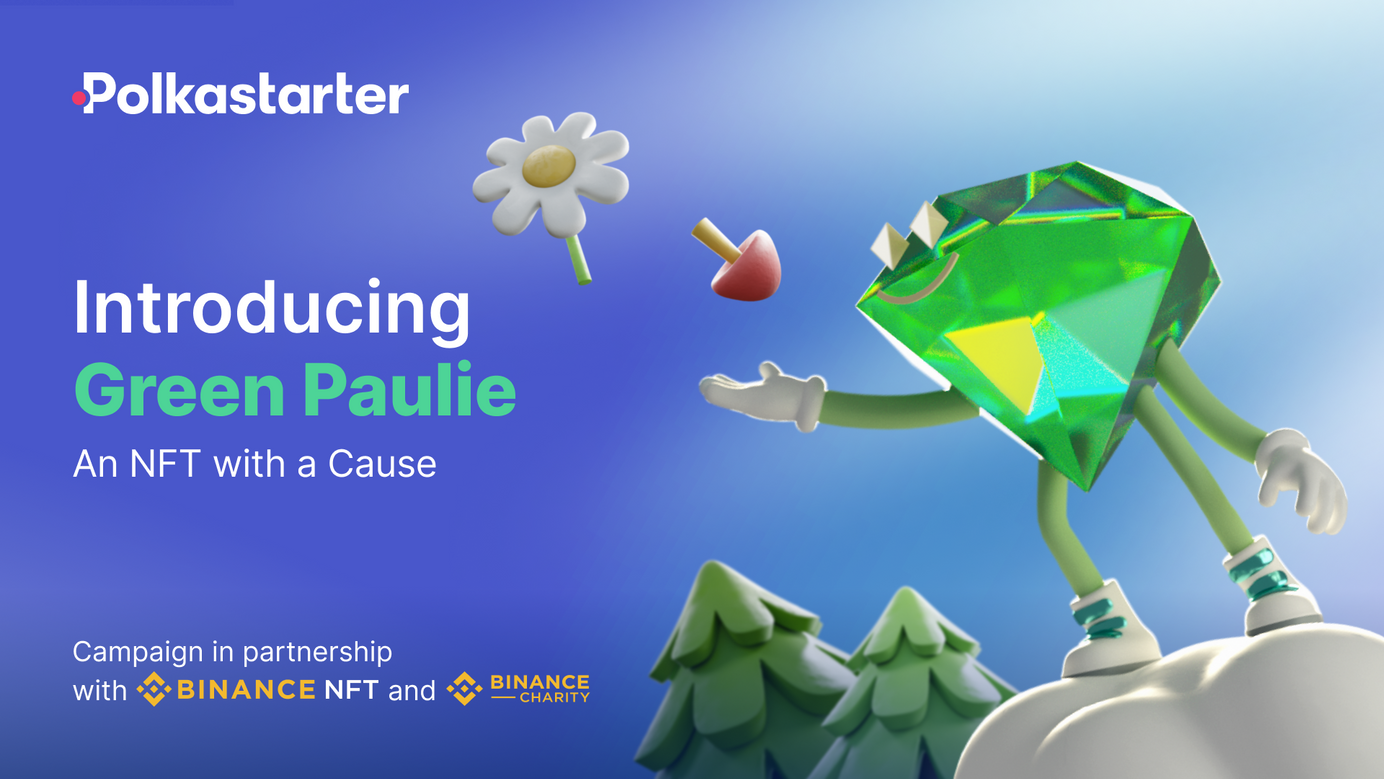 Introducing Green Paulie - An NFT with a Cause
Green Paulie will give you exclusive access to all IDO in 2022 while raising money for the Binance Charity Tree Millions project.

In line with the Christmas spirit, we are thrilled to introduce the youngest member of the Polkastarter family: Green Paulie. Our new NFT character will give you exclusive access to Polkastarter IDO in 2022 while raising money for the Binance Charity Tree Millions project.

According to scientists, planting trees is one of the best ways to lower CO2 emissions, and we want to help. How? By donating all the proceeds from the auction to support this noble cause.

What makes the Green Paulie so special?
Green Paulie is the perfect embodiment of our mission - to give more financial opportunities while building a sustainable future.

This new emerald version of Paulie is similar to Santa Claus but way cooler.

For starters, Paulie is a green gemstone, and who doesn't like green?

Santa Claus travels around the world using a sleigh which is already a little old-school, right? Green Paulie is transported by a cloud (it's basically the NFT version of Goku).

While Santa is busy delivering gifts to us…once a year, Green Paulie spends all of his days watering the trees that give us oxygen to breathe.

And last but not least, Green Paulie gives you access to all Polkastarter IDOs in 2022. Something that even Santa Claus can't do.

We're also very proud to reveal that digital artist Jaime Sobreviela (also known as Mr.Kat), who made the original Paulie and Golden Paulie, is also behind the creation of Green Paulie.

How does it work?
We will auction Green Paulie on Binance NFT from December 28, 12:00PM UTC, 2021, to January 4, 11:30AM UTC, 2022.
In order to participate and bid in the auction, you must be logged in to Binance. So head over to https://www.binance.com/en and register an account.
The auction's starting price will be $50K, and 100% of the proceeds will go to the Binance Charity Tree Millions project.
After the funds have been deposited, the new owner of the Green Paulie NFT will receive the NFT directly in their Binance account.  
If you're the lucky one grabbing Green Paulie NFT, you've guaranteed access to all IDOs until the end of 2022. Granted your application is valid, your country is within the allowed territories and you pass KYC.
Green Paulie's utility will be valid from January 5, 2022, 00:00:00, until January 1, 2023, 00:00:00, but will remain in your wallet after this period.
Using the Withdraw & Deposit feature in your Binance account, transfer the NFT to your own MetaMask Wallet, connect your wallet to Polkastarter and you will see it reflected in your navbar and dashboard.
And you haven't even heard the best part yet - anyone can participate in the auction. You don't need to hold any $POLS in your wallet.

Join the movement! CLICK HERE to contribute towards building a more sustainable future for everyone by participating in the Green Paulie NFT auction.
We wish you a wonderful 2022! 🌱


About Binance Charity

Binance Charity is a non-profit organization dedicated to the advancement of blockchain-enabled philanthropy towards achieving global sustainable development. Binance Charity aims to transfer philanthropy by developing a 100% transparent donation platform based on blockchain to build a future where technology innovation is used to end all forms of poverty and inequality, advance sustainable development and ensure that no one is left behind. To date, Binance Charity has supported over 1.8 million end beneficiaries through various projects.

For more information, visit: https://www.binance.charity/

About Polkastarter

Polkastarter is the fully decentralized launchpad to launch new ideas in the blockchain and digital assets space. With an industry-leading curation process and market access, we select the most innovative projects in the space and offer them long-term support after their IDOs.

With Polkastarter, crypto projects can increase their reach, grow their communities and receive support from crypto's most well-versed experts. IDO participants, on the other hand, are offered an opportunity to invest in a secure and compliant environment, as well as participate in IDOs not solely on Ethereum, but also on Binance Smart Chain, Polygon and Celo.

Media Contact Polkastarter: [email protected]
---