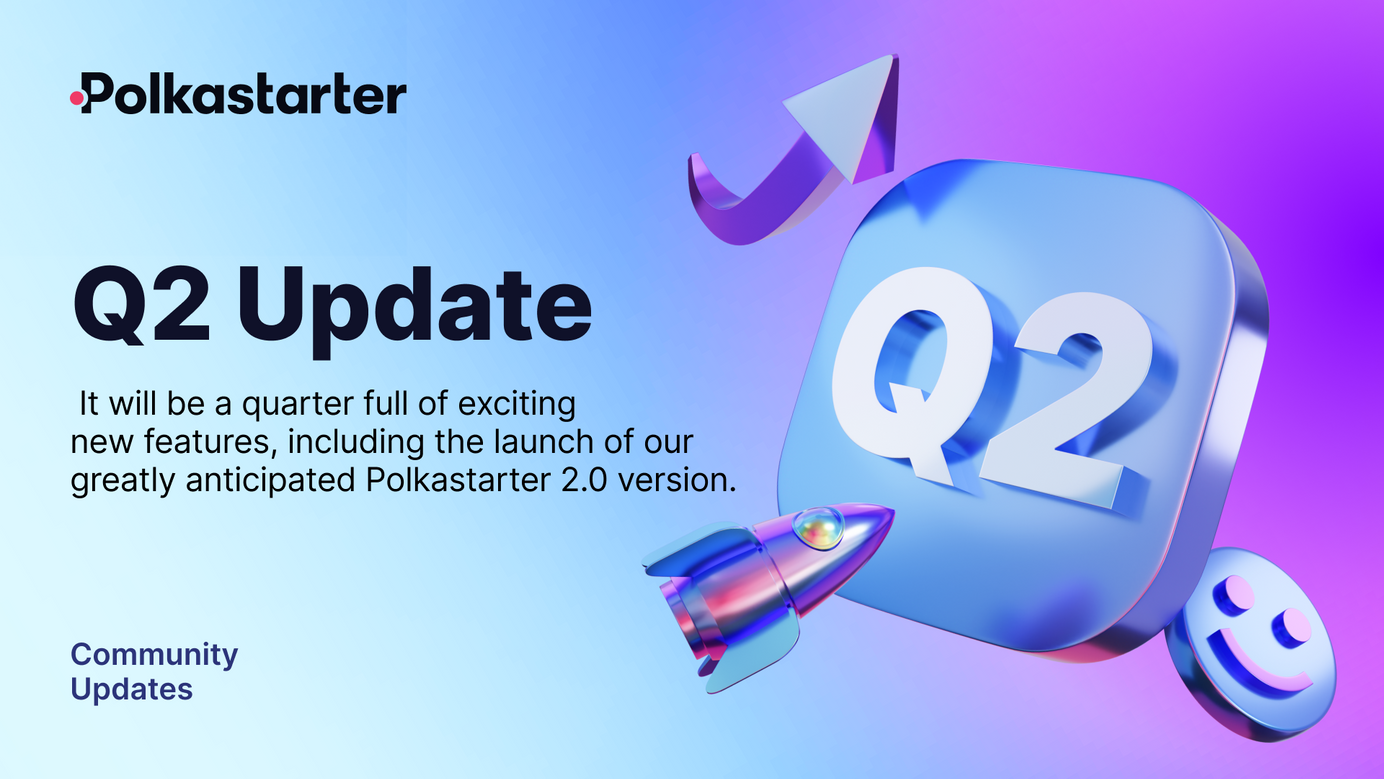 $4.6 million raised by Polkastarter IDOs in Q2 2021
23 IDOs, 1 Pre-IDO and over 18,000 participants to close off the quarter
On our side of the equator, Summer is now in full swing and we are closing off a great June and a remarkable quarter for Polkastarter.
We hit a number of major milestones, ranging from significant social growth across all channels, to hosting record-breaking, first-ever IDOs of the industry's most exciting projects. Throughout the last months, we also hosted various AMAs answering your most pressing questions and welcomed industry-leading advisers, investors and developers to the Polkastarter Council.
Let's take a more in-depth look at the last month and the quarter overall.
---
Q2 2021 Highlights

Updated Allowlist Rules: In Q2, we changed our allowlist rules to give easier access to more people. 250 POLS now equals 1 ticket, significantly bringing down the previous 3,000 POLS requirement . Learn more.
Updated Liquidity Programs: Besides honing our Uniswap liquidity program to increase rewards for LPs, we also extended the liquidity program to PancakeSwap, where LPs can now reap monthly rewards. Learn how to add liquidity to PancakeSwap.
The First-ever Polygon IDO. Meme.com became the very first Polygon-based IDO on our platform, raising 333,333 MATIC (~$500k). Learn how to add MATIC to MetaMask to prepare for future Polkastarter IDOs on Polygon.
First-ever Polkastarter Pre-IDO: Lithium Finance is the first protocol to regularly price illiquid assets and just held its Pre-IDO on Polkastarter.
First-ever Dual ETH-BSC IDO: Genesis Shards made history as Polkastarter's very first IDO to simultaneously raise on both Ethereum and Binance Smart Chain.
Polkastarter Projects Growth: Our projects have been showing tremendous growth in the quarter and we are excited to be supporting them long-term throughout their journeys. The Project Highlights section below gives you an idea of what a number of them have been up to.
---
A Rundown of Q2 2021
We can't usher in the second half of the year without looking back at the past three months. Here's a rundown of what happened from April and throughout June 2021.
Q2 IDOs

This quarter, Polkastarter's multi-chain platform powered 23 IDOs and 1 pre-IDO across three chains - Ethereum, BSC, and Polygon. In total, projects raised 1,728 ETH, 1,695 BNB and 333,333 MATIC from over 18,000 participants. (That's a total of ~$4.6m USD!)

Project Highlights: The Polkastarter IDO projects have been keeping busy. Here are a few highlights from some of the projects that raised funds this past quarter.

---
Community Growth

The Polkastarter Community continued to grow this past quarter and we welcomed a lot of new community members across all socials. We have been widening our presence around the web by recently launching a Discord Channel and started building out the Polkastarter Instagram.

In Q2, our Twitter community grew by 200,000 followers and our posts had over 25 million impressions.
Our Telegram is now nearing 60,000 Members
We officially launched Discord at the beginning of June, where there are now more than 2,100 members!
We had 1,695,830 visits to the Polkastarter website and saw over 600,000 unique users of the website
The Polkastarter blog also continued to attract readers with over 100,000 total visits in the quarter.
Polkastarter's (half) Birthday:  Earlier in June, we celebrated 6 months since the launch of Polkastarter and organized a celebratory Meme Competition with POLS rewards for the winners. Take a look at the winning submission by Twitter user @TalhaDe17745186
---
Council Members

In Q2, we announced 5 of the latest members of the Polkastarter Council. We are looking forward to working together with the Council to further hone the IDO selection process and provide support to our projects.

---
POLS, Liquidity, and Rewards

During the quarter, we worked on improving the experience of POLS holders and introduced a number of changes and additions to increase rewards, incentivize long-term holding as well as providing liquidity.
As a result, we experienced tremendous growth in the number of holders on both Ethereum and Binance Smart Chain and saw POLS liquidity providers receive increasing rewards.

In Q2 2021, the total number of addresses holding POLS stands at 44,253! That is across both Ethereum and Binance Smart Chain.
POLS total trading volume on Uniswap exceeded 1 billion.
We updated the Uniswap liquidity program and bumped up rewards. To qualify on Ethereum, you need to provide at least 1 ETH of liquidity, plus 1 ETH worth of POLS tokens.
We launched liquidity rewards on PancakeSwap! To qualify on Binance Smart Chain, you need to provide at least 7 BNB of liquidity, plus 7 BNB worth of POLS tokens.
Across both Uniswap and PancakeSwap, there are over 1,000 users currently providing liquidity.
In Q2, rewards for LPs totalled over 95,000 POLS and over 3 million USD in fees and rewards.
---
Looking Ahead

If there is one word to best describe this period, then that word is definitely 'progress' - on all fronts. Progress not only from the side of Polkastarter, but also on the side of our ever-growing and vibrant community. Naturally, the job is not yet done and what we are going to do is use this as fuel and motivation to build even more and realize our collective vision of a decentralized future.

We are preparing for a packed summer and have some really interesting IDOs and other things coming your way! Keep an eye out on our socials, join the conversation on each channel and we are looking forward to seeing you there.
---
Connect with us and learn more about Polkastarter
Website | Twitter | Discord | Telegram | Instagram | Newsletter

Polkastarter Blog - Latest Polkastarter News & Updates Newsletter
Join the newsletter to receive the latest updates in your inbox.
---