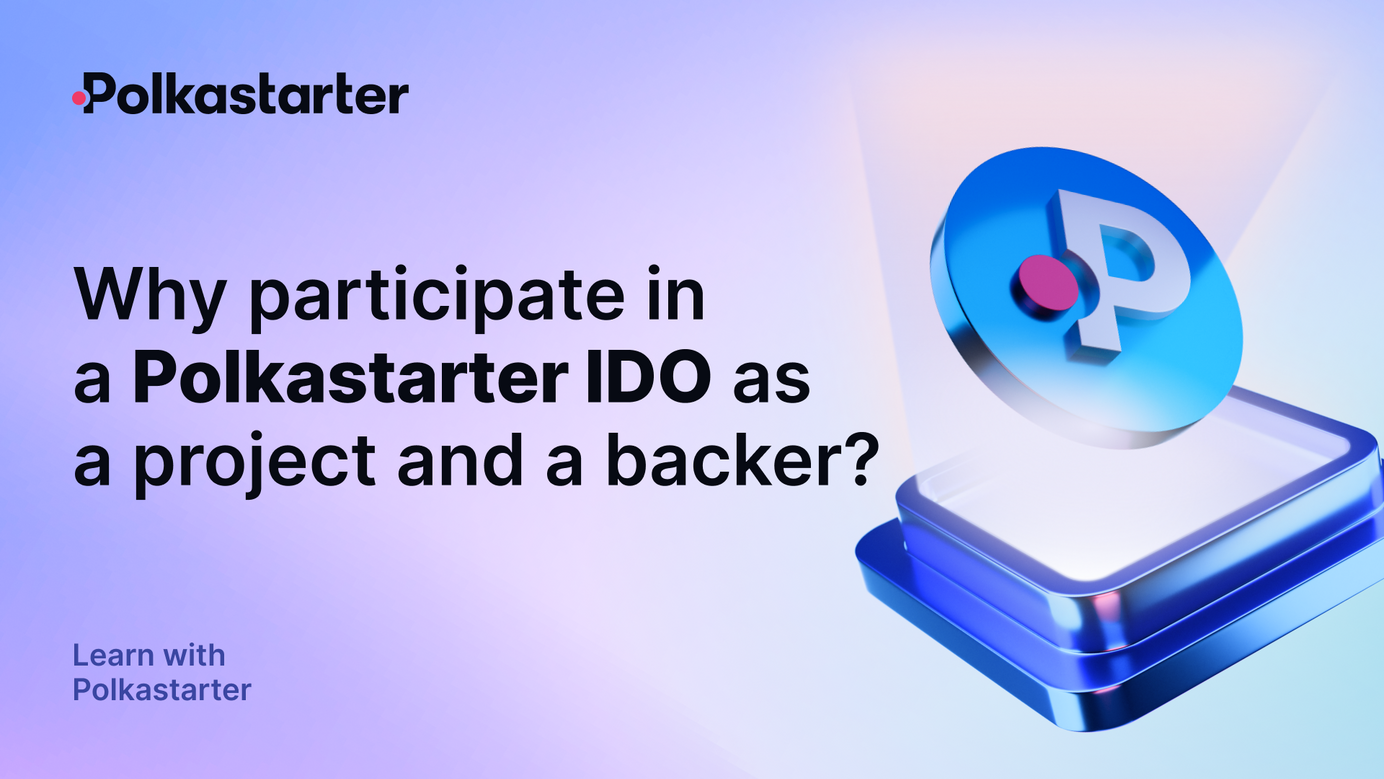 Why participate in a Polkastarter IDO as a project and a backer
Thought we'd remind you why we are crypto's leading protocol for cross-chain token pools and auctions...
Polkastarter is the decentralized launchpad to help early-stage projects in the blockchain and digital assets space get a head start through an Initial Decentralized Offering (IDO). Having initially offered Ethereum-only IDOs, Polkastarter is now integrated with Binance Smart Chain and Polygon, bringing us a step closer to our vision of enabling projects to grow their communities in an interoperable, cross-chain environment.
There are two sides to an IDO: the project that is raising the funds and the participant who is receiving the token distribution.
For projects, we enable the industry's most innovative ventures to grow their networks and connect with a large community of blockchain enthusiasts with a long-term outlook. For participants, Polkastarter gives the opportunity to get in at a very early stage for an outsized potential upside. We enable participants to do that in a safe and secure way, while offering enhanced fairness and scam protection.
In this article, we dive deeper into the benefits of a Polkastarter IDO for both the projects launching on the platform and the participants directly helping those projects kickstart their growth journeys.
---
Projects: Why Launch an IDO on Polkastarter?


Launching fast, safe and interoperable token pools
Polkastarter enables leading projects to launch in an interoperable, cross-chain environment with support for Ethereum, Binance Smart Chain and Polygon. We have also hosted dual-IDOs, in which projects were able to tap into both the ETH and BSC networks to fill their pools.
Polkastarter's bread and butter lies in smooth interoperability between blockchain networks. By offering the option to launch on one or more of the three chains (with more in the roadmap), Polkastarter provides higher throughput and cheaper and faster transactions. At the same time, IDO projects launching on Polkastarter are still connected to Ethereum and BSC for optimized liquidity.
Our dedication to providing a safe environment to both the community and to our IDO projects is further exemplified in a rigorous KYC process. Projects can be assured they are tapping into a community that has been vetted and genuinely interested in the direction of their business.

Access to community
Since its inception in December 2020, Polkastarter has created a global platform and a vibrant ecosystem around it. We currently have nearly 400,000 followers on Twitter, close to 60,000 Telegram Members and a newly-created, growing Discord.
Choosing Polkastarter gives your project access and exposure to the Polkastarter community and enables you to tap into a wide pool of potential backers. Besides sheer size, our community is also spread out all over the globe - from Asia all the way to the Americas - which is an essential aspect of any successful crypto venture.

Our projects are never alone in their efforts to market and communicate the big news of their upcoming IDO. At Polkastarter, we start generating buzz right off the bat and spread the word all over our large following.
One-and-dones do not exist in our dictionary either. We provide marketing and comms support post-IDO as well. Our monthly newsletter, read by thousands of Polkastarter supporters, together with other updates and recaps we regularly roll out on our blog, include IDO projects highlights and ensure the community is always up-to-date with everything you have going on.

Huge partnership announcement? Closing a funding round? Cosmic user base growth? People will surely find out.

Access to market
Next to our state-of-the-art launchpad and large community, projects choosing Polkastarter get an additional value-add by gaining improved market access. In order to ensure only the most innovative ideas launch on the platform, we have created the Polkastarter Council - an independent body responsible for IDO selection.
The Polkastarter Council, composed of leading companies and key stakeholders in the blockchain and digital assets space, has a second, equally important role to provide each project with long-term support way beyond their IDO. Think of it as a massive growth accelerant.
Polkastarter Council Members include KuCoin, Morningstar Ventures, Signum Capital, Polygon, Animoca Brands and others, and make up for industry leaders in their respective niches, be it early-stage investments, blockchain gaming or consulting.
Their wide networks and expertise enable them to provide our projects with "grade A" networking opportunities and advice, thereby ensuring each project is well-equipped to not only get off the ground, but also in pole position to grow sustainably in the long term.
All IDO projects are furthermore connected with each other, paving the way for potential partnerships and cross-pollination between projects with mutual synergies. To date, we have incubated over 60 early-stage ventures, each of which has demonstrated a growing willingness to collaborate and share.
Community: Why Participate in a Polkastarter IDO?
Permissionless fundraising and a user-friendly UX
Polkastarter IDOs are carried out in a permissionless environment. Permissionless IDO access means any eligible address can participate in an IDO, opening up opportunities to more diverse community members without sacrificing security. Of course, eligibility alone does not mean automatic access to an IDO - you will still need to be selected on a whitelist.
Polkastarter's seamless user experience is another distinguishing feature of the platform. Our clean-as-a-whistle design, coupled with a user-first approach, make IDO participation as easy as a walk in the park.

Projects of the highest quality
Headlined by the Polkastarter Council, the Polkastarter IDO selection process ensures only game-changing projects primed for growth launch fundraising pools on our platform. Each of the Polkastarter Council members hold heavyweight status in their respective industry niches and are able to not only select the best projects in the space, but also nurture them continuously beyond their IDO.

Fair and early access
Polkastarter's IDO platform enables IDO participants to jump in early and get preferential access to the most innovative projects in the blockchain and digital assets space. This luxury was previously reserved for professional investors such as angels and venture capitalists. Polkastarter democratizes access to innovation and gives the average Joe an opportunity to become a long-term supporter of early-stage ventures.
Fairness during Polkastarter IDO participation is further ensured via fixed swaps. Fixed swaps establish a maximum investment amount per participant and help protect against large token concentrations among whales in the early stages of token distribution.
Safe and secure on-chain fundraising environment
Participating in the early stages of fundraising and community building for blockchain projects has often been associated with rug pulls and other behaviour falling on the shiftier side of the spectrum. By using Polkastarter, participants can support an early-stage venture with fewer concerns around the validity of a project and the legitimacy of a given team. On-chain fundraising enables all participants to peak into a project's past activity and double-check any potential eyebrow-raising events.
We created the platform with a security-first mindset and have built systems to reinforce our goal of becoming the industry's go-to launchpad. Our rigorous KYC process ensures you are in good company. Every IDO participant has been vetted and chances are they are in it for the long run, just like you.
---
Connect with us and learn more about Polkastarter
Website | Twitter | Discord | Telegram | Instagram | Newsletter
Polkastarter Blog - Latest Polkastarter News & Updates Newsletter
Join the newsletter to receive the latest updates in your inbox.
---