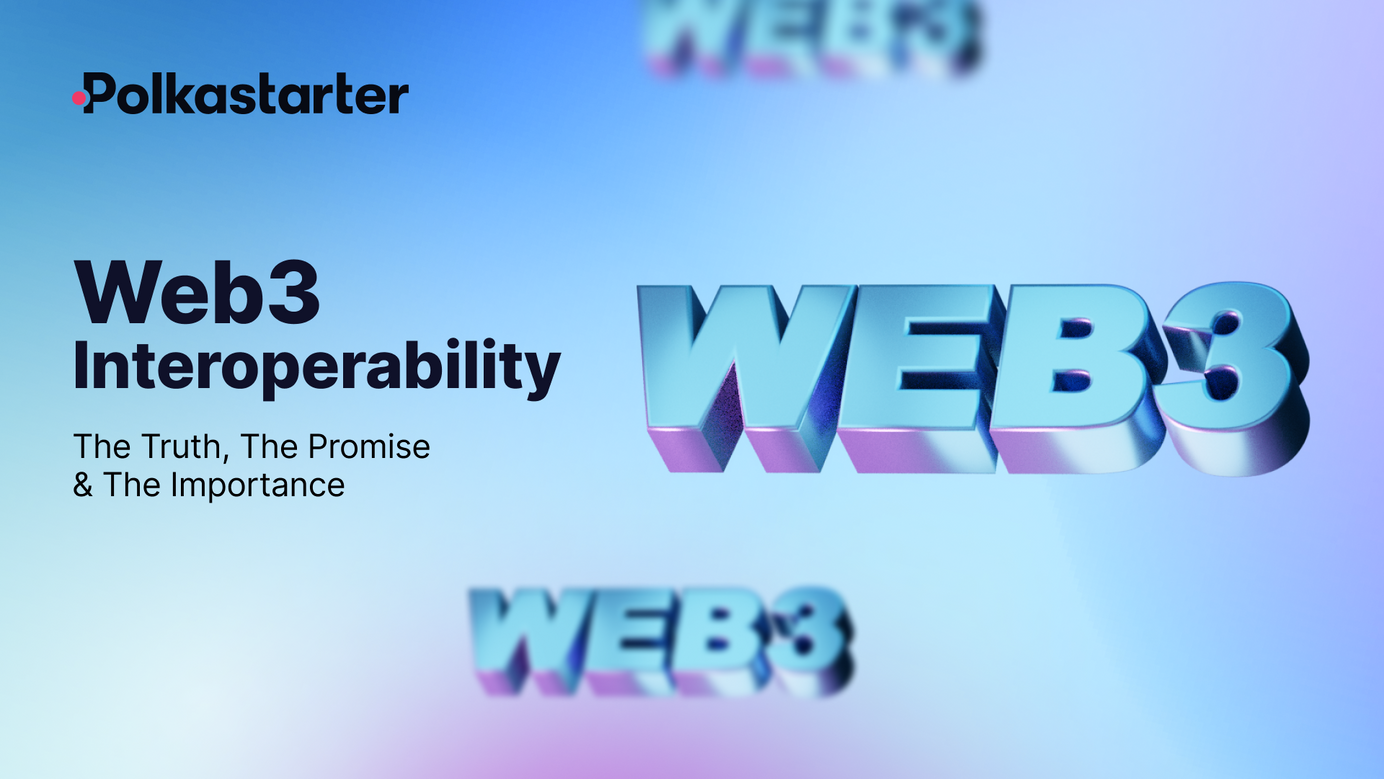 Web3 Interoperability: The Truth, The Promise & The Importance
The future of web3 is hanging on this one.
Web3 reminded the general public of its presence as impressively as a new breed of technology could ever do. In 2021 Facebook changed its name to Meta, and according to Goldman Sachs analyst Eric Sheridan, it presents an $8 trillion market opportunity. For all this promise to materialize, web3 interoperability needs to happen. What is that? We're glad you asked.
What is interoperability?
Interoperability refers to the ability of different computer systems, devices, applications or products to connect and exchange information with one another,  without any input from the end user. This sounds simple enough for the products, devices, and internet we know of today, but for an environment as novel as web3, it's still a big challenge to figure out.
What is web3 interoperability?
Taking the explanation above and applying it to web3, interoperability refers to the ability of isolated blockchain environments to communicate with one another. Put simply, interoperability is the state where blockchains can listen to each other, allow users to transfer digital assets and data, and enable better collaboration.
The blockchain interoperability challenge
What's the best way to explain a web3 problem? Use a web2 analogy. To better help you understand the blockchain interoperability challenge, let's shift our thinking to something we already know — emails. Can you imagine a world where having a Gmail account means you can only send and receive emails from other Gmail account owners? No communication with Yahoo, Hotmail, or any other email account provider.
This is more or less the blockchain interoperability challenge — getting different blockchains to communicate with each other seamlessly. Metaverses are currently built as self-contained silos with clear limitations.
Why is web3 interoperability so important?
It's the key to unlocking web3 mass adoption. Imagine being able to open a new smart contract on Cardano but store most of your NFTs within the Avalanche network. With the advent of interoperability in web3, the possibilities are endless.
Interoperability would undoubtedly impact blockchain adoption. Web3 would become accessible by anyone and become a seamless, smooth experience, much like the internet we use today.
Following adoption comes scalability. Diffusing the mainchain is essential to keeping the whole ecosystem fast and efficient. Blockchains will never be able to scale if they don't start communicating.
The promise of web3 interoperability
Can you fathom the possibilities? Trade NFTs across networks, transact using different chains and track your entire portfolio from a single preferred wallet. Here are other scenarios. Social networking sites could offer digital currency rewards for comments, likes, or even peer-to-peer lending and borrowing. Music event companies could sell tickets or collectibles as NFTs and offer tie-ins to a blockchain-based online concert. Social networking sites could offer digital currency rewards for organic interactions and peer-to-peer lending and borrowing.
With blockchain already redefining gaming, reaching the point of interoperability would take  the gaming experience to a new level. Imagine paying for tokens in one game and using them in a completely different one. Cross-game compatibility can increase business revenue, player revenue, and the players' satisfaction with playing the games.
Then, there's the prospect of cross-industry collaborations. Markets and sectors that, on paper, may seem entirely separate will be able to transfer data and value more efficiently. Simply put, web3 interoperability could see the birth of new products and solutions by bringing together organizations and communities that wouldn't typically interact. These collaborations could include the exchange of information, and tapping into each other's strengths.

About Polkastarter
Polkastarter is the leading decentralized fundraising platform enabling crypto's most innovative projects to kick start their journey and grow their communities. Polkastarter allows its users to make research-based decisions to participate in high-potential IDOs, NFT sales, and Gaming projects.
Polkastarter aims to be a multi-chain platform and currently, users can participate in IDOs and NFT sales on Ethereum, BNB Chain, Polygon, Celo, and Avalanche, with many more to come.
Website | Twitter | Discord | Telegram | Instagram | Newsletter | YouTube | Poolside

Polkastarter Blog - Latest Polkastarter News & Updates Newsletter
Join the newsletter to receive the latest updates in your inbox.
---