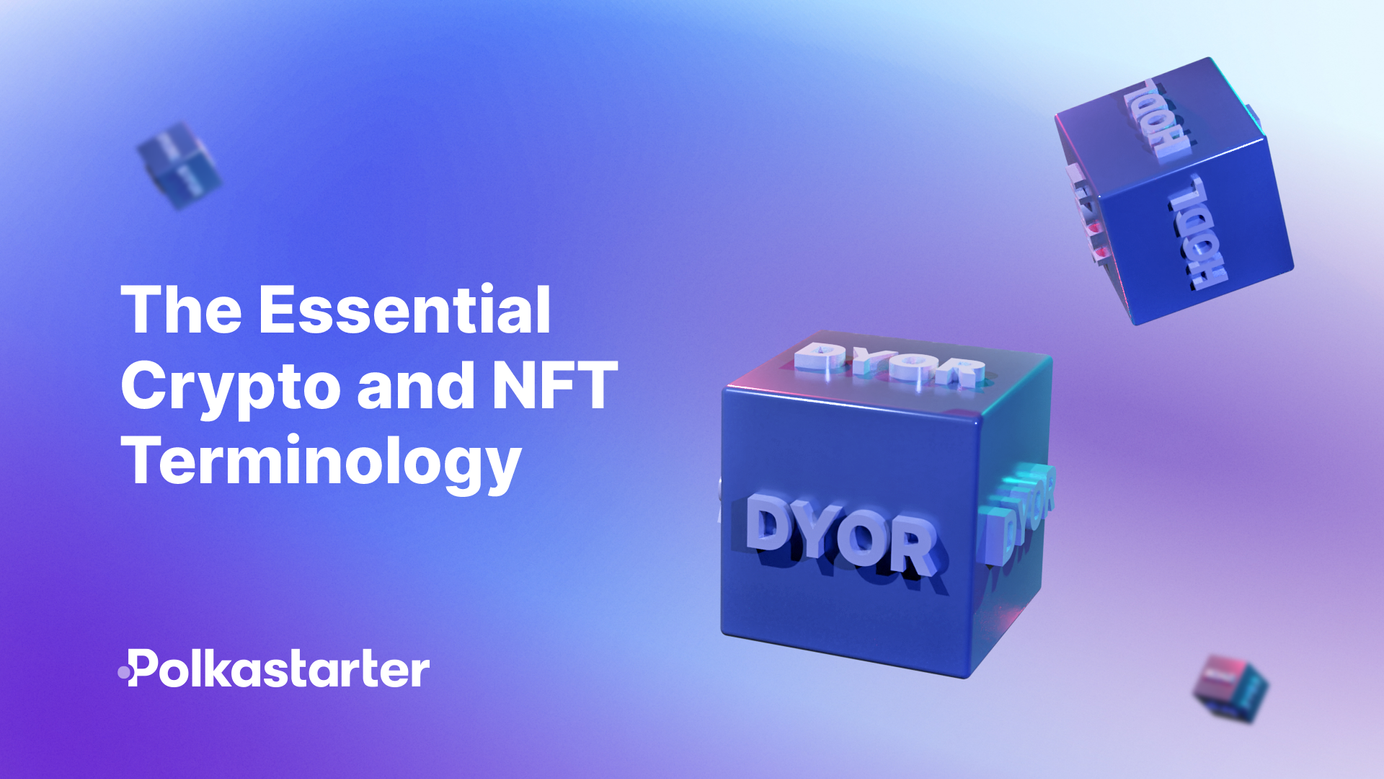 The Essential Crypto and NFT Terminology
Get a better understanding of the crypto and NFT space

Crypto can be a confusing industry to navigate, especially when you're starting out.

There are already so many terms out there that it's hard for beginners to understand the space. That's why we created this article - to help onboard more users into crypto.

Knowing these terms will make it easier for you to do research and discover promising projects.

You could talk to and understand the crypto community. Also, you could finally call yourself a crypto native!

Here are the essential terms in the crypto/NFT space that you should know about:

Airdrop - A free distribution of the platform's tokens to drive awareness of a certain project. You can receive these if you're early to projects. For example, the people who bought domains from ENS got the $ENS token airdropped.

ALPHA - Information that the rest of the market doesn't know yet.
APE - (Rush into) buying into something.'' DYOR before I ape in.''
ATH - An all-time high.
AR - Augmented reality. It's a technology that allows you to project virtual things into the world. A popular AR game is Pokemon Go.

BEARISH - Feeling negative about the market.

Blue Chip NFTs - Refers to NFT projects that have already built a solid community of loyal believers. Some people think of them as good long-term bets.

BULLISH - Feeling positive about the market.
CT - The crypto community on Twitter as a whole.
DAO - A decentralized autonomous organization. It's an organization that runs entirely on smart contracts.
DEGEN - Degenerate. Usually, this refers to people who heavily invest in digital assets like NFTs without doing due diligence.
DeFi - Decentralized finance. Refers to the typical banking services like deposits, lending and borrowing in the crypto space.

DEX - Decentralized exchange.
Drop - Refers to NFT projects that are about to release.
DYOR - Do your own research.
ENS - Ethereum name service - a provider for crypto domain names.
ERC-721 - The token standard used for NFTs.
Floor - The lowest price for which you could buy an NFT.
FLOOR IS LAVA - The floor price of an NFT project is rising.
FLOOR SWEEPING - Buying the NFTs at floor price to increase the value of the entire collection.
FOMO - Fear of missing out.

Fren - Friend.

FUD - Fear uncertainty, doubt.
GA - Good afternoon. Sometimes it also means Giveaway.
GAS - Network fees.

Generative Art - Art that's created with the help of a computer.
GM - Good morning. This is how the Crypto Twitter community likes to start their day.
GMI/WAGMI - "Gonna Make It" / "We All Gonna Make It". Being super optimistic about the future.
GN - Good Night.
HODL - Just hold your crypto, don't sell.
ICO - In traditional finance, you have IPOs (initial public offering.) In crypto, you have ICOs. When you participate in an IPO, you get stocks. Investing in ICOs gives you crypto tokens.

IDO - Initial DEX offering. It's what happens when a cryptocurrency launches on a decentralized exchange.

IGO - Initial game offering. It's like an ICO, but with an IGO you get an in-game token. With this token, you could upgrade your video game character or items.

IFPS/IPFS - Interplanetary file system. It allows you to store files and track their versions over time, similar to Google Docs.
IYKYK - If you know, you know.
Launchpad - A platform for investing in new crypto projects via ICOs, IDOs or IGOs.

Looks Rare - A popular NFT marketplace

Metaverse - A virtual world that you could access using special hardware like AR and VR glasses.

MINT - The process of creating an NFT.

MOON - Price going up fast.

MOONBOY - Social media crypto influencer.

NGMI - Not gonna make it.

NFA - Not financial advice.

NFT - Non-fungible token.

NFT Marketplace - A marketplace in which you can buy and sell NFTs. The most popular one is OpenSea.

P2E - Play-to-earn. It refers to games that give you crypto rewards when you complete certain tasks.

PFP - Profile picture.

POS - Proof of stake. A popular consensus mechanism in the blockchain space.

POW - Proof of work. Another popular consensus mechanism.
Ser - Sir
SAFU - stands for "safe" when referring to your cryptocurrencies or tokens.
SHILL - Aggressively promoting a crypto project or coin.
Staking NFT - Refers to the process of locking your NFT to a smart contract for a certain period of time in exchange for crypto rewards.

VAPORWARE - Lots of marketing but no product.
VR - Virtual reality. It's hardware that you can use to play different interactive video games. Popular ones are Oculus and Playstation VR.

WEB3 - The third version of the Internet. When people talk about web3, they generally refer to the opportunity to own digital assets and your data.

1:1 - Refers to art or NFTs, which are one of a kind. For example, the Mona Lisa is 1:1.
Did we miss anything?
Feel free to tag us on Twitter with your favorite crypto term and we will add it to this article.
If you think this article was useful, share it with a friend, so they can join the web3 revolution. 🙌

About Polkastarter
Polkastarter is the fully decentralized launchpad to launch new ideas in the blockchain and digital assets space. With an industry-leading curation process and market access, we select the most innovative projects in the space and offer them long-term support after their IDOs.

With Polkastarter, crypto projects can increase their reach, grow their communities and receive support from crypto's most well-versed experts. IDO participants, on the other hand, are offered an opportunity to invest in a secure and compliant environment, as well as participate in IDOs not solely on Ethereum, but also on Binance Smart Chain, Polygon and Celo.

Media Contact Polkastarter: [email protected]
---