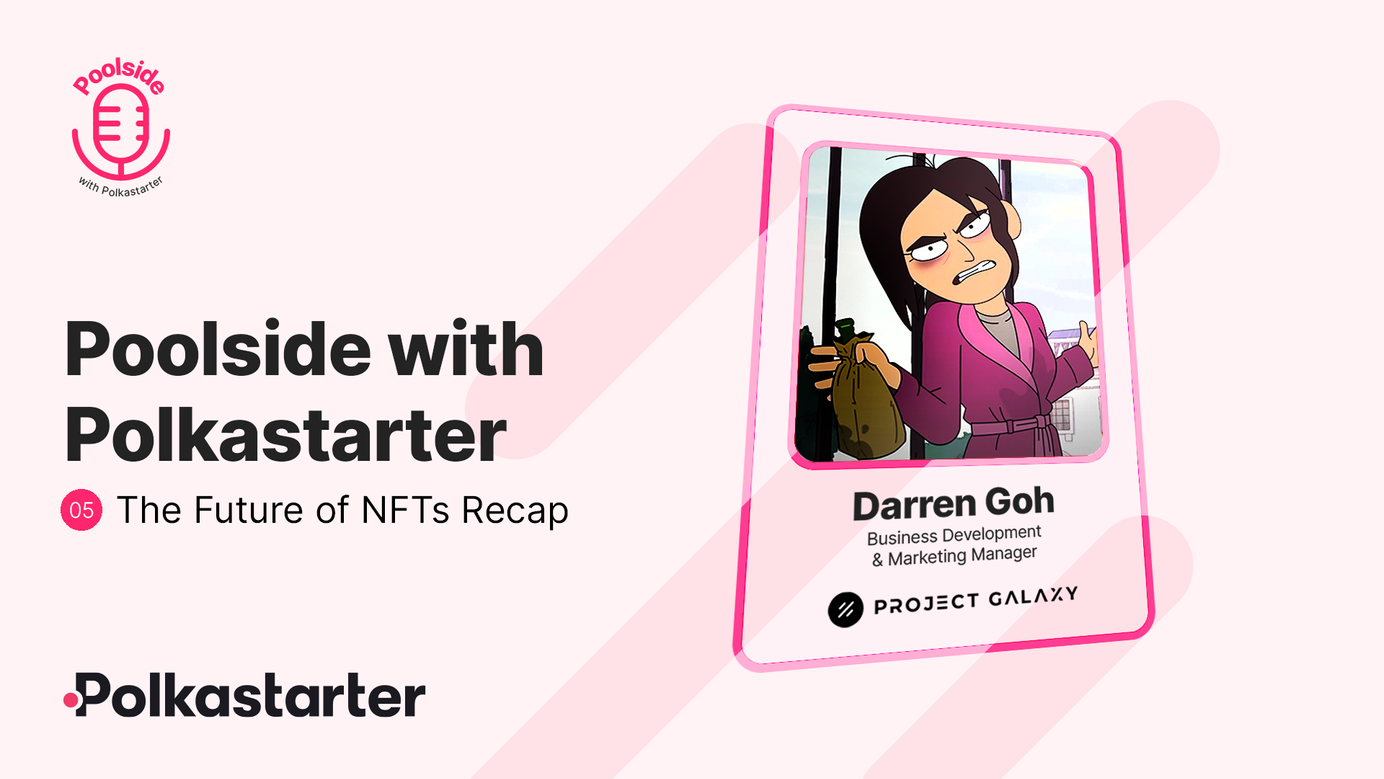 Poolside with Polkastarter 05: The Future of NFTs Recap
On our latest Poolside with Polkastarter episode, we talked about the future of NFTs and how their utilities could possibly change moving forward.
The episode saw us sitting down with Darren Goh, the Business Developer and Marketing Manager of Project Galaxy, to discuss the future of NFTs and how their underlying technology could be leveraged in different ways moving forward.
Let's recap the main points from this talk. If you want to stay up to date with Poolside with Polkastarter new episodes, make sure you follow us on Spotify, Apple Podcast or Google Podcast.
Darren Goh
Darren first got into crypto back in 2016 when Ethereum was just 8 dollars, even though his first experience with crypto dates back to 2013 when he translated some documents within the deep web and received his first Bitcoin. Fast forward to 2022, and Darren is heavily involved in the marketing operations of Project Galaxy.
What is Project Galaxy?
Project Galaxy is the largest web3 credential data network in the world. They help developers and organizations leverage NFTs and digital credential data to build better products and communities within the web3 ecosystem.
If there was one comparison that would help you contextualize Project Galaxy's purpose, that would be what we now know as Google or Facebook Ads with the main difference being that everything happens in a transparent and decentralized way.
As it stands, Project Galaxy has more than 300 protocols and organizations thriving on its credential data network and application modules. In total, they've launched more than 3000 marketing campaigns and loyalty programs, with more than 500,000 credential-based NFTs minted every single month. Those are some impressive numbers. They currently have more than 3000 credential data sets curated in the network, covering more than 4000 wallet addresses in web3, from different chains. There are more than 2.000 million blockchain wallet users registered for the Galaxy ID.
NFTs are more than just art, right?
According to Darren, NFTs are simply a representation of data. For example, if you hold a Polkastarter NFT, it may grant you access to certain rights. That's how people build loyalty programs and also a certain exclusivity on top of the NFT with The Bored Ape Yacht Club being the perfect example.
Apart from ownership, NFTs can also provide access to different projects and this is something Project Galaxy utilizes pretty well with priority queues, special mining boosts, and more. Most people use NFTs for trading and speculation, but there is a bigger picture of what they can represent which is, what type of access or what type of other utilities we can add to the entire proposition.
What are some of the obstacles Project Galaxy is facing at the moment?
The main challenge for the team at Project Galaxy, was helping partners to figure out how to create value on top of an NFT. Nowadays, people have certainly gotten used to the idea of using NFTs to build brand loyalty, not just within the web3 space, but within the web2 world as well.
Even Buddweiser bought an ENS and launched different NFTs. Even people like NBA superstar Stephen Curry keep on getting ivolved with NFT projects. For Project Galaxy, the most recent milestone and goal are to go fully permissionless. They want to make their offering as user and developer-friendly as possible.
They are still trying to figure out the best standard and the best guidelines to help people launch different NFT campaigns for different users. The hardest challenge is filtering out scammers from the real builders. To do that in the midst of a bear market is obviously making things all that much harder.
What does the future hold for NFTs?
Understanding the underlying technology behind an NFT is key. A lot of people tend to think that, by holding an NFT, you hold certain ownership of a particular NFT. If you look deeper, what's actually happening is that the JPGs and the PNGs are actually stored within an IPFS server. By holding an NFT you actually only own the access key towards the .PNG or .JPG. Ownership is certainly one part of the equation.
As far as other applications of the NFT technology go, the most immediate one is loyalty programs. NFT holders can get access to the first outfits of a clothing line or let's say that you own a restaurant, you could make digital art of ten classic dishes and then offer 1000 NFTs that give the holders 10% off on their meals for life or even use it for exclusive bottles of wines. The possibilities are endless.
A few words on the current bear market
Darren doesn't really see the period we're going through as a bearish market. If you talked with other projects and other players, you can see a lot of brilliant minds trying to work and build a better ecosystem.

The market signals may show we are in a bearish movement, but there's always going to be a correction. What this period essentially does is kill the projects with no real utility and give the time to the hidden gems to shine. The ecosystem is essentially self-cleaning itself, flashing all the players that were not in it for the right reasons.
What does the future hold for Project Galaxy?
Apart from launching version 2 of their application dashboard, they will launch credential oracle and Plugin. What Project Galaxy is trying to do is to try to identify and try to reach people that fit their profile. Target the right audience and design a specific campaign for that target.
What is the Galaxy Oat?
Galaxy OAT is a short form of on-chain achievement token to reward users and build badge campaigns. Similar to Polkastarter, during pre-selling, Project Galaxy actually gave several OAT holders a priority queue.
Moreover, for a lot of the community members, that don't have a lot of funds, OATs can help them display how much effort and time they spend on the platform. OATS can be vertical for certain projects to understand you are the most loyal users and to get their voices heard.

Listen to the full episode: