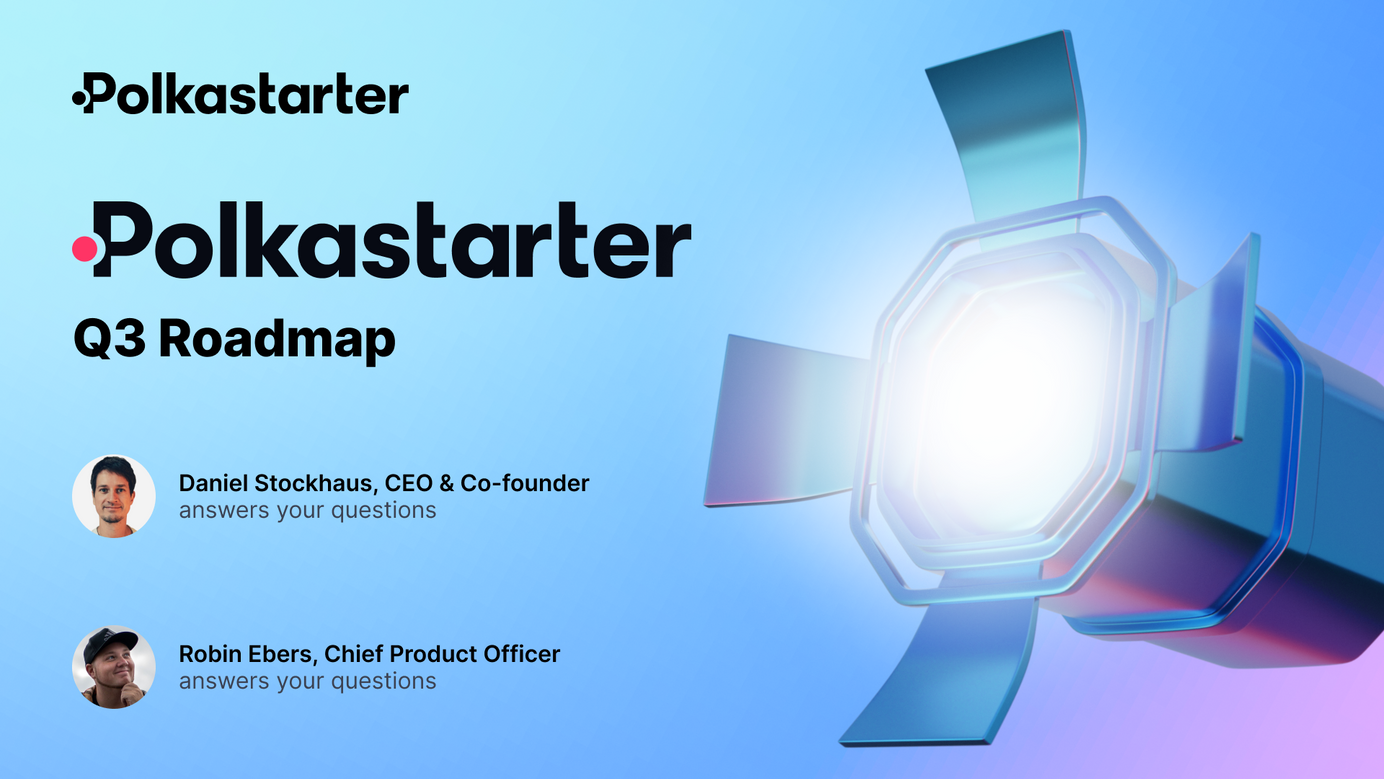 Polkastarter Team AMA for Q3 Roadmap
Polkastarter CEO Daniel Stockhaus and Chief of Product Robin Ebers answer all the Q3 Roadmap community questions.
Host: Hi everyone and welcome to another exciting Polkastarter AMA with the Daniel, our Co-Founder & CEO, and Rob, our Chief Product Officer. This session aims to detail and clarify all the exciting features and novelties we are preparing in the Q3 roadmap. Welcome and thank you for taking the time to join us!
Alright, we'll first have some questions to Daniel and Rob directly, before we open it up for community questions. Let's get started!
Daniel and Rob, can you please tell us a little bit more about yourselves?
Daniel: Hey everyone, nice to have you all join our very first AMA on our Discord Channel. I'm Daniel, CEO & Co-founder of Polkastarter.
Rob: Hi everybody, absolutely. My name is Rob and I'm the Chief of Product of Polkastarter! I'm in charge of listening to all of you guys, making sure we're working on the right ideas, at the right time, and for the right reasons.
Host: The first question will have to be: What is the best way to find out about upcoming Polkastarter IDOs?
Rob: The best way to stay up to date with Polkastarter IDOs is to follow our official channels: We always announce new IDOs on our website, Telegram, Twitter, Discord! You can follow us wherever is best for you and make sure that you never miss an IDO again!

Website: https://www.polkastarter.com/
Telegram:  https://t.me/polkastarter
Telegram Announcements: https://t.me/PolkastarterAnnounce
Twitter: http://www.twitter.com/polkastarter-
Instagram: https://www.instagram.com/polkastarter

During Q3 2020, the Polkastarter website will also feature each upcoming IDO project with a dedicated page, including a project description section, links to socials and more! The entire process will be revamped and we couldn't be more excited to show it to you very soon.(edited)
Daniel: Additionally, please subscribe to our newsletter (you can find the link on our homepage on polkastarter.com) - where we'll bring you the latest news on our IDO's and much more.
We have very exciting projects lined up for the near future!
Host: Awesome!
How have the allowlist process changes in the last quarter affected the IDOs and participation that have happened since?
Daniel: After launching in December 2020 and launching over 40 IDO's by May 2021, we've learned a lot and made substantial changes to our allowlist process in order to make it fairer and better.
We've transitioned from 50% POLS and 50% Public to POLS only pools, maximizing allowlist spots for our valuable token holders and dramatically increasing their chance of participation.

We introduced a ticket system, where 250 POLS equals 1 ticket. This reduced the entry-point requirement for pools from 3,000 to just 250 POLS. Each ticket equals 250 POLS. For every 250 more POLS you own, you'll receive 1 more ticket. So, if you have 750 POLS in your wallet, you'll have 3 tickets to your "name" for when you submit for an allowlist. Allowlists choose addresses at random, so if your address has more than 1 ticket in the submission, your chances of being chosen are higher.

Our aim is to decentralize venture capital and enable the crypto community to get access to the best projects launching their tokens. The bigger our community of POLS token holders and the more educated our community is around the projects whitepaper, roadmap and team, the better projects we can attract with larger public raises.

There are plenty of other changes under the hood that ensure the fairest possible distribution of wallets for our POLS-holders.
Host: Great, can't wait to see what will come up next!
On the Polkastarter Q3 Roadmap you mention a new allowlisting mechanism, can you tell us more details about it?
Rob: Yes, this is actually a bit of an understatement, hah. We've been working on allowlisting for a long time. As Daniel said, we've helped many projects conduct their IDOs on Polkastarter, and we've learned a lot.
We're making a number of changes to both, the actual mechanism to allowlist wallets for the sales (saving projects up to 99% in transaction fees!), but also some pretty significant improvements on how the allowlisting is conducted overall.
Daniel: I would like to add as well, that until now it was very expensive for projects to allowlist participants, as they were directly uploaded onto the smart contract. After several months of research we've finally found a secure solution, which will make it nearly free of charge (some projects paid up to $30k on gas fees), which will free up more resources for projects to invest in community building, marketing and possibly increase their public sale allocations.

Altogether this might seem like a small and insignificant change, but we believe that will actually allow us to conduct much larger sales and have a seamless customer experience at the same time!
Rob: So much to look forward to!
Host: Indeed!
You also mentioned a new feature: Dynamic Token Sales. How will it influence IDOs?
Daniel: What we've learned from launching over 60!! IDOs, is that every project has very different needs from the other and we are all about trying our best to meet those demands
This particular update to our smart contract will give IDO projects more flexibility and enables them to update parameters like token release date/time and wallet allocations. This release is planned to be done in several phases, the first one will be launched very soon! One of the main benefits for our community could be, that we could get rid of "first come first serve" and the gas wars and only enable the exact amount of token holders to fill the pool.
Rob: Particularly the first-come-first-serve is a commonly requested improvement from our community. We believe that in the short-term, we can remove these restrictions and, for example, guarantee a spot in the sale for a specific amount of time before it becomes free-for-all. This would reduce the time-pressure involved caused by "first-come-first-serve" sales, and guarantee that everybody that was allowlisted in fact can participate.
Host: What is your plan for POLS staking for the this quarter and what benefit will it bring to the platform?
Rob: This is an exciting one!
We know that we've been teasing this one for a while, but this quarter it is finally happening. POLS staking is coming!
In its first iteration, we will allow users to stake their POLS on polkastarter.com. This comes with several immediate benefits: - You no longer have to buy POLS 7 days before the lottery, but in fact can apply even if the allowlist is about to close. - Instead, your POLS would be locked for 7 days, after which you can withdraw them if you would prefer to do that. - Moreover, in your personal dashboard on our site it will show you exactly how many POLS you stake, if you are eligible, what IDOs you are allowlisted for and more!
Host: One of Polkastarter's goals is to become fully decentralized, which actions are you developing on that matter?
Daniel: Staking is indeed very exciting and it's one of the first steps towards integrating our community into governance decisions as well, which we are very much looking forward to
Polkastarter is aiming towards full decentralization, which comes in many aspects. 1. We have built the best research team in the business to conduct the initial analysis of each project and Polkastarter is now very well known in the blockchain ecosystem as best and most thorough research of any platform.

Nevertheless, after all our research it is up to our Council (which currently consists of 14 high profile members including Polygon, Alchemy, Huobi etc) to make the final decision. They take that job very seriously and there is a constant conversation to improve that process further.
While we set out certain guidelines in terms of participation and how to conduct your IDO, in the end, everything is really up to each project to decide and interact directly with the community. This means allowlisting requirements, the size of the raise, which countries can't participate, which KYC provider and many other decisions are 100% up to each project.
Our vastly improved new website, which is currently being worked on, will have much more information around every aspect to make it more transparent and clear.

Host: Looking forward to check it!
What's the role of the Polkastarter Council and how will it change throughout the rest of the year?
Rob: We are very proud to have members like Kucoin, Huobi, Polygon and others on our council. They help make Polkastarter what it is, and add an additional layer of security when it comes to project decisions.
The council includes other members, some investors, and some experts in fields like DeFi. They're chosen based on a variety of factors, above all is how they can contribute to making Polkastarter even better.

Creating a council also ties into what Daniel said above, we as a company move rapidly towards progressive decentralization. A part of our council is that they have the final say in if projects make it into Polkastarter to conduct their IDO or not.

We have more members joining throughout the rest of 2021 and beyond, so definitely keep an eye on some exciting new announcements in that regard.
Host: Thank you for all your answers!
Let's move to a few Community Questions from our Twitter and Discord channel.

The Q2 roadmap of Polkastarter mentioned about the crowdloan support for Polkadot and Kusama. What is the latest update on the development of crowdloan / parachain auction platform by Polkastarter? What role does the POLS token play in this platform and do POLS token holders benefit in any way from it?
Daniel: Crowdloans are still very much on our radar and we're monitoring the situation closely. As soon as there is major demand for tokens that actually trade on Polkadot or Kusama, this will become even more interesting and we're staying on top of things for sure. For example, Karura Swap is now available on Kusama with their own dedicated parachain (congrats btw!).

This is a big step forward for the Poldadot/Kusama ecosystem, and we keep evaluating the situation. With Polkadot auctions probably live soon as well, we look forward to contributing to the ecosystem. As for the POLS token and crowdloans, we do not currently see a direct connection other than potentially privileged access to these lease offerings. But stay tuned!
Host: Recently there have been several hacks in DeFi, even of well-known, active and audited projects. One of the primary reasons was lack of proper private key management for ownership of contract. Has Polkastarter team ensured that they are using a multisig contract to prevent a single point of failure or compromise?
Daniel: In terms of the POLS token itself, it's a non mintable smart contract, which automatically releases the token as per the schedule released in September last year, so no one is able to interfere with that in any way.
Our fixed swap smart contract has been used now over 100 times by over 60 projects and been audited altogether 8 times I believe, so we are as confident as can be, that it's secure.

In terms of our staking contract, which we are launching very soon, we are auditing it with several reputable companies, while also working with solidity specialists in order to ensure that it's 100% safe. We won't launch it until we are absolutely sure.
Host: Could Polkastarter be more transparent about their Project Selection process, by maybe releasing a short write up on why Polkastarter is launching the particular project?
Rob: Ohhh yes, great and frequently asked question as well.
I actually worked in the analysts team for a few months and know it well. So first of all, we really like the idea of giving a "TL;DR" of why we think a project that conducts their IDO on Polkastarter is great. A while ago, we released some transparency report on how we select projects in general. This can be found here: https://polkastarter.medium.com/the-polkastarter-project-selection-criteria-7d57ecc455ca.

An important thing to understand is that, particularly in a strong bull market, we received countless of applications for projects. Some of them are great, some of them not so much, and others are outright malicious. Our goal is to, together with our council members, curate the absolute best that the industry has to offer. But to do that, we have to balance what exactly we can publish and what we can't.

Our team of analysts, currently consisting of João and Demian, is rightfully quite protective of our reviewing process. Anything we say publicly could be used to by applicants to "game the system" and make it into Polkastarter. To ensure that this doesn't happen, and to make sure that the projects that do make it in are safe and of the highest quality, we need to find this balance.

Nevertheless, with the changes coming in Q3, we look forward to publishing a short summary with every project of what we think it is great.
Daniel: We are transitioning from Medium to our own Blog, so i'll just drop this link here as well. Lots of really great content there and much more planned, so please make sure to subscribe to blog updates as well. https://blog.polkastarter.com/the-polkastarter-project-selection-criteria/
Host: In Q2, there were new changes to Lottery System, starting with the Tickets (min. 250 POLS) and the Cooldown Period and the Top 10 POLS holder guaranteed allowlist slots. Are these mechanisms still in place or will we be seeing further changes/moderation?
Daniel: Yes! These are still in place and from what we can tell, so far, they've been working really well. A lot of new token holders (over 10,000!) joined, and the chance for users that previously held no POLS but then converted to holding a minimum of 250 POLS has drastically increased.

As I mentioned above, the more token holders we have, the more participants we have, the bigger and better projects we can attract. In order to be fair to projects, we are always allowing them a minor allocation as well to reward their own community with allowlist spots, similar to the AMA winners in our channel, which each IDO is conducting and always very excited to see the huge participation.

While we're currently happy with the chances and fairness, we continue to monitor token holders, participating wallets and general turnout to see if we can improve things in the future." Our aim is to create the best community in crypto and to not only provide you with the best projects, but as well with more information around blockchain and crypto. We are always here to welcome your ideas on how to improve further, what you would like to see from us, so please never hesitate to get in touch.
Live Community Questions

Host: Great, thank you Daniel and Rob
Now, let's open the chat for a brief window to give our community a chance to ask questions live.
elishatan: From what was shared on the AMA, it kinda feels like Polkastarter is moving to a similiar model as DaoMaker. What are some of the unique features that sets you apart from them?
Rob: Great question! We naturally monitor launchpads and fundraising protocols in this space very closely. When it comes particularly to DAO Maker, we really like the things they're building. But with that said, the only things that we have in common are progressive decentralization.
krinya: Do you plan to explore education on the blockchain? Can we see a decentralized university?
Daniel: Yes, we plan to release a series of articles to educate our huge community and we are working with several high profile partners to bring you the best content. Additionally, we are currently talking to our council members, polkastars and other well known people in the space to create a series of twitter spaces and clubhouse events around major blockchain topics. Stay tuned!
Rob: Not quite a blockchain university, but we're looking to vastly improve our blog and really make it more of a library of valuable content. That content may not even be related to Polkastarter, but is just a way for people learn more.
clarencetan1: Many discussions on different allocation size based on POLS tickets? for example, if your tickets were picked twice, consider twice the allocation size?
Rob: We don't currently have a plans to do that as we're all about maximum distribution and fairness. However, the more POLS you hold the better your chances to be selected for many/most/all IDOs.
obieri1234: Want to buy 1250 POLS which gives me 5 tickets for IDO. Is this number of tickets enough to qualify for every IDO. I really want to be in every IDO because I love Polkastarter. Tell me how much ticket I can have to be in all IDO pls from your experience
Daniel: only way to 100% ensure to win the lottery is to be a Top 10 Holder of participating wallets. Don't forget, that you need to apply for each project individually. 1250 POLS will give you a decent chance, but it of course depends how many more people apply etc.
CryptoExplore: Thanks guys for arranging this AMA... please what role would Polkastarter be playing in the parachain launch... in terms of providing a platform for the many projects vying for a slot?
Daniel: Most parachain projects only offer participation through centralized exchanges, where users need to lock up their token with an exchange for up to 18 months, giving them full control over your funds. Our solution would enable a fully decentralized way of participation and being in control over your own wallet all the time, which we think is what everyone would prefer.
Rob: Progressive decentralization is at the top of our agenda. It just needs to make sense. Our users don't want to jump through hoops just to be able to say they're decentralized. Polkastarter has a strong focus on user experience. You're the number one priority.
8keyser8soze8: How do you see Polkastarter's place on the crypto market next year?
Rob: Our vision is much greater than what is known right now, but we are looking to change this with an ever-expanding roadmap and more of us talking to you directly. You can expect Polkastarter to grow more into the DeFi space, as well as expand on more ways for innovative projects to raise what they need to building the future of finance, gaming & more.
elishatan: Will Polkastarter be publishing the statistics periodically on the probability based on POLS size held? E.g. 3000 Pols is around what % of selected. How many users participated and no. of users <3000, <6000 pols that are selected etc.
Daniel: We are aiming to be more and more transparent throughout the whole allowlisting process and will have an exciting update to share around that very soon.
yacinou: What are the staking rewards?
Rob: In the first iteration, we're exclusively moving to POLS staking to ensure a clearer, better user experience. For example, you can now join IDOs on short notice instead of having to hold POLS for a minimum 7 days prior. But... I'm not saying there are not going to be any rewards in the future.
Host: Thank you so much @Daniel | Polkastarter and @Rob | Polkastarter  for your time and for the illuminating answers on Polkastarter Q3 Roadmap!
Rob: Really our pleasure. As I said above, communicating with our users is extremely important to us. We're listening, reading Twitter replies, Telegram messages and, particularly, the channels here on Discord.
So with that in mind, if you have any questions, feel free to give us a shout in #💜-feedback or #👷-help and our mods as well as us personally will be there.
Daniel: Thank you so much everyone for joining. We are looking forward to be much more active and engaged going forward, especially on Discord.
Host: Thanks to everyone for tuning in. This will be the end of this AMA, thank you everyone for joining us!
---
Connect with us and learn more about Polkastarter
Website | Twitter | Discord | Telegram | Instagram | Newsletter
Polkastarter Blog - Latest Polkastarter News & Updates Newsletter
Join the newsletter to receive the latest updates in your inbox.
---