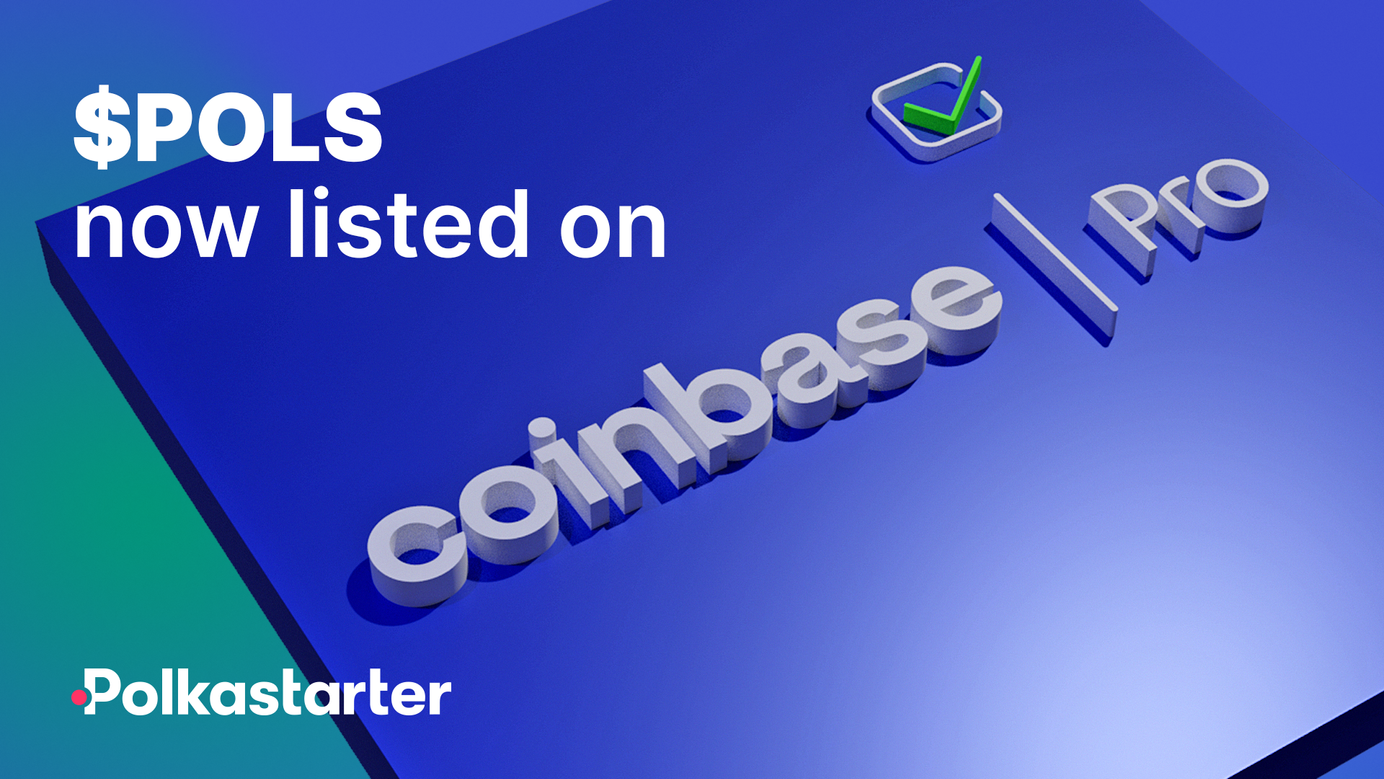 Polkastarter (POLS) is Live on Coinbase Pro!
You can now trade POLS on Coinbase
We are thrilled to announce that since December 6, users can transfer the ERC-20 version of POLS into Coinbase Pro ahead of trading. Support for POLS will be available in most of Coinbase's supported jurisdictions. But there are a few exceptions which you can find here. If liquidity conditions are met, trading will begin today, December 7, on or after 9 AM Pacific Time (PT).

For more information, check out Coinbase's announcement.


Why POLS?
POLS is the native token of Polkastarter, and it's used for IDO allowlisting. You must hold at least 250 POLS in your wallet address to participate in upcoming IDOs. The more POLS you own, the bigger your chance is to get successfully allowlisted. If you want to learn how to participate in an IDO, check out this article.

Polkastarter + Coinbase
The Coinbase listing makes $POLS even more accessible for Polkastarter fans who want to buy the minimum 250 POLS and become eligible for an IDO allowlisting. $POLS' listing on Coinbase is the beginning of a strong relationship with a big community of crypto enthusiasts. We look forward to even more exciting announcements!

Legal Disclosure: from time to time, we will engage in transactions of our own tokens.

About Polkastarter
Polkastarter is the fully decentralized launchpad to launch new ideas in the blockchain and digital assets space. With an industry-leading curation process and market access, we select the most innovative projects in the space and offer them long-term support after their IDOs.

With Polkastarter, crypto projects can increase their reach, grow their communities and receive support from crypto's most well-versed experts. IDO participants, on the other hand, are offered an opportunity to invest in a secure and compliant environment, as well as participate in IDOs not solely on Ethereum, but also on Binance Smart Chain and Polygon.
Media Contact Polkastarter: [email protected]
---
Connect with and learn more about Polkastarter
Website | Twitter | Discord | Telegram | Instagram | Newsletter | Youtube
Polkastarter Blog - Latest Polkastarter News & Updates Newsletter
Join the newsletter to receive the latest updates in your inbox.
---