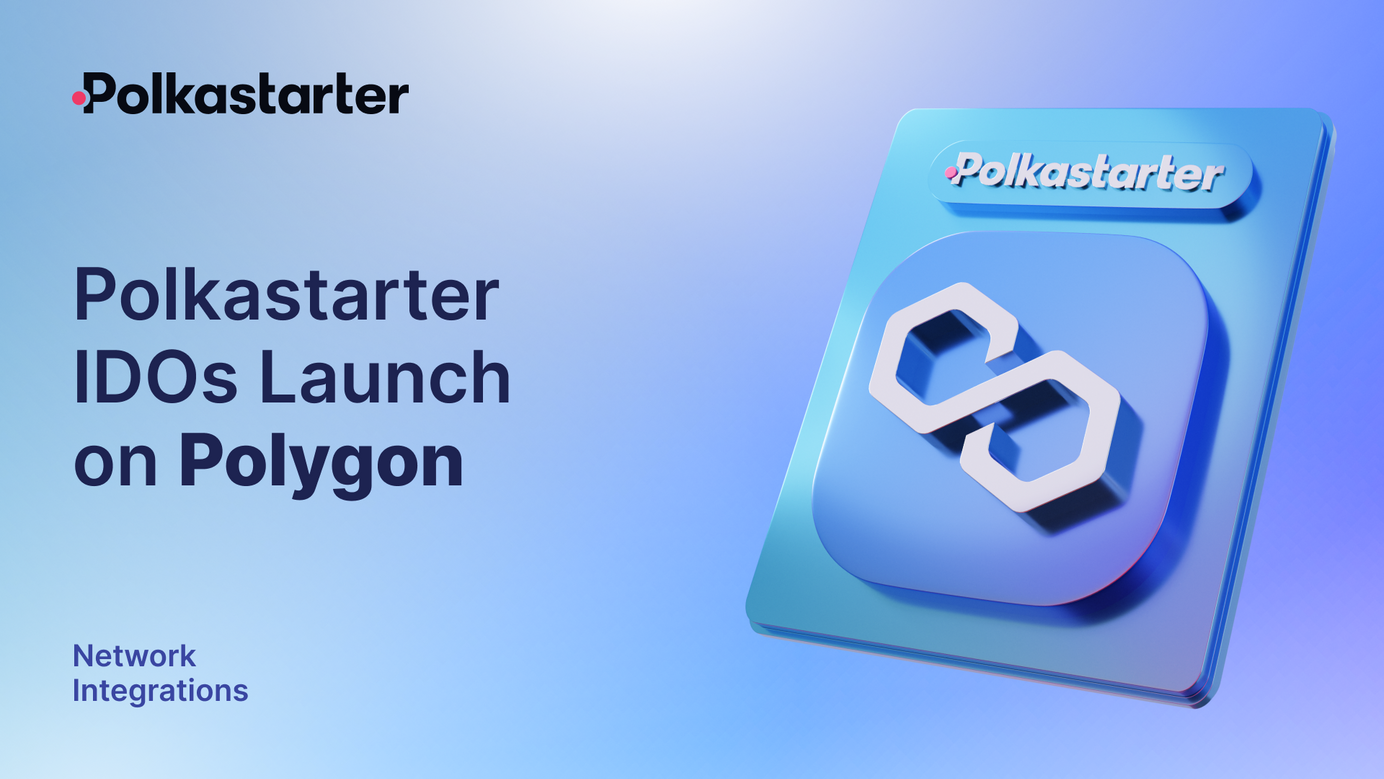 Polkastarter IDOs Launch on Polygon!
The next phase of Polkastarter will integrate Polygon to make IDOs faster, cheaper, and even more multi-chain.
Today, we are excited to announce our integration with Polygon for Polkastarter IDOs and fixed swaps. The announcement will unlock tremendous scalability, cost efficiency, and interoperability for the Polkastarter IDO ecosystem as a whole.
Polygon is a protocol with a mission to build "Ethereum's internet of blockchains." Its vision is a multi-chain ecosystem that is Ethereum compatible, allowing the Ethereum ecosystem to grow infinitely without sacrificing scalability or performance. Polygon enables this with a toolset that lets Ethereum developers quickly deploy customized, Ethereum-compatible blockchains.
If you are a project interested in launching your IDO on Polygon, apply and express your interest on Polkastarter. We have been at the forefront of multi-chain fundraising and IDOs, and are eager to continue working with innovative projects pushing the boundaries of capital growth.
What does the integration mean?
Polkastarter IDOs will be compatible with the Polygon network in the future. For both projects and IDO participants, this means lower costs and higher throughput. For projects, distributing tokens to participant wallets incurs gas costs, which at times can be considerable on Ethereum. For IDO participants, fixed swaps cap token allocations at, typically, around a few hundred dollars. If gas costs are high on the day of the IDO, a participant can find themselves spending a considerable amount on gas, especially compared to their fixed swap maximum.
IDOs on the Polygon network enable lower fees and better scalability. This means projects will spend less on distributing tokens and IDO participants will spend less in order to claim their tokens.
Overall, integrating Polygon into Polkastarter's IDOs will further improve liquidity and engender community adoption of emerging protocols. By making the IDO process more economically accessible to participants, Polygon x Polkastater will accelerate our mutual, broader mission to engender multi-chain interoperability.
What's next for the Polygon integration?
Soon, we'll be announcing and launching our first IDO with Polygon! Stay tuned for more updates coming from Polkastarter about the Polygon integration. Follow Polkastarter's Twitter and sign up for our newsletter.
About Polygon
Polygon is the first well-structured, easy-to-use platform for Ethereum scaling and infrastructure development. Its core component is Polygon SDK, a modular, flexible framework that supports building and connecting Secured Chains like Plasma, Optimistic Rollups, zkRollups, Validium etc and Standalone Chains like Polygon POS, designed for flexibility and independence. Polygon's scaling solutions have seen widespread adoption with 350+ Dapps, ~128M txns and ~1M+ unique users.
If you're an Ethereum Developer, you're already a Polygon developer! Leverage Polygon's fast and secure txns for your Dapp, get started here.
Website | Twitter | Reddit | Discord | Telegram
About Polkastarter
Polkastarter is the fully decentralized protocol for launching new ideas. Our curation process and industry access enable us to offer the best new projects in blockchain and digital assets.
With Polkastarter, decentralized projects can raise awareness, build a loyal community, and receive long-term support. Users of the platform will be able to participate in a secure and compliant environment, and use assets both in and beyond the current ERC20 standard.
Media Contact Polkastarter: [email protected]
Website | Telegram | Medium | Twitter | Instagram
Polkastarter Blog - Latest Polkastarter News & Updates Newsletter
Join the newsletter to receive the latest updates in your inbox.
---