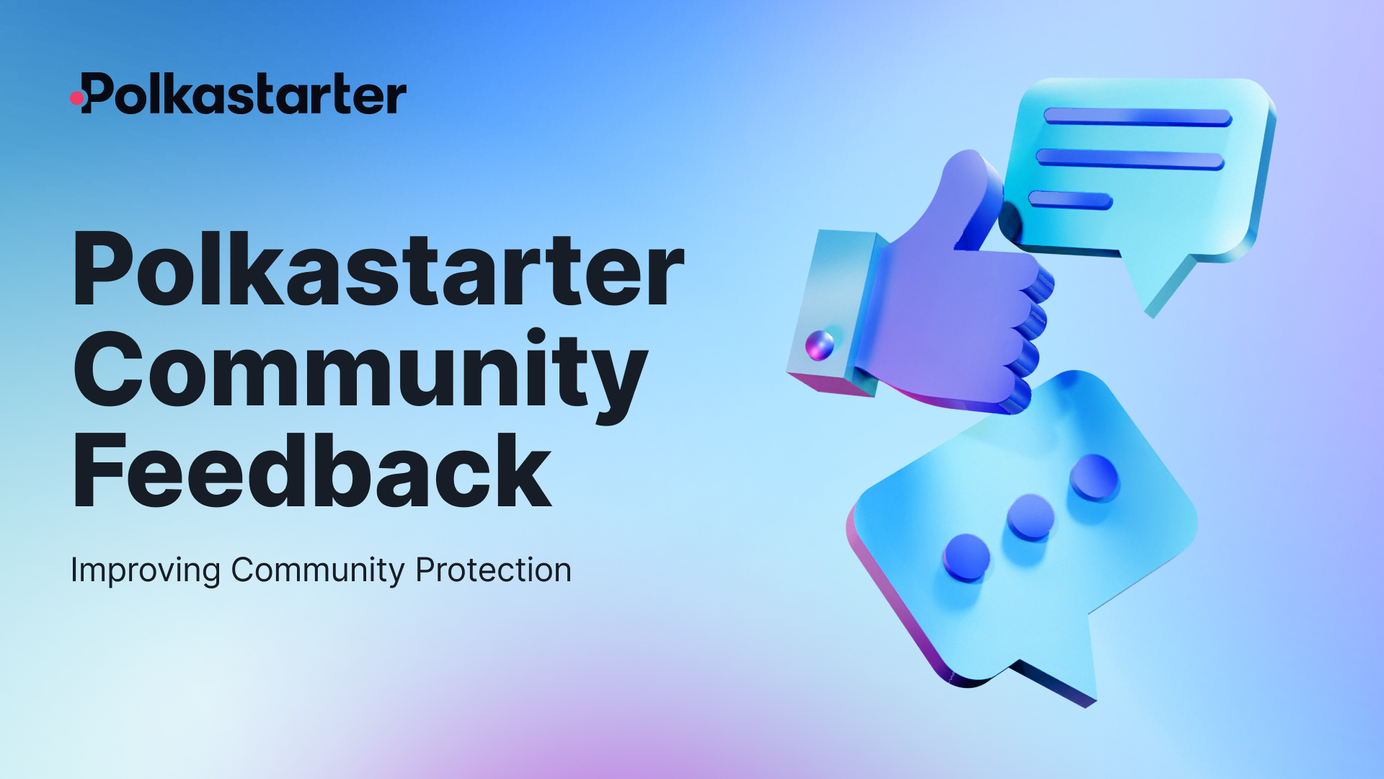 Polkastarter Community Feedback: Improving Community Protection
The Polkastarter Discussion Forum is finally live. What are you waiting for? Let's…discuss.
The Polkastarter Forum is a platform for in-depth and healthy discussions around Polkastarter's vision and ecosystem.
The idea has been brewing for quite some time internally and we're happy to finally bring this to the world and add it to the initiatives that contribute to the transparency and communication between Polkastarter and the community.
The inaugural topic for discussion was "Improving Polkastarter's community protection", inviting people to contribute and share their views, ideas and suggestions. The engagement was impressive and even though this was the first of many more to come, we can already see the value in this. We want to thank all the participants and contributors and we hope we see more people in future discussions.
It was evident that the community was ready for such an initiative as the suggestions came flying in, and were well thought out. Let's explore some of the topics that came up in the discussion.
Project payments and refunds
One of the first topics that were addressed in the discussion was paying and refunding projects. One of the most interesting takes on came from user Phirozp who had this to say: "Funds should be paid to projects as per vesting schedule and in case of any non-compliance to roadmap there should be a refund to investors. In addition, like other projects, funds should be refunded to investors if the price falls below IDO price up to an extent of token release (50% or so)."
There is a lot of merit in this approach, ensuring a certain protection level for investors. Let's keep in mind that there is no scenario where an investor can be 100% bullet-proof and ensure that their funds will be repaid in case of failure. Investing is an innately risky endeavor. What we are trying to achieve here is to create as secure an environment as possible, with a safety net around community members.
Launchpad best practices
Another topic that came up in the discussion was establishing some best practices for the protection of the Polkastarter community, following the market blueprint and examples. What was impressive to see was that a lot of our users possessed deep and valuable knowledge of how the market operates. User Sin, for example, gave us a detailed rundown of commonly used practices implemented by other market participants including bad refund use cases, limits of raised funds and timing of listings and IDOs that affect liquidity.  
The lesson learned from this, apart from the great suggestions, is that we are dealing with a community that is deeply invested in the details and minutia of the crypto space, paying attention to the industry as a whole.
We're fully supporting these suggestions and we agree that it's time to implement additional solutions. We've actually been pushing for most of these suggestions since day 1, but we'd been doing it directly with the projects without disclosing it publicly. The main takeaway from this suggestion is that we need to be more transparent and communicate with the community a set of rules that the projects have to follow.
The ones that are more difficult to implement are price requirements and full refunds, but we are still trying to see what we can do with those.
Increasing POLS power to build loyalty
One of the most industry-wide problems is how do you keep users engaged with a project apart from giving them an instant reward. A very smart approach to this challenge came from user Karaba who suggested increasing POLS power for holders after a certain time of staking, which paves the way for a loyal community of users who stick with the project for longer.
Giving users instant gratification gives them an easy way out, seeing projects as disposal investment assets rather than immersive experiences with long-term effects.
Polkastarter Forum Discussions: This is just the beginning
If there's one thing we can take away from the first Polkastarter Forum Discussion is that there's room, appetite and potential for it. People that participated embraced the initiative and highlighted their willingness to contribute.
Now, regarding the actual suggestions and ideas we want to stress that all of them are welcomed, are, and will be heard and considered. What we want to make clear is that unfortunately, not all of them can be applied and turned into a reality as there are a lot of logistics, moving parts and considerations that need to be made before turning an idea into reality.
Stay tuned as there are a lot more topics coming your way. To keep up, make sure you check the Polkastarter Forum page.