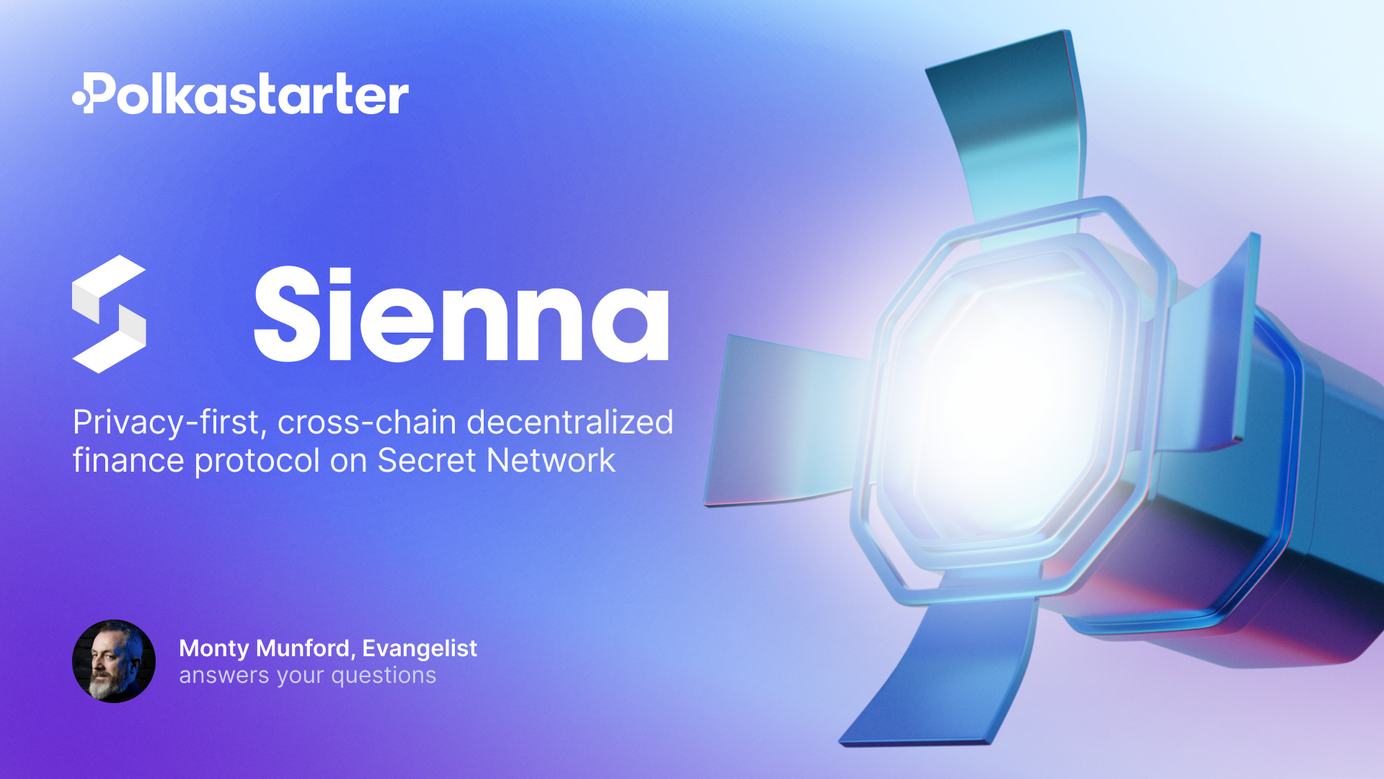 Polkastarter and Sienna AMA Recap
AMA with Sienna evangelist Monty Munford.
You can see the original AMA conversation on Polkastarter's main Telegram Channel here.
Polkastarter
Welcome to another exciting Polkastarter AMA, this time with Monty Munford, an Evangelist for Sienna. Welcome Monty, and thank you for taking the time today to join us!
Monty, could you please first introduce yourself?
Monty Munford, Sienna Network
Yeah, believe that. I suggested 'beadsman', which in medieval days was somebody you paid to pray for you, but nobody liked that.
Yes, CHIEF evangelist for Sienna Network, love the idea after being involved in crypto for a few years.
Had a decent podcast blockspeak.io and have interviewed most people in the space.
Ex-journo for Forbes, Telegraph etc, still do a bit of writing for BBC and The Economist, but Sienna is my new lover.
The official role is:
Sienna Network which is privacy-first, cross-chain decentralized finance platform where you can privately swap, lend and convert your tokens into their private equivalent.
Polkastarter
Can you tell us more about the vision behind Sienna, what you came on board, and why are you launching it?
Monty Munford, Sienna Network
Sure.
I'd been interviewing people at crypto events for around four years and had got to know a lot of the major players and was trying to work out who was good and bad.
And whether I wanted part of it.
Finally, at the end of 2020, Sienna was being born and I was asked to join. Since then it's been insane, like joining Facebook at the start.
Like that bit of the Social Network and the screen pinging and pinging.
We do have a vision and we do want to be around for a long time, no quick in and out. We are, not just me, evangelists for DeFi.
We believe there are a few issues that needs to be solved for DeFi to become as mainstream as peer-to-peer video calls are today. There was been too much hype before it was ready.
I remember similar stories about 3G and 4G. Expectations weren't met in the face of the hyperbole.
But they were always going to be part of our lives, just as DeFi will be.
The areas of concern are privacy, front-running and scalability.
We believe privacy will be a major topic  this decade as a reaction to tech giants use of people's data. We want to help protect that, not by overpromising, but by really doing that.
I hope that makes sense to your community, smart as they are.
Moreover...
... money SHOULD be private. Privacy will also make distributed identities possible and this is something we aim for in the near future.
And staying there long-term.
Front-running is obviously a problem as it is unethical and harms mainstream users and very low gas fees.
So, here's the shill, the BIG CHIEF evangelist shill about Sienna.
Sienna prevents front-running due to its inherent privacy features.
Scalability is an issue at several blockchains. Sienna provides almost instant transactions.
That's what we're trying to do.
Polkastarter
Mainstreaming DeFi, data privacy, private money, scalability, low gas fees — that sure is the dream of the future that I think gets us ALL excited! Great to hear that Sienna is tacking that on head-first
Thank you for sharing that vision with our community!
Monty Munford, Sienna Network
We aim to please... 😎
Polkastarter
Ok moving on to the rest of the Sienna team — we at Polkastarter are huge believers that the people and talent behind the project is one of the most important factors for success.
Can you tell us more about the rest of the team behind Sienna, and what got you so excited about this group in the first place ?
Monty Munford, Sienna Network
Dude, now that's the best thing about the team. Best people in the world, every time we have a call, we're laughing.
And that's remotely.
God knows what will happen when we're in the same bar when we're allowed to travel again.
That's why I joined. The first call was so smart, intelligent, visionary and authentic.
That's the word I would use most often - authentic, no bullshit.
We are a team of dedicated people who love innovation and creating products with a fantastic user experience. Everyone on the team has different experience and this is what makes it super-strong.
One is a financial product designer with more than 20 years experience in this field, another is an economist specialised in game theory, another has been running peer-to-peer networks for video calls, another is a compliance specialist while others are specialists in blockchain development. We even have a CHIEF EVANGELIST. 😂
Polkastarter
There's nothing more fun than building world-changing tech with really smart people, who are also really fun!
Monty Munford, Sienna Network
We learnt from Polkastarter - haha.
Polkastarter
Haha indeed. Economics, tech, compliance, evangelism — quite a crew !
OK — so let's talk about Sienna's competitive advantage.
What differs you from other similar projects?
Monty Munford, Sienna Network
Great question...
... give me a couple of moments to cogitate.
We see a lot of great projects out there and privacy DeFi is here to stay, so we're not alone in doing good work.
But they are all different (unless it is a direct fork of another project) and Sienna is also different in its own way in addressing privacy and scalability.
DeFi will differ a lot in the future and we will see a lot of very unique projects.
Sienna's focus will remain to connect private and institutional investors and the other aspects previously mentioned, while maintaining a completely decentralised, trustless and privacy-first platform that hope everyone will benefit from.
Are we the Linux of crypto? Perhaps. That's why it's long-term, like that amazing project.
Polkastarter
"connect private and institutional investors... while maintaining a completely decentralised, trustless and privacy-first platform that hope everyone will benefit from." —> thats an exciting Linux-scale vision for sure
Ok moving on to your tokenomics —
Can you tell our community a bit more about your $SIENNA token, particularly about the token utility, and your upcoming token generation event (TGE)?
Monty Munford, Sienna Network
Ah, tokeneconomics... what everybody is really here for.
OK, here goes... a bit of a long answer coming, but this one I did prepare.
Initially, there will be two tokens - SIENNA, which is the SNIP-20 native token that holds the governance rights and then the wSIENNA, which is an ERC-20 token that can be used on Ethereum.
There will be a total supply of TEN million and it will be zero-sum between the two (and any other future tokens). The SIENNA (native) will give you voting rights and if you own 1% or more you can add proposals to the protocol.
All SIENNA holders can vote regardless of their holdings. It is all built for the long run rather than the short-term yield, but I won't belabour that point. I won't mention long-term again!
Sorry, I will. Long-term also delivers short-term appreciation.
By building very lucrative incentivization mechanisms in the token structure, the SIENNA is highly attractive compared to many other tokens.
CRUCIALLY, liquidity provider fees are powerful and while many others are charging 0.3% for the liquidity providers Sienna will burn 0.02% for each transaction and deliver 0.28% to the AMM LPs.
This is, naturally, far more attractive than providing 0.3% to the LPs and they will gain greater benefit from this structure.
Does that answer your question? 😎
Polkastarter
Quite the detailed answer — thank you Monty! I'm glad this will be available as a blog post afterwards to let people digest those sophisticated mechanics in more detail 🤓
Moving along to make sure we have time for a few questions — can you quickly tell us a little bit more about your upcoming roadmap, and what key features are you developing?
Monty Munford, Sienna Network
Sure.
In parallel to the AMM, we have been working on the lending platform so users will be able to earn interest and borrow to leverage their holdings. We believe this to be a big thing.
Private tokenized assets will be the next BIG thing. Tokenized assets, so you can buy listed shares or bonds directly through Sienna.
We think this is a great example of a bridge to the traditional finance ecosystem.
We will also let SIENNA owners vote for more innovative features in the future.
Polkastarter
Awesome! Excited for what's in store
Could you please share with our Polkastarter community your website and social media channels, so they can make sure to follow you and be kept up to date on your progress?
Monty Munford, Sienna Network
A lot of this is on sienna.network, but WITHOUT a CHIEF EVANGELIST in the middle.
I won't mention that again, either, I promise.
Polkastarter
🤓
Great, thank you Monty. Let's open the chat for a brief window to give our community a chance to ask their questions about Sienna, and don't forget, that after the AMA, Monty will choose the best question and hand out one allowlist spot for their IDO next week on May 5th (don't forget you will need to KYC fast and on time). 🎉
[QUESTIONS]
Polkastarter
Wow, that's a lot of great questions, thank you, you guys rock!
No doubt Monty is so smart and good at reading from so many years in journalism! He will read through and pick some questions to answer now.
Monty Munford, Sienna Network
Wow, this community is smart and REALLY fast typists... and I can touch-type. Hang on, let me try to find what I consider to be the best ones.
Monty Munford, Sienna Network, In response to community question
I think we have to be ahead of regulation in response to the privacy questions.
Monty Munford Sienna Network, In response to community question
We have put a lot of resources into preparing for this. We're based in Zug in Switzerland for this purpose.
Monty Munford Sienna Network, In response to community question
I know I sound totally boring, but we're long-term and want to ensure we're pristine and beautiful.
QUESTION: Ora Lawrence @nikbecola
Are there any special benefits or advantages available for long-term holders of $SIENNA ? Why should I hold?
Monty Munford, Sienna Network, In response to Ora Lawrence
As for, are there any special benefits or advantages available for long-term holders of $SIENNA? Why should I hold?
Thanks for the question. It could be the winner, but let's see...
.... there's the token burn when using the AMM and holding the token gives your influence over the token via governance.
QUESTION: LargoCoss, @Edooooooooi
What are the competitive advantages of the seinna? What advantages do you have that other competitor don't have? What would seinna most similar contender be in the market today in terms of scalability, security, features, and adaptability?
Monty Munford, Sienna Network, In reply to LargoCoss
Great question, still working it out.
QUESTION: Prerna Malik, @Prernaum
How will Sienna Network solve the scaling problem? And how does it overcome the threat of centralization?
Monty Munford, Sienna Network, In reply to Prerna Malik
Sienna is built on top of Secret Network. Secret Network is Cosmos based, so there's the great scalability. Secret Network as a blockchain is already decentralized as well.
QUESTION: Bella Luna @bellaluna0
How can NFTs be incorporated into Sienna?
Monty Munford Sienna Network, In reply to Bella Luna
Private NFTs are already entering the ecosystem and it will be utilized for trading, collateral usage etc.
QUESTION: BAHREN PROLINER, @IribilangKontol
Any small coding error can permanently damage the entire assets of the LPs. This is the biggest risk of Yield Farming . How will $SIENNA deal with this problem? Has your smart contract been audited by any blockchain system ? Why should we feel safe when provide liquidation for $SIENNA?
Monty Munford Sienna Network, In reply to BAHREN PROLINER
The code has been extensively audited by Certik.
QUESTION: 404 Page not found @btcltcrich
What is the difference between SIENNA and wSIENNA? Are the use cases of these two tokens different in the ecosystem? And take advantage of what long-term investors get if you hold SIENNA or wSIENNA tokens?
Monty Munford Sienna Network, In reply to 404 Page not found
wSIENNA is a wrapped version of SIENNA. It's zero sum. This means there wont ever be more than 10 million total supply. You can read more about wSIENNA on Sienna's website
QUESTION: Analyn @alwaysbtsstan
How can Sienna Network being an open source technology reliably provide privacy and decentralization?
Monty Munford, Sienna Network, In reply to Analyn
That's due to the amazing blockchain Sienna is built on top of, Secret Network.
QUESTION: Money Maker, @dengimelt
What are the key milestones on your roadmap, both things you have already achieved and things that we can look forward to?
Monty Munford Sienna Network, In reply to Money Maker
You can see the roadmap on https://sienna.network/roadmap
QUESTION: Diego @Diego678
Is there a reason why You decide to choose Polkastarter to run the public sale of $Sienna tokens???
How can your community benefits and get involved with SIENNA???
How much is the percentage of Liquidity offered by SIENNA and how much is the risk of loss if the insurer has too many claims?
Monty Munford Sienna Network, In reply to Diego
Because they are awesome.
QUESTION: Ari Key @arij3key
Will it be possible to create complex orders with the support of a third party (stop loss, take profit) and will there be a cost for canceling orders?
Monty Munford Sienna Network, In reply to Ari Key
In the future, yes.
Polkastarter:
CONGRATS @Prernaum on the allowlist spot! Monty and the Sienna team will contact you in PM and give you all information regarding KYC etc
Thank you Monty for your time and for the informative yet cheeky and fun answers on Sienna. Really looking forward to the launch of $SIENNA on May 5th, and to welcome you to the Polkastarter Family and continue working together in the future. 💫💫💫
And thanks to everyone for tuning in today. This will be the end of this AMA, the chat will now open back up.
Monty Munford, Sienna Network
Thanks, for inviting me/us and really enjoyed it. Sorry I/we couldn't answer all the questions. Have a great day!
Polkastarter Blog - Latest Polkastarter News & Updates Newsletter
Join the newsletter to receive the latest updates in your inbox.
---