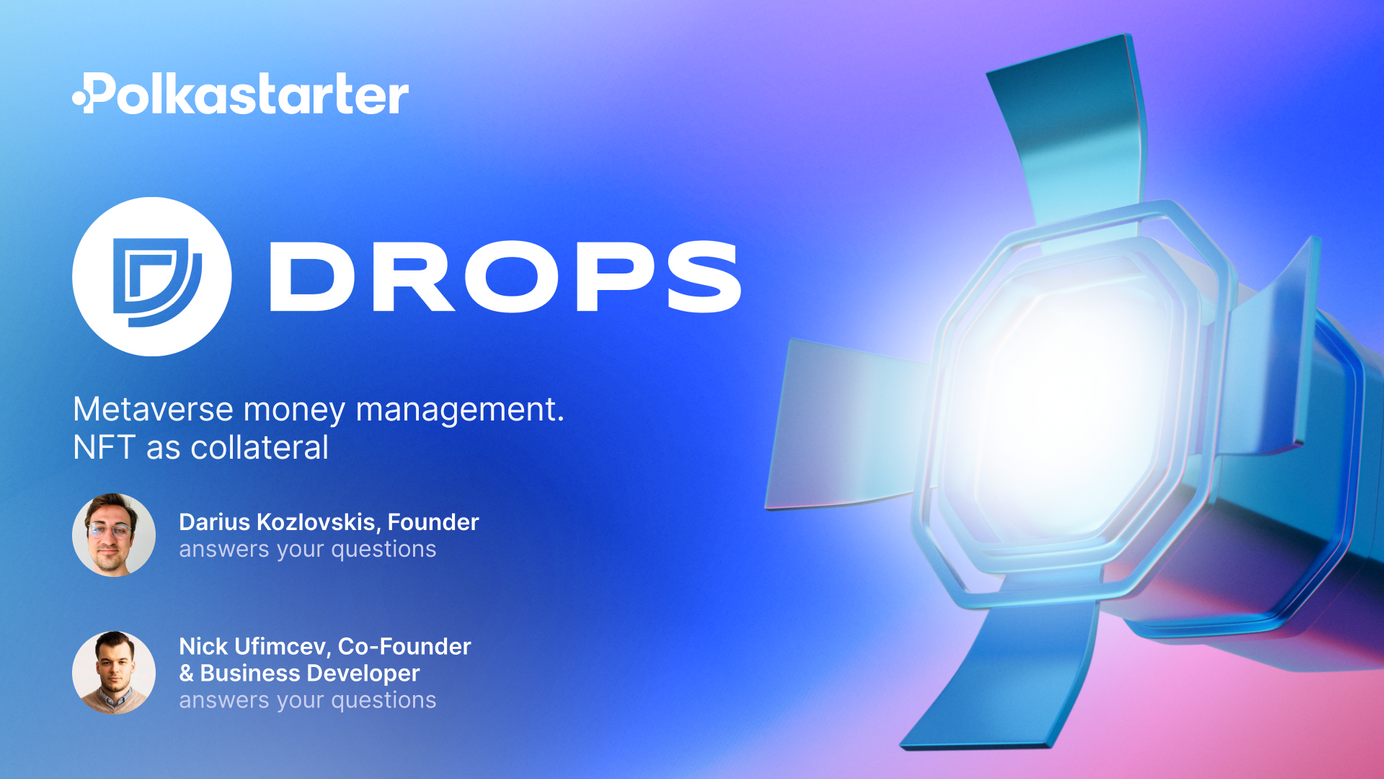 Polkastarter and Drops AMA Recap
AMA with the founders of Drops, Darius Kozlovskis and Nick Ufimcev.
You can see the original AMA conversation on Polkastarter's Telegram channel here.
Polkastarter
Hi everyone and welcome to another exciting Polkastarter AMA, this time with the founders of Drops, Darius Kozlovskis (@alpha_noder) and Nick Ufimcev (@Partizan_Noder). Welcome both, and thank you for taking the time today to join us! 👋
Darius, Drops
Hey everyone! thank you for having us here 🙌
Nick, Drops
hey hey! :)
pleasure to be here
Polkastarter
Alright, we'll first have a few questions to Darius and Nick directly, before we open it up for community questions.
Let's get started! 🚀
Darius and Nick, could you please first introduce yourselves?
Darius, Drops
I'm developer, farmer and product manager. Got 7 years of product development background, back in 2017 I was running crypto development agency, 2 years ago I also started a CRM for medical practices. And from early 2020 got back into crypto.
Nick, Drops
Sure! I was born and raised in Vilnius, Lithuania, but studied and worked in the UK for 6 years. I have banking & finance background as well as quite a few years of entrepreneurial experience. Been in the crypto world since 2017 and joined Darius in summer 2020 to dive into DeFi and NFTs ;)
Polkastarter
Can you tell us more about the vision behind Drops, and why are you launching it?
Darius, Drops
Our vision is to enable users to earn yield from NFTs.
With so many NFTs on the market, we want to create an infrastructure that will preserve their value in the long run.
Drops brings DeFi solutions to NFTs, allowing NFT holders to fractionalise NFT, obtain trustless loans and earn yield from NFTs.
Nick, Drops
✅
Polkastarter
Polkastarter are big believers that the team and talent behind the project is one of the most important factors for success. Tell us more about the team behind Drops, and how your experience has led you here?
Nick, Drops
I must say that we have quite a diverse and strong team. Our founder Darius is from Vilnius, Lithuania (same as me), he has a vast experience of product development and marketing, as well as has been deeply involved in crypto space since early 2017.
Myself, I worked for Goldman Sachs & Morgan Stanley back in a day, then switched to an entrepreneurial lifestyle - co-founded and managed a software development company between 2018 - 2020, as well as was involved in a few side projects within e-commerce and e-gaming industries.
Our CTO, Volodymyr has 13 years of development experience and a Master's Degree in Applied Mathematics. He has also worked as a solidity developer for 4 years.
Our CMO Alek has experience of running a 50 people blockchain marketing agency.
Rest of the product team consists of 8 seasoned developers that worked with DeFi, cybersecurity and fintech.
Our core team first started working together back in October 2020, when we fair-launched Node Runners - NFT based game (which is still active). I think that experience enabled us to bond together really well, learn a lot about the market and tech, and therefore 'give birth' to Drops.
Polkastarter
Very solid team you got there! 💪
So let's talk about Drops competitive advantage. What differs you from other similar projects?
Nick, Drops
thank you!:)
Darius, Drops
We do have competitors in NFT loans and fractionalisation, however our solutions are different. That in turn enables us to create yield generation from NFTs.
Our main advantage is our own Loans protocol that is based on battle tested Compound Finance smart contracts.
It enables us to create trustless loans solution with NFTs as a collateral. That in turn will enable to generate yield from NFTs.
Also we will be accepting governance tokens of major NFT projects as collateral. This will attract new users and create new possibilities of what can be done with NFTs.
Our fractionalisation approach is also quite different.
We enable users to retain ownership over NFTs once they have fractionned.
We any whitelisted NFT to be fractioned at individual value, so that even rare NFTs would get a fair evaluation and can be used as collateral.
By combining our loans with fractionalisation we will enable users to earn yield from NFTs, just like it's possible to do with major assets in DeFi.✅
Polkastarter
Every drop counts! 💧💗
Can you tell our community a bit more about your $DOP token, particularly about the token utility and your token generation event (TGE)?
Darius, Drops
exactly! 🙌
Nick, Drops
sure!
Darius, Drops
DOP is at the core of our ecosystem, it has strong governance powers over Loan protocol and Fractionalisation pools.
There is On-chain and off-chainv oting by using the same mechanisms implemented in veCRV contracts.
On-chain users can vote on fees and DOP distribution and off chain with veDOP token users can vote on protocol direction.
Additionally users having a share in veDOP would be able to earn DOP, that is taken from the market via buybacks.
Nick, Drops
With regards to TGE, during the event roughly 1.4m tokens will go into circulation (out of 15m total), and our initial market cap will be at 680K
Darius, Drops
Our initial listing will be at one of AMM Dexes ✅
Polkastarter
Great, thanks for the overview. 🙂
We'd love to hear a bit more about your upcoming roadmap. What key features are you developing?
Darius, Drops
In the last 5 months since we started Drops, our roadmap and product has gone through multiple  interations and changes. We're going to launch are detailed roadmap in the upcoming days.
This week we're launching our Loans on testnet. Just after IDO we will have liquidity mining program.
By the end of June we plan to launch NFT fractions, NFT Staking, Loans protocol mainnet.
For this year's Q3 - NFTs as collateral in loans, NFT Vaults, Deploy on Polygon and BSC.
Q4  - NFT price oracles. ✅
Polkastarter
Great! ✨ Before opening up the chat to questions, could you please share with the community your website and social media channels, so they can make sure to follow you and be kept up to date on your progress?
Darius, Drops
Drops (@dropsnft) | Twitter
The latest Tweets from Drops (@dropsnft). DeFi solutions for NFTs ✨
Join us: https://t.co/TpfSAph0k1
$DOP by @Node_Runners
Darius, Drops
Sure! You can get the latest news from
Website: https://drops.co
Twitter: https://twitter.com/dropsnft
Telegram announcements: https://t.me/dropsnft
Discord: https://discord.gg/uUPrnqF9tZ
Medium: https://dropsnft.medium.com/
Polkastarter
Thank you, Darius!
Now let's open the chat for a brief window to give our community a chance to ask their questions. 🙌
And don't forget, that after the AMA, Darius and Nick will choose the best question and hand out one whitelist spot for their IDO on May 21 (don't forget you will need to KYC fast and on time). 💫
Community Questions
Klassika Odno
NFT immobility Ethereum-based NFT assets have taken a hit in brick wall in terms of utility and mobility.  This is mainly due to high transaction fees (gas), which have made the minting, buying, selling or shipping of NFT assets excessively expensive.  NFT-related gas costs routinely exceed the value of NFT's own assets, a simply unsustainable trend.  Drops has Layer-2 Polygon scaling, to facilitate transactions.  Does this in turn influence transaction fees?  What other benefits can I get with Drops?
Darius, Drops
Polygon would solve the high gas costs associated with NFTs. Transaction costs will be near zero. We chose Polygon because of the growing NFT community, it has everything we need for the development.
DHJ Cryp
Since NFT market shows an incredible growth of 300% just the past year and a lot of big companies like Nike, Louis Vuitton etc. are "putting their eyes" into this market, how do you think DROPS can contribute to the NFT World?
Darius, Drops
Maybe one day expensive Nike NFT sneakers could be used as collateral and generate yield at Drops 😁
Hunny Kaushal
I see your project has several partnerships but who are the main partners? What are the benefits of partnering with the  DROPS ecosystem? What is in the future you will reach?
Nick, Drops
Great question! We have a few partnerships in the pipeline and we will be actively partnering up with more projects, especially NFT games. There are quite a few benefits for both the partner project and their users.
For the partner project:
- Get additional exposure to our DeFi / NFT savvy audience
- They will be able to do NFT sales on our NFT launchpad, which will have a fair mechanism (via raffle)
For their audience:
- staking NFTs to farm more NFTs
- staking NFTs to take out a trustless loan
- locking NFTs in Vaults to earn yield
- swap NFTs for dNFTs to get instant liquidity
On top of that, we are building everything on Polygon, so everyone will enjoy gasless transactions too ;)
NasdaQ Ryong
How your staking model works? And how encourage you user to do staking in Drops ?
Darius, Drops
We will have 2 types of NFT staking.
In first model users will be able to Stake NFTs and earn dPoint tokens which can be used to buy NFTs.
Second NFT model involves NFT fractionalisation. User can supply NFT and DAI in turn he will receive a new NFT which is loaded with NFT and LP tokens.
These loaded NFTs can be then be staked to earn fees from fractionalisation and our DOP token.
Roshan
How will you make a judgment before the NFT stakes? How do you liquidate the NFT when the NFT price goes down and how do you understand that the price is falling?
Darius, Drops
To stake an NFT it needs to be loaded with LP tokens, they in turn will determine user's share in the protocol.
For the loans part, user can use loaded NFT as collateral, underlying LP tokens will be then used as collateral at loans protocol
Me Armor 20
Which NFT technology & NFT types will your market support? Will it be like Opensea which shows various non-functional digital assets? Does it also support cross-chain NFTs?
Darius, Drops
Our platform will support major NFT projects that have active communities, later on we will introduce more permissionless way to list new NFTs.
Joao Carlos
Where do you actually get Drops' income? You are offering airless transactions for NFT owners and many possibilities for NFT owners, NFT scores, trustless NFT loans and NFT income vaults. But, what are the fees on your platform?
Nick, Drops
Another great question - the platform will be generating fees from the fractionalization part and the lock ups in the loans part
cryptoN
Do you have any Coin Burn / BuyBack systems or any Token Burn plans to increase the value of Token & attract Investors to invest?
Darius, Drops
Fees collected from fractionalisation and loans protocol are used to buyback DOP and distribute it via governance mechanism
Flourish
How do the NFT loans work and how can I protect my ownership?
Darius, Drops
That's a great question!
We have 2 types of loans, basic - for entry NFTs and advanced for higher end NFTs.
With basic loan you fractionalise NFT and lock it up in the "box", there is a lockup collateral that user has to maintain to keep NFT locked.
Later on user can supply back same amount of fractions he has supplied to receive the same NFT.
Advanced NFT loans require for the user to also supply DAI as collateral. Then protocol mints fraction tokens and by combining fraction with DAI, LP gets created.
This LP together with NFT get locked in a box.
User does not have access to this LP token.
LP in the box be used as collateral at our loans protocol.
Polkastarter
Congrats @roshaneww ! 🍾🎊 Drops team will contact you in PM and give you all information regarding KYC etc
Thank you Darius and Nick for your time and for the illuminating answers on Drops. 👏
Really looking forward to the launch of $DOP on May 21, and to welcome you to the Polkastarter Family and continue working together in the future. 🚀
Nick, Drops
Thank you very much for having us! :)
If you have any more questions, feel free to ask them in our telegram / discord channels :)
Darius, Drops
Thank you for hosting us! 🙌
Polkastarter
Yes, please make sure to follow Drops official social media channels. 😉
Polkastarter Blog - Latest Polkastarter News & Updates Newsletter
Join the newsletter to receive the latest updates in your inbox.
---