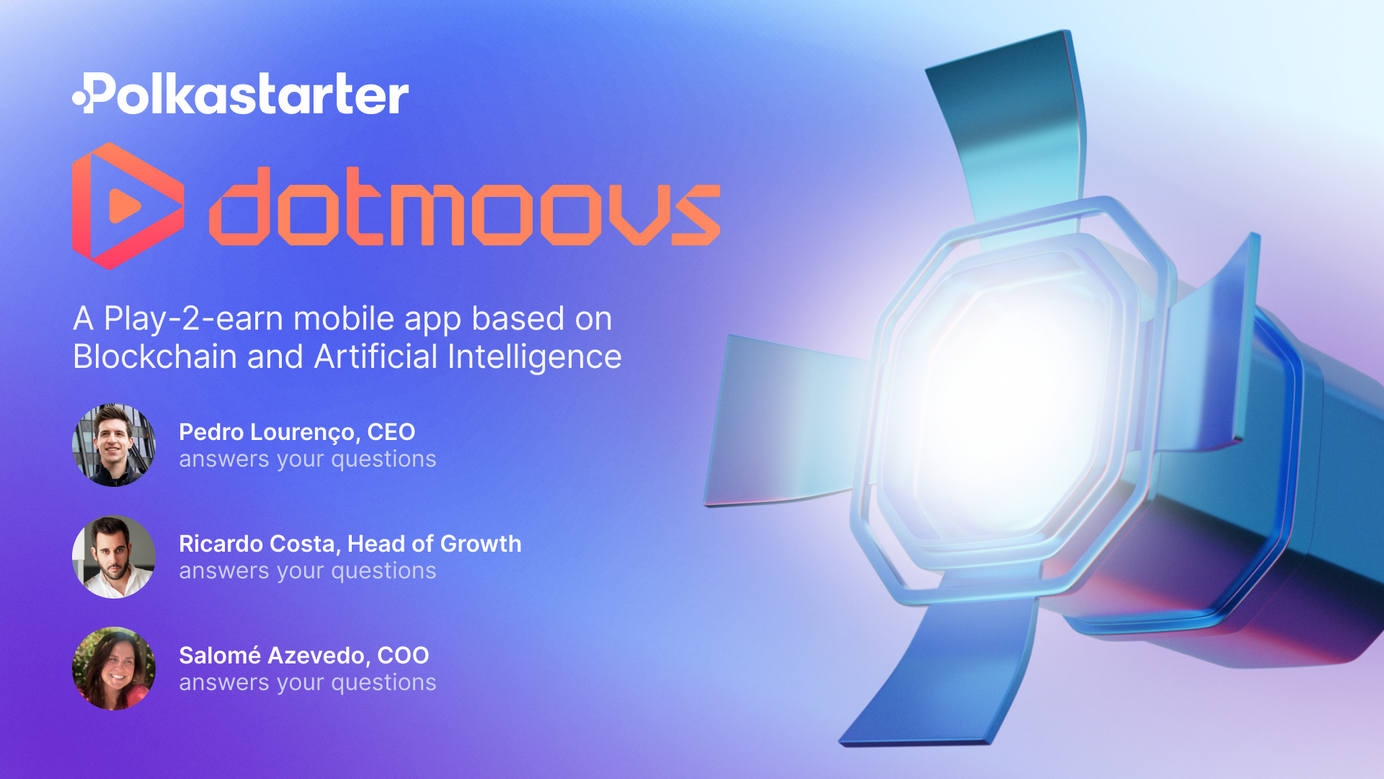 Polkastarter and Dotmoovs AMA Recap
Our AMA with Dotmoovs - a peer-to-peer competition platform powered by blockchain and AI.
Our AMA with the Dotmoovs team: Pedro Lourenço (CEO), Salomé Azevedo (COO) and Ricardo Costa (Head of Growth). Dotmoovs is a peer-to-peer competition platform powered by blockchain and AI, enabling users to earn $MOOV and NFTs when they win.
You can see the original AMA conversation in Polkastarter's Telegram channel here.
Polkastarter
Hi everyone and welcome to another exciting Polkastarter AMA, this time with the team of Dotmoovs: Pedro Lourenço (@prlourenco), Ricardo Costa (@rmartinscosta) and Salomé Azevedo (@spazevedo). Welcome, and thanks for taking the time today to join us! 👋
Pedro, Ricardo, Salomé, could you please first introduce yourselves?
Pedro Lourenço, Dotmoovs
Hi everyone, my name is Pedro, I am the CEO of dotmoovs. I trained as a Biomedical Engineer with a specialisation in Neurotechnology and neuro-inspired AI algorithms. For about 10 years me and Salomé have been dreaming of working in sports performance and competition, but life lead us in other ways, and I ended up specialising in the development and deployment of data and AI solutions in different industries, from medical startups to large telecom companies. And now it's time to revive that dream - and make dotmoovs a reality.
Salomé Azevedo, Dotmoovs
Hello, I'm the COO at dotmoovs. I'm a biomedical engineer by training. My first research field was in biomechanics, where I developed a passion for sports kinematics. In the last years, I've been focusing on technology strategy and innovation and developing new digital services and products in the healthcare industry. I've been trying to come up with this project for almost ten years now. I hope you enjoy it as much as I do!!!
Ricardo Costa, Dotmoovs
Hi! I'm Ricardo. I'm the Head of Growth of dotmoovs. I'm a services engineer and manager by training and an entrepreneur by heart. I've founded a couple of companies, and I've dedicated my last few years working as a communicator, marketer, and manager. I've helped scale several innovative companies and startups in the tech industry. I've joined dotmoovs not only because of how interesting the project is, but also because of its highly ambitious plan and disruptiveness. Looking forward to share my enthusiasm about it with all of you!
Polkastarter
Very strong team you got here! 💪
And congratulations on finally having this ten year dream come to life! 👏
Can you tell us more about the vision behind Dotmoovs, and why are you launching it?
Salomé Azevedo, Dotmoovs
dotmoovs will enable remote peer-to-peer competition, removing the geographical barriers and allowing athletes to improve themselves and play with $MOOVs and NFTs, driving their performance to a higher level! By using an AI-referee we also remove the human bias and the cost of having a human judge of skill, which is a major factor in competition and its cost.
Polkastarter
Polkastarter are big believers that the team and talent behind the project is one of the most important factors for success. Tell us more about the team behind Dotmoovs, and how your experience has led you here?
Pedro Lourenço, Dotmoovs
dotmoovs is the product of a passion that has been lingering for about ten years. We have always wanted to work on sports, competition, and performance improvement from a biomedical perspective. In the meantime, technology evolved, we gained experience in the medical and AI fields and successfully built projects from the ground up - and that is why this is the right time to launch dotmoovs. It was founded officially in January, although work had been developed for months before.
Polkastarter
It is the right time!! 😉
So let's talk about Dotmoovs competitive advantage. What differs you from other similar projects?
Ricardo Costa, Dotmoovs
Please check page 10 of our white paper for some more info on this (it's a summary but an easy to read one): https://docsend.com/view/b8h625n3c2ahznd9
For you to have an overview of our competition, we considered the features that set us apart from them are:
Peer2Peer challenge - so our Player versus Player (PvP) mode is what really attracts people all around the world to be in love with sports. Only Strava and Peloton try to do it, but not in a real player versus player mode. In the case of Strava the players track their activity based on distance, time, and speed. On Peloton, users require bicycles and other equipment in order to collect data and win the challenges.
Multi-sport support - our AI engines will allow us to reach different sports such as dancing, boxing, and others. Our competitors are just focused on either one sport or fitness-driven sports such as running, strength training, and other sports that depend on equipment to track the athlete's performance.
AI video-referee - this is the core of our technology. Through AI video-referee we can invest in other sports since we are able to measure the athlete's performance by video. Only HomeCourt is doing it, but it is not using it as a referee. They are just using it as personal skills trainer.
Cryptocurrency and NFTs' market - we are the only shark in the sea. This will boost our community, since it will allow players all over the world to compete and earn based on their performance.
Needs only a smartphone camera - compared to our competitors, only dotmoovs and HomeCourt just require the smartphone camera. The others require high professional cameras and other equipment to collect player's data.
Open to everyday athlete - most of our competitors focus on professional athletes. However, we believe that everyone can be or become an athlete with guidance and effort. dotmoovs wants to be part of their work. Peloton and HomeCourt also pitch that they go for "normal" athletes, but they are narrowing their niches.
Polkastarter
Awesome! 🤩 Thanks for the overview, Ricardo.
Can you tell our community a bit more about your $MOOV token, particularly about the token utility and your token generation event (TGE)?
Pedro Lourenço, Dotmoovs
Surely! Players need to have $MOOV to get into the challenge. So they will invest X-amount of $MOOVs to put in the challenges' pool. If the player's score is higher than his/her adversary he/she will win the challenge's pool. You will also be able to stake our token soon and earn rewards!
Polkastarter
And we'd also love to hear a bit more about your upcoming roadmap. What key features are you developing?
Salomé Azevedo, Dotmoovs
We're working hard on our technology and on developing and deploying our app. Our focus right now is on making sure we have a safe, secure environment that can provide a seamless experience for everyone. We will then start looking into the development of new sports in the app so we can expand our reach!!!
Polkastarter
What kind of anti fraud systems do you have planned for the app to ensure fairness and trust?
Ricardo Costa, Dotmoovs
What we will do on a first instance is allow players to see the winning party's video history - this will allow them to see if the video looks real and if it was always the same player on the videos. If they have doubts, they will be able to submit the video for review by a human (for a fee). The app will still need to live record, which curbs this issue quite a lot. On a second instance (and once we have a larger pool of videos) we will create some AI-based anti fraud mechanisms (that basically perform an analysis over the history of videos and flag anything that may look suspicious).
Polkastarter
Great! Now, before opening up the chat for questions, could you please share with our community your website and social media channels, so they can make sure to follow you and be kept up to date on your progress?
Ricardo Costa, Dotmoovs
sure! follow us on:
www.t.me/dotmoovs_announcements
Polkastarter
Great, thank you Ricardo.
Let's open the chat for a brief window to give our community a chance to ask their questions. 🙌
Don't forget, that after the AMA, the Dotmoovs team will choose the best question and hand out one whitelist spot for their IDO on May 25 (don't forget you will need to KYC fast and on time). ⛹️
[QUESTIONS]
Polkastarter
Woooow! So many great questions, thank you all!! 💥
Pedro, Ricardo and Salomé will read through and pick some questions to answer now.
QUESTION: @crazykayk
Hello sir, this is my question:
At present, there are many NFT projects in the crypto market. Do we consider multi-channel development for our projects? For example, cooperate with more art or game projects, and cooperate with NFT trading platform to establish relevant markets?
Pedro Lourenço, Dotmoovs
Indeed! We have a lot on our pipeline, and collaborations to broaden our reach are definitely key for us! Stay tuned as we will be revealing more in the upcoming weeks.
QUESTION: @Samoilova880
Currently dotmoovs focuses on newcomers or long-time participants? How do you plan to project your future?
Salomé Azevedo, Dotmoovs
Hey, so we're planning to provide rewards and the opportunity to test our product to early adopters and show what we're capable of. Afterwards, we will release the product to the whole community and later we will provide more sports besides football to engage more people
QUESTION: @Fabio_45
Why did the dotmoovs project decide to host its IDO on Polkastarter?
Pedro Lourenço, Dotmoovs
Have you seen these guys? They're amazing! Polkastarter as a launch platform will help us immensely on many fronts, including multi chain support and increasing our reach - as well as providing everyone with a chance to be a part of our journey right from the start! 😄
QUESTION: @carlos671
Once the product is developed, one of the main challenges seems to be adoption. What are some of the plans to stimulate adoption and build out the ecosystem around DOTMOOVS?
Pedro Lourenço, Dotmoovs
Our goal is to increase our reach as widely as possible. And that is why we are aiming not only for the crypto-savvy user but also the wider sports community! Having ambassadors like Luis Figo and Quaresma will help us reach that community, and build trust in our system. For that we will also have simplified onboarding mechanisms and usability within the app will be paramount for all users to feel comfortable using our systems!
QUESTION: @tyrangdzz
Earn NFTs and $MOOVs with each victory powered by our AI-based scoring algorithm. Are we only be able to play and compete in sports game only are there any other games like educational, entertaining game and so on to play and compete?
Salomé Azevedo, Dotmoovs
We are focused in sports performance improvement. Therefore, we will be providing in the future educational guides for athletes to improve their sports skills. So players will be able to use the app not only to compete but to train their skills.
QUESTION: @Sanjay_Mishra956
What's the total supply and what kind of plans do you have regarding MOOV unlocks in the future?
Pedro Lourenço, Dotmoovs
You can find more details here: https://dotmoovs.medium.com/dotmoovs-whitelist-for-polkastarter-is-now-open-d9287dc131f - but in general we have phased unlocks for our tokens on a total supply of 1,000,000,000 tokens 🙂 all the info is in our article and our website!
QUESTION: @jerryziz91
I see you have great ambassadors like Luis Figo, Ricardo Quaresma. Do you have plans to add bigger ambassadors like Cristiano Ronaldo / Lionel Messi?
Salomé Azevedo, Dotmoovs
Ahahaha that's a great question indeed. Figo and Quaresma are in our hearts because they supported us since the beginning. Concerning Ronaldo and Messi we can only tell you that NOTHING IS IMPOSSIBLE ! Keep following us!!!
Ricardo Costa, Dotmoovs
We are very proud of our ambassadors. They are doing a tremendous job for us, investing their time and expertise! We will definitely have new ambassadors and not only on the football field, but other sports as well!
QUESTION: @Roger_bitcoin
How can Dotmoovs keep data secure? What are the benefits of using Dotmoovs?
Pedro Lourenço, Dotmoovs
Security and data privacy are our main concerns! We are following a policy of privacy by design and putting a lot of effort in ensuring our cloud environments are safe and secure. As for the benefits... where else can you compete with your peers in your favorite sports, remotely, while monetising your skills? 😉
QUESTION: @Samoilova880
Currently dotmoovs focuses on newcomers or long-time participants? How do you plan to project your future?
Pedro Lourenço, Dotmoovs
Both! But definitely stay for the long-run... we have exciting developments ahead of us and you will not want to miss them, so stay with us and you will not regret it!
QUESTION: @nikbecola
🎉Q. From a startup project to a mainstream project, being a pioneer in the industry, does the team anticipate how many new startups will show up and compete?
Pedro Lourenço, Dotmoovs
Our IP is very unique, and although we are not saying it is impossible to compete with us, it will be very difficult without a similar team and a lot of development time... we have been working for a very long time on this idea, so we will be ahead of the market in a lot of ways! 🙂
QUESTION: @makromann
How will you make Dotmoovs easy for anyone? Including those who do not understand crypto will also use Dotmoovs ?
Ricardo Costa, Dotmoovs
All the materials that we are developing try to be as direct and explanatory as possible. We know that most of our future users will come from the non-crypto world: they will be regular athletes, sports enthusiasts and others. So we're working hard on having everything as clear as possible, as well as the user experience on the app
QUESTION: @LinhNeil
During the start up of your project, what are the technical difficulties you faced and how did you overcome them?
Salomé Azevedo, Dotmoovs
Well most of the technical problems are related in choosing the technology that will allow us to scale without significant difficulties. Our efforts since our MVP proved to work was to design the best roadmap to support scalability. We're glad to see the majority of the issues addressed.
QUESTION: @braddey
Currently a lot of crypto investors use phones to work, so does DOTMOOVS have a plan to develop a platform on IOS or ANDROID?
Pedro Lourenço, Dotmoovs
We are working on the development of an app for both iOS and Android so our whole platform is mobile first!
QUESTION: @chelyabinsk_crypto
Until what corner of the world do you plan to arrive? that is, to what extent in the world do you think DOTMOOVS will be solving people's problems with their infrastructure?
Salomé Azevedo, Dotmoovs
Our plan is to go all over the world. That's why we're using blockchain. Through digital assets everyone can monetize their sports performance. So our plan is to reach all countries that have communities engaged in sports
QUESTION: @Jetsada
Does your project have enough funds to run the project and for its development? What are your business modules to earn revenue?
Pedro Lourenço, Dotmoovs
With our private and public raise we have a very good runway to develop our systems. This will take us to a point where we have a solid customer base that can help us in getting the right revenue streams! Some of these will come from digital events, some of them will come from the usage of our competitions, but we will explain more on all this soon 😉
QUESTION: @alekseydai
With regard to people who do not handle the English language, what plans has their project for a broader community and can understand more about the ecosystem of your project??
Ricardo Costa, Dotmoovs
Our project aims to be as global as possible. We're working with partners around the world and trying to have the platform on different languages. We actually just launched the website in Turkish and Chinese. New languages will come up soon!
Polkastarter
Congrats @carlos671, YOU are the winner of the whitelist spot!
Dotmoovs team will contact you in PM and give you all information regarding KYC, etc
Pedro Lourenço, Dotmoovs
Thank you for all the questions guys, it's been awesome!
Polkastarter
Thank you Salomé, Ricardo and Pedro for your time and for the illuminating answers on Dotmoovs.
(And thank you, @spazevedo, for that Quaresma GIF. 😂💖)
Really looking forward to the launch of $MOOV on May 25, and to welcome you to the Polkastarter Family and continue working together in the future. 🎉✨🏡
Pedro Lourenço, Dotmoovs
🚀
Ricardo Costa, Dotmoovs
🙌
Salomé Azevedo, Dotmoovs
Ahahah I believe that quaresma's smile would shake the waters.
Polkastarter
Thanks to everyone for tuning in. This will be the end of this AMA, thank you everyone for joining us!
And make sure to follow Dotmoovs official channels to get all the updates. 🏄
The chat will now open back up.
Polkastarter Blog - Latest Polkastarter News & Updates Newsletter
Join the newsletter to receive the latest updates in your inbox.
---