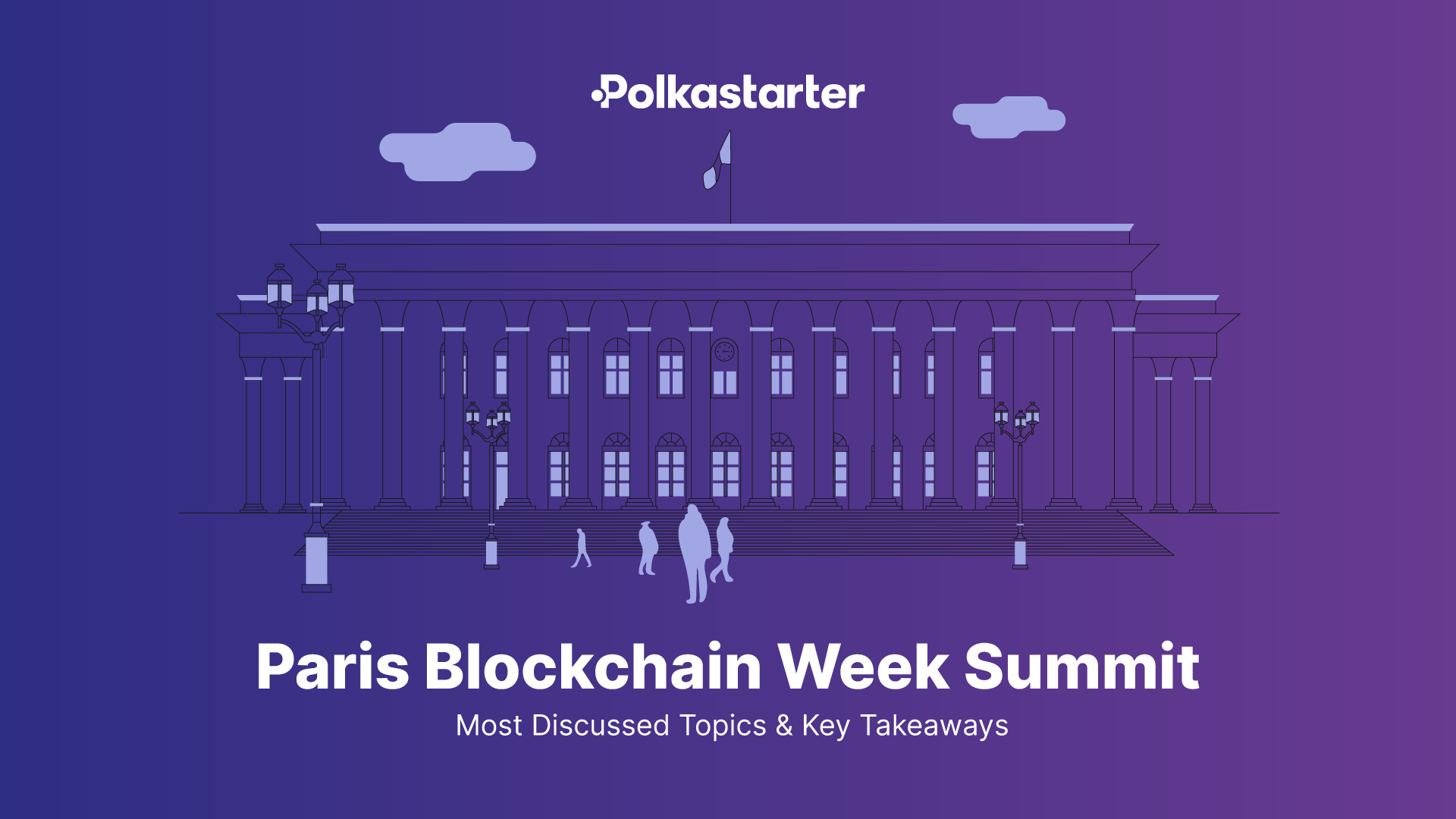 Paris Blockchain Week Summit: Most Discussed Topics & Key Takeaways
The conference took place in what used to be the Paris stock exchange, the home of FIAT currency for years.
Usually known for its fashion and romance, Paris recently hosted Paris Blockchain Week Summit and more than proved itself as a high potential Web3 destination at the Palais Brongniart. Daniel Stockhaus, Polkastarter's CEO was in the action and caught up with some big names.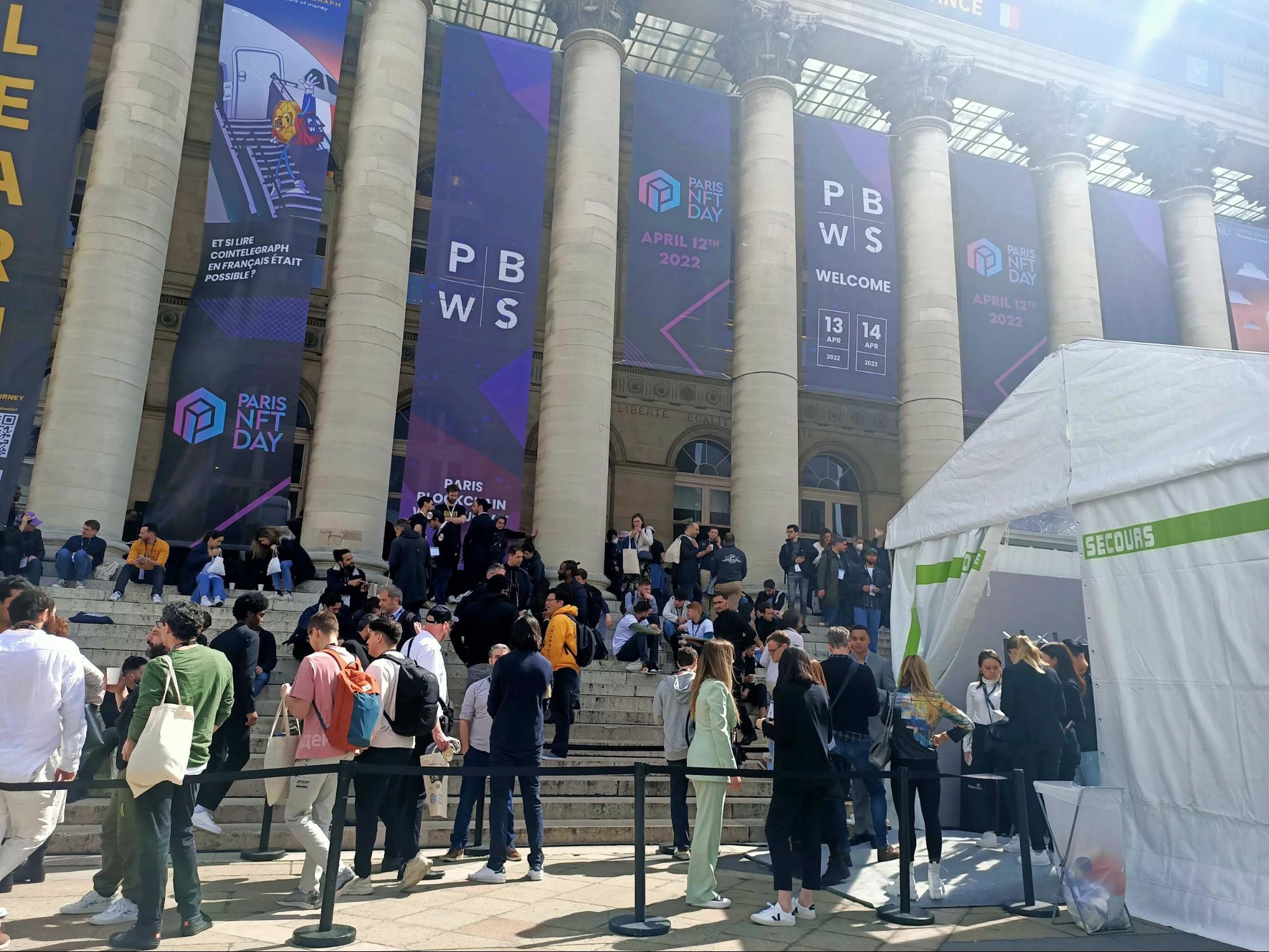 The conference took place in what used to be the Paris stock exchange, the home of FIAT currency for years. In these very halls, the future of payments took centre stage with keynote speeches from blockchain experts such as Binance's Changpeng Zhao, AKA "CZ", Tether's Paolo Ardoino and Founder of Algorand, Silvio Micali.

An ideal opportunity to catch up on the latest news, innovations, plans and market outlook of the crypto and blockchain ecosystem, we got insights into NFTs (market analysis & physical NFTs), Blockchain Gaming, Interoperability, DAOs and Ethereum 2.0.

Let's get right to it!
Ethereum 2.0
A highlight of the day was Arbitrum, a technology becoming known as an optimistic rollup. This technology enables the sending of messages between Ethereum smart contracts and contracts in the Layer 2 Arbitrum. By doing so, it empowers smart contracts from Ethereum to scale.
We'll explore more on Ethereum's scaling solution and upcoming The Merge in our next blog.
Blockchain Gaming (Play-to-Earn)
There were tons of Blockchain Gaming Exhibitors and builders. It's a rapidly growing space and everyone wants a share. Play-to-earn (P2E) crypto games involve rewards in some form of cryptocurrency and NFTs for playing games.
Players have to carry out quests, win battles and complete challenges or hunts. They can then exchange their winnings for cryptocurrency.
NFTs
We attended a talk about the current status of the NFT market titled "Has the NFT space crashed?" by NonFungible.com. The findings are really positive with signs of some stabilisation in the first quarter of 2022. They're forecasting a $100 billion market in the near future.
The talk analysed price charts and how speculation in the volume of USD traded saw a major decline recently. Traders are being pessimistic and lose faith in the NFT space mostly because they don't see instant returns.
However, what the numbers do show is that the NFT space is now ready to move in the next phase of its maturity. The excitement phase is gone and now everyone needs to take a step back and understand the true value of the technology, before investing in it. NFTs are not a gimmick, and these days, seldom a quick in and out trade that can get you rich in a matter of days.
There needs to be a conscious effort by all players in the space to educate users about NFTs.
What followed was a chat about primary vs secondary market and how the secondary market saw an increase in the last few months. The explanation behind this movement? The market was in asset creation mode and now it's simply creating liquidity for the assets.
With less volume, less market activity and a lot of disappointed people around the NFT market, one could speculate that the space is in a lot of trouble. The questions that pop up are obvious: Are NFTs only for PFPs? Was all of this just a bubble? The truth is that the industry is exactly where it needs to be - past the hype and into construction mode. More industries, and more builders are curious about NFTs. Even though less trades are happening, more real utilities are being traded.
The community is expected an exponential growth with more mainstream institutional NFT portfolios vs the elite players that have been active up until now.
The "Tech innovations 2022" talk featured some pretty reputable guests such as Diran Li, Vice President of Engineering at Messari and Bertrand Perez, Chief Operations Officer of Web3 Foundation.
The topics discussed focused on NFTs, DeFi Regulations and Eth2.0 and scaling. The takeaways from both Messari and Tezos is that they have seen tremendous growth mainly because of NFTs.
Diran Li emphasised the importance of how NFTs create scarcity in the internet. What used to be a cheap to copy jpeg or simple to forge video is now becoming a coveted asset with defined ownership.
NFTs came to the limelight through a single use case and it's time for the industry to make a conscious effort to show the real value and utilities of the technology. The talk also went into more depth about the tech behind NFTs - from the Crypotkitties craze in 2017 and the scaling issue, to the rise of Layer 1 alternatives and Flow, there was a lot to take in.
One of the major NFT challenges is the on-chain verification problem. Verifying transactions on the chain proves ownership but comes at a premium since storage on the chain is expensive. Last year's congestion was extremely high and so were fees, hence why L1 alternatives to Solana and L2 like Polygon are exploding.
Web3
Web3 is the new iteration of what we all know as the Internet. This new version is built using decentralised blockchains — the shared ledger systems used by cryptocurrencies like Bitcoin and Ethereum. The main difference to Web2 is that Web3 is more democratic — emphasises on the ownership, allowing users to own their own data and is not dominated by a handful of huge players like Google, Amazon and Microsoft.
Interoperability is also a top priority for Web3 for the year to come, allowing data and intrinsic value to be transferred across different networks.
What's more, parachains initiated by Polkadot, will be able to interact seamlessly within the Polkadot ecosystem. The popular open-source blockchain platform introduced the parallel chains, in order to improve interoperability between numerous blockchains.
When it comes to Web3, the difficulties outlined by most presentations were in understanding the nuances of Web3, bringing elements and professionals of Web2 and managing to build decentralised, seamless UX.
The Web3 trends identified in the talks didn't come as a surprise, with massive adoption expected in both B2C and B2B. Already, many companies are working on their transition from Web2 to Web3 with focus on permissionless investments and trust, seen as key points.
DAO
DAO stands for Decentralised Autonomous Organisation. This is a term used to describe a group of people who agree to act according to a certain ruleset for a common purpose. These rules are written into code via smart contracts and algorithms ensure that the criteria are met.

DAOs usually decide on what collectible items to invest in, seeding a new DeFI protocol or vote on how to utilise the fund. The total AUM in DAOs is currently at $10.6 billion. The future of DAOs looks promising and we should expect to see:
Core mission focused organisations
Individually managed subDAOs, working groups, and committees
Outsourced specialised services
Before we reach this ideal world, there are a lot of challenges to be addressed. Ryan Selkis, Founder of Messari, went into some detail regarding the hurdles we have to overcome in order to make DAOs more mainstream.
Discovery and Navigation
How do you find the DAO relevant to you and even when you do, how do you engage and use the actual technology? Some of the best tools to help you with discovery and navigation are DeepDAO and RabbitHole.
Coordination and Decision-Making
The next challenge for the space is how to delegate authority, vote on the topics that interest the DAO members and the procedure under which these changes are executed. The operational workflow of a DAO is still something the market is figuring out. For now, the best tools to navigate this challenge are Orca and Tally.
IT, Finance and Operations
Talking of operations, there are the technicalities of IT and finance that need to be taken into consideration. Platforms like Superfluid take care of subscriptions, salaries, rewards and any composable stream of value. Superfluid is built on Layer 1 Ethereum, allowing full composability and no delays when withdrawing.
Talent Acquisition and Performance Monitoring
Last but not least comes the challenge of how to get the right people to do the job and how to monitor their performance. When it comes to hiring, he pointed to Shipyard, the go-to place for advanced training in Solidity and Web3 and top-class engineering talent. For monitoring, participation and performance you can check Gitcoin.
DeFi
The main message from Tezos is that we're at a stage of immaturity when it comes to DeFI protocols. A sign of health will be the yield rate being relatively more rational. We're still in a trial and error phase, still testing what works and what doesn't for DeFi.
Regulation
What is currently being discussed in the crypto space is the new regulation seeing crypto service providers ⁠— usually exchanges ⁠— asked to verify the identities of the owners of unhosted wallets with which they transact in advance of a transaction. Assets need to be stored in a KYC-verified account with crypto assets used for money laundering being on the back of the minds of institutions.
What's important to take away is that the technology is here to stay, despite the challenges that it is facing. It's time for the regulators to double down and try to deeply understand the tech instead of trying to contain it.
What to expect (and get excited about) for the rest of 2022
One of the biggest projects anticipated in the space, is Ethereum 2.0. Everybody wants to see a more scalable, more secure, and more sustainable version of the Ethereum platform. The primary objective is to increase Ethereum's capacity for transactions as well as reduce fees.
Messari is clear in their goals of POW to POS which will allow sharding in the future. If all goes to plan, things look promising that it will happen this year.
From Tezos, the hope and excitement came on the scaling front. There is a lot of enthusiasm regarding Zero-knowledge roll-ups and what they can bring to the table.
As far as Web3 goes, scaling is also what we should be excited for. With more builders and serious stakeholders in NFTs, GameFi, DeFi, Web3 and DAOs, 2022 should be a big step for mass adoption to crypto and the growth of the ecosystem as a whole.

About Polkastarter
Polkastarter is the leading decentralized fundraising platform enabling crypto's most innovative projects to kick start their journey and grow their communities. Polkastarter allows its users to make research-based decisions to participate in high-potential IDOs, NFT sales, and Gaming projects.
Polkastarter aims to be a multi-chain platform and currently, users can participate in IDOs and NFT sales on Ethereum, BNB Chain, Polygon, Celo, and Avalanche, with many more to come.
---