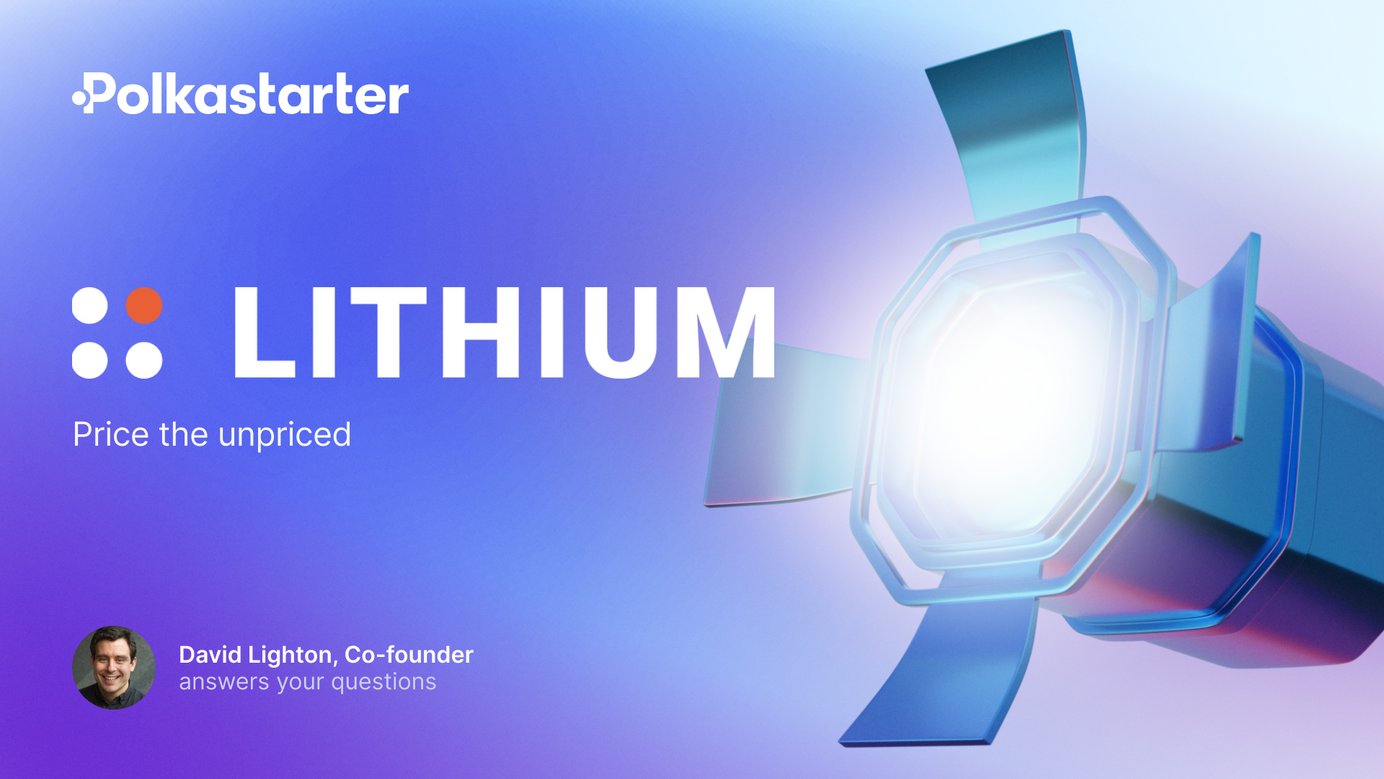 Lithium Finance AMA Recap
Having completed the very first Pre-IDO Sale on Polkastarter, Lithium Finance answers all your questions ahead of their upcoming IDO.
Polkastarter: ⏰ It's time for the Lithium AMA! ⏰ The chat will now close.
👋 Hi everyone and welcome to another exciting Polkastarter AMA, this time with the David Lighton, Co-Founder of Lithium. Welcome and thank you for taking the time today to join us! 😊
David: Thank you very much! I am very happy to be here to speak with you. Polkastarter is a great brand.
Polkastarter: Thank you! 🤗
Alright, we'll first have a few questions to David directly, before we open it up for community questions. Let's get started! 🎈
David, could you please first introduce yourself?

David: Sure, no problem. Excited to hear from the community soon too!
Hi everyone, I'm David, the co-founder of Lithium - and an entrepreneur passionate about inclusive financial innovation. My team and I feel the traditional financial sector can be improved enormously by the innovative tools of DeFi and cryptocurrency. These changes are happening now and fast.

As the DeFi space and the traditional finance world converge, the needs and expectations of having real-world assets in the DeFi space are also growing simultaneously. Pricing these assets in a decentralized manner is an inevitable process of bridging the two worlds together. Before Lithium, I was the Founder and CEO of SendFriend, a FinTech startup using the blockchain to create faster, less expensive, and more inclusive international money transfers for immigrants in the US.

Prior to founding SendFriend, I served as Special Assistant on the Haiti Desk in the World Bank following the devastating earthquake of 2010, and co-authored the Haiti National Financial Inclusion Strategy, a Central Bank-sponsored initiative to increase consumer account penetration from 25% to 50% of adults. I hold an MBA from MIT – Sloan School of Management and an M.A. and B.A. with honors from Johns Hopkins University.

Polkastarter: Impressive professional background! ✨👀

And can you tell us more about the vision behind Lithium and why are you launching it?
David: Sure.

By the way I like your photo a lot. Your face in a glass? Nice…

Anyway on Lithium and the vision…
As the DeFi space and the traditional finance world converge, the needs and expectations of having real-world assets in the DeFi space are also growing simultaneously. Pricing these assets in a decentralized manner is an inevitable process of bridging the two worlds together. This is where Lithium comes in; in short, we are an antidote for the reddit insanity of the public market and the lack access to private / illiquid assets. Lithium is the first collective-intelligence pricing oracle to give precise and timely pricing on private, illiquid assets.
My hope for Lithium is to create a bridge between defi and traditional financial services and functions that opens doors for millions of users. We want to have top investors and institutional advisors as clients as well as the kinds of retail investors who made waves on social media.

Polkastarter: At Polkastarter we are big believers that the team and talent behind the project is one of the most important factors for success.
Could you tell us more about the team behind Lithium, and how your experience has led you here?

David: I'd like to use this opportunity to talk about my fellow co-founder, Steve Derezinski. Steve is a Senior Executive and MIT Blockchain Engineer & MBA, who has launched 80+ startups that have cumulatively raised over $250M to date. Steve and I share the same ethos, that bringing real-world assets into the world of decentralized finance — offering financial services with no intermediaries or guarantors — is the final frontier of crypto.

However, this vision of decentralized trust can't be realized without the right pricing oracle. Why would I buy private stock, if I don't have a good idea of what it is worth? The market still hasn't seen a pricing mechanism that's able to price illiquid real-world assets effectively. This is the problem that brought us together.

Polkastarter: Sure looks like a powerful team! 💪
So let's talk about Lithium competitive advantage. What differs you from other similar projects?

David: Yes :)
Virtually all on-chain protocols listed use publicly available pricing information. Lithium is generating prices that are not available on-chain and most are not available anywhere -- pricing the unpriced. In addition, our source leverages many hundreds of contributors and ensures we encourage the best answers from all sources.
Polkastarter: Awesome! Can you tell our community a bit more about your $LITH token, particularly about the token utility and your token generation event (TGE)?

David: Yes :)
Lithium Finance's native token, $LITH will be used as a reward mechanism and as a staking token for questions and answers. It is essentially the fuel that powers the Lithium ecosystem. During the process of posing a question and answering, each individual will stake a certain amount as either bounty (when asking a question) or confidence (when answering). This combination of staking creates stronger signals towards the best information.

Bounty offers from Wisdom Seekers will incentivize Wisdom Node answers. The more valuable information is to someone, the more they are willing to pay for an answer. With many people wanting access to the same information, the bounty can become substantial. It is also a way for Wisdom Nodes to build their reputation and further increase their reward potential for correct information. When each Wisdom Node provides an answer to the question, they will stake a certain amount of LITH tokens to signal their confidence.

This, together with their reputation within the sector of answers, increases their influence and also potential reward of the bounty plus other incorrect stakers. Lastly, the token facilitates rewards for Wisdom Nodes for correct answers.
Once the Wisdom Nodes' answers are known, the bounties of $LITH and the Wisdom Node stakes are pooled and distributed according to how close their answers come to the ground truth. The $LITH token is one that forms the bedrock of a robust use-case. Lithium Finance's cutting-edge pricing oracle will revolutionize the world of finance by making accurate pricing for illiquid assets accessible to one and all.

The LITH token powers this fascinating movement. Members can hold Lithium tokens and become part owners in the protocol, and get a high reputation by doing so. Members can realistically make meaningful profits on the platform as the reputation multiplied by the value of staking is the value you can take away from the platform. $LITH is a deflationary currency, so early investors in the token potentially stand to earn huge rewards!
Polkastarter: 🤔 What happens if the ground truth is never revealed? Do the Wisdom Nodes receive any rewards? For instance, if a company never goes public would they get any rewards?

David: Good question. And this brings up a whole process of question formulation.  As you know, we need to create a set of questions for the nodes to answer.  Within that set is at least one question with a ground truth that will be revealed prior to the set of answers being calculated.  

If the ground truth is never revealed, then it is treated as a subjective question with no ground truth and the answer is the honest nodes consensus.  The other questions are subjective (meaning no ground truth) and are rewarded via the DMI mechanism reward calculation.
Also, in general there are many cases when we would halt an question session -- not enough answers, time has expired, or other issues.  Then we just refund everything and start over.  Not really a fun thing to talk about but important that people know they will get their money or stake back if there is an error somewhere.

Polkastarter: We'd also love to hear a bit more about your upcoming roadmap. What key features are you developing?

David: Sure, we love to talk about the roadmap.
Of course, we had released an IDO announcement last Monday. We are proud to announce the launch of our IDO on Polkastarter on August 5. This came after the successful launch of our pre-IDO on Convergence earlier in June. The whitelist is open now and will close at 29 August. For more IDO sales details, please visit our latest medium article here: https://medium.com/lithiumfinance/lithium-finance-ido-launching-on-polkastarter-on-august-5th-dcf11a51023f

Polkastarter: Awesome!
Could you please share the link with our community as well as your social media channels, so they can make sure to follow you and be kept up to date on your progress?

David: But of course.
You can find all our social media channela in this page.

https://lith.finance/community/

Polkastarter: Great, thank you David!
Now, let's open the chat for a brief window to give our community a chance to ask their questions. ⚡️ Don't forget, that after the AMA, Lithium team will choose the best 3 questions and hand out 3 whitelist spots for their upcoming IDO (and bear in mind you will need to KYC fast and on time!).
---
COMMUNITY QUESTIONS


Bablu G: How are we evaluating the value of any company. Is company allowing there internal confidential details to lithium for valuation. Are we also checking the balance sheet / debt , any financial information of the company for the valuation. How  accurate  this valuation would be , do we have some KPI,s to evaluate this ?

David: Great question — we poll experts for qualitative opinions :) this way all the data is subsumed under what they tell us.
Bitcoin: What is the ultimate vision that Your project is trying to achieve within the cryptocurrencies market? Obviously the whole space will experience huge growth in the upcoming years, but what role would you like Your project play in this?

David: We are the world's first crowdsourced pricing protocol for private assets. We are the bridge between traditional finance and DeFi

jessica hong: Because $LITH will be used as a reward mechanism and as a betting token for questions and answers.  and basically it's the fuel that powers the Lithium ecosystem.  so the bounty offer from the Wisdom Seeker will incentivize the Wisdom Node's answers.  The more valuable information is to someone, the more they are willing to pay for an answer.  What happens if someone offers valuable information at a high price but in fact the information is not worth the price that has been offered, can we hold ourselves accountable?  or is there a filter that information is valuable or not so that there is no miscommunication?

David: Here pls read litepaper also: https://2m3h7zl2ltg38h7ef3wwctu1-wpengine.netdna-ssl.com/Lithium_Finance_Litepaper.pdf
Dewi Cintya: What if a large number of wisdom knots got together and deliberately faked the result. How can Lithium Finance prevent this? Security is paramount to all stakeholders, so 61% of attacks occur frequently and even on the most recognized blockchains, can you tell us how Project Lithium Finance prevents such attacks?

David: The algorithm will slash bad actors.

ZELINE | 404 Daily: What about potential partnerships. Which projects/tools does LITHIUM FINANCE look to to build further roads?

David: We recently announced a partnership with Injective protocol. This week we'll do a roundtable with NAOS finance and MakerDAO :) we will announce other partnerships soon :)
Akshay Adwani: Can you explain to us how the  Proof of Wisdom Staking consensus differs from others? What are the advantages of  Proof of Wisdom Staking?

David: Please read our litepaper: https://2m3h7zl2ltg38h7ef3wwctu1-wpengine.netdna-ssl.com/Lithium_Finance_Litepaper.pdf
Eddy Dave: What are your plans in place for global expansion, are you focusing on only market at this time?

David: We are not listing in the US at this time, but otherwise we are global!

I really appreciate all the questions. Sorry I could not answer more!
This has been a really fun AMA! I hope it was useful for everyone.
Thank you very much.

Polkastarter: Thank you David for your time and for the illuminating answers on Lithium.
Really looking forward to the launch of $LITH and to welcome you to the Polkastarter Family and continue working together in the future. 🚀
Congrats @ajbablu , @DailyCrypto404 & @jesicahing , you are THE WINNERS of the 3 whitelist spots! 🥳🥳🥳 Lithium team will contact you in PM and give you all information regarding KYC, etc.
Thanks to everyone for tuning in. This will be the end of this AMA, thank you everyone for joining us! 👋😘 The chat will now open back up.

Polkastarter Blog - Latest Polkastarter News & Updates Newsletter
Join the newsletter to receive the latest updates in your inbox.
---