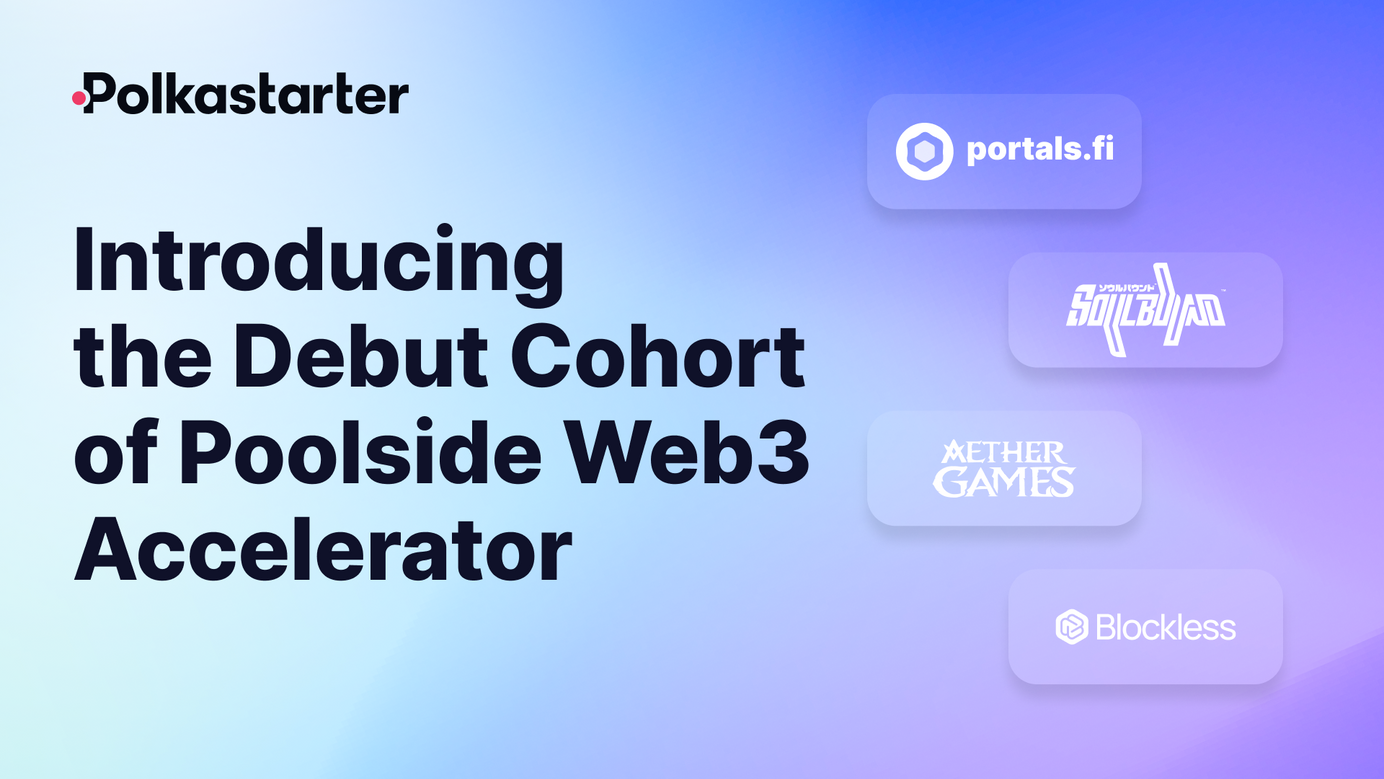 Introducing the Debut Cohort of Poolside Web3 Accelerator
Four game-changing projects with unlimited potential
Our partnership with Poolside exemplifies our commitment to fostering the next generation of leaders in the decentralized ecosystem - we are now excited to support the Poolside Debut Cohort.
By empowering the innovators of today with Polkastarter, we aim to build a solid foundation for the future of our ecosystem. With over 300 applications and numerous interviews, Poolside have carefully selected four standout projects based on their innovative ideas, exceptional teams, and market potential.
The Poolside Web3 Accelerator program kicks off, and we can't wait to advise and see these projects flourish during the next 12 weeks! The program's culmination will be Demo Day, where participants will present their projects to a panel of esteemed investors and industry leaders in late June. Stay tuned as we give you more context about each project in the upcoming weeks.
Let's meet the four projects:
Blockless - Devtool Infrastructure
An ingenious ZK serverless functions platform transforming decentralized application development. Blockless, built by a team of 8 accomplished engineers, simplifies the creation of advanced dApps that bridge the gap between Web2 and Web3. With a history of successful Web3 projects, two of which have been listed on Binance, and originating from the prestigious BNB Chain Incubator, Blockless is set to redefine dApp development, making it more accessible than ever.
Portals - DeFi Protocol
A token abstraction platform that empowers users to easily create and bundle intricate DeFi actions into a single transaction. With $2M raised already and the experience of founding Zapper, Portals is prepared for mass adoption.
Aether Games - Gaming Transmedia Development Studio
Aether Games is crafting immersive gaming and entertainment experiences for both Web2 and Web3 audiences. By integrating gaming, blockchain, and multimedia content, Aether Games creates a rich and cohesive universe, offering endless opportunities for gamers and investors.
Soulbound - Gaming Infrastructure
A gamer identity and profile platform that enables gamers to track their progress, in-game achievements, and events across Web3 games. Recently raising $3.6M and led by a stellar team with extensive gaming experience, Soulbound paves the way for limitless possibilities in Web3 Gaming.
The Poolside Web3 Accelerator is a 3-month intensive program designed to support and accelerate the development of projects in the decentralized technology space. The selection comes with initial funding of $100,000 and includes mentorship from industry experts, access to a network of advisors and partners, and funding opportunities.

During Poolside Opening Week in Lisbon, Yan Ketelers, Poolside CMO, shared the vision and plans for Poolside Accelerator and Hub. Their mission is to foster a thriving community of Web3 enthusiasts, founders, builders, mentors, and investors and to highlight the projects selected for the first cohort. We extend our gratitude to everyone who participated and redeemed their POLS merch!