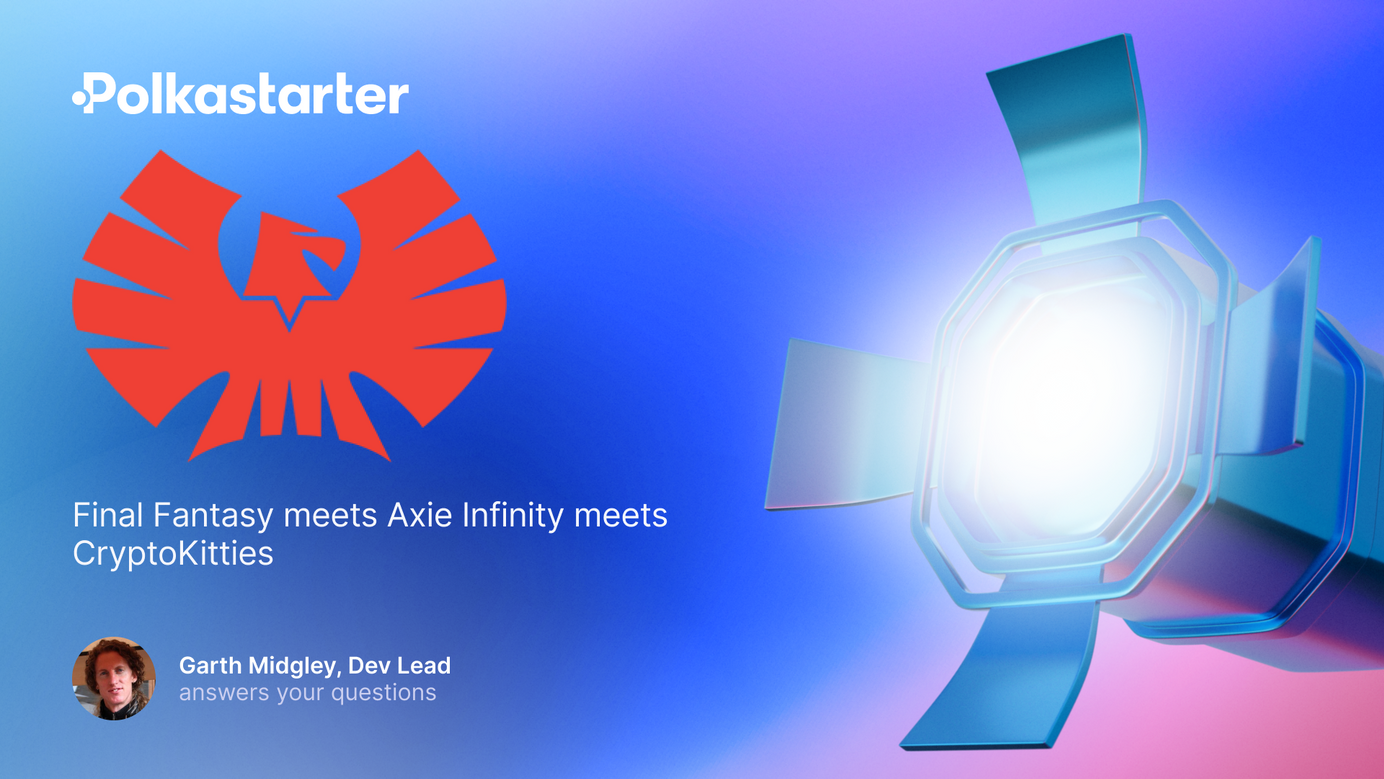 Get to Know: Wonderman Nation
Final Fantasy meets Axie Infinity meets CryptoKitties
Wonderman Nation is a game that combines the features and characteristics of iconic games such as Final Fantasy, Axie Infinity and CryptoKitties. Tasked with saving the universe, players are immersed into a world of new planets, characters and quests that take game-play experience to another level.

Built by an award-winning AAA game development team, the game is built on a dual token ecosystem to give players a diverse way to both play and earn. Wonderman Nation allows you to take your NFTs into a Metaverse and ultimately win ongoing royalties.

The catch? There isn't one. The game is free to play for everyone, from anywhere, amplifying the true essence and meaning of blockchain gaming.
The allowlist for Wonderman Nation is now available and you can apply for it on their project page.

If you missed it in real-time, here's what transpired during the Telegram AMA.

Vision
Wonderman Nation is a collection of P2E metaverse games with token and NFT cross play. The first two titles released will be the PvP battler 'Wonderman Nation' (the lead title), and the arcade creature discovery arcade title called 'Wonderman Attacks'.
The main game has a PvP battle system, with similar battle mechanics to the battle mode in Final Fantasy, but with lots of extra features like environmental interactions, creature team interactions, and unique items that can be used during battles, which change depending on which team you're playing for. Players will be able to battle casually in one-off battles, and in prized tournaments.

The arcade metaverse game brings cross-play to the tokens and NFTs, providing more use cases, and giving players the opportunities to discover new creature NFTs, enabling players to breed new creatures with new abilities, along with locking in ongoing revenues through a genomic breeding royalty system.

Wonderman Nation has full genomic breeding on-chain, and uses smart NFTs in a way that allows for interesting abilities to be inherited and mutated, enabling a really deep game strategy experience.

As to the reason behind all of this? The team behind Wonderman Nation sees it as an IP that will be a great P2E title. They're launching it to the public because it's a great way to get the community into the project early and have them involved in the journey, and the successes, with them.

The Team Behind The Project
The core team is made of super experienced game devs that worked on over 130 published titles with the world's top publishers and IPs.

They've been working together for over a decade now, and have a few new team members that are friends that they've known in game development circles and have wanted to work together with for a long time. Now, they're all working together finally as Alt Shift Games.

Garth Midgley's experience developing games 22 years ago led him to think about the future digital economies for gaming. When Counterstrike 1.6 was released, and online gaming went berserk, the writing was on the wall for him from that very moment.

He co-founded GOATi Entertainment in 2010, so that they could create games for this 'future game ecosystem' where users are playing globally and using digital currencies and digital assets to transfer value frictionlessly. Blockchain technology wasn't on their radar then, but they had their eye on it early, and had a fair idea right from the start that this was going to be the digital token solution that their game designs needed.
What Makes Wonderman Nation Different From Competition?
First up, they think that their team's experience with developing both traditional video games and blockchain games gives them a big advantage from a technical standpoint.

When it comes to the actual game, it's important to note that they're building Wonderman Nation to be a fun game first and foremost. This will help them tap into the massive global games audience that doesn't currently interact with blockchain-based games. They're focusing on accessibility features so that anyone can play.

For example, all you need to sign up is an email and a password. The same as with regular game platform accounts. What's more, is that the game is browser-based so there are zero downloads or installs required, with accessibility on all devices across all platforms.

One of the most important advantages is that there are no upfront costs or third party sign ups. Wonderman Nation's live marketplace allows new players to play without buying creatures, and existing players can easily loan their creatures out and share rewards.

Onboarding can happen with cryptocurrency and FIAT, using credit card and bank deposit, so players don't have to mess around with crypto exchanges if they don't want to.

Last but not least, the game offers great ongoing incentives. For example, everyone that discovers a new creature in the Metaverse will get a % of revenue for future sales for both that creature, and for future breeds.

Wonderman Nation is a combination of great gameplay and accessibility that makes it easy for players to enter the blockchain gaming world.

Token Utility
Wonderman Nation will use a dual token system ($WNDR and $NKTR) to create a strong connection and balance in the gaming ecosystem.

The team behind it developed lots of use cases for the tokens and NFTs, and they've created the Metaverse cross-play both because it's fun, and because it compliments the use cases and the supply in the dual token economy. By giving players lots of great and meaningful motivations to spend their tokens and use their NFTs (some NFTs will be eternal, and others can be used and removed from the supply), they created an ecosystem that can be balanced, reliable and fair.
Three important features of the Wonderman Nation ecosystem are:
1) Metaverse cross-play to provide a sustainable cyclical economy
2) Meaningful and complementary use cases across the games in the metaverse - Wonderman Nation, Wonderman Attacks, and Wonderman Social and more in future.
3) Reward pools dynamically adjusted for sustainable utility token release in line with community growth.
Utilities for WNDR
Buying creatures
Buying food NFTs
Using as fuel for your NFT spaceship to enter the Metaverse play
Entering tournaments
Renting creatures from the marketplace
Staking for NKTR rewards
DAO voting on NKTR inflation
DAO voting on future game features and ecosystem partners
Utilities for NKTR
Breeding creatures
Buying spaceship parts
Entering tournaments
Renting creatures from the marketplace
Game development is an ongoing process of iteration, so they will most likely add even more use cases as development continues and expand the games in the metaverse crossplay.
Roadmap
Wonderman Nation has built a roadmap full of new functionalities and features. Here's what to expect in 2022:
Q2
Initial batch of creature and food NFTs
Staking for NKTR, so that everyone can start breeding their new creatures
Q3
For game releases, we'll have our beta build with community only access
Q4
Full game releases
Separate releases for the battle game 'Wonderman Nation' and the arcade Metaverse game 'Wonderman Attacks', along with the Wonderman social games
Follow Wonderman Nation
Website: http://www.wondermannation.com
Twitter: https://twitter.com/WondermanNation
Telegram: https://t.me/wondermannation
Telegram Community: https://t.me/WondermanNationCommunity
Discord: https://bit.ly/Wonderman_Discord

Community Questions

Shadow
With so many projects being rug pulls and exit scams happening nowadays. What would you offer to the users of your platform to earn their trust and how would it make you different from others projects alike?

Garth - Wonderman Nation
We're a fully doxxed team, with decades of experience delivering games, and our company likewise has over a decade of history delivering award winning and innovative projects.

buy high sell low
Fees for NFT based games and other applications on Ethereum have recently risen to prohibitively high levels which price out the vast majority of potential users. How does Wonderman intend to help users address that issue in its own game?

Garth - Wonderman Nation
We use a next-generation layer 1 blockchain solution, called Phantasma Chain, which enables us to not only do transactions cheaply but to cover all of the fees ourselves and make them free for all users when interacting with Wonderman Nation on Pavilion Hub.

We also offer cross-chain bridges to move your tokens to other chains but whenever you're using other chains, those chains will have fees.

Tsxh
Most users only care about immediate benefits rather than the real value of the project in the long-term. How can Your Project convince users to invest in your platform in the long-term?

Garth - Wonderman Nation
Yeah, awesome question. Our team is in this for the long term - we built our whole company around this kind of game/economy over 12 years ago - and so we're looking to bring people on the long term journey with us. To make this worthwhile for everyone, we'll:
Make a great game that will keep on attracting players
Keep on adding games to the metaverse, to keep on creating more use cases and attracting more users
Keep a balanced long term ecosystem at the heart of the game economy, so that it will last the distance

Busra Ani
Can I earn a passive income from your project? Are there any staking options available for this?? What will be the benefit for holding tokens in the long run?

Garth - Wonderman Nation
We'll have staking of the governance token $WNDR, to earn the utility token $NKTR but the coolest features we think are around the breeding, live marketplace and discovery.

Using NKTR and food NFTs, you can breed new creatures in infinite ways, which affect the gameplay and teamplay mechanics. These creatures can then be used to win rewards, or if you're not using them, you can stake them to the live marketplace, which other players can then use, which gives you a royalty split whenever they win.

If you blast off into the metaverse arcade game (using your ship that you built out of ship NFTs, and using WNDR as fuel) you can discover new creatures, which you can bring back to breed and sell, and you'll collect ongoing rewards for all of the creatures that you discovered.

Billion Years Man
Hackers are very active in the market and almost everyday we hear about another hack attack. Can you please give some information about the security system of Garth Midgley? How safe are the funds of the investors? Do you already have an audit?

Garth - Wonderman Nation
Yes, we've already had a full audit with a top auditing firm called Zokyo, and we received a full pass, and security score WELL above the average for the most secure projects.

O L I V E X A V I E E R❤️
Sir, IF THE BEAR MARKET COMES will $WNDR token PROBABLY DUMP? Does Garth Midgley have any plan to prepare for this bear market? How will you handle the panic sell?

Garth - Wonderman Nation
The best protection against a bear market is simple: Make a great game! 👍

During crypto bear markets, the video game industry is still going fantastically well. In fact, video game sales tend to do even better during financial downturns. With a high quality, and fun game, people will continue to play regardless of what Bitcoin is doing.

This is the way to protect your GameFi P2E project from being affected long term by cryptocurrency market fluctuations.

HORIPAL DASH
Are you hiring at the moment or do you have an ambassadorial program to expand project visibility to different regions?

Garth - Wonderman Nation
We're launching our ambassador program soon.

If you follow our Discord: https://bit.ly/Wonderman_Discord
And our Medium: https://medium.com/wonderman-nation/
Then you'll be the first to know about it when the ambassador program launches.

Hello Sir😎
One of the most significant obstacles or constraints in cryptography is a lack of education. What measures will your project employ to educate and facilitate new users' adoption?

Garth - Wonderman Nation
Yep, this is absolutely true for most blockchain games ... and especially for one of the more famous of them.

The adoption question is definitely a big issue that needs to be overcome before blockchain games can hit mainstream options.

And we're absolutely addressing this!

Our solution isn't to educate people about blockchain, because most gamers don't want to have to understand it - And they shouldn't have to!
This is like a gamer on Steam having to know how the Steam database backend works ... it should be unnecessary ... and we're doing the same.

When users come to play Wonderman Nation:
They can make an account with just an email address and password
They can play for free if they want
They can play in the browser, no downloads or installs required, and they can play on any device
They can 'borrow' creatures from the live marketplace if they want to earn rewards - And we handle all of the royalty rewards sharing automatically in the backend
If users want to buy anything, then they can use a credit card or their bank account, as well as crypto if they have it.
So we're making blockchain gaming as easy as regular gaming - Which is how we'll be targeting the mainstream adoption of regular games - Which is a $200 billion dollar, and bigger than Hollywood and the music industry combined. So it's a good market to target 😁

About Polkastarter
Polkastarter is the leading decentralized fundraising platform enabling crypto's most innovative projects to kick start their journey and grow their communities. Polkastarter allows its users to make research-based decisions to participate in high-potential IDOs, NFT sales, and Gaming projects.
Polkastarter aims to be a multi-chain platform and currently, users can participate in IDOs and NFT sales on Ethereum, BNB Chain, Polygon, Celo, and Avalanche, with many more to come.
---