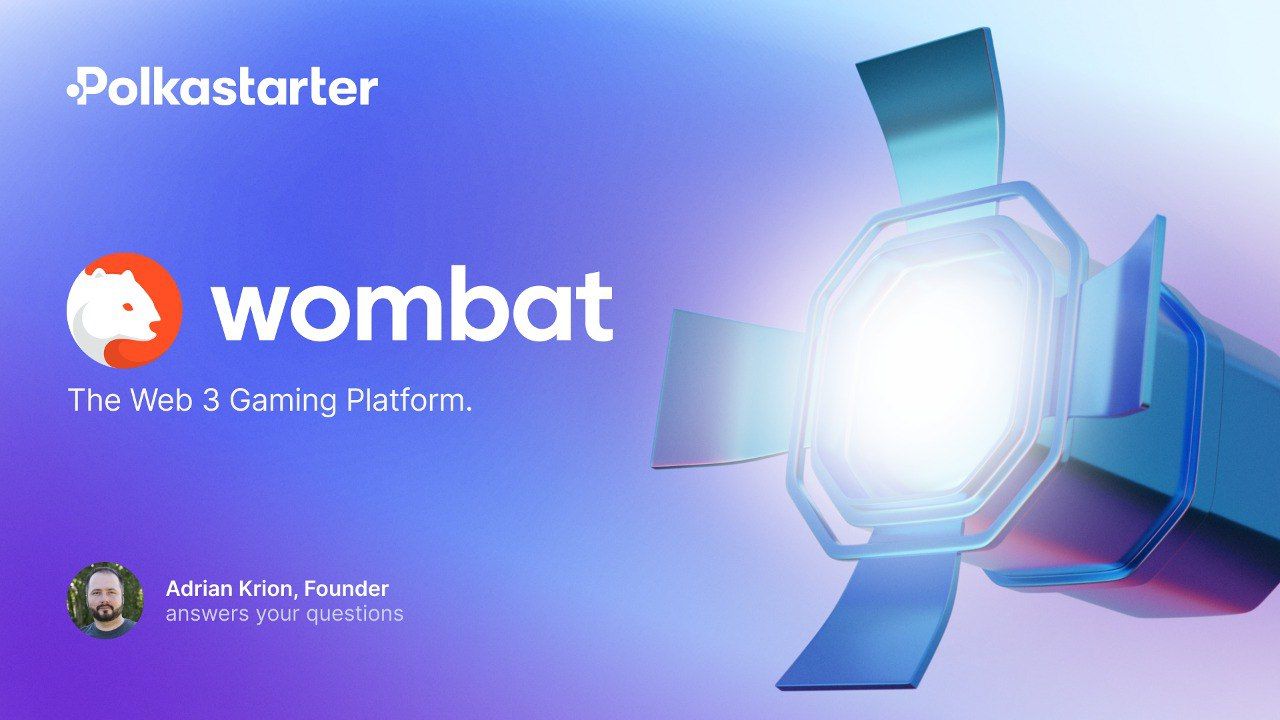 Get to Know: Wombat
Transitioning gamers to Web3
Wombat is the most effective way for gamers to join and experience Web3 games. It is the only app a gamer needs to discover and play high-quality Web3 games and access and interact with NFTs on all major blockchains.
To prepare for their IDO on July 27, we hosted an AMA with Adrian Krion, Co-Founder and CEO of Wombat, on the Polkastarter Telegram Channel. In case you missed it, here's a quick AMA recap.
📍Wombat IDO Allowlist is open until July 20th, 2022, 1:00 PM UTC. Check their project page and apply for the sale!

Adrian's Background
Adrian is the founder and CEO of Spielworks, the company behind Wombat. He's been a crypto investor since 2013 and joined the professional blockchain space in 2016. With degrees in Mathematics and Computer Science and a strong background in markets, Adrian used to work with the most prominent European stock exchange operator for 7 years. Out of all his experiences, the most important thing is that he's been a gamer since childhood.

Wombat's Vision
Wombat was launched in June 2019 to make it easy for gamers to onboard into the crypto and blockchain space. They've been quite successful in that ever since, acquiring over 2.6m users so far. Going forward, they want to become the biggest social gaming platform in the world.

Wombat's competitive advantage: What differentiates it from similar projects?
There have been gaming platforms like Steam for a long time. However, these closed ecosystems don't allow users to own their gaming assets. Web3 wallets like Metamask do that, but they are not tailored for gamers. This is what makes Wombat unique, even among Web3 gaming platforms, which are mostly closed, as well as you don't get to access your private keys or choose where to trade your NFTs.
Wombat has many relationships with game companies and a large audience, giving players access to games such as World of Tanks, RAID, Forge of Empires, and more.
The team at Wombat strongly believes that Web3 will be a big part of the future of gaming, so they want to foster adoption by allowing gamers to play fun games but at the same time experience the magic and the benefits of blockchain NFTs and tokens.

$WOMBAT token utility
The $WOMBAT token will have two main applications:
1. VIP staking: Stakers of the token will receive VIP benefits like earnings boosts, exclusive access to features and NFTs, better chances in NFT drops, discounts, and more.
2. Governance: The team at Wombat wants their token holders to participate in future decisions on the platform's development. This will also include the Community Pool - a pool in which all marketplace fees from the future marketplace will be pooled, and token holders will be able to decide what should happen to those funds.
One of the main advantages of the Wombat token is its diverse use.

Roadmap: What key features are on the way?
Wombat has a very rich roadmap with a lot of exciting up-and-coming features. Here are some highlights:
Launching their own NFT Marketplace
A self-service portal for game creators to get their games listed
More blockchain integrations
Features like a season pass, achievements, or leaderboards for Dungeon Master
Social features around games and NFTs like friends, a feed based upon users' NFT activity
A social gamified experience that we call "Wombatverse"
They are currently in the final steps of relaunching the Wombat app on Android, iOS, and the Chrome Web Store. Wombat 2.0 will contain many of the game reward features currently found on the Womplay website, so they're easily accessible.

Follow Wombat
Website: https://wombat.app
Discord: https://discord.com/invite/wombatgamers
Twitter: https://twitter.com/adoptwombat
Telegram: https://t.me/getwombat

Community Questions

i thingking about me || Buy PCX ;*
Do you guys feel satisfied by seeing your progress and achievements till now, when you look back to the day when you have started this project?
Adrian - Wombat
Looking back, I gotta say we were way too early. Back in 2019, we were looking for a lot more adoption of blockchain / Web 3 in games than what actually happened. However, this positioned us very well for the hype cycle in 2021 so we were able to generate fantastic growth and establish ourselves as an important player in this market. Overall, I would say I'm satisfied with the progress so far, although we still have a long journey ahead of us

Adan
You mentioned in your Medium article that gamers are looking for new channels to access high-quality games. How will you tell them you are a good option for seeking players? Which communication channels will you use to present your innovative platform to game enthusiasts?
Adrian - Wombat
We've successfully utilized various channels, including content, paid marketing, and word of mouth. We'll definitely be looking at strengthening our referral systems using the $WOMBAT token, too.

Katsumi
Many players nowadays don't have high funds but is WOMBAT suitable for low-fund players? Do you prefer the "NFT rental" system so that the WOMBAT game is more accessible and players are not harmed by high NFT prices?

Adrian - Wombat
I don't think that the future of Web3 gaming will remain having to own 500$ worth of NFTs before you can start playing. But even if it is, yes, we'll be looking to offer solutions for this ourselves, e.g. via NFT renting.

Alicia
❇️ Unfortunately there are a lot of scam or poor quality projects in the Blockchain space. Can we be sure that all the projects we find on your project will be of high quality? Do you have enough experience in researching and studying projects to recognize which ones are legitimate and which ones are not?
Adrian - Wombat
I guess the best of way of looking at us is by checking our traction and achievements so far. We have no interest at all in endangering the work of the past 3+ years by making stupid moves now with token 😉

HELEN
Is your project suitable to those who are willing to invest with small amount or are  you only for elite investors?Where is your team originally form and are you a global project or not? Do you have international community apart from english?
Adrian - Wombat
We're based in Berlin and 80% of our team are based there. We're happy for everyone to come in with a small amount as well, which is one of the reasons why we're doing an IDO rather than just selling to large investors in pre-sales. We want a large diversity of people in our community.

Alicia
The crypto space today is full of bones of dead projects due to lack of design or experience, so how can you be sure that your project will be viable in the long run? What is your perspective on today's market and the famous metaverse world?
Adrian - Wombat
We're not launching the token to short-term finance building a product. The product has been live for more than 3 years and we've already found ways of sustainably running a business. Instead, the token is about community engagement and empowerment as well as accelerating the growth of our ecosystem

Sumit Blockchain
I believe security is one of the most important to consider before investing in a Project. So, can you tell us what are the security measures does @adoptwombat have done so far? Have you done your audit? Would you mind to share it with us?
Adrian - Wombat
Yes, we've done our token smart contract audit with Hacken, as well as other security audits by other renowned security companies.

Murat Askin
What is your project strength and what makes you unique than any other project and competitors? What are the killing features about your project?
Adrian - Wombat
We're actually very unique in what we're doing:
On the one hand, pretty much all other Web 3 Game Platforms are closed ecosystems, where you can't make choices yourself like, where to trade your NFTs or how to cash in / out
On the other hand, open ecosystems like Metamask or Trust Wallet is not gaming focused
Combine that with a lot of existing traction (both in terms of game partnerships and users) and you have a unique opportunity to be the #1 Web3 Gaming Platform in the future.

BOB STON
To be a global project do you have any plan to support communities for non-english speakers? Are there any local community chat available to expand your project in mass level?
Adrian - Wombat
We've been running Discord communities in various languages already including Spanish, Portuguese or German. We also plan to offer the app in multiple languages going forward to cater to a more diverse community.

Murat
Earning in the game is important, but with me that having fun while earning is also important. To what extent does your focus on the entertaining aspects of the game?
What measures are in place to help make the game suitable for everyone, including non-crypto people?
Adrian - Wombat
You're exactly right. Even Web3 gaming will have to be about entertainment eventually. We focus on that aspect heavily by:
1. Allowing our users to play Web2 games which are provably fun (Web2 gamers play games without monetary incentives) and that have hundreds of millions of downloads (= proven winners)
2. We partner with Web3 games very early on, so we see the pipeline of upcoming, entertaining Web3 games as well and can offer the best experiences to our audience immediately

olexander
Can you explain more on the strategies and future plans of WOMBAT to ensure that it keeps competing with current games and also improve its standards to compete with evolving game metaverse?

Adrian - Wombat
We don't really build games ourselves (except for Wombat Dungeon Master), but we partner with the best developers of both Web2 and Web3 games to provide the best possible games. This way, getting in on $WOMBAT is like a bet on the future of Web 3 gaming in general rather than a bet on an individual game.

Febriyanti Oktavia
Do you allow suggestions and feedback from the community? Are we allowed in decision making, do you put community into consideration ?
Adrian - Wombat
We have a long history of asking the community for feedback and suggestions, e.g. in our regular AMA on Twitter, Twitch, or Discord. With the $WOMBAT token, we'll actually allow the community to also *formally* make decisions; these decisions then will be binding for us.

Maria
Almost 80% investors have just focused on price of  token in short term instead of understanding the real value of the  project. Can you tell us on motivations and benefits for investors to hold your token in long terms?
Adrian - Wombat
We've always been long-term oriented. Wombat has been live for more than 3 years without a token, already creating a lot of utility for gamers. The token will help the community benefit from and participate in the future development of the platform, so if you only envision a similar success story like the one so far, you should actually be interested in being in for the long-term

Natalia
Is WOMBAT is only for the big gamers and the professional crypto users, or any new comers can also easily play your game?
Adrian - Wombat
Wombat is open for everyone. Any gamer can come, play games and experience how easy and cool NFTs can be. You can also find out yourself by checking out or downloading the Wombat app already. We've successfully turned millions of gamers into Web 3 users already.

About Polkastarter
Polkastarter is the leading decentralized fundraising platform enabling crypto's most innovative projects to kick start their journey and grow their communities. Polkastarter allows its users to make research-based decisions to participate in high-potential IDOs, NFT sales, and Gaming projects.
Polkastarter aims to be a multi-chain platform and currently, users can participate in IDOs and NFT sales on Ethereum, BNB Chain, Polygon, Celo, and Avalanche, with many more to come.
---