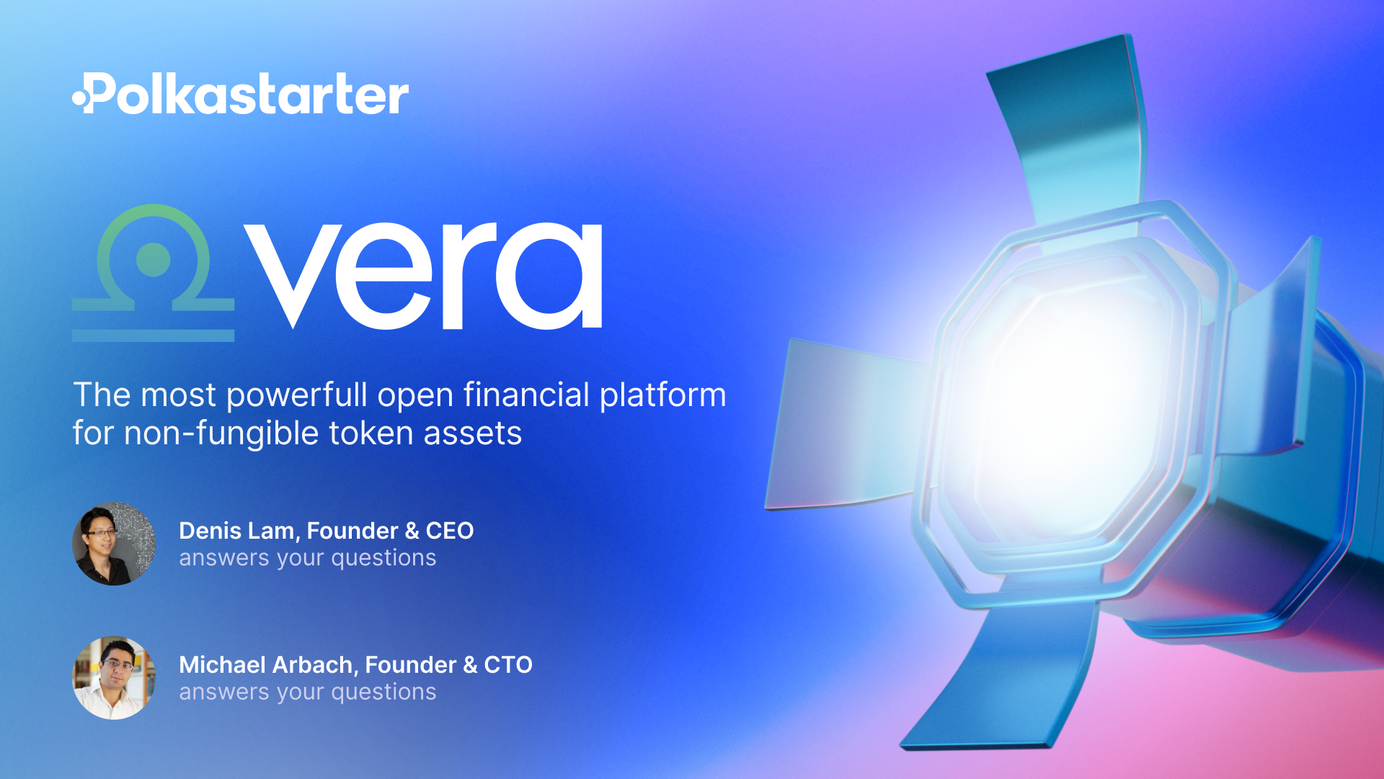 Get to Know: Vera Labs
A decentralized NFT financial network introducing a new 'play-to-own' paradigm to the space
Just yesterday, we hosted an AMA with Vera Labs and were joined by CEO Denis Lam, as well as CTO Michael Arbach. Vera Labs is a compelling new project building the most powerful open financial platform for non-fungible assets. Their solution is unlike anything else currently on the market and offers various proprietary features.

Let's get to know Vera Labs a bit better and make sure to also check the end of this article for the Vera Labs giveaway and meme competition. But now, time to read...
Founders

Michael Arbach, CTO of Vera Labs, holds a Master's Degree in Mathematics and Computer Science. His illustrious career as a software developer spans 17 years and he has worked on a myriad of projects within banking and finance, healthcare, supply chain and Internet of Things.

For the past 6 years, Michael has been focusing full-time on blockchain development, specifically in the area of DLT and NFTs, while working with some of the most notable names in the space, including DapperLabs, BitRail, Daikin and Northern Trust. Michael is also an early Ethereum investor and an active community builder for not only Ethereum, but also Polkadot and Solana.
Denis Lam, CEO of Vera Labs, comes from an engineering background, having graduated from the University of California, Berkeley and then turned serial entrepreneur and full-stack product engineer.

Denis has over 12 years of cross-functional experience, working with startups, Fortune companies and within VC in various roles. Previously on the founding team of a $100 million+ valued business and a telehealth company raking in $2 million of monthly revenue, Denis transitioned onto blockchain in 2017 as an active investor, advisor, developer and now again a founder. Some of the projects he had previously supported include Solana, Hedera Hashgraph, Orchid Protocol and Ripple.
Product + Vision
Vera Labs is building the most powerful open financial platform for non-fungible assets, or in other words - a decentralized NFT financial network. A core distinguishing feature of Vera is the enablement of 'Play-to-own', a groundbreaking concept bound to change the whole NFT market. The purpose behind all of this? So essential financial services such as the ability to finance, rent, lease, and earn money with things you own (as NFTs) is truly democratized - available to everyone, everywhere.
'If you create or own something you should have the ability to perform any financial transaction with your assets and intellectual property in a free world. And if you are a developer, you should not need to be a billion dollar company like the ones we have worked with to have the resources to build secure, reliable, and trustworthy financial services to grow your business.'
Roadmap
In the grand scheme of things, Vera Labs is now aiming to release their MVP/V1 before the end of the year, with a focus on Polygon and BSC NFTs. Furthermore, Vera is looking to implement their MVPs with their existing customer and partner base so their NFT marketplaces can also enable finance and rent functions for users.
More specifically on the V1 rollout - it will support Seller Financing using two implementations:

Example: $1000 NFT
1) Down Payment - Ex: $100 first payment immediately, $900 + interest/fee within 60 days
2) Collateral - Ex: $1500 dot or eth collateral, Pay $1000 within 60 days

And for Vera's Rent Product, it will launch with 4 core features:
1) Custodian Protection: If renter does not pay rent, you get to have your NFT back.
2) Rent to Buy: Renter can own the NFT if they pay rent enough times.
3) Stake to Earn: Renter can stake their NFT and start earning cryptos immediately. They dont need to wait for a renter.
4) Subscription Pool: Enables Direct to Consumer subscriptions of NFTs as an aggregate.
Community Questions
Oliv: Most users will love making money when playing their favorite games on any platform. Will Play2Earn be available on the Vera Network? If yes, what other ways can users earn passive income on the Vera Network?
Denis: Vera will give Play 2 Earn SUPERPOWERS!
1) Vera will give games MORE ways to let players EARN such as staking and renting NFTs
2) Vera enables Play to Own! Plays can earn free NFTs and resell or rent them out to make more money.
Bubba Partivvel: I read your website so "Go invent the car", what does that mean? What does VERA mean? And in what way will VERA be the gateway to the NFT world and reinvent the economy? And How is the process of asset tokenization, printing, and management of the created NFT on the Vera Network?kn
Denis: What we mean is if you are building an app, you should not have to build Paypal or the banking services. If you are building an NFT dApp such as a game you should not need to build the DeFi products - let Vera do all that for you.
Vera will accelerate NFT dApp innovation and development without the technical and financial risks and complexities.
Vera is a DeFi network powered by smart contracts so theres no centralized middleman which can censor or manipulate. Anyone can participate which means we can be the gateway to many to participate in the NFT world.
MOBAY | When sir?: 1. Vera Labs is added as a portfolio in Spark Digital Capital that will bring value to Vera as well as other blockchain projects, can you present if there are other platforms partnering with you? What milestones will you achieve with this?
2. Your logo is very similar to the Libra Zodiac Symbol which means "Balance" so that's why you use it? Vera wants a Balance between Blockchain and Real Marketplace?
Denis:  1. Several. Check us out on the news on Yahoo! Finance recently:
https://gapp.wisestamp.com/domain/user/details/6026163238600704/templates
2. Yes :) Vera in Latin means "truth" or "real". When 2 strangers are engaged to perform a financial transaction (A = B), Vera ensures that both sides know the truth about what asset is being transacted in a trustless, safe and transparent way (the circle protecting the asset - represented by the dot.)
Crypto Farmer: Many projects have different types of token economies to maintain the ecosystem. Usually systems like Staking/Burn/Buyback are used, but does Vera plan to use a system like staking? Were the team what to see them in the coming 5 years?
Denis: Absolutely. We want maximum participation from the community. We plan to have a staking program for both $VERA and NFT owners to earn.
SPAZEEEE: Hello sir 👋👋👋 Can you explain your Tokenomics Distribution? How many tokens Will be minted? And How many tokens Will be locked by the team?What are the key milestones on your roadmap - both things you have already achieved and things that we can look forward to? Any partnerships and short/long term technical milestones that you want to talk about or bring some attention to?Did you consider community feedback/requests during the creation of your product in order to expand on fresh ideas for #VERA ? Many projects fail because the target audience and clients are not understood. So I'd like to know who your ideal consumer is for your product?
Denis: 1 billion tokens total supply. 15% tokens for team. Our product development is largely based on community/customer/partnership feedback. This includes prioritizing support for blockchains that have the most NFT projects that want to partner with Vera.
Read more here:
https://blog.vera.financial/vera-partners-with-polkastarter-for-its-flagship-ido-launch-whitelist-opens-today-1eb731582a4c
Diego: You hope to integrate cross-chain interoperability with the Ethereum, Polkadot, Solana & Polygon. So when will you build VERA on a multi-blockchain system? Why don't you mention the BSC in cross-chain deployment? What are the special benefits of this cross-chain interoperability?
Denis: We are building a multi-blockchain system right now as we speak!
SHELBY 🐼: Hello 👋👋👋 You say Vera offers decentralized financing, leasing, lending and other essential financial services for any NFT market, game or application. So how do investors borrow in the VERA project? Are there any requirements that investors who want to borrow in the #VERA project must meet? and is there a minimum and maximum amount for borrowing in the #VERA project? Can you explain in detail?

Denis: Investors can borrow money using NFT as collateral (Vera Lend). Or if investors want to borrow money to buy NFT, they can use Vera Finance.

--

$VERA Giveaways
💰 $15K Contest: https://vera.financial/contest
💰 $VERA - $500 Meme Contest: https://twitter.com/veradefi/status/1433807892633718787
Follow Vera!

Website: https://vera.financial (beware of copycat scam sites)l
Discord: https://vera.financial/discord
Telegram: @veranetwork
Twitter: https://twitter.com/veradefi
Medium Blog: https://blog.vera.financial
Github: https://github.com/veradefi
Vera is hiring! http://vera.financial/jobs
And that's a wrap! To read the full AMA, you can head over to our Telegram and see the chat from the beginning.
---
Connect with us and learn more about Polkastarter
Website | Twitter | Discord | Telegram | Instagram | Newsletter

Polkastarter Blog - Latest Polkastarter News & Updates Newsletter
Join the newsletter to receive the latest updates in your inbox.
---