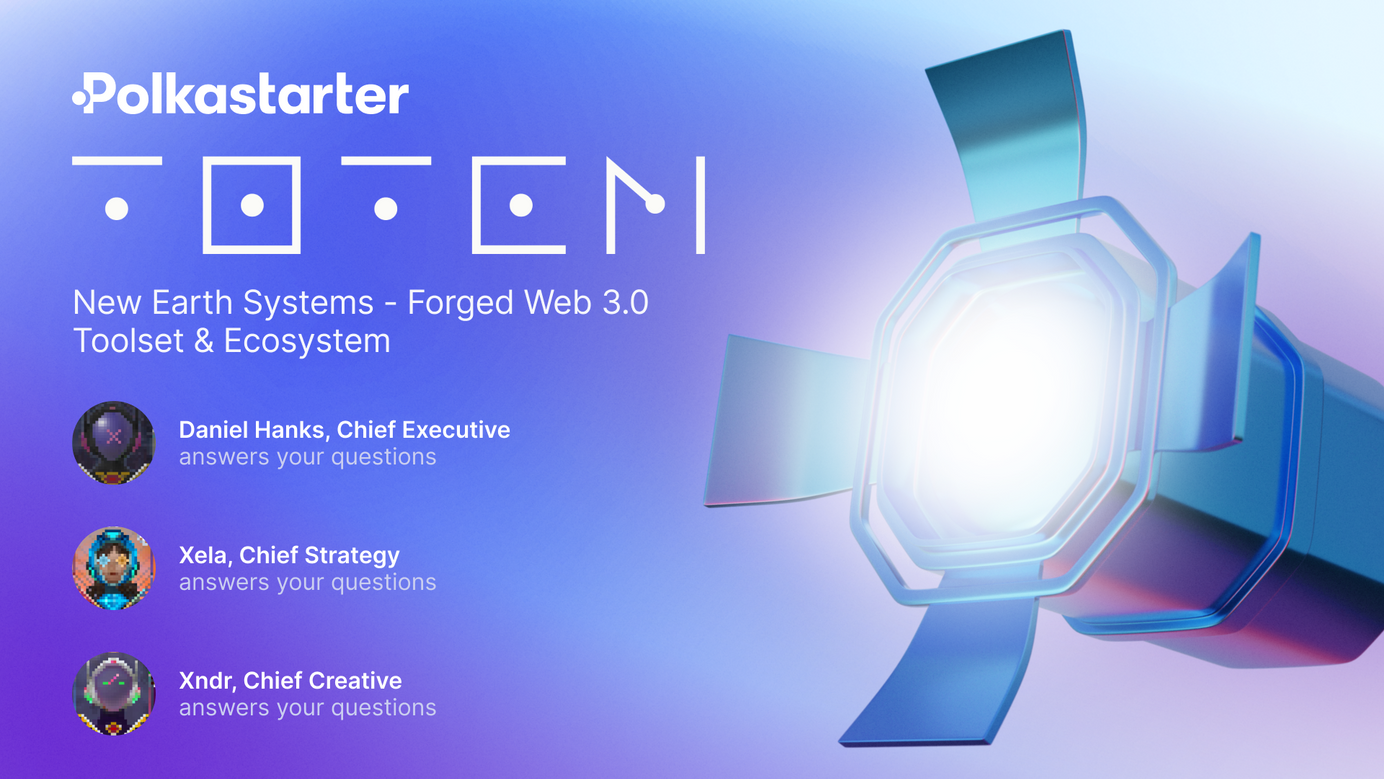 Get to Know: Totem
Building new earth systems by forging Web3 tools and communities into a single OS
Totem is creating an operating system and dashboard to forge your Web 3.0 identity, so of course we needed to bring you all the details about it.

Read here the complete AMA with Daniel Hanks (Executive Chief) and Xela (Strategy Chief) from Totem!

🗺📍 Get in the Totem's world by exploring their dedicated project page!


Vision
Totem's vision is to bring its citizens together to reveal their own potential, steward the earth, and unlock the metaverse on their own terms.

For the team, being part of the blockchain movement is imperative to ensure a consciously governed global ledger that we can all trust and depend on.


CTZN Token utility
The $CTZN token is an integral part of the experience to use and explore the Totem's world. Citizen $CTZN will be used for all types of things, including:

Unique staking opportunities to earn badges, rewards, and access along with what traditional staking solutions offer.
unlock xr terrain;
Upgrades for OS, tools, avatars
Shop Obtainable (Totem's NFT marketplace), NFT tickets to exclusive events
Buy land in upcoming Totem XR world
Along with all this, carrying any amount of $CTZN will grant citizens power for voting opportunities within Totem's DAO. Help pave the path Totem takes, as they uncover new worlds, innovations, and break down old paradigms with our Citizens.


Roadmap
Totem's just launched XOiDs ant it sold out really quick. After XOiDs revelation, they will be announcing the official whitepaper OPAL, the Totem OS, and of course the $CTZN (Citizen) Token!
To keep up with their busy roadmap, they will be preparing for AXIS 002 and beyond, external tools and ecosystems to help projects set up their own AXIS', and new features and updates for the OS.
You should expect some XR tools to begin to unveil in early 2022, with plans to have a full social star map, directly integrated with Totem OS later in 2022.


Community Questions

Mamamia
Given that u seem extraordinarily community centric have u factored in community feedback/requests during the creation of CITIZEN in order to expand on fresh ideas for your project? Many projects fail cause the target audience and clients are not understood. Who therefore is your ideal consumer for this since it seems very unique? Plus REPRESENT seems to be doing what u r doing already. How du plan to compete

Daniel Hanks (Totem)
yes of course, we're always in the chats and having backend conversations to consider the experience and perspective of our supporters.


Sylvain
What technologies are you working on to develop this project?
Daniel Hanks (Totem)
multichain! CTZN and our initial NFTs are Ethereum native, as it is a safe place to store. We've created bridges to allow our hodlers to save on gas. As we rollout updates on Obtainable and Totem OS is revealed, we'll begin to adopt more chains, currently working with Polygon, Solana, and Citizen in addition to Eth.


JINDAY
Hi @DANIELHANKS

What are the ways for Totem to generate revenue in the long run? What is the progress of business development and what are some of your commercial partnerships?
Daniel Hanks (Totem)
Helping projects launch and host on our infrastructure and taking a cut, transaction fees, and offering our very own products (XOiDs is an example of that)

Arthur B
Good evening Totem Crew, thanks for live chat! I won't hide, I'm like others around totally hyped about Metaverse and all technological potential which sooner or later will reach every one of us. Please share your thoughts from your perspective on what's waiting for us let's say in 3-5 years period? How Metaverse, WEB3 will change simple people's lives?
Thank you for your answer! 😉


XΣᄂΛ ♅ (Totem)
this is a great question and here at totem we see far into the future to create something that will bring true innovation to the space. we are very bullish on AR and creating the bridge of interoperability not just cross chain but cross reality merging the digital / physical / virtual
in the next 3-5 years we see AR / XR tek really taking the lead on where the VR space is trying to go

we have a vision to connect the physical realm / assets which we use everyday into the interoperability of the blockchain space to create a network of transfer / trade between realms

Kevin
❇️ One issue that many users fear from Blockchian and the future Web3.0 is the privacy of our data, Totem claims to be a secure environment for web3.0 so what exact mechanism do you apply to achieve this and provide a secure environment for users?

XΣᄂΛ ♅ (Totem)
another great question and at the forefront of our mission, we have been working closely with ryan over at crucible to create a self soverign identy system which will protect our data as we move forward into a new era of tek


niksizadam/XODLER
First of all, welcome.
I have prepared some questions for you. 🙂
Do you have an idea to contribute to charities with your income?
You have very successfully launched your NFTs, XOiDs, with a very different and innovative approach. For that, I congratulate you. 👏🏼
What can we do with the CTZN token in these NFTs?
Metaverse technology is not very well known. Do you have any thoughts on introducing this technology to the whole world and preparing instructive content with your own project?

How can we have rights with CTZN in the universe you are building?
For example, what will happen in the decisions to be taken apart from the voting rights and the stake feature?
What distinguishes CTZN from the icon of similar projects?
Finally, you may be the first project to combine Web3.0 and Metaverse. Are you ready to manage this process? I'm also curious about your views on this matter.
Thank you very much for your responses.

Daniel Hanks (Totem)
we have allocated 7% of our tokens for our foundation for social and planetary impact for good. We call it 'Prophet', as we believe we all carry the power to lead and create for a higher power/good than just for financial gain or ourselves alone.

XOiD hodlers will definitely continue to receive exclusive benefits and airdrops of $CTZN.

Yes, 60% of our NFT customers (since launching obtainable in April, and XOIDs) are brand new to web3, and we have a LARGE network of top talent and creators with audiences waiting for the perfect invitation and venue to setup their web3 infrastructure. we feel like totem os and it's tools and offerings, centered in the community has a good shot at being the go-to spot for many as we uncover the metaverse.

we'll have an expanding DAO to participate in, submit issues and opportunities, and view transparency metrics to truly know we are on the same team here 🙂

we have been dreaming and building towards this for years, and have found a lot of success building offerings in web2 with creators, we take a unique perspective when it comes to the blockchain. and we honestly feel like a lot of projects, tokens, nfts, etc are all distracted by the shiny objects. we see blockchain, we see trade routes and the future of humanity. bringing people together that want to work and grow and resonate with products they can stand behind is the way.

yes we're ready 🙂 and learning more each day. we never stop working and our team is a family, it is and will remain an organic team of passionate builders devoted to a cause much greater than to have a cool 'job' or for money.

Jasson Robinson
What innovations are you planning for your NFT?? Will you make a difference in the market???
XΣᄂΛ ♅ (Totem)
we are creating many types of mutatable cross-chain smart contracts and ways to connect physical items to the digital.


Wahyu
Is Totem.earth designed only for entrepreneurship opportunities and support small devs who wish to launch their games/metaverses? Is Users are allowed to stake the $CITIZEN Token ?
XΣᄂΛ ♅ (Totem)
we are creating a space for collaboration a sandbox for web3 devs to create within.


Habibi
✅ I read that Totem OS will host the Xela Earth project. Can you tell us about this project? What things will users be able to do inside this metaverse? What will the XOiD be?
Daniel Hanks (Totem)
it's the first XR map on Totem XR, will be rolled out in phases over 2022. Starting with an XR dashboard to preview Avatars and the upcoming terrain and mission. then scaling beyond. Xela XR is a journey to unlock 13 planets, each planet is a mission and scale plan, as we finally discover the planet XELA, which may be something much greater than another planet / level. (the hint is AR)

Totem XR will have many maps i believe, buuuuuuuut XELA XR is the dream & story we wanted to share while utilizing XR tek on our platform. (XELA meaning is kinda referencing the library of alexandria backwards, it is the message, to uncover the hidden truths).


🚀 TOTEM New Earth Systems
Website/Whitepaper: https://www.totem.earth/
Discord: https://discord.gg/SjmP9ehz
Instagram: https://www.instagram.com/totem.earth/
Twitter: https://twitter.com/totemearth
Medium: https://medium.com/@totem.earth
Telegram: @totemteam // @totemupdates // @newearthsystems
Polkastarter: https://polkastarter.com/projects/totem

👾 XOiDs
Website: https://xela.earth/
Instagram: https://www.instagram.com/xela.earth/
Twitter: https://twitter.com/xelaearth
OpenSea: https://opensea.io/collection/xoids

About Polkastarter
Polkastarter is the fully decentralized launchpad to launch new ideas in the blockchain and digital assets space. With an industry-leading curation process and market access, we select the most innovative projects in the space and offer them long-term support after their IDOs.

With Polkastarter, crypto projects can increase their reach, grow their communities and receive support from crypto's most well-versed experts. IDO participants, on the other hand, are offered an opportunity to invest in a secure and compliant environment, as well as participate in IDOs not solely on Ethereum, but also on Binance Smart Chain and Polygon.
Media Contact Polkastarter: [email protected]
---
Connect with and learn more about Polkastarter
Website | Twitter | Discord | Telegram | Instagram | Newsletter | Youtube
Polkastarter Blog - Latest Polkastarter News & Updates Newsletter
Join the newsletter to receive the latest updates in your inbox.
---