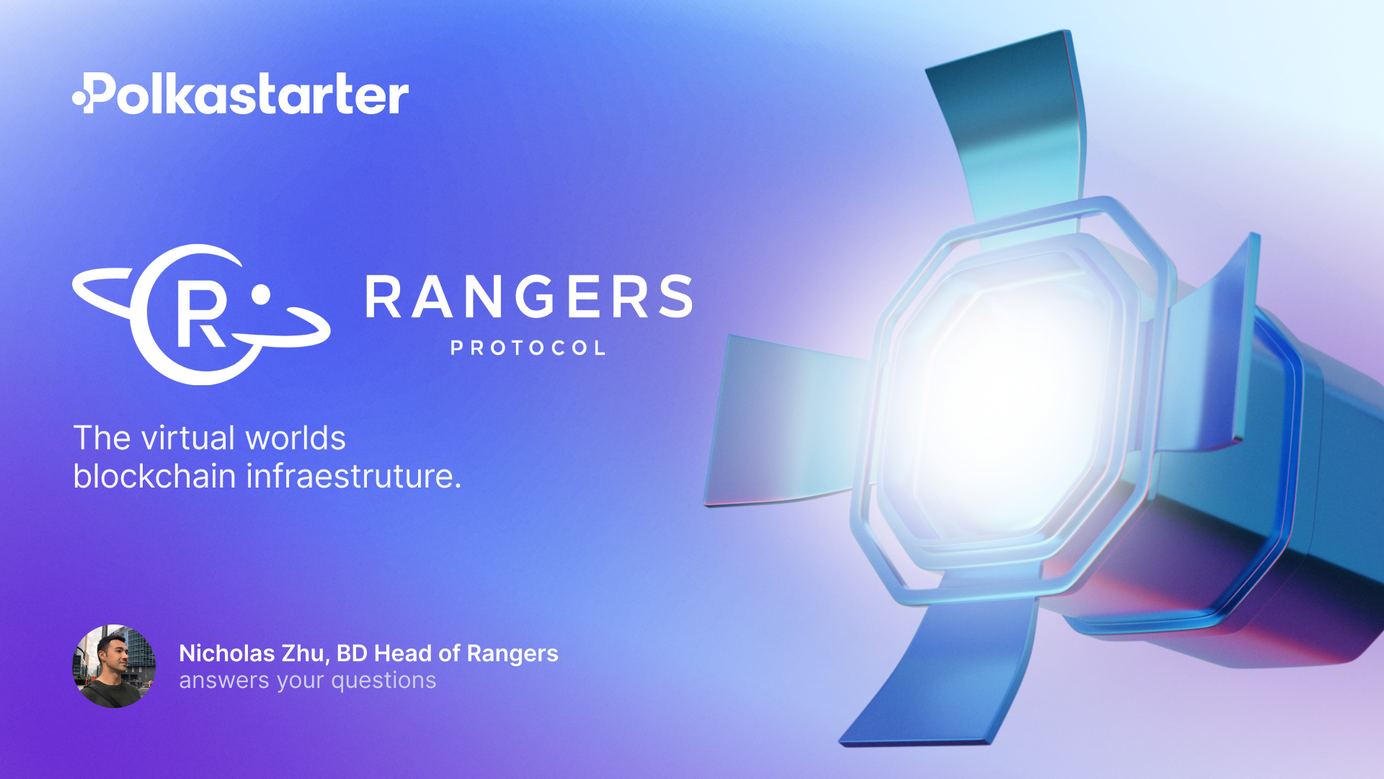 Get to Know: Rangers Protocol
Bringing decades of experience in traditional gaming to build something extraordinary for the Metaverse
During yesterday's AMA with Rangers Protocol, we were joined by Nicolas Zhu, Head of Business Development at Rangers. Nicolas gave us an in-depth rundown of the project's product, the team behind it, their exciting vision and some alpha about their upcoming roadmap.
This is your chance to get to know Rangers Protocol in more detail ahead of their September 23rd IDO.
And don't forget! You can still apply for an Allowlist to the Rangers Protocol here.
Ready to get to know Rangers Protocol? Here we go.
Team
Rangers Protocol is spearheaded by Jade Zhang, a senior gamer with 15 years of experience in the gaming industry, as well as considerable entrepreneurial experience and network resources in the 'traditional' gaming world.
Jade worked for Ubisoft, the well-known French video games development company behind some of the most popular games ever created. During her tenure there, she worked as a core developer in the Paris Center and the Montreal studios for a very long time.
Jade took part in the development of projects like "Assassin's Creed", "Prince of Persia", "Splinter Cell", etc., focusing on game engines and graphics. At the same time, Jade is also a serial entrepreneur, proficient in the upstream and downstream industry chain of the game industry.
The self-developed game by her studio has topped the Apple Store download/paid list several times, and has won international awards such as the Independent Game Award at the Cologne Game Show in Germany.
Since then, Jade has been deeply involved in the global distribution of games for many years, and has set a record of being released in 85 countries/regions and ranking first in 61 countries/regions.
Jade entered the field of blockchain games in 2017 and founded MixMarvel, a blockchain game publishing platform. MixMarvel's first self-developed and published blockchain game HyperDragons was launched in April 2018. In August, the data on Ethereum surpassed CryptoKitties, attracting 1 million registered users and 20,000 daily active users. Among them, the image of the dragon was quoted by Coindesk and used as the most influential blockchain figure of the year.
The games released by MixMarvel further include HyperDragons, HyperSnakes, CryptoThrone, Sword and Magic, etc., which once occupied half of DappRadar's TOP20 blockchain games.
Based on years of game publishing experience and the record on the blockchain game track, the MixMarvel team quickly realized that what NFT and complex applications represented by blockchain games most need is an underlying infrastructure that can support large-scale interactions.
So MixMarvel set about incubating Rangers Protocol.
The Rangers core team has an average of more than ten years of technical development experience, including data security experts from Alibaba, Tmall architecture chief engineers, and Huawei's core developers, representing the engineering capabilities of Asian industries and super-high R&D standards.
At the same time, the main creative team has been the former head of cryptographic security technology of the Ali Security Department in the early years, and has fully mastered the core technology of the blockchain field. As the core architect of the commercial public chain, he has completely implemented the construction and development of the underlying infrastructure.
Product + Vision

Rangers Protocol's NFT protocol is compatible with mainstream protocols such as ERC-721, and has been expanded on this basis.
First, each NFT has its own independent data space for dApps. For all DApps, all data spaces are readable; but only the currently owned DApp can modify NFT data, and only the data space corresponding to this DApp can be modified.
Secondly, it can record the historical data of the entire life cycle of NFT, including the release of NFT Set, NFT minting, NFT transaction, NFT destruction, NFT asset transfer to the public chain and other stages.
In addition, Rangers Protocol designed the NFT shuttle mechanism so that the NFT can be attached to another DApp.
Finally, Rangers Protocol also designed a leasing mechanism, which is similar to renting in real life. NFT renters only have the right to use, but no transaction and other rights.
Rangers Protocol's vision is to become the virtual world's blockchain infrastructure. To achieve this goal, it is necessary to prioritize the needs of NFT and complex applications.Solving these needs and ultimately implementing the Metaverse requires multi-dimensional support. The Rangers Protocol team believes that a multi-dimensional supporting the primary requirement is an underlying infrastructure that is more suitable for Metaverse.
After MixMarvel (incubator of Rangers Protocol)'s in-depth research on the industry and in-depth research on various projects, the team believes that other existing solutions on the market currently have relatively scattered support for NFTs, and they have indeed solved some of the problems, but they have not formed a complete, unified solution. The complex application scenarios for NFT are more complicated than DeFi, and have higher demands from underlying layers. This is why we decided to do Rangers Protocol.
Rangers Protocol has predicted the market demand and provided corresponding solutions, and is superior to other solutions in the market in terms of uniformity and completeness. We start with the underlying architecture and focus on user experience, developers experience, industry consensus and other aspects to carry out infrastructure construction.

Roadmap
Rangers Protocol will complete an asset cross-chain solution based on distributed signatures in Q3 of this year, which can support the circulation of Ethereum assets in Rangers Protocol. At this time, the Rangers Connector will also officially land and support assets based on ERC20 and ERC721.
At the same time, the consensus mechanism of Rangers Connector will be upgraded to a consensus mechanism based on VRF+TSS technology, which has the characteristics of high security, fast consensus speed
In Q4 this year, Rangers Protocol will implement EVM enhancements and Rangers Connector enhancements, and expand Solidity syntax to improve development efficiency in vertical fields.
Rangers Connector will be upgraded to a secure multi-party compution chain based on TSS+VRF based on the content of Q3.
Community Questions
Abisola: I'm a bit curious about your Rebranding from Rocket to Rangers Protocol, what necessitated this decision? Secondly, asides Solid Underlying Architecture, which other things does Rangers think an excellent Blockchain infrastructure requires?
Nicolas Zhu: In the previous version, Rocket Protocol features faster speed and lower GAS fees. Its main application areas are in the MixMarvel ecosystem, serving applications independently developed by MixMarvel, such as HyperDragons, HyperSnake, and other business partners.
After the upgrade, Rangers Protocol has been given new meaning from the following aspects:
From an ecosystem point of view, Rangers Protocol has moved from a closed ecosystem to a purely open ecosystem. Rangers Protocol's strategy has changed after implementing technologies such as cross-chain and EVM compatibility in a purely decentralized manner.
Guohao: Love the potential for this project.
Will there be an application to port the use of one NFT to other games?
Nicholas: For this, you might need to collaborate with different game developers.
Correct! Rangers Protocol is designed for complex applications such as games. We will definitely be partnering up with game developers.
Rangers Protocol also provides real time confirmation. This is very important for large-scale games!
Kaisen: Reading on your website you have good partners and development, and I saw about Consensus and Bridging can you explain in more detail and how the mechanics of this feature?
Nicholas: For this question, you may want to dive into our white paper that was sent above. Or, you could choose to check out our technology insight articles:
https://medium.com/rangersprotocol/tagged/technology
Aong: I'm an investor and want to invest in your project can you give me a reason why I should i trust your project not to do the same as many projects rug pulled and exit scam recently?
Nicholas: For this, you could check out our background.
Rangers Protocol is incubated by MixMarvel, and has been under development and upgrade for three years.
Unlike many projects in the industry, Rangers Protocol is built based on the real problems that developers and users face in the NFT world.
Rangers Protocol's previous version, Rocket Protocol, has already served the MixMarvel ecosystem games for a couple of years.
𝕊𝕌ℝ𝔸𝕁𝕀𝕋 🎯: Recently I saw many great projects got hacked so What are your security measures taken from hacking and bugs in your tokens  smart contract ? Have you done any audit to make your smart contract safe and secure?
Nicholas: First of all, our technology and our token will both be audited before launch. Also, we have already opened our testnet for developers so that they can start to test it out 🥳
Ahmad: Currently, I think  Rangers Protocol does not have any activities or events, such as partnerships, forks/exchanges, burning, feature releases, etc. Can you tell us about future events or shows?
Nicolas Zhu: Currently, it is a bit hard to establish real cooperation with projects as our mainnet is not launched. Currently, the mainnet launch is set to the end of this year. At that time, many projects will be able to integrate with Rangers Protocol.
Application developers will also be able to experience fast speed, low transaction fee, easy development, complete solutions, and more....
Before the mainnet launch, we will also be having many promotion from the Marketing side, and our development team will continue their coding and prepare for mainnet launch as soon as possible.
---
And that's a wrap! To read the full AMA, you can head over to our Telegram and see the chat from the beginning.

Stay up to date with everything Rangers Protocol and find all their social links here.
---
Connect with us and learn more about Polkastarter

Website | Twitter | Discord | Telegram | Instagram | Newsletter

Polkastarter Blog - Latest Polkastarter News & Updates Newsletter
Join the newsletter to receive the latest updates in your inbox.
---