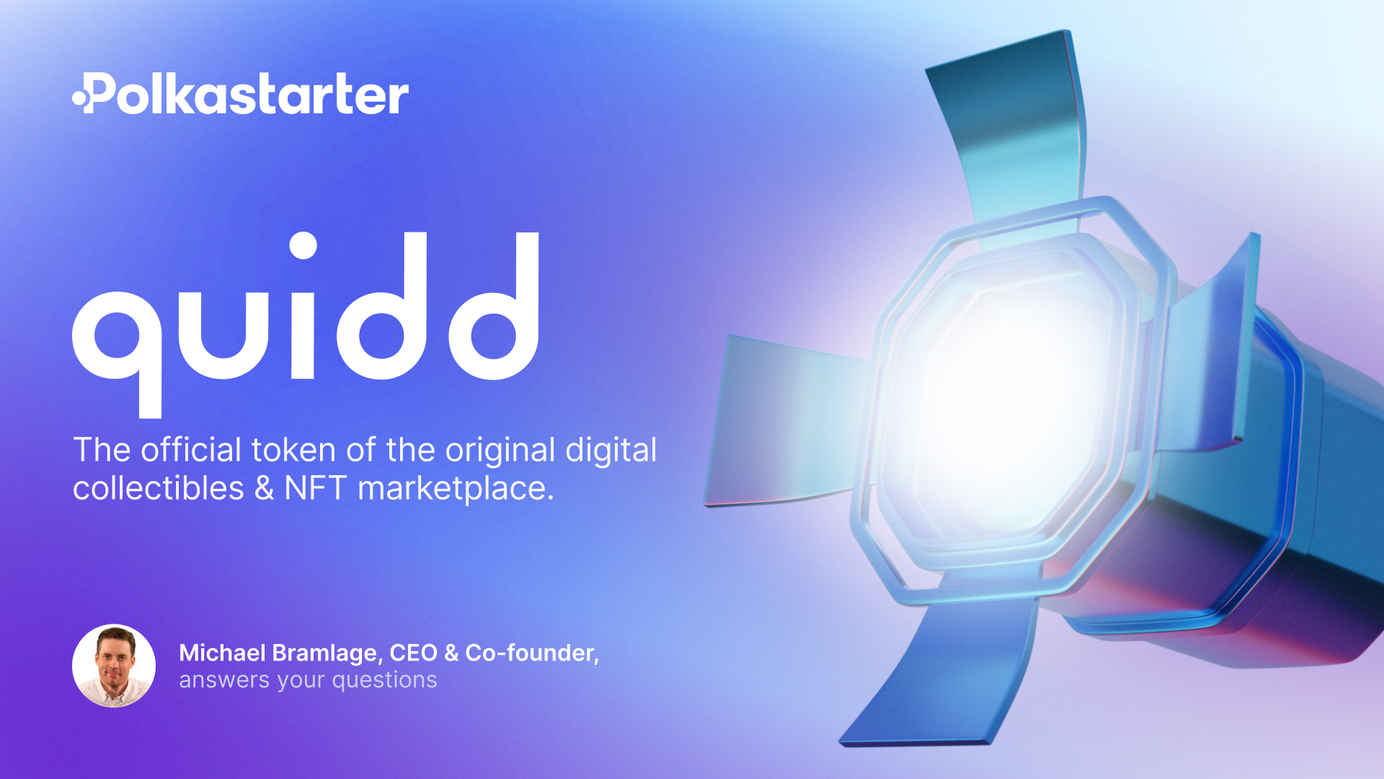 Get to Know: Quidd
The original digital collectibles and NFT marketplace.

On November 10, we hosted an AMA with Quidd and were joined by CEO and Co-founder Michael Bramlage. Quidd was the first marketplace ever for buying and selling limited-edition, individually-serialized digital collectibles. It has featured more than 325 of the world's most popular brands, including Marvel, Disney Games, Game of Thrones, Rick and Morty, the NBA and more. Stickers, trading cards and 3D figures; own the most valuable collection and become the ultimate fan.

This is your chance to get to know Quidd in more detail ahead of their upcoming IDO.

Let's get to know Quidd a bit better…

Team
Quidd team has been doing digital collectibles for 5 years. Actually operating a live business with customers that generates revenue by making digital collecting fun and rewarding. That experience and institutionalized knowledge are invaluable in taking NFTs mainstream.
The team is a solid mix of commercial, creative, and technical talent. We build all our stuff in-house and have a fantastic engineering team, headed up by my co-founder in Brazil.
Founders

Michael is the Co-Founder and CEO of Quidd and has built the largest assortment of digital collectibles on the planet. As a former VP of Digital at Topps, he pioneered native digital collecting and created a franchise that has grossed over $125M in digital trading card revenue. He previously worked at Nokia as Head of Product for its flagship mobile app store, which he launched and scaled to 3.6B annualized downloads.
Timothy High is the VP of Engineering and has built the high-throughput marketplace technology, capable of processing 100 transactions per second. He has 25 years of software development experience. He previously worked as CTO at PagPop, a leading online payments provider in Brazil, and as Software Architect at Sakonnet Technology, a high-frequency energy trading firm.
QUIDD Token Utility
$QUIDD is the official and native token of the Quidd community and will be used, spent, and staked by our vast network of collectors, creators, and developers.
Here are some use cases of the QUIDD token...
Real Purchase Utility: Enables millions of buyers and sellers around the world to price and settle transactions in $QUIDD instead of only fiat. Holders of $QUIDD may receive discounts on aftermarket sales fees as well as exclusive buying windows on drops.
Staking For Collector Superpowers: holding and staking the token has real value. In particular, advanced collectors will be able to stake their $QUIDD in return for exclusive access to professional-grade collector tools and services, including bidding on wholesale purchases, storefront analytics, and volume discounts on sales fees. $QUIDD can, exclusively, unlock new functionality for digital collectors.
Earning Proportional To Long-Term Value Creation: Quidd collectors can earn more $QUIDD by performing activities that create long-term value, as opposed to solely through weekly trading activity, which is known to have the adverse effect of creating wash trading. So, $QUIDD can be earned through healthy behavior...
Supply-Side Governance for Collectors: token holders, proportional to their holdings, can provide advisory votes to determine how funds in the Quidd's content and licensing budgets are deployed. $QUIDD token holders become active participants in current production decisions and can use votes to protect the value of their older collectibles by limiting future supply.
AMA COMMUNITY QUESTIONS:

Klassika Odno
I read that within Quidd we can win an award, which is a special item that is earned by completing sets or tasks. How does this work? How often are these tasks published and assigned? Will all users who complete the tasks receive the award or are there limited quantities?
Michael (QUIDD)
Award items tend to be SUPER RARE as they cannot be purchased from a pack in our store; they can only be unlocked by completing collecting challenges. Award items, given their difficulty in obtaining, tend to sell at high price points in our aftermarket…

Jesse
Most NFT marketplace has a feature where users can submit details about the items that want to buy or sell. Wishlists on NFT marketplaces helps connect buyers and sellers more faster and efficiently. Does Quidd NFT marketplace has this kind of wishlist feature?

Michael (QUIDD)
Wishlists are dropping on Quidd in the next 48 hours. It's a super cool new feature.
Jack Jhon
I read that you are a very old project and exist even before Crypto kitties and NFTs. I was wondering even if there is no NFT how you come up with NFT concept that time? And why is it took 5 years to launch your token?

​​Michael (QUIDD)
Our goal is to bring NFTs to the mainstream. A lot of companies and chains *claim* they are doing that, but it's more marketing message than an actual thing they are executing. We are different. We needed to figure out how to get collectors collecting, even without the clear proposition of "getting rich" buying and selling NFTs. So, in a lot of ways, we started Quidd because we thought digital collecting is just fun. Like, it's fun to do, even without the prospect of getting rich. Over time, we noticed that our collectors really valued their digital collectibles. They fell in love with them. So, we're not "ape'ing into the blockchain or NFTs because it is fashionable". Realy, our collectors have a problem -- they hold very valuable JPEGS -- and we need to offer them the peace of mind and permanence that ONLY the blockchain can provide, as a superior storage solution. So, we got here VERY organically. We have a community that started collecting for fun. That community grew. The value of the collectibles grew in kind. Now, we need to help our collectors protect and grow that value ... enter the blockchain!
Greg CJ
As I know, a lot of people spend their money on off-chain virtual items, in the form of game assets and digital collections.
So how do you get all that into On-Chain?

Michael (QUIDD)
That is exactly what we do. We can sell you digital collectibles off-chain and then give you the TOOLS AND POWER to mint them on-chain as NFTs, if you'd like. There are serious advantages to this approach...
Ease of Use: we can get digital collectibles that can be converted to NFTs in the hands of no-coiners MUCH MUCH easier and faster (no need for a crypto-wallet to get started);
Payment Rails: our collectors don't even need a credit card to get their hands on their first mintable NFT;
Incentive to Move to Blockchain: our model gets the valuable collectible in the hands of the collector BEFORE introducing them to the blockchain; we actually give the collector the reason to go to the blockchain and then they naturally figure it out
Low Cost: no gas fees for buying/selling off-chain before minting
Environmentally Friendly: not all digital collectibles deserve to be on-chain; like, not every NFT is or will be a Beeple, and that's okay; so, we allow collectors to buy/sell/cash out off-chain for low-end inventory, keeping our footprint very low, but then allow these collectors to "go on-chain" with the collectibles that matter.

Quỳnh Anh
Partnership is always an important factor for every project. So who is your partner? What are the benefits you get from those relationships?

Michael (QUIDD)
​​LOTS of exciting partnerships in store. Just can't announce them yet. 🙂

Connect with Quidd:
Project Page: https://polkastarter.com/projects/quidd
Website: https://market.onquidd.com/
Twitter: https://twitter.com/QUIDDToken
Discord: ​​https://discord.com/invite/xZQx8EKy8R

And that's a wrap! To read the full AMA, you can head over to our Telegram and go through the chat from the beginning.
---
Connect with and learn more about Polkastarter
Website | Twitter | Discord | Telegram | Instagram | Newsletter | Youtube

Polkastarter Blog - Latest Polkastarter News & Updates Newsletter
Join the newsletter to receive the latest updates in your inbox.
---