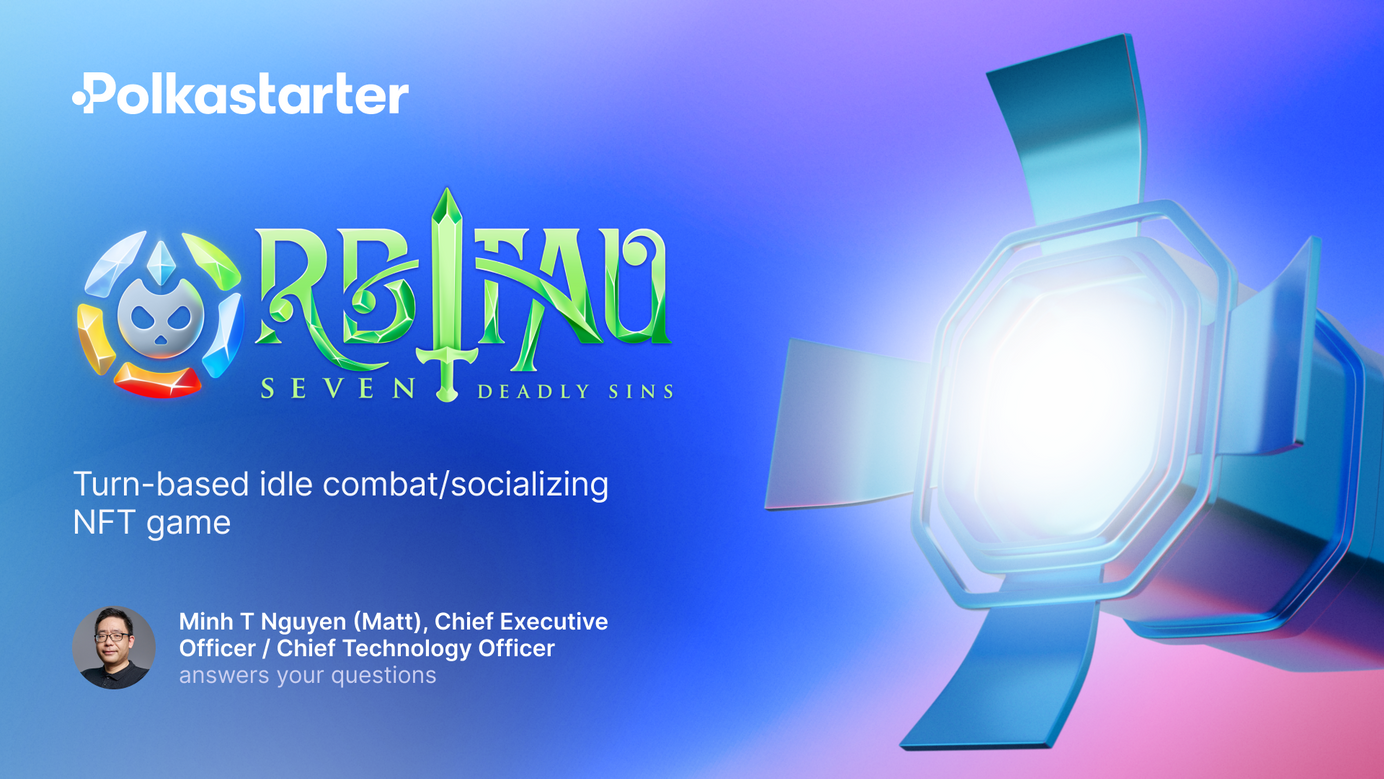 Get to know: Orbitau
A turn-based NFT game, inspired by Norse Mythology and the Seven Deadly Sins

Orbitau is the latest game that's going to launch on Polkastarter. You may have seen it popping up on Twitter - they have a big following.
Ahead of their IDO, Minh T Nguyen (Matt), the game's CEO, joined us for a live Telegram AMA.
This article is going to provide you with the best nuggets from the AMA, so you can decide for yourself if Orbitau is right for you.
We feel that's going to be, so let's get to it.

What value will Orbitau bring to the crypto industry?
While a lot of crypto projects are built as a quick cash grab, Orbitau is different. Their team has created multi-million dollar ventures in the past, so they are experienced creators. Orbitau's team has entered the crypto space with the belief that blockchain is the future and can solve some of the problems that traditional fintech couldn't.

How is Orbitau planning to attract non-crypto users and drive broader crypto adoption?
One of the main goals of this NFT game is to attract more users to the crypto space. That's why Orbitau's team has focused their efforts on creating a quality gameplay experience. They plan to attract traditional gamers that will come to the game for entertainment and stay for the value they get out of it.

How does Orbitau protect the security of the users?
The team behind the game has extensive experience building different financial systems. Some of the team members have worked in financial giants like PayPal and Cake, so you can bet they take user security very seriously.

Wanna learn more about Orbitau and what makes them stand out?
Check out their Polkastarter page to become more familiar with the project.


Community questions

Tommy
I would Like to Know about the IDO Platform and What is the Criteria to participate in it?
Matt (Orbitau)
we will be IDO on Polkastarter and GameFi, please follow our channels for more details on how to participate

SuperHero
Security should be your main priority, So have you done your audit or you are in process of it, please speak about that?

Matt (Orbitau)
our teams have intensive experience building financial systems such as PayPal, digital bank Cake, so we take it every seriously when it comes to security

ESCOBAR
Many majority of Crypto projects are built just for the purpose of creating wealth for themselves. So I want to know the value you aim to add to the crypto industry that will bring greater abundance to the industry

Matt (Orbitau)
Indeed that is the norm nowadays for crypto projects, however for us, we have built ventures that are multi-hundred-million USD before, so we entered this space with the belief that blockchain and DeFi will be the future and solve some of the challenges that traditional fintech couldn't

John Charlessa
Non-crypto users are very important for mainstream adoption. How you are planning to attract non-crypto users towards your project? Is there any upcoming partnership that will brings non-crypto user and real-use case?

Matt (Orbitau)
This is exactly what we've been trying to do in our project, attract more and more users from traditional gaming world to come for the entertainment of the game, and in turn create better values along the way, that's why we focus a lot on the quality of the game as well as gameplay.

Here are all the relevant links, so you can follow Orbitau:
🌐 Website: https://orbitau.io
🐦 Twitter: https://twitter.com/OrbitauOfficial
🌏 Telegram Announcement: https://t.me/OrbitauAnnouncements
🌏 Telegram: https://t.me/OrbitauGlobal
🇻🇳 Orbitau Vietnam: https://t.me/OrbitauVietnam
🇧🇷 Orbitau Brazil: https://t.me/OrbitauBrazil
🇧🇩 Orbitau Bangladesh: https://t.me/OrbitauBangladesh
🇹🇭 Orbitau Thailand: https://t.me/OrbitauThailand
🇵🇭 Orbitau Philippines: https://t.me/OrbitauPhilippines
🇮🇩 Orbitau Indonesia: https://t.me/OrbitauIndo
🇲🇾 Orbitau Malaysia: https://t.me/OrbitauMalaysia
🇰🇷 Orbitau Korea: https://t.me/OrbitauKorea
👉Facebook: https://www.facebook.com/OrbitauOfficial
👉Reddit: https://www.reddit.com/user/OrbitauOfficial
👉Discord: https://discord.gg/Orbitau
👉Medium: https://medium.com/@OrbitauOfficial

About Polkastarter
Polkastarter is the fully decentralized launchpad to launch new ideas in the blockchain and digital assets space. With an industry-leading curation process and market access, we select the most innovative projects in the space and offer them long-term support after their IDOs.

With Polkastarter, crypto projects can increase their reach, grow their communities and receive support from crypto's most well-versed experts. IDO participants, on the other hand, are offered an opportunity to invest in a secure and compliant environment, as well as participate in IDOs not solely on Ethereum, but also on Binance Smart Chain, Polygon and Celo.

Media Contact Polkastarter: [email protected]
---