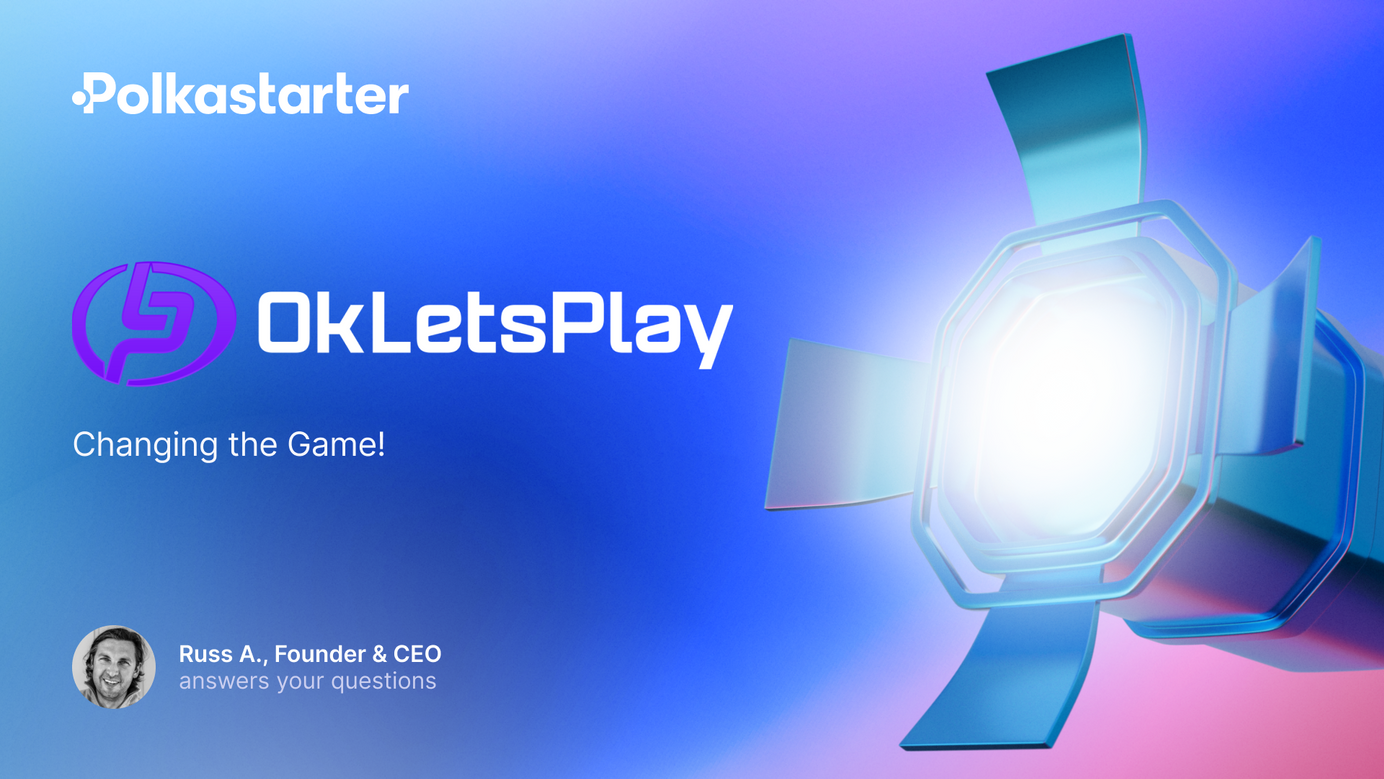 Get to Know: OkLetsPlay
Changing the Game!
OkLetsPlay is a Patented, built, and battle-tested eSports tournament platform for casual and competitive traditional and blockchain PC and mobile video games.

They're changing the eSports tournaments and we will for sure keep an eye out!

To prepare for their IDO on April 20, we hosted an AMA with Russ and Rich from OkLetsPlay on Polkastarter Telegram Channel. In case you missed it, here's a quick AMA recap.

📍 OkLetsPlay IDO Allowlist is open until April 15, check their project page and apply for the sale!

Vision
OkLetsPlay was conceptualized as a way to spice up gaming between friends and family since gaming can be a way to stay in contact with family and friends.

The team started by being frustrated about the nonexistence of a good streamlined solution and that's how they decided to develop OkLetsPlay!

The OkLetsPlay platform was conceptualized and built to create a new optimized player and developer experience in mind. This was their focus from day one!

After reviewing all the patented IP in the space they realized that there was an excellent opportunity to fence off what they believe to be the optimal player and developer experience using an out-of-game non-embedded peer wagering module. So, they wrote a full utility patent, partnered up with a top IP firm to make sure it's was dotted and crossed, got everything filled out, and ready for the beta launch.


Token Utility
The $OKLP token provides the OkLetsPlay community with a universal platform currency allowing players in different countries to easily compete for real value using one currency. By using dual wallets, players may use their $OKLP tokens to play in PvP matches and tournaments, and receive platform bonuses such as win multipliers, lower service fees, discounted entries, and other benefits!
$OKLP utility includes:
- PvP match and tournament entries
- Token tournaments
- Win multiplier on web & mobile app wins
- Lower transfer fees when adding/withdrawing funds
- Discounted PvP match fees, tournament entries, tournament organizer fees and in-app purchases
- Boosted player profiles, match listings
- In-app donation to players and prize pools

Roadmap
OkLetsPlay has built a roadmap full of new functionalities and features. Here's what they plan for 2022:

Q2
Token wallet integration
Token drip, engagement rewards
Affiliate referral system
Analytics 2.0

Q3
Twitch integration, media center
Layered KYC/AML screening
Beat the House, progressive single-player challenges
Player profiles, in-app stats
Enhanced sponsorship content areas

Q4
Token donations, player-to-player and tournament prize pools
Language localization, currency toggle
Social network invites, match platform performance posting to socials
Console support


Follow OkLetsPlay
Twitter: https://twitter.com/Ok_LetsPlay
Whitepaper: https://cloudfil.es/1eVDdugyI3u
Medium: https://medium.com/@okletsplay
Discord:  https://discord.gg/3M4EUSY
Facebook: https://www.facebook.com/OkLetsPlayOfficial
Instagram: https://www.instagram.com/okletsplay_official/
LinkedIn: https://www.linkedin.com/company/okletsplay



Community Questions

Beka Chuu
Currently, is #OkLestplay working with any backers/VCs? And are there any plans to cooperate with bigger ones in the near future?
Russ - OkLetsPlay
We have an existing group of amazing investors; at this time there is no need for us to partner with larger VCs as we want to maintain control over our own destiny. We will be partnering with more game industry entities though we have player communities and game content!

Boylut
I understand that OKLetsPlay is a complete free to play game, but my concern is the sustainability of the game, how will money be made? If you could talk in detail about the monetization strategy that have been developed in the game to help make it sustainable?
Russ - OkLetsPlay
OkLetsPlay does apply low service fees to PvP matches and tournaments, we have the ability to also monetize via tournament sponsors and licensing agreements. We already have several overseas groups who have expressed firm interest in licensing the OkLetsPlay platform to support regions where a local partner is necessary.

Jannat ❣️
🥰 What are plans in for global expansion?  Are you focusing on market at this time or focus on building and developing or getting customers and users,  or partnerships??.... ❤️
Rich - OkLetsPlay
Thanks for the question! We have a lot in the works both in regards to games partnerships and other developments. We have some great game integrations coming! Stay tuned for the announcements! We would love to announce all games on day 1, but that wouldn't be good for the OKLP token. We are actively avoiding any form of pumping. This project is about long term sustainable growth. In line with this, it is far better to announce new games on a regular schedule over time. So expect a strategic pattern of regular game announcements over time! The OkLetsPlay game ecosystem will be an ever expanding universe! Thanks

Crystal Pierce
HELLO SIR.....
Give me a link to where you can buy your tokens. And which wallet supports your token??

Russ - OkLetsPlay
OKLP tokens can be obtain via the Polkastarter IDO and when listed on DEX / CEXs. You can also earn OKLP tokens in-app simply for playing in free tournaments, PvP matches and general app engagement.

Rum to
While you build your project, do you take into account community feedback and demands? While you build your project, do you take into account community feedback and demands?@RichOkLetsPlay
Rich - OkLetsPlay
Community feedback it very important to us. We aim to create a thriving, happy and connected community of gamers. To achieve this, we have to listen to our community and build out the features they desire! Thanks

Sultan Mahmud
Most users only care about immediate benefits rather than the real value of the project in the long-term. How can Your Project convince users invest to your platform in the long-term?
Russ - OkLetsPlay
We are not a fly-by-night shop… the team has committed several years of their lives toward building a sustainable platform. OkLetsPlay is well positioned for long-term sustainability via its core design of being platform agnostic able to support pretty much any online gameplay/mode and platform. The core design is very nimble and highly scalable which allows it and us to support a very large number of game titles across multiple gaming platforms along with a high number of concurrent players with minimal infrastracture i.e. overhead expense.


ban Stokes_55
What is your strongest advantage that @OkLetsplay thiink will make your team leading the market?

Rich - OkLetsPlay
Our strongest advantage is our patented IP. We have a stake in the ground. Our tech allows us to integrate with games more cost-effectively than the competition, and this allows us to scale

Aurelia
Without sufficient funds, each project cannot carry out its construction properly. For me the main priority is to have sufficient funds to run a project. Is your team financially able to carry out this project? How does this project generate revenue for the project & users?
Russ - OkLetsPlay
Already touched upon how the platform monetizes however to your question about having enough funding to keep construction/development / live ops charging forward… we have the ability to raise significant capital via equity if necessary from our existing investors and from our general investor network. Funding is not an issue; we are confidient OkLetsPlay will have enough fuel (cash/funding) to see it grow and develop in to a self-sustained business


Crystal
Most of the investors sell their tokens after the initial exchange listing. So, can you tell us that how you will prevent this? Do you have a vesting period for Private sale and IDO investors?
Rich - OkLetsPlay
Thanks Crystal. We have vesting schedules in place 👍


Aston Rowi
I am very excited with your project. Why you stopped and When will you relaunch again?

As I know In beta stage you works with two projects. So,  After relaunching will you work with all E-sports? what kinds of tournaments formats will be supported by OkLetsplay?
Russ - OkLetsPlay
Good question: we originally built the platform using Clojure/ClojureScript which is a very strong software engineering language however there a very few Clojure/ClojureScript software engineers/developers out there. This was hindering our ability to scale our dev/engineering team… therefore we made the decision to rewrite our entire codebase to a more common language which would allow us to better scale our dev/engineering team and subsequently roll out more features/functionality faster.


Andersons
Most NFTs games currently suffer low player base due to the expensive initial cost for a new player to take part in the game, How does $OKLP  is attracting large group of players? can you talk about some of its which make it different from other?

How are you planning to attract non-Crypto Users to your platform, Can you talk about the UI/UX, Is it easy to use even for users who are unaware of blockchain ?

Russ - OkLetsPlay
OkLetsPlay beyond being an esports tournament platform is also a game discovery platform which allows subsets of each supported game's community to cross-pollinate with one another. We have the ability to directly market to eligible players within the communities of the games we support via in-game ads, direct marketing, tournament organizers and community channels/forums.


Anjuman
There is an interesting story or feature in the NAMING of each project.  Is there any interesting story behind NAMING your project? Why is this name given, can you please share this interesting story with us?
Thank you

Rich - OkLetsPlay
Thanks Anjuman. Yes, OkLetsPlay is the action phrase people often use just before they play a pvp video game..... So it is has a powerful meaning behind it…


Who i Am?? 🤔
Does $OKLP patented tech cover traditional gaming, blockchain gaming or both?

Rich - OkLetsPlay
Both! Thanks for the question!

BebyFii 💞
How can I buy this token? Is it available on any exchange?

What types of games, platforms and player experiences does OkLetsPlay support?

Russ - OkLetsPlay
OkLetsPlay supports hyper-casual to hardcore competitive games on PC (Steam, browser) as well as mobile with our native iOS and Android apps (to be released later this year). The OkLetsPlay platform can also support console gaming and even internet enabled kiosk or arcade machines… however these gaming platform are not our focus at this time. Our focus is to best support PC and mobile gaming first from which point we'll expand to console and beyond, if the market/timing deems it to be a suitable allocation of time/energy/resources.

Supxro
which blockchain is OkLetsPlay Game built on? Will you guys have plan to expand Rainmaker Game on multi-chain like BSC, ETH, AVAX, Polygon, Solona,terra etc or build cross-chain bridge network to improve the interaction between players on different chains?

Rich - OkLetsPlay
Polygon. Thanks!

Lonely
While you build your project, do you take into account community feedback and demands?While you build your project, do you take into account community feedback and demands?@RichOkLetsPlay
Russ - OkLetsPlay
Absolutely - this was a major part of our beta. We captured over 9k player accounts and successfully hosted over 4k PvP matches and 200 tournaments asking players to provide feedback and to try and break the system. This was a very important process for us to hear what players and developers thought, what they liked, what they didn't like, and what they thought the platform needed. Again we are very player and developer-centric.
About Polkastarter
Polkastarter is the leading decentralized fundraising platform enabling crypto's most innovative projects to kick start their journey and grow their communities. Polkastarter allows its users to make research-based decisions to participate in high-potential IDOs, NFT sales, and Gaming projects.
Polkastarter aims to be a multi-chain platform and currently, users can participate in IDOs and NFT sales on Ethereum, BNB Chain, Polygon, Celo, and Avalanche, with many more to come.
---
Stay tuned for more upcoming IDOs
Website | Twitter | Discord | Telegram | Instagram | Newsletter | YouTube | Spotify
Polkastarter Blog - Latest Polkastarter News & Updates Newsletter
Join the newsletter to receive the latest updates in your inbox.
---