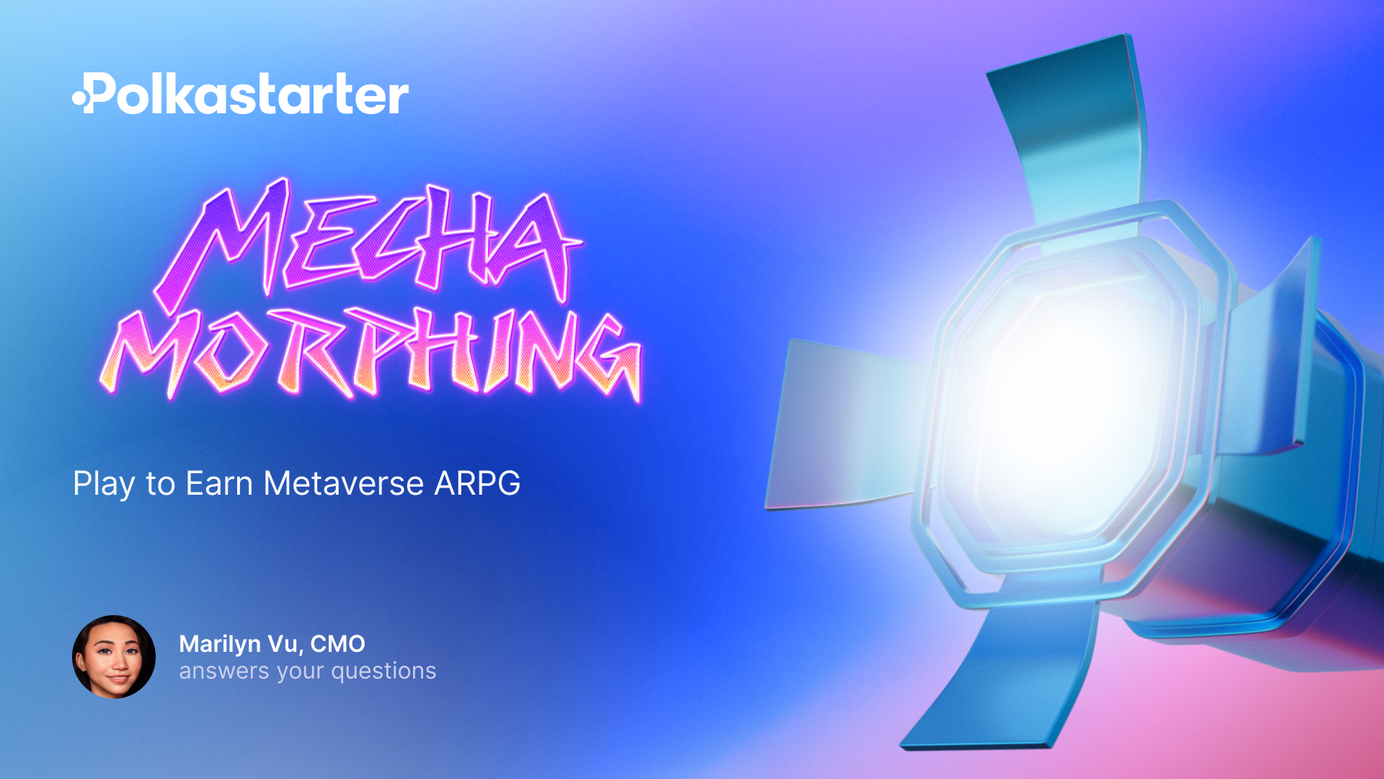 Get to Know: Mecha Morphing
A new play-to-earn Metaverse ARPG is launching on Polkastarter
Wondering whether or not you want to participate in the Mecha Morphing IDO? Want to learn more about the play-to-earn game? Well, we have exciting news for you. We hosted a live Telegram AMA with Marilyn Vu, the game's CMO. She gave us tons of information about the game.
Read on to learn more about the project.
What's the story behind Mecha Morphing and its name?
Mecha Morphing is a sci-fi futuristic cyberpunk world, so the name is quite fitting. The game is set in a world with limited natural resources. World wars have been started from stealing these resources. Over time, humans became more reliant on technology to survive.
This means that as a player, you can wear mecha or enhancement armor. When you change your mecha, you change your stats and character dramatically.


When will Mecha Morphing be released?
The game just finished its first test net and will announce the winners soon. Because of the overwhelmingly positive feedback they received from fans, they will be announcing one more test net pretty soon. You'll need to be on the lookout for that by following Mecha Morphing on social media.
They expect to launch their Main Net at the end of February.


What are Mecha Morphing's modes?
It's a play-to-earn Metaverse ARPG with five game modes:
Player Vs Environment (PvE)
Player Vs Player (PvP) Loot Mode
PvP Arena
Forging
Bounty Mode
Also, there would be a sixth FPS (VR) mode which would be optional. If you have the hardware to participate in this mode, you'll need to purchase a ticket to merge over from the browser version. After the merge is over, you'll be able to enjoy the FPS VR version of the game. Mecha Morphing likes to think of it as adding additional worlds to our Metaverse.
In VR mode, when you change your mecha, you'll see your character as you walk around!

What's the investment you need to make to start playing Mecha Morphing?
It's completely free to play. You'll get your first character for free. You can do anything in Mecha Morphing's Metaverse, expect to fight in battles. To battle other players, you'll need a weapon NFT. You can get one by buying blind boxes. If you have the materials, you can mint your own weapon.

How does Mecha Morphing plans to grow its current community?
The game has tons of international partners, giving them a global perspective. Mecha Morphing is a decentralized project that wants to reach everyone worldwide. They plan to do that by making their Metaverse more engaging and participating in online community AMAs.


Community Questions

paul scholes
Can you give information about the FPS game system of Mecha Morphing game? Will there be an exciting VR mode in Mecha Morphing game, will all players be able to use it if you have a VR mode?

Marilyn Vu ( Mecha Morphing)
Our FPS mode will be optional. Players that have the hardware and would like to partake will have to purchase a ticket to merge over from the browser version, much like when we add additional worlds to our Metaverse. After players purchase the ticket with tokens and merge it over, they will be able to enjoy our FPS VR version of our game. We are super excited about it. When you change your mecha, you'll be able to see it on your character as you walk around!

Echi ♡
Most of the new investors, only focus on the price of the token and the short-term benefits of the project rather than understanding the true value of the project. Can you tell us about the motivations and benefits for investors to hold your tokens long-term?

Marilyn Vu ( Mecha Morphing)
We are in it for the long haul. Firstly, the core members of our team have a long vesting schedule. That means that we are here for at least a few years before we can benefit financially. This is done to show our investors and our players that we plan to stick around for a long time to create something special. We have a long-term vision and plan to add many worlds and new game systems as the metaverse progresses. Besides that, the NFTs in our game are used between all our game systems and will be able to be used in future worlds as well, maintaining the value and need for them. The tokens in our game will be used to mint new NFTs in our game, thus holding their value.

MyAsslsOnCrypto
Hello madam, @Lynhhh ✨

I have seen many new projects in the crypto space & also saw many new names also But your project name is something different "MECHA MORPHIN" WILL YOU PLEASE TELL ME THE MAIN REASON TO CHOOSE THIS NAME ? is there any interesting story behind this name?
Marilyn Vu ( Mecha Morphing)
We chose this name because the game takes place in a sci-fi futuristic cyberpunk world. Natural resources in this scene are rare and world wars are started from stealing resources. Humans become more reliant on technology to survive. This includes mecha or enhancement armor that you can wear. As your change your mecha, it changes your stats and character dramatically. So you could say as your mecha changes, your character also morphs :)

Ateone Vinc
Sir, What is the initial investment needed to play Mecha Morphing? I hope it is not as expensive as Axie Infinity.
Marilyn Vu ( Mecha Morphing)
All accounts will get their first character free. With this character, you can do anything in our Metaverse that does not involve battles. To enter into battles, you need a weapon NFT in order to fight. There are various ways to attain weapon NFTs. You can purchase blind boxes, or you can mint your own if you can find the materials needed.


Sultan Mahmud
The success of a project mainly depends on the community. Do you have plans to spread awareness to both crypto users and non-crypto users in the world? Especially non-English speaking countries that may be restricted from accessing your Project?

Marilyn Vu ( Mecha Morphing)
We have many partners in local communities to ensure they understand those around them. We think this is the best way to be engaged with people around the world. It will give us the perspective and cultural reference we need to succeed. This is a decentralized project. We want to reach everyone all over the world. Whether it be someone who is trying to make a living while playing or someone who just enjoys games, we think our project is for everyone. Outside of our local partnerships, we will be conducting many AMAs to reach communities like this one.

Roman Reigns
When will the game release beta and official?

Marilyn Vu ( Mecha Morphing)
We have just finished our first test net! I will be announcing the winners today! However, we got such good feedback that we plan on announcing another soon! If you are interested, please keep a close eye out on our social channels for more details!
We expect to launch our Main Net launch at the end of Feb. Details on dates will be announced soon.

$BTC
I noticed that there are 5 different game systems to win in Mecha Morphing Metaverse, can you give us information about PVE, Looting, PVP Arena, Bounty, Forging game systems in simple sentences? Which game system can an amateur and low-funded player start Mecha Morphing with?

Marilyn Vu ( Mecha Morphing)
Game modes are PVE, PvP Loot Mode, PvP Arena, Forging, Bounty Mode.

To hear details about each game mode, please refer to our article here: https://medium.com/@mechamorphinggaming/mecha-morphing-game-play-fb0fad826799
Follow Mecha Morphing
Website: https://mechamorphing.com/
Discord: https://discord.gg/wFTJYBk2nk
Twitter: https://twitter.com/Mecha_Morphing
Telegram: https://t.me/Mecha_Morphing
Medium: https://medium.com/@mechamorphinggaming
Announcement: https://t.me/mechamorphingANN