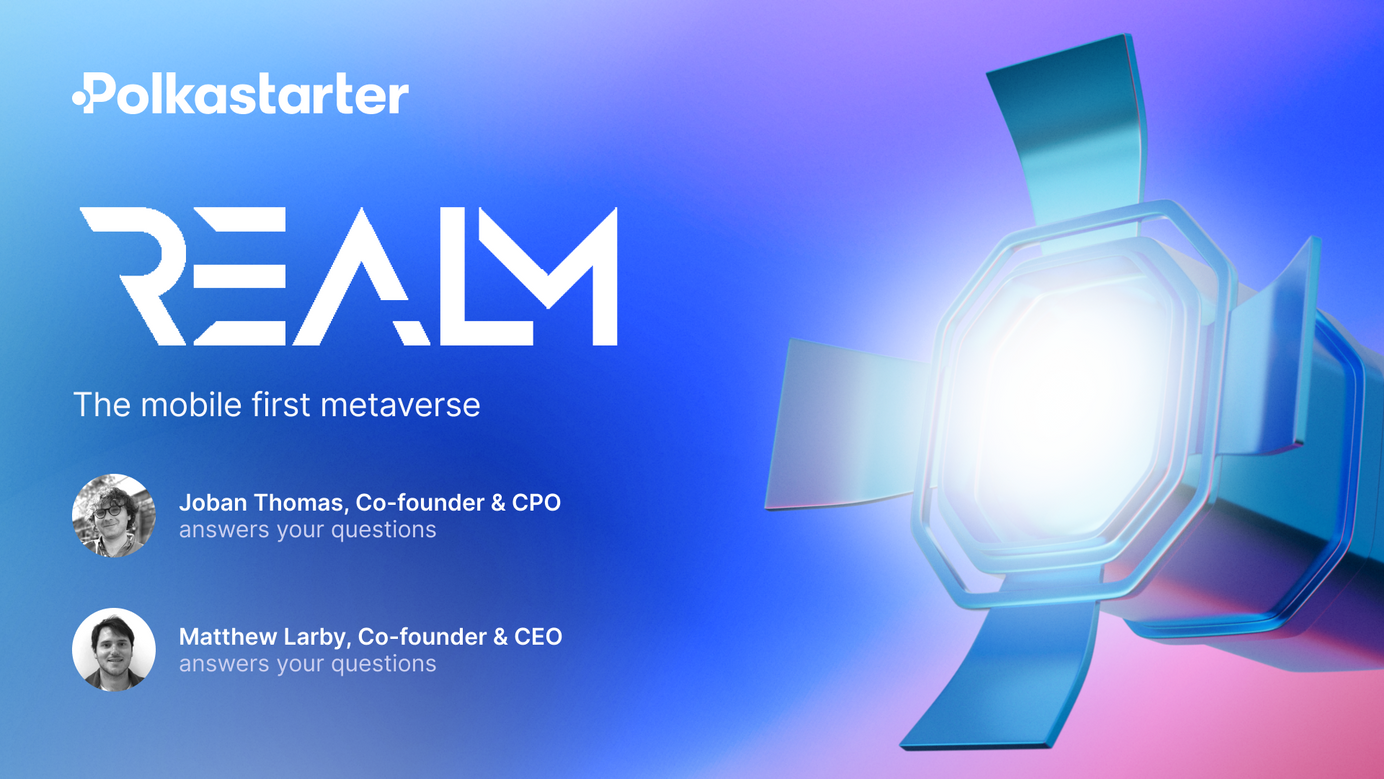 Get to know: Realm.art
Learn what Realm is, who the founders are, what their vision is and how the future roadmap looks like.
Just yesterday, we hosted future Polkastar Realm.art on Telegram for an AMA ahead of their September 14th IDO, where CPO Joban Thomas and CEO Matt Larby answered all our and the community's questions about Realm, their product and future roadmap.

Get to know Realm!
Founders


During the AMA, we were joined by two Realm co-founders - Joban and Matt.

Joban has been involved in tech and crypto for many years, acting as a CTO and technical consultant, and loves building products with super clean UX and elegant solutions. At Realm, he is the CPO and Creative Director.

Matt is the CEO of Realm, a crypto investor since 2013 and no stranger to working together with Joban - they previously built an internal GPS system and a software layer to connect people with buildings, ultimately culminating in a largely successful exit.
Product and Vision


Realm is a Play-to-Earn, mobile-first metaverse made up of lots of small worlds called Realms, that are connected together via portals. You can explore the realms and discover rare NFTs while levelling up your character. In Q4 this year we will begin to release our simple creator tools so anyone can create their own realm to look and do what they want.

An example is an art gallery realm that may be in outer space where you hang your NFT art and sculptures. In the future, you will be able to create your own games in your Realm, e.g. Treasure Hunts, Racing Fall Guys style, or Battle Royale like Fortnite.

'We are trying to do a few things with Realm:

1) Create a mainstream decentralised metaverse that works on mobile.

2) We spoke with hundreds of creators and gamers and nobody could decide on what a new metaverse should be like so we figured Realm, small microverses was the way to approach this, to give the creators full freedom over their realm.

3) Land is a creative limitation in existing metaverses, so we allow anyone to create a realm for free (free to play). We do have a metropolis that is sort of a futuristic city full of portals that connect to realms. You can buy land in the metropolis or you can just make a great realm with high engagement and we link the community portals to your realm.

4) Finally building is very hard so we are using a grid based 3D building system that has machine learning and voice'
Roadmap

'We're very focused on product at the moment, and have an awesome team building this innovative product at a rapid pace. Our roadmap is heavily focused on mobile for this year, and allowing everyone to be able to create their own world is a key goal that we believe will elevate the metaverse movement.
Our future roadmap also includes working with key partners to deliver some awesome customised metaverses, and we ultimately want to allow users to create mini-games such as racing, platforming, fall guys style battle royale, and all sorts of other types. If people can create amazing digital experiences and monetise them in the Realm ecosystem then we are well on the way to achieving our goal.
In terms of development, smart contracts for our token and NFTs (Realms, Genetic Pets, in-game items) are completed and bridged between ETH and Polygon. We're in the final stages of building out a super user-friendly app for people to discover and follow content on the platform, which is always an issue in the NFT space. Of course, we've also been busy creating realms ourselves, and the tools for users to build their own. We will launch with some awesome realms and are also collaborating with artists and collectors to bring their work to life and by the end of the year, we will have a user-generated metaverse filled with art, games, and virtual NFT life so we're just super focussed on this vision for the moment!

We are undertaking a host of partnerships with awesome NFT artists who are building realms, we have some fun stuff on the horizon, you will be able to race buggies around in EVOLverse and get NFT tattoos on avatars. With some artists, we are building 5 realms where you can go to nightclubs, trade in marketplaces, etc.
Broadly speaking we have our IDO on the 14th September followed by a land sale where you stake $REALM tokens to win land allocation in the metropolis. The land sale will be about 20 days long and then we will open up the Realms from early October.'
Community Questions


Tehok jambe: The ease of use of the project is the key to use. How friendly is the #REALM interface for beginners? Is working on a user-friendly interface your top priority?

Matt: We have made about 50 apps before so the mobile app is super simple. I would expect anyone to pick it up within 1 minute.

Pak Kadus: In recent years, technologies around the layer 2 blockchain, solutions have developed dramatically. How does REALM fit into the boom of layer 2 networks? What makes it unique and different from all other platforms of this type?
Your Platform and website looks very appealing to me & I am very interested in the virtual reality world. Which kind of reality based realms would I be able to access through your platform? What Future do you see for Virtual Reality in terms of mainstream adoption?
Matt: Realm is partnered with Polygon (matic) and does most it's processing on layer 2. This enables us to mint low cost NFTS such as NFTix and accessories for Avatars and Realmies

kullanit Phongpanpanit: 👋I see in your project the basic feature that Realm must have is "gameplay", so can you explain how efficient Realm's gameplay is and can it be played by people on mobile devices or computers? As we know not everyone in the world has a mobile device or high end desktops, so can you provide details on whether Realm games can work on devices with the minimum specs required to run this game?
Joban: Yes we are targeting mobile first as we believe that this is the best way for mainstream adoption of the metaverse - not everyone has a super powerful PC and that is a huge barrier to entry. Our engine also allows us to build versions for Web Browser, Desktop and VR so further in our roadmap we will be releasing all of these versions though our initial focus is on Mobile. If you have an apple or android device from the last couple of years you should be able to explore Realm without any issues.

Mangekyou Sharingan: Can we connect with our friends through the portal connexion and trade and play with them?
Matt: Yes you can trade with people through our DAPP marketplace and in app.

septian tian: 1. First of all will u be on IOS AND Android?
2 . If u will be on IOS, how sure are u that the restrictions being placed on such apps by Apple won't conflict with Realm?

Joban: Good question! Yes we will be available on iOS and Android - we have put a lot of work into ensuring that we can get maximum adoption by being available on the Apple app store and not fall foul of the issues currently being fought in the Epic V Apple legal case! We are allowing users to use in-app payments to purchase Realm Shards, which they can use to purchase items in the game, whilst crypto natives can go to our Dapp and trade with REALM tokens for in-game items. This also allows us to onboard non crypto natives much easier, as the lack of Fiat on-ramps has held back many other metaverse projects.
Sevki: As far as I can see, you care about transparency and community. What are your plans to keep this going?
Matt: We have opened up our dev process to the public and in the future we expect the public to take more control over the development and direction of the metaverse. We are fully committed to this.

Demvrick: When REALM gonna be on the market?
Matt: Launch V1 of the app around IDO so 14th September. Metropolis land sale 20th September. Full Alpha launch 15th October

DRAKEN TOMAN: Q1 - Why did you want to work with Polychain Monsters?
Q2 - Will we need to use $REALM token in order to create NFT or will be free to play and created?
Joban: We think the Polychain Monsters have done a great job in terms of character design and thought it would be cool to release a custom Realm Polkamon! Its also a model for how we will interact with a lot of other projects (i cant name all of the ones we are already working with yet!) - we will bring their characters to life inside our metaverse, and anyone who holds the NFTs will get to experience a new dimension to their collection.
Regarding your second question, no it is free to create a basic realm. However for advanced features we ask that you stake a certain amount of REALM, and there is also premium portal space in the Realm metropolis that can be purchased

Jack Stan: Calling fans of READY PLAYER ONE.
I love that film and hope Realm could be like that in the near future
My question is, how and will you apply VR and AR technology to Realm world? Same as what we saw from Ready Player One film!
Matt: We all love Ready Player One! We are excited for VR but think people are more likely to use AR in the short term. So we currently use AR to bridge between the realm world and the Realms. You will see it being used also in our AR map of the metropolis. In Q4 we will use AR to put you inside a realm so you will be able to take selfies in front of virtual artists at concerts etc.
As for VR everything we build is made so it's compatible with VR at 1:1 scale. We will release a VR update in Q1 or maybe Q2 2022.

🎀 𝑀𝑒𝓁𝒶𝓉𝒾 𝒫𝓊𝓉𝓇𝒾 🎀: Hii sir.... REALM creates a gallery that is open non-stop for up-and-coming artists. Can you explain a little about this gallery? And also I read about Login access using "NFTix". What is it like? and What are the special requirements to get this NFTix?
Matt: NFTix are a technology we made on Polygon that enables somebody to throw a virtual event inside a Realm and control who comes inside. They also operate like an advert for the event / collection or Realm. They have their own royalty structure and will be used frequently in the music events we are hosting.
The your turn art gallery is a community gallery thatfor up and coming artists with less than 10k followers on social. You can display art there and if it sells there are no fees.

Aman: For any project, its development is 90% dependent on how strong its team is. I have seen many projects fail, due to the lack of skills, experience and knowledge of the team. So, with REALM, is the team qualified to achieve all your goals?
Matt: We have roughly 20 full time staff and most are engineers. We have 20 outsourcers filling gaps and helping. We have run and successfully sold businesses before, which enables us to plan and deliver on the product.
Our advisors are world class, we have David Ham, ex head of Blockchain at Samsung who is helping us to pre load onto Samsung phones and tap into the Korean Market. Michelle Tsing, Berkeley Blockchain Xcellerator, Paypal, Apple who amongst other things helps with high level hiring. Then Matthew Land and Barry Herbst who have been instrumental in introducing Realm to key people who can support the project

vinay kumar: 👉 Can you list 1-3 killer features of Project REALM that make it stand out from other blockchain-based Battle Royale Projects? What competitive advantage does your platform have that you believe in the most? How can I play it give the steps?
Matt: No blockchain game or metaverse is offering high fidelity graphics, we have invented a no code builder system to enable anyone to build in the metaverse, We are building templated game mechanics so anyone can create their own games, eg racing or battle royale.
---

Congrats to JackStan, the Realm IDO Allowlist winner! Want to read the full AMA? Then head over to the Polkastarter Telegram and get reading! Here is a link to the start of the conversation.
---
Connect with us and learn more about Polkastarter

Website | Twitter | Discord | Telegram | Instagram | Newsletter
Polkastarter Blog - Latest Polkastarter News & Updates Newsletter
Join the newsletter to receive the latest updates in your inbox.
---