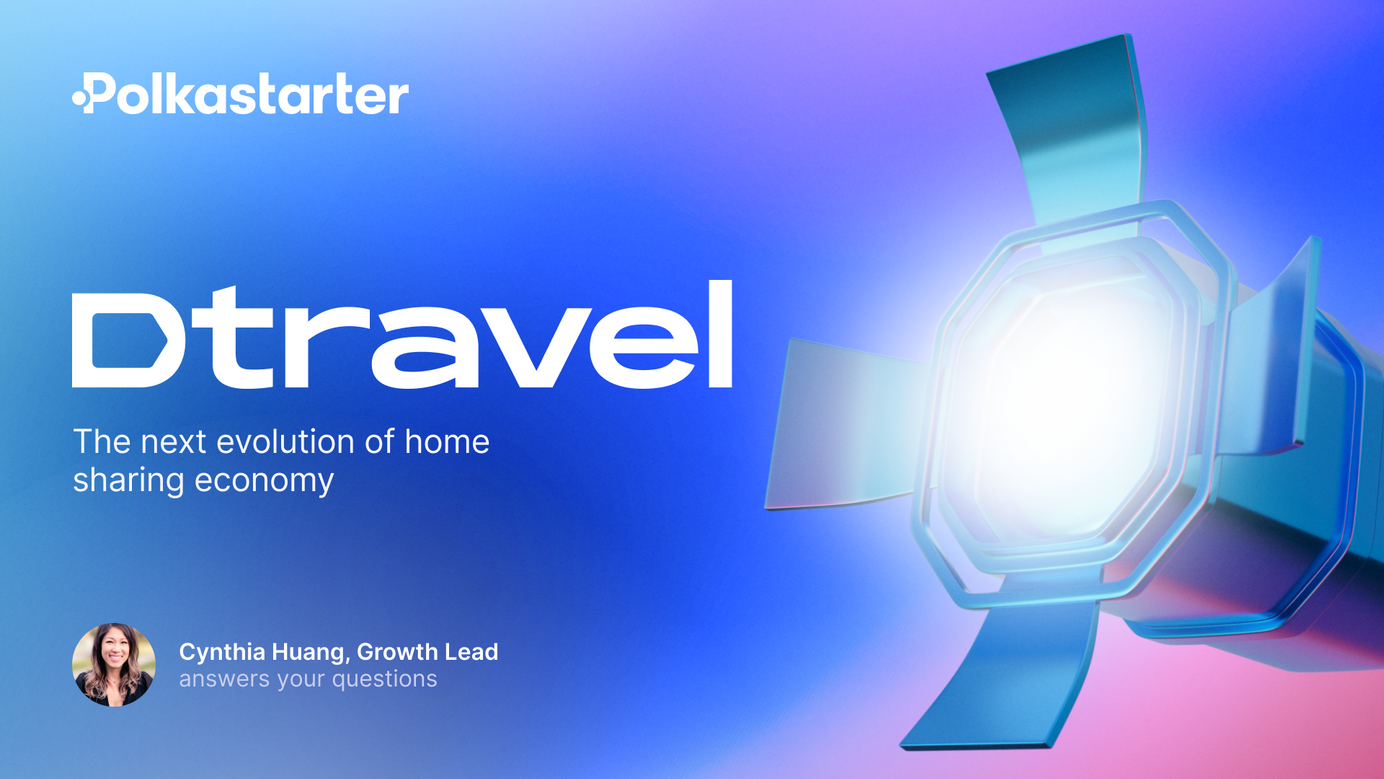 Get to Know: Dtravel
The Next Evolution of Home Sharing
On November 12, we hosted Dtravel AMA alongside Cynthia Huang, the project's Growth Lead. Dtravel is a community-owned and governed ecosystem that operates for the benefit of its community members comprising hosts, guests, contributors, and TRVL token holders.

Now it's time to get to know Dtravel and prepare for their IDO on November 26.

And don't forget! You can still apply for the IDO Allowlist here, until November 20 at 5:59 PM UTC.
Team
Dtravel has a team with years of experience in home-sharing and travel industries, who are experts in regulations, operations, business development, design, and technology.

The team has entrepreneurs and established executives from blockchain and crypto projects who essentially innovated new mechanisms in the crypto space.


TRVL Token Utility
The TRVL token is the native token of Dtravel, powering its self-driving economy.
There are 4 main purposes for the $TRVL:
- Travel
Guests can pay in TRVL and hosts can receive payments in TRVL. Both hosts and guests benefit from using it on Dtravel.com through givebacks and rewards.
- Loyalty
Dtravel encourages loyalty through onboarding incentives and growth actions for hosts and guests; airdrops and support to earn
- Governance
It's the most important use for $TRVL. Community members holding TRVL will get to participate in governance through the DAO and can submit proposals, vote and be active in the future of Dtravel.
- Protection
TRVL is used to power the protection pool with $1M USD for hosts in case of property damage during a stay with Dtravel.

AMA COMMUNITY QUESTIONS

8Mi_Yile | Rick Astley
COVID 19 has slowed down many economies around the world but as a crypto business, does it affect you negatively or positively? Are you still on track to achieve your goals or are you planning a new development

Cynthia (Dtravel)
Great question! Honestly, we've seen a MASSIVE resurgence in travel and are expecting a rebound never seen before. Travel is going to be bigger than before COVID so we're actually perfectly positioned to take advantage of this recovery.


Ai Dale
STAKING is one of the STRATEGIES to ATTRACT USERS and HOLD Them and long term. Does your GREAT PROJECT have  plan about to Staking?

Cynthia (Dtravel)
More details will be shared on this as opportunities come up

Stella Rivera
Do the token holders have the right to participate in the governance of the project? What kind of decisions can they vote on about the project?

Cynthia (Dtravel)
Yes absolutely! That's what we want for the community to get involved. Proposals relating to Dtravel.com and the ecosystem will be put forth to the community and these proposals are what the community will be able to vote on.

Lucile Mosley
Did you consider community feedback/requests during the creation of your product in order to expand on fresh ideas for your project? Many projects fail because the target audience and clients are not understood. So I'd like to know who your ideal consumer is for your product?
Cynthia (Dtravel)
Such a great question! I completely agree that most projects fail because they don't understand their target audience. This is where I think we actually shine a LOT. We did focus groups with hosts prior to launching and almost everyone on our team has home sharing or travel experience so we know travel marketplaces and the people who use them extremely well. I myself have been a host for 7+ years so I'm building a platform for fellow hosts like myself.

In terms of who we're building for, Dtravel's target market is really anyone, from those with deep levels of crypto experience to those who are "crypto curious" to those with no prior experience with crypto. Dtravel's lower fees and decentralized structure can, and should, appeal to anyone looking for more ownership, flexibility, having a voice and rewards in their experience booking or listing short-term rental properties. That said, we believe the earliest adopters will likely be hosts and guests who are at least crypto curious. Help us spread the word about Dtravel to everyone you know!


8Mi_Yile | Rick Astley
Current NFT is a hot topic, but are NFT not just for art. Does your project think that more real world use cases will emerge for NFTs as time goes on, why should we take NFTs seriously?

Cynthia (Dtravel)
We absolutely do think that NFTs will have more real use cases as time goes on. It's an exciting time for crypto and NFTs because of all the mainstream interest and I think it will evolve very much into utility NFTs and DeFi NFTs.


Lucile Mosley
Do you have any plans to attract non-crypto investors to join your project? Because the success of a project attracts more investors who haven't yet entered the crypto world. What are the plans to raise awareness about your project in the non-crypto space.
Cynthia (Dtravel)
Yes our goal is to become the largest DAO in the world which means we have to have mainstream, non-crypto members join Dtravel. Dtravel appeals to anyone who is a traveler because they can book travel. Hosts can list their properties - this is universally attractive to anyone in the home sharing space. With the other initiatives as well like support-to-earn we think that people will come from outside of crypto because we're offering a completely new and innovative way to interact with platforms.

Fumiko Tanaka
Language is a barrier to many crypto enthusiasts, well, we all know many projects supports the English-speaking community. So, are you aiming to use local communities to raise more awareness among these people in different countries?

Cynthia (Dtravel)
YES! We're hoping to lean on the community for this and have plans and a community call out for next year


Ferrey Anggara
How will Dtravel build a thriving community that truly cares and supports the project for a long time, instead of only getting temporary benefits?
Q2👋 Are there any plans to be more connected with the community? Just like any other type of social media system, where can people share ideas and suggestions? Because we know the power of community to easily create famous projects?

Cynthia (Dtravel)
Everyone on the team is truly passionate about building a community of members who want to achieve the vision of a new home sharing experience. A huge part of this is in building a thriving community. We have a community participation form already and will continue to have many ways that we have the community get involved in the DAO and different operations such as support, host education, etc

Delaine Robins ETH
Tell us a little bit about security? Have you done an audit of the platform? Are the smart contracts error-free? What are the test results?

Cynthia (Dtravel)
10000000%. We have very experienced blockchain engineers and advisors working on this and we've done multiple audits with leading security firms.


​​buy high sell low
What measures have you put in place to help ensure a smooth and seamless travel experience for hosts and guests on your platform?

Asides crypto payment, do you have plan of incorporating Fiat payments to help attract those who are non- crypto experts? Also, for those who refer guests and host to Dtravel, will there be an additional revenue or incentives to help motivate and encourage them?

Cynthia (Dtravel)
Hosts and guests are huge in what we're building obviously. I've said this many times but never get tired of saying it. Our team is extremely experienced in this area. We have contributors and advisors who have literally successful home sharing platforms and communities. Community and a great user experience is at the heart of what we do. Our designers are incredible and thoughtful in their designs and you can see from the gorgeous booking platform and our site how talented they are so that talent will translate into the overall experience.
We do plan to incorporate fiat and have many growth strategies to help hosts be successful in their hosting experience.

Sy Béo
What is the most ambitious goal of your project? What is the ultimate vision that Your project is trying to achieve within the cryptocurrencies market? I would appreciate it if you could share with us any Upcoming Updates?

Cynthia (Dtravel)
Our mission and vision is to create a world where every person is empowered to be an active owner in the future and success of the sharing economy and we want to use Web 3.0 technologies to do that. It's an exciting mission and an audacious goal of trying to build the largest DAO but we're here for the long haul and we truly hope you all are as well!

Connect with Dtravel:
Website: https://www.dtravel.com/
Project Page: https://polkastarter.com/projects/dtravel
Twitter: https://twitter.com/DtravelDAO
Instagram: https://www.instagram.com/dtraveldao/
Telegram: https://t.me/dtravelcommunity

And that's a wrap! To read the full AMA, you can head over to our Telegram and go through the chat from the beginning.
---
Connect with and learn more about Polkastarter
Website | Twitter | Discord | Telegram | Instagram | Newsletter | Youtube
Polkastarter Blog - Latest Polkastarter News & Updates Newsletter
Join the newsletter to receive the latest updates in your inbox.
---