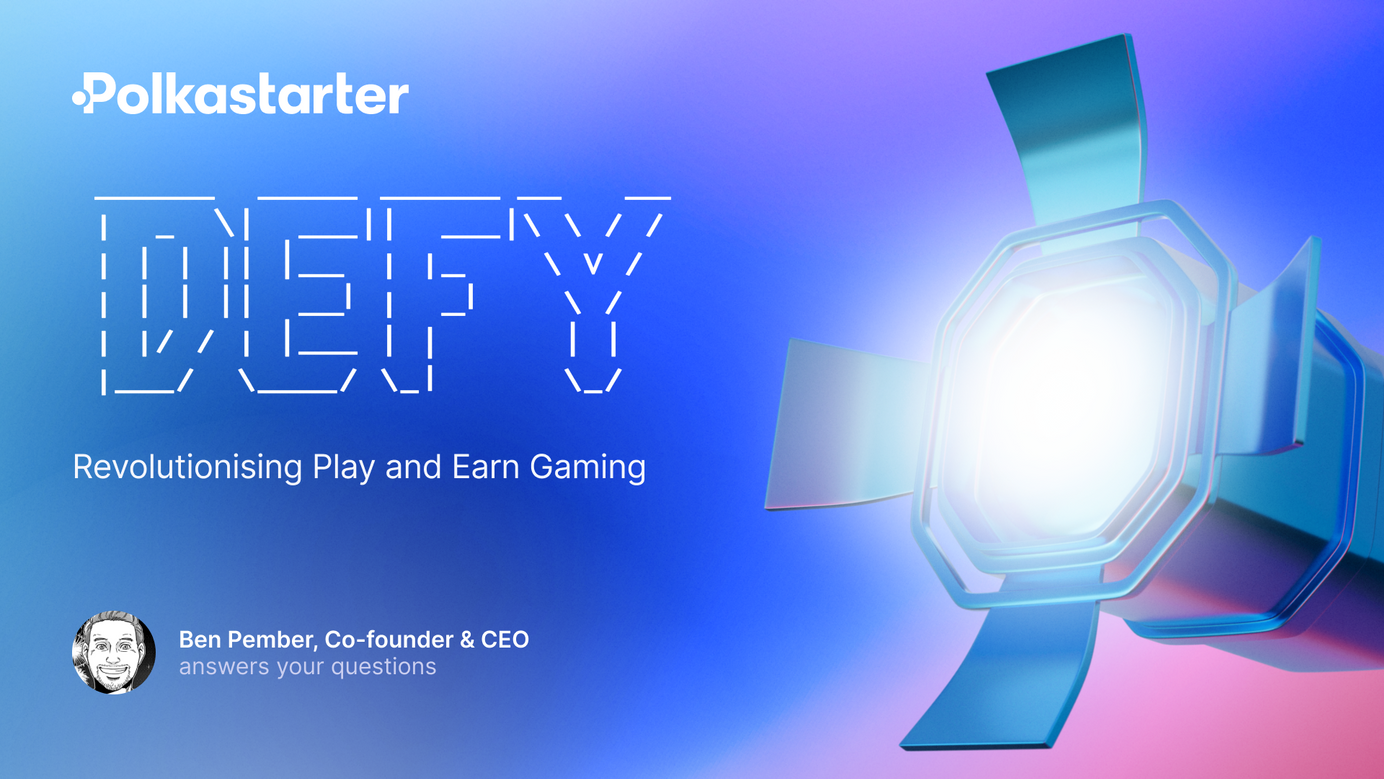 Get to Know: DEFY
A location-based, play-and-earn mobile game that immerses players in a metaverse that bridges the virtual and physical worlds.
This week's ask-me-anything (AMA) session on Telegram featured Ben Pember, CEO, and co-founder of DEFY. DEFY is a play and earn NFT mobile game built on the Polygon Layer 2 platform that allows players (operatives) to enter a metaverse that threads the line between physical and digital.
📍DEFY IDO Allowlist is open until August 11th, 2022, 4:00 PM UTC.
👉 Check their project page and apply for the sale!

Ben's background and the DEFY team
Ben is an experienced entrepreneur with a background in the sports and technology industries and the co-founder of DEFY. Career milestones include building an award-winning web2 business focused on health and lifestyle event IP and highly successful B2C and B2B location-based, gamified fitness mobile apps.
Regarding his role on DEFY, he focuses on the commercial side of the business and tapping into his experience in securing multi-million dollar partnerships with global brands such as Adidas, Redbull, and MasterCard.
There are three other co-founders in DEFY. Tom Threlfall has over 15 years of experience in institutional investment, specializing in funds management and trading.
Brent Maxwell, the CEO, comes from a tech background previously with AWS.
Finally, Michael McClenaghan is an experienced CTO with over 10 years of experience running location-based gamified fitness apps and VR companies.

DEFY's vision
DEFY's vision is to create a blockchain game that blurs the lines between the real and virtual worlds. They want to build a game on top of a rich, multi-year story - so that players feel like they are genuinely a part of the game. The DEFY team wants to push the limits of what's possible for a game and explore how immersive they can make this experience.
The story is a classic "Robin Hood" style narrative that is very, very relevant for the people of today. The players are "operatives" joining a revolution to fight against an evil tech corporation that has taken over their lives with their corporate metaverse.
DEFY fuses hyper casual code-breaking gameplay, learn-to-earn elements, real-world exploration, and AR adventures to make things possible. They are the first to come up with the concept of Play to Earn, Move to Earn, and Play to Learn, where players get to learn things like how to program their own drones with actual programming language. All these will be progressively added to their product team.
An excellent way to be introduced to DEFY is their introduction video.

DEFY's competitive advantage: What differentiates it from similar projects?
Ben quickly pointed to DEFY's obsession with the narrative and trying to create real immersion when asked this question. DEFY is a game. Not a move to earn app or purely to play and earn. They aim to create a fantastic game that leverages blockchain's rails while being good enough to stand independently.
While they started with a location-based, move-to-earn style experience, the plan is to move to a more sophisticated multi-platform game in the near future. They'll be bringing in FPS-style gameplay, XR elements, and more.
The obsession with a rich narrative goes well beyond in-game features. In fact, they recently launched a new web series, dedicated to exploring the back story of DEFY.

DEFY token utility
$DEFY tokens are the main platform tokens for DEFY. You can earn DEFY tokens by playing the game.
As the game's primary utility token, DEFY can be used in the following areas:
Purchasing in-game NFT assets
Customisation and creation of in-game NFT assets
Levelling up your gameplay experience
Players earn $DEFY in-game by hacking Future Systems and stealing their FCOIN, which is then pledged to the revolution and converted to $DEFY. Get the Robin Hood, reference now?

DEFY roadmap: What key features are on the way?
Below, is the latest iteration of their roadmap, and as you can see, Q3 is packed.

Here are a few highlights.
Players can expect to encounter dangerous new threats from Future Systems drones in just a few days. Along with this, the first weapon type will be released, allowing operatives to fight back. The name "Mission 5: Electric Feel"  gives you a little hint about what that weapon may be.

Post IDO, they'll be launching free-to-play pathways and their Beta app. This will allow DEFY to onboard many new players and grow the community.

In August, they'll release the foundational building blocks of personal drones. Basically, operatives will be able to build and customize their own personal drones that can be programmed to complete tasks for them.

Further out but still under development is the FPS gameplay mode. Drone battles, anyone?!
Take note that DEFY doubled its team of engineers to expedite the process of shipping features.

Follow DEFY
Website: https://defydisrupt.io
Twitter: https://twitter.com/defydisrupt
Telegram: https://t.me/DEFYofficial
Discord: https://discord.com/invite/WzPZESaUBX
Medium: https://medium.com/@DEFY-Labs
Whitepaper: https://docs.defydisrupt.io/whitepaper/

Community Questions
Yua kudasai$
Many games today set high costs to start the game & therefore start with a small player base. Does #defydisrupt have an entrance fee or starting conditions & if so, what are they? Do I need to hold an NFT or hold a certain amount of tokens in order to enjoy &play the Game?
Ben - DEFY
For now, entry to the game is via holding an NFT Virtual Private mask. In Q3, 2022, we will also introduce a free-to-play pathway to onboard new users and non-crypto gamers. Holders of the premium masks will have superior gameplay and earning mechanics, but gamers can level up and progress through the game by playing and committing time.

kaushal $flow
Could you explain in a few words and in a simple way what is the theme of this game? I saw that they talk about hacking and different towers, but I really don't understand the game well. And what will the missions be like?

Ben - DEFY
DEFY is a location-based mobile game similar to Pokemon Go or Ingress. Players must hack different locations by solving puzzles and collecting wallets to explore the real world.

Jennifer May
Do you have your platform audit already or not? What is the status of the smart contract audit, and what are the security measures adopted by your platform for trust and safety? What are your plans regarding supporting local communities? Is there any community to join for local chat who don't speak English?

Ben - DEFY
All smart contracts are audited. We have Japanese, Russian, Chinese, and Korean language communities on our Discord.

BOB STON
Where is your team originally from and are you a global project or not? Do you have an international community apart from English?
Ben - DEFY
We are a global and diverse team. The majority of our community are non-english speakers and have a very happy home on our discord server - check it out!
About Polkastarter
Polkastarter is the leading decentralized fundraising platform enabling crypto's most innovative projects to kick start their journey and grow their communities. Polkastarter allows its users to make research-based decisions to participate in high-potential IDOs, NFT sales, and Gaming projects.
Polkastarter aims to be a multi-chain platform and currently, users can participate in IDOs and NFT sales on Ethereum, BNB Chain, Polygon, Celo, and Avalanche, with many more to come.
---