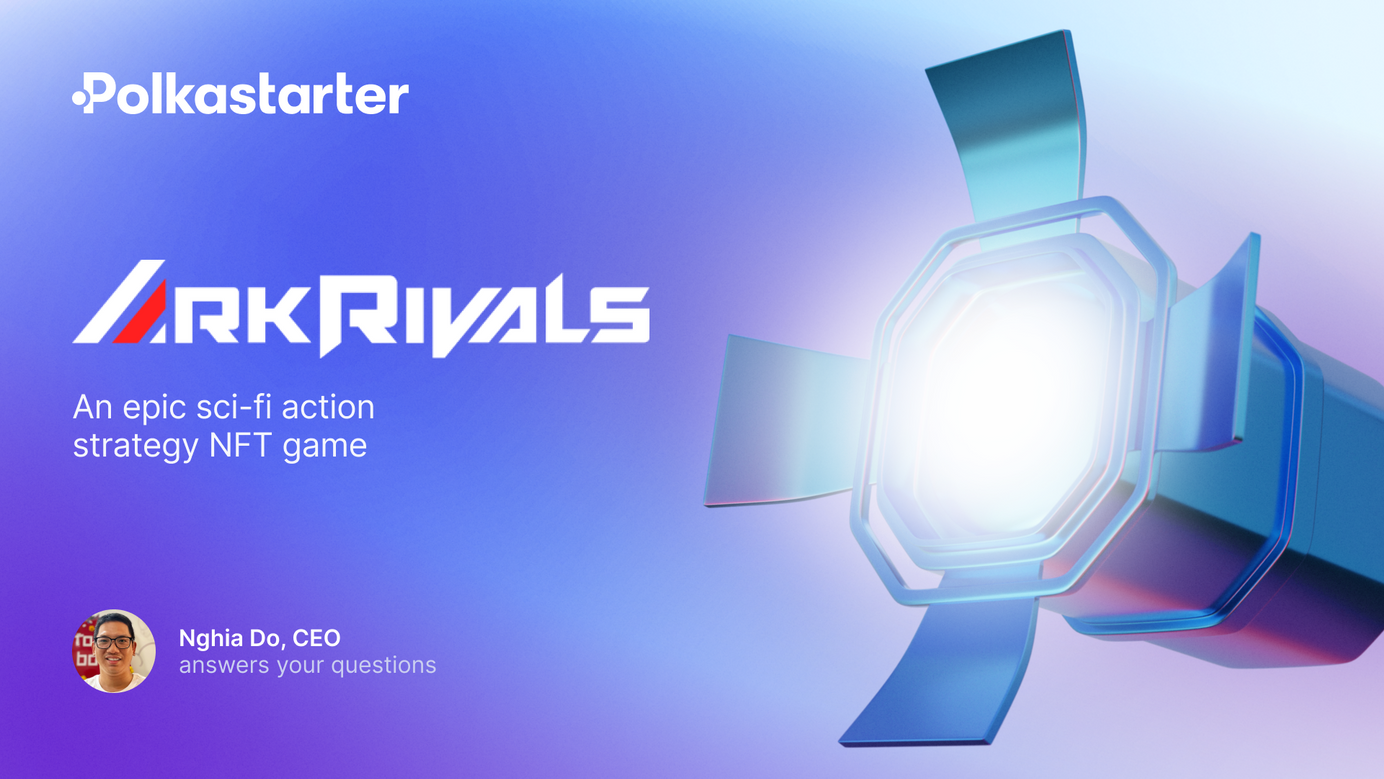 Get to Know: Ark Rivals
The first NFT sci-fi strategy game to use user-generated content is launching on Polkastarter

Keep hearing about the Ark Rivals IDO? Wondering what the hype is all about? This article has the answers for you.
We hosted a live Telegram AMA with Nghia Do, the game's CEO. He shared a lot of information that will get you excited about their upcoming launch on Polkastarter.

Who can play Ark Rivals?
Ark Rivals wants to attract mainstream users, so the focus is on bringing everyone together to play the game. The team especially targets gamers that play traditional mobile games and don't know anything about blockchains or crypto. Ark Rivals wants to educate its users on the play-create-earn mechanism.

What do Ark Rivals bring to the crypto gaming industry?
While other NFT games struggle to manage the number of NFTs they produce, having their tokens inflated, Ark Rivals will be different. The team plans to limit the amount of NFTs available, so they can produce high-quality NFTs that have real utility, uniqueness and potential.

What makes Ark Rivals stand out from its competitors?
Ark Rivals is a sci-fi action strategy that's the first NFT game fully based on user-generated content. The team wants to attract both crypto enthusiasts and traditional gamers. Ark Rivals is also the first NFT game with Faction Wars, allowing users to choose 1 of 5 factions to win the war.

How easy is it to create an NFT in Ark Rivals?
Minting an NFT in Ark Rivals is part of the earning mechanism of the game. You just need to own an ARKN miner to mine the $ARKN tokens, the in-game currency. Your mission in the game is to defend your base from other players, so you can continue mining. If you want to earn more in-game rewards, you can fight with different users in the Fraction wars.

How Ark Rivals plans to thrive long-term?
Ark Rivals wants to avoid the fate of most crypto games that decrease the value of their token over time. The team is building a real sense of demand for their currency. That's why the $ARKN token is created around the game's utility.

In the Faction War game mode, players will fight with other factions to compete for a huge prize at the end of the Season. The faction that has more teams to fight will have a huge advantage over the other ones.
Ark Rivals incentives their players to reinvest their earned tokens. That way, their characters will become stronger, and they will be able to achieve bigger things, getting better in-game rewards.


Community Questions

Daniel
What type of NFT can a user create? Also, since Ark Rivals is equipped with what kind of NFT, which creation tool can be used to easily create an NFT? How easy is it for the average user to do this without worrying about the complexity of encryption technology and NFTs?

Nghia Do (Ark Rivals)
Minting is a very simple earning mechanism in Ark Rivals.  You simply need to own  ARKN Miner to mine $ARKN tokens.
Your mission is to defend the base from other players' attacks so that you can continue to mine tokens.
You can also join the Battle with users from various factions in Fraction Wars to earn rewards for your Fraction.

Ben Stock
NFT and Play to earn game is undeniably coomon this days,so how would Ark Rivals brings a new interface to crypto and gaming industry? How would you establish your own name in the market?

Nghia Do (Ark Rivals)
Other NFT games are currently having difficulties managing the number of NFTs that are inflated in the market, causing their value to be influenced and damaged.

Ark Rivals will be unlike anything else out there. Because we'll limit the number of NFTs available, to produce quality NFT item that the user who has it feels truly valued for its uniqueness and potential

Daisy
Can team Ark Rival list more killer features of this project that make it ahead of its competitors (like COC/Rise of Kingdom)?

What is the competitive advantage your project has that you feel most confident about?

Nghia Do (Ark Rivals)
1. Sci-fi action strategy NFT game that is fully based on User-Generated Content - first on the NFT game market
2. Balance between Traditional Gamers and Play to Earn user
3. Being the first NFT game with Faction Wars that allows users to choose 1 of 5 factions to conquer a great war together
🇨 🇷 🇾 🇵 🇹 🇴 ❤️ 𝗚𝗮𝗹𝗮𝘅𝘆❤️
Is your Ark Rivals platform the perfect place to start playing blockchain games?  And how do you help new players? Or Is it only suitable for experienced players?

Nghia Do (Ark Rivals)
Ark Rivals was created as the revolution of the chaotic NFT game industry. Our goal is to attract mainstream users - those who play traditional mobile games who don't know anything about blockchains, and also Crypto players who want to invest in this game.
With three main criteria we want to educate our users: Play - Create - Earn

xperia
Hi! 💹      

IF THE BEAR MARKET COMES will Ark Rivals token PROBABLY DUMP? Do Ark Rivals have any plan to prepared for this bear market? How will you handle the panic sell?

Nghia Do (Ark Rivals)
For other games on the market, Nghia found that Tokens are often used in the game, leading to a poor value of Token in terms of liquidity, leading to a decrease in Token value over time. But with Ark Rivals, the game creates a tight currency rotation, players have more demand to use Tokens. In the sense that 1&2 tokens are not important, the most important thing is whether the token has a need to use in the game or not?

For example, a small original in the Faction War game mode, players will have to fight with other factions to compete for a huge prize at the end of the Season, which faction can gather many teams to fight together, that faction will have 1 huge advantage for the battle.

With the cash flow always rotating, players do not need to worry about the market because players need to use the amount of Tokens they earn to reinvest in the game to make themselves stronger and achieve higher achievements and get the best rewards.

About Polkastarter
Polkastarter is the fully decentralized launchpad to launch new blockchain projects. With an industry-leading curation process and market access, we select the most innovative projects in the space and offer them long-term support after their IDOs.
With Polkastarter, crypto projects can increase their reach, grow their communities and receive support from crypto's most well-versed experts. IDO participants, on the other hand, are offered an opportunity to invest in a secure and compliant environment, as well as participate in IDOs not solely on Ethereum but also on Binance Smart Chain, Polygon, Celo and Avalanche.
Media Contact Polkastarter: [email protected]
---