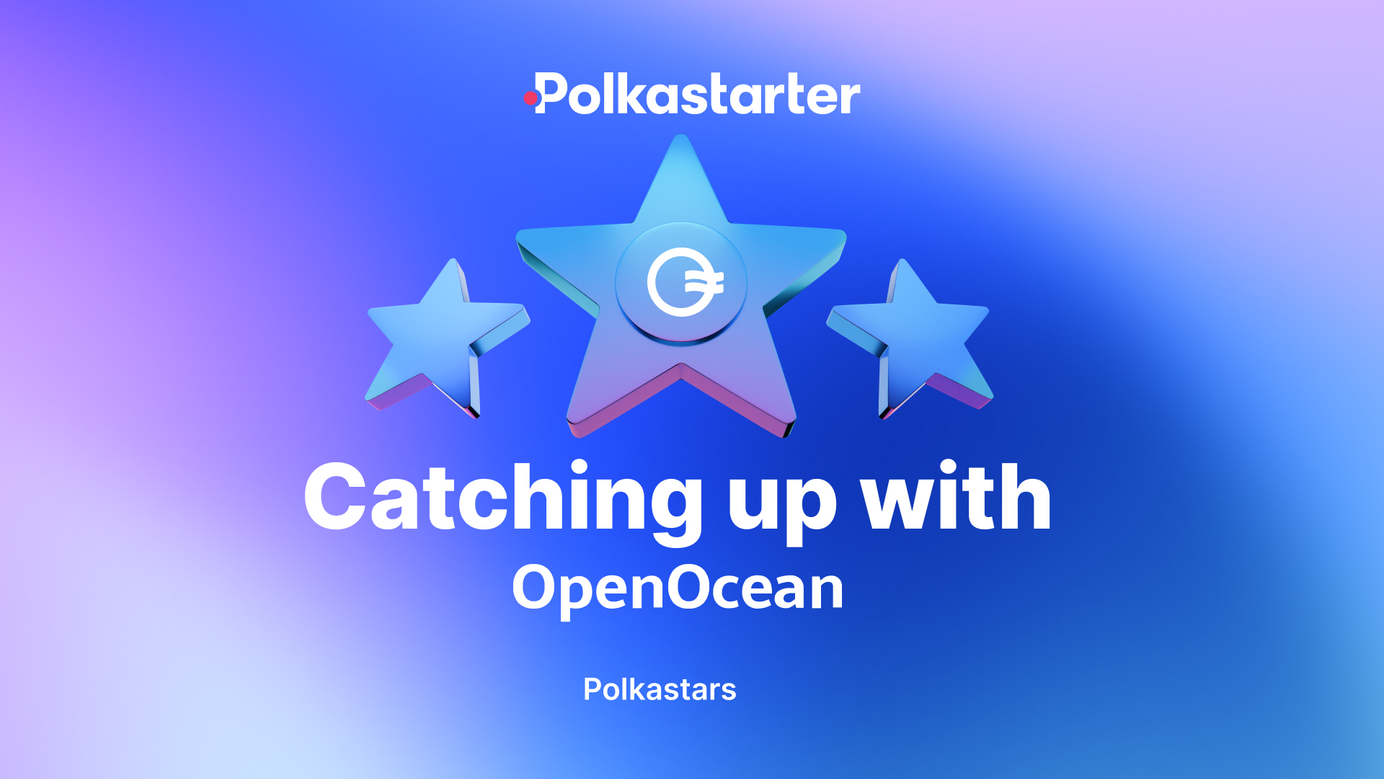 Catching Up with Polkastars: OpenOcean
Another day, another addition to our Catching up with Polkastars.
This time, the project in focus is OpenOcean - the world's first DeFi and CeFi aggregator, giving users the best rates to trade crypto on their own terms. Besides the aggregation of swaps, OpenOcean aggregates derivatives and will soon launch intelligent wealth management services.

When users decide to make a trade on OpenOcean, the protocol will execute in three steps: it will retrieve price quotations from DEXes and trading costs, run the data through their algorithm, optimize and find the best price with low slippage and then find the routes for the user in order to execute their best trades with maximum returns.

What have they been up to since their Polkastarter IDO? Let's find out!
More Networks on The Platform
The team at OpenOcean kept integrating networks to now make it the platform with the most networks compared to other DEX aggregators. OpenOcean has aggregated 120+ DEXes across 14 blockchains, including EVM (Ethereum, BNBChain, Avalanche, Fantom, Polygon, Arbitrum, etc.) and non-EVM chains (Solana and Terra).

Given that they have integrated the most networks, OpenOcean is clearly the most flexible solution on the market today. Don't forget that as the first and leading aggregator in Avalanche, Fantom, Terra, BNB Chain, and Gnosis, they have the absolute advantage over other DEX aggregators.
OpenOcean Atlantic Version Upgrade
In Q4 2021, OpenOcean launched the Atlantic version, providing users with a superior algorithm and protocol upgrades to optimize trading for the best returns based on multiple parameters.   The latest version outperforms other DEX aggregators, including 1inch, Matcha, and Paraswap, by an avg. 60% of testing cases.
Additional liquidity sources such as new DEXes and trading pairs have been aggregated in the Atlantic version to support lower prices and more choices.
Launched Limit Order Trading Tool
OpenOcean launched limit orders functionality, a valuable tool for advanced DeFi trading. Limit orders allow traders to swap at a specific price or better, offering more flexibility and efficiency to DEX traders.
Released OpenOcean API 3.0
They recently launched their upgraded API 3.0, the most efficient and easy-to-use API for individuals or projects that needs non-custodial functions such as price quotes, token swaps, transfers, and trading records tracking.

It's free to use, and they have integrated the most out of the 16 networks with deep liquidity for the best rates. The new version also supports a faster response time of 200ms on average.

Several projects have adopted OpenOcean API's price quoting function as the core service, such as Mask, Li Finance, and RangoExchange. Additionally, ONTO Wallet implemented the API for the swap function.
Revolutionary SaaS Tools for Intelligent Wealth Management
They've also launched the Beta version of SaaS products for intelligent wealth management access. These tools offer automated arbitrage between DEXes and CEXes and grid trading for DeFi and CeFi to increase trading efficiency and profits and capture trading opportunities for crypto traders.
Active User and Community Growth
With a growth rate of 5479% since early 2021, OpenOcean reached more than 400K active addresses by the end of 2021. Their community has also grown exponentially. The number of trades has increased 2650% from 2020 to 2021, reaching 1.5 million. The OpenOcean community reached 238K Twitter followers and over 70K members in Telegram and Discord at the beginning of 2022.

The platform's ease of use makes it easy for every type of DeFi enthusiast, whether they're a farmer or trader. They can simply visit the platform, execute a swap and benefit from trading with deep liquidity, a superior algorithm, and a wide range of blockchains.
What Does The Roadmap Look Like For OpenOcean In The Near Future?
As an aggregator, OpenOcean will continue to upgrade its algorithm and aggregate more major networks, such as Optimism, Cronos, Near, and more.  

Meanwhile, they are working on developing cross-chain swaps with the best price via integrated bridges across 14 blockchain networks using OpenOcean's algorithm. To make it more user-friendly, they are also looking into optimizing their current beta SaaS products for intelligent wealth management - Automated Arbitrage and Grid trading.

Also, to utilize $OOE in more use cases, they are also working on launching an OOE staking and rebate program.

Lastly, OpenOcean is heading to a truly decentralized future, OOE holders can expect voting powers on OpenOcean soon.
What Was The Polkastarter Experience Like For OpenOcean?
"The Polkastarter has been supportive as always since the beginning. We have even performed a dual listing on ConvO and Polkastarter for our first pre-IDO project. I definitely see more synergies for both offering platform and further collaboration."

Want to learn more about OpenOcean?
Here are all of their relevant links:
👉 GitHub
👉 Twitter
👉 Medium
👉 Telegram
👉 Discord