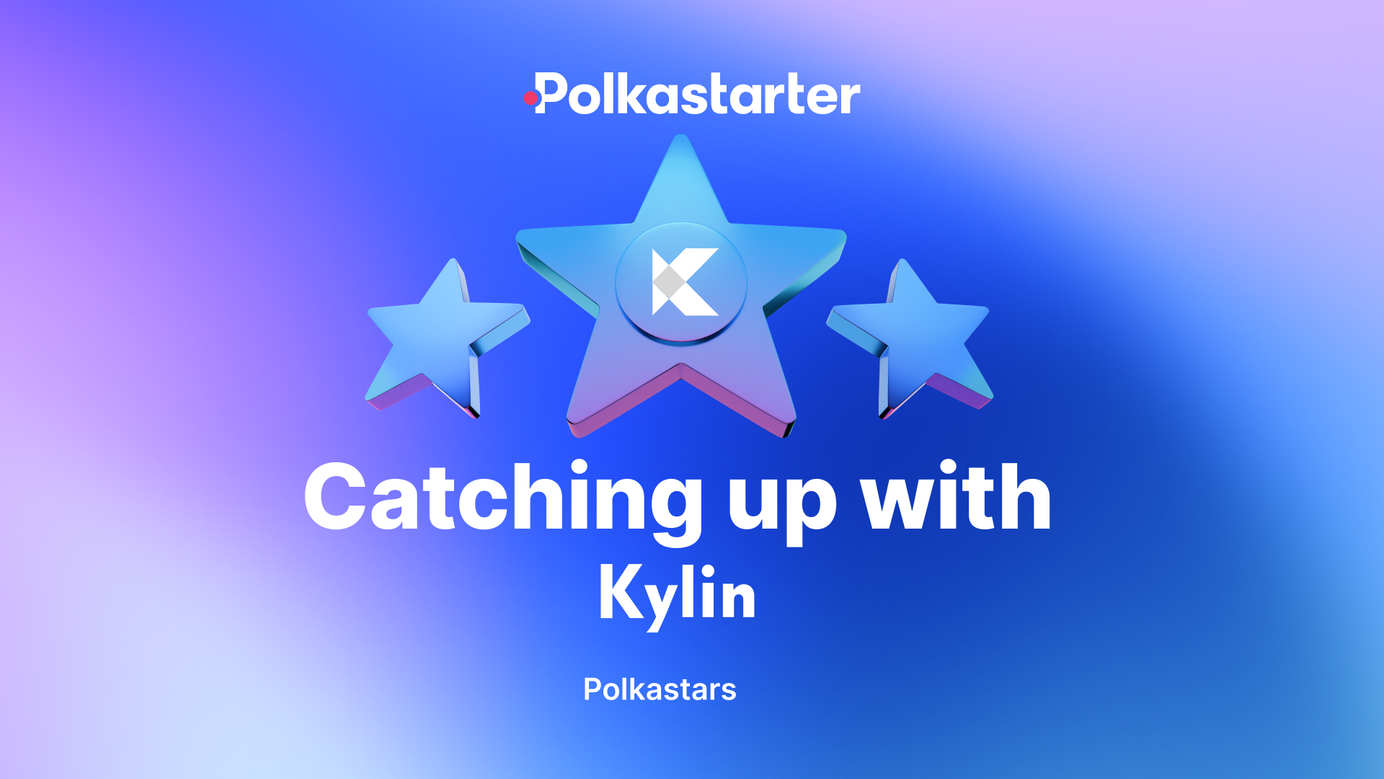 Catching Up with Polkastars: Kylin Network
Kylin Network is a cross-chain platform for Web3 and DeFi, powering the DeData economy.
We're back again with our Catching up with Polkastars series, and this time the project in focus is a Layer 1, data infrastructure project - Kylin Network. Before diving into what they've been up to lately, let's remind ourselves what Kylin Network is about.
Kylin Network is a cross-chain platform for Web3 and DeFi, powering the DeData economy. It's the native Polkadot data blockchain that connects our and the blockchain world by providing guarantees and factuality about each synergy.
Kylin creates a channel for developers, consumers, and businesses that want to partake in the new decentralised data economy we're heading into.
Web3 Foundation Grant & Substrate Builders Program
Since their IDO, the company has hit some quite important milestones. First, comes the Web3 Foundation Grant. In October of 2020, they submitted their Open Grant Proposal to the Web3 Foundation for support and validation, and on Feb 8th, 2021 they were officially listed in the Wave 8 Recipients. Kylin is one of 112 projects that delivered on the promise of their grant application  
Following the same chain of thought, Kylin was also able to secure the Parity Milestone by getting accepted into the Substrate Builders Program (SBP). Parity Technologies created Polkadot and inaugurated the Substrate Builders Program to propel promising projects reach their potential. They have completed Milestone 1 of their SBP program and are nearing completion of Milestone 2.
How do they do that? By assisting a project from the get-go, ensuring that building a blockchain happens in a fast, easy and safe way. For Kylin to get accepted into the program it's confirmation of the trust and confidence the people at Parity have in the project.
In more exciting news, Kylin is on Chachacha! (and partnered with Centrifuge). This technical collaboration was put in place to make life easier for anyone who wants to run various functionalities of any testnet process via parachain.
Introducing DeData
If any of the news and updates aren't enough, could we interest you in the fact that Kylin Network was the one to form the concept and narrative of decentralised data (DeData)? Kylin Network is not simply another project, but a true pioneering technology. What is DeData you might ask? That's a topic for an entirely different blog post and thankfully there is one.
To popularize the concept of DeData, they also co-produced an inaugural conference on the subject, Blockdown: DeData, where founder Dylan Dewdney discussed the implications of DeData and Web3 with none other than Gavin Wood and Edward Snowden!
Last but not least, comes Polkadot's Cross-chain Messaging protocol (XCMP) that allows consensus-based message passing between parachains and parathreads. Thanks to Astar and Acala, the first successful cross-chain messaging passing transaction on Polkadot Testnet became a reality.
Now, Kylin network is working with Astar to build on top of that work for the next evolution of the XCMP implementation and test out cross-chain calls for full functionality.
Announcing Pichiu Network Crowdloan
What's more, it's important to mention that Kylin won their ksm parachain, Pichiu. Pichiu aims to build a cross-chain platform powering the data economy on Kusama. This represents the ability for Kylin to finally get to a product and mainent orientation and join the ranks of functioning parachains within the Dotsama ecosystem.
Launching Testnet
Another great milestone for the company was the testnet launch - the first meaningful step towards product and functionality. The thinking process behind this launch is to open the floodgates for community members to participate in the new era of decentralised data, and pose no limits in what users can achieve. As Kylin themselves set it, the only limitation is your own imagination.

For more information on the launch, refer to the detailed guide.
What do Kylin Network want people to use their network for?
The answer is simple - they want developers to use their imagination and create unique and novel use cases for off-chain data sources. The company wants to become a playground of ideas where developers can express their forward thinking projects.
What does the future hold for Kylin Network?
Within the next 3-6 months, the team at Kylin are working hard to  launch the auction functionality and therefore mainnet implementations on Kusama and Polkadot.
When asked about their overall experience with Polkastarter, the team was enthusiastic about it. They stressed the simplicity of our collaboration and the value it added in terms of awareness around their project.