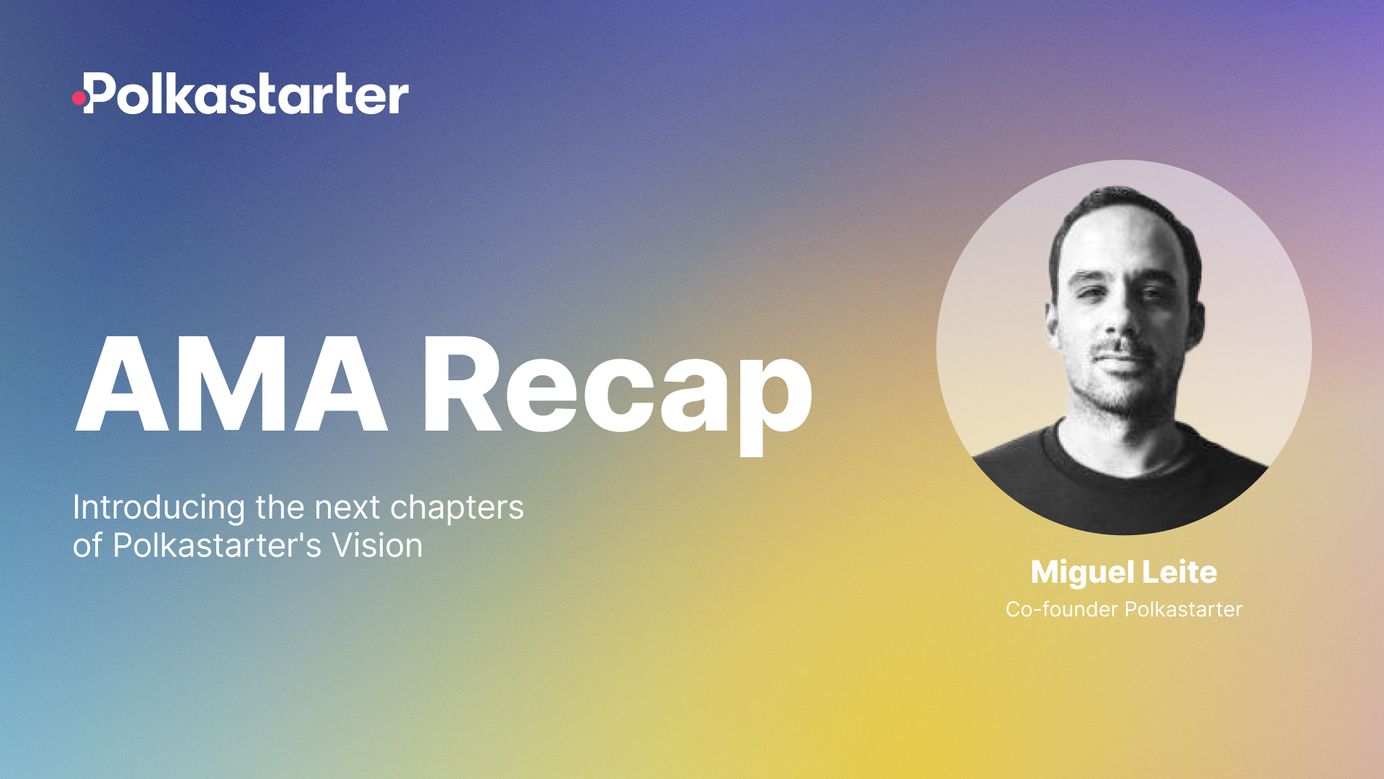 AMA Recap: Introducing the next chapters of Polkastarter's Vision
In this 'Ask Me Anything' get-together, we revealed the clear vision of Polkastarter going forward
We are no strangers to AMAs as they have played a major role in building a meaningful relationship with our community throughout the years. This AMA though was a special one. In this 'Ask Me Anything' get-together, we revealed the clear vision of Polkastarter going forward and how our efforts will now have a name, direction and dedicated purpose.
We want to create the blueprint and standard by which Web3 projects go from idea to market, to the community. We can't express how excited we are for what's to come but what we can express is our gratitude and appreciation for your help and support.
There will be a lot more announcements and material coming your way, so keep an eye out for our social media channels.
Read the complete AMA here!

Polkastarter
Welcome to a new Community AMA. Today we welcome Miguel Leite, Co-founder at Polkastarter. 🙂
Today we have a special AMA with to introduce our vision for 2023.
Thank you all for joining us! Hello, @mikegameiro! First of all, could you please introduce yourself?

Miguel Leite
Hey everyone :) Excited to be here! 👋
I'm Miguel, been working in tech/entrepreneurship +10 years. Two years ago I founded Polkastarter with Daniel Stockhaus and it was (and is!) the craziest (and more rewarding) ride of my life.

Polkastarter
And two years later, we've just announced new verticals on Polkastarter. What can you tell us about that?

Miguel Leite
We are one of the leaders in the Web3 fundraising ecosystem.
But just having a launchpad is not enough.
1) We have to generate more opportunities for entrepreneurs, builders.
2) We have to onboard non-web3 talent
3) We have to empower web3 companies
4) We have to increase $POLS utility and give back to our amazing community

Because of that we are extending our operation to a total of 4 verticals.
1) Launchpad
2) Acceleration
3) Hubs
4) Content and events
As for acceleration...
As you might know, we are partnering already with BNB Chain to empower and support new ventures on BNB.
And tomorrow we're announcing a new accelerator partnership!

As for the hubs, we're opening / partnering with a Hub in Lisbon and more will come around the world.
Finally, content and events are playing a huge role right now for the $POLS ecosystem. two great examples:
A) NFT Hackathon that we just completed with amazing projects
B) The launch of GAM3 Awards show to highlight & award the best web3 games (going out today!)

Polkastarter
Regarding the Accelerator, can you tell us a bit of how it will work?
And how will it be different from other Web3 Accelerator Programs?

Miguel Leite
The accelerator partnership we're announcing tomorrow is a 12-week program for Web3 startups at any stage.
The crypto market is hurting right now, but the only solution is to build and rebuild. So we have to go to the source, we have to support dreamers, innovators. And that's the goal we're expanding on from tomorrow.
As for details on the program, etc... Let's wait for tomorrow so we can reveal everything.
Tip: the list of mentors is 🔥
Polkastarter
Speaking of mentors, how was that selection process?

Miguel Leite
Well, we've been working on Web3 fundraising for a long time now. Much of this work is done in the background, but doing it for so long enabled us to build a huge network of amazing Web3 players.
This accelerator is going to be supporting founders in many ways, like tokenomics, marketing strategy, secondary market strategy, liquidity, etc, etc. So we gathered the best minds in the business to answer these specific needs.
Polkastarter
More details will be out tomorrow, but can you tell us what will be the role of these mentors during the Program?

Miguel Leite
Mentors will be involved directly with the startups, supporting them on several topics.
BTW one important topic.
One of the focus is going to involve $POLS holders on the accelerator program that we are partnering with. 🎉
The way this is going to work is yet to be defined, but we would love to have a sort of governance mechanism to involve our community from day 1.

And, of course, find ways of involving the community in early raises (possibly seed and private sales.


Polkastarter
Let's move on to the Hubs!
Why do you think it's important to create a physical space to support the Web3 community?

Miguel Leite
Web3 is digital and remote. Everyone has calls with no cameras, deals of millions are decided on Telegram, etc.
This is amazing because it makes our industry fast and productive, but complementing in-person social interactions is key.

We are supporting the launch of a Web3 hub in Lisbon, Portugal, to open up new opportunities. It will be key specially for events, meetups, conferences, hackathons. Ways to involve community + builders in a thriving dynamic that in the end will contribute to the $POLS ecosystem.
And hopefully we make this hub a success case and replicate it in other countries (India, Dubai, US, Asia, European countries, etc).

Polkastarter
Yeesss. Looking forward! 👀
We've also seen a bigger investment on Content and Gaming (stay tuned for the GAM3 Awards!)...What is your goal in these areas?

Miguel Leite
Content and marketing is the 4th vertical. 💪
The goal here is to launch more initiatives that promote Web3 literacy and involve builders and the $POLS community.

Just this week (!) we completed our first NFT hackathon with amazing projects...
And JUST NOW we launched more information on the first Web3 Gaming Awards (GAM3 Awards)💪

Check the teaser:
The main goal of these initiatives is to generate awareness and attract more builders that eventually end up on our launchpad, etc.

One thing I urge everyone here to do is...
Go to https://polkastarter.gg/gam3awards/ and check the list of partners and jury members 😱
Names like Justin Kan, Urvit Goel, Yoshihisa Hashimoto are working with Polkastarter Gaming
This guarantees that Polkastarter keeps being the most relevant platform to launch a Web3 game, etc.

Same for the NFT hackathon... attract talent early.
Etc... In the end, everything funnels to the launchpad and $POLS holder.
More awareness -> More projects -> More fundraising

Polkastarter
Since you've just mentioned the launchpad, can you detail what are your future plans for it?

Miguel Leite
The launchpad is where every awareness and new business effort funnels. We are partnering with accelerators and incubators to get more companies to launch with us, we are promoting hackathons to attract builders, launching the gaming awards to get more awareness... And in the end everything funnels to the fundraise stage. As for the platform itself, it will become more social, it will have an improved profile, a new wallet system, different and novelty sales are going to be tested, etc.
Now...

Many of our dear users are always demanding new features, etc, and argue that we might have been slower sometimes to launch some of the promised updates, etc. But in this market with prices going down, liquidity getting low, etc, we have to be very mindful about what to launch and when.
So we rather create the conditions for the next bull cycle, than to be launching things that wouldn't get the deserved performance.

In other words, we are ready to release these features, we are just waiting for the right time.

And while we wait, we build these programs, we launch the hub, we expand on our community.


Polkastarter
Very enlightening, Miguel, thank you!
Now, we received some Community Questions before this session.
Let's jump to those, shall we? 🙂

1. What kind of partnerships with different projects/platforms/protocols can we expect from your project in the future? Are all targets in accordance with the current roadmap? And what are the next steps that will be taken in the future?

Let's go and thank you everyone for submitting these.

Miguel Leite
This one is not one question, but 3. But let's go.

We are launching partnerships with accelerators, hubs, and other partners (check here some of the recent partners for gaming for example: https://polkastarter.gg/gam3awards/) that can contribute to bringing awareness to the $POLS ecosystem.
Our targets were reached on our roadmap, we just haven't found the right timing to launch the new features.
The next steps are described in the answers above related to the 4 verticals.

Polkastarter
2. During bull market I felt more IDOs were on other launchpads. During the next cycle can you bring more new projects, so with doing that people with less win percentage will have more chance to get in. Also most of the projects were bsc and matic. Now eth has lower fees since the merge that might help you consider more eth projects. Will you support new chains like aptos, arbitrum optimism etc?

Miguel Leite
The IDO market is huge, during the bull market you have hundreds of IDOs every month and you have to "pick your battles".

In our case we always invested in vetting the projects in the best way possible, usually by having +4 analyst is conducting DD, involving the council and partners early on, etc. So we always thought that good curation and selection was the key for the success of the $POLS ecosystem. And we still feel we made the right call.

As for ETH, yes please. We are hardcore supporters of Ethereum and hopefully the conditions for lower fees are now here.

Polkastarter
3. I am a long-term $POLS supporter and excited to see the broader vision. I have a twofold question, how will Polkastarter continue to build in a supposedly long bear market? Is it backed by strong treasury or recurring revenue?
Miguel Leite
This is a very important question in light of everything that is happening right now.
Companies are going to go bankrupt, many projects lost their funds due to overleverage or poor treasury management.
But this is not our first bear market.
We knew these things would happen in these long winters, so we've prepared:
1. When we're not launching IDOs, we have recurring revenue coming from advisories and other partnerships
2. We have a strong treasury for many years to come that includes stablecoins, bluechips,etc.
3. We are building and launching new initiatives (the 4 verticals) to bring us new business opportunities
Long-story short, we are still very early in crypto, so if it's summer... You have to accumulate and store it safely. When winter comes, you spend wisely and build fast.

Polkastarter
4. Hello, I am a POLS holder and big fan of Polkastarter. Now love to listen all the AMA's and collect OAT 🙂 Question: what idea behind all this Polkastarter OATs..will they have the utility?

Miguel Leite
Yes, we are preparing our NFT strategy and those OATs will eventually have utility. Some ideas floating around:
- Exclusive access to events
- Coworking space for NFT holders
- Special access to sales, etc.
I don't want to promise anything now, but rest assured we are not distributing these OATs just for fun. We want them to have utility.

Polkastarter
5. I know Metaverse and Gaming was the big narrative last bull run, but I feel Polkastarter moved away from investing in real infrastructure projects like Saito, etc. Can you concentrate more on infrastructure projects more in the future as they seem to be longer lasting over cycles as history shows us

Miguel Leite
Another great question/suggestion and I tend to agree.

During a bull market, everything moves so fast that sometimes you don't adapt fast enough.
But infrastructure plays a huge role in the Web3 space. We just released the NFT Hackathon with that in mind actually, by partnering with Blokness (NFT API service) and incentivizing projects to create projects around it.

But DeFi, Infrastructure, ReFi, etc, are going to be the best of the future on Polkastarter. Don't worry that we are not going to become a gaming-centric fundraising platform.
Polkastarter
More on the NFT Hackathon with Blokness:
Ok, just 3 questions more!

6. The hubs are interesting and is there scopers for regional hubs?. Here in India, there are several regional chapters where web3 enthusiasts convene and work togther, if you are planning to create regional hubs, I can help you with the India hub in Chennai/ Bangalore

Miguel Leite
We would LOVE to have hubs in India and other countries. We are launching the Hub in Lisbon now to test and see how everything works.
But one of the things we can do now is organize Polkastarter + Partners meetups in other cities.

If you are interested in organizing a Pokastarter + Partners meetup in your country, PLEASE LET US KNOW HERE: https://forms.gle/GKk82sLnLNGuYsHM6
These meetups can be organized by anyone and we will have perks for anyone that does so :)
Please register there if you want to launch a meetup in your city. More about this coming soon.

Polkastarter
Awesome! 😄
7. Participating in IDOs is the only reason to hold $POLS. Do you have any future plans to increase the utility of $POLS??

Miguel Leite
Right now I hope you don't hold $POLS just to participate in IDOs.

Holding $POLS is BELONGING to a community of entrepreneurs, builders, investors of the future of Web3.
You hold $POLS because you believe in the work we're doing with the launchpad, with the accelerators, with the hubs and events.
You hold $POLS because you are PART of our vision and mission, you hold $POLS because you ARE $POLS.

But I understand where you are coming from and yes... We are adding new possibilities, including:
- Governance (vote for accelerator projects roadmap decision, for example)
- Seed and private-sales (get access to early-stage sales)
- Access the hubs
- Exclusive invites to meetups and other events
And much more.
But in the end, $POLS is an ecosystem and with the 4 verticals launch... Much more is coming.

Polkastarter
Ok, last one and we can wrap it up. 🙂

Regarding the current market conditions and FTX situation, how do you think this will impact Polkastarter team and vision?

Miguel Leite
As I said before, we are not exposed to FTX.

I think what happened with SBF and FTX is part of the same disease the originated Bitcoin and decentralization. They weren't true adopters of decentralized technology, they just took advantage of the market, but in the end... It was a centralized platform.
So I think this reinforces the need for DeFi, for Web3, for blockchain.

And in the end, it doesn't change our vision:
Build and support the builders that will bring mass adoption to (real) decentralized solutions.


Polkastarter
Thank you, Miguel! 🙏
This will be the end of this Community AMA, thank you everyone for joining!
We can't wait to share all this great news with you in the next few weeks/months. 🎉
Have a great week. 🙂

Miguel Leite
And don't forget to submit your details here in case you want to organize a meetup in your city!
👉 https://forms.gle/HrLJd3ef8Y9NKpc37

Thank you for all the questions :)
Have a good day!


About Polkastarter
Polkastarter is the leading decentralized fundraising platform enabling crypto's most innovative projects to kick-start their journey and grow their communities. Polkastarter allows its users to make research-based decisions to participate in high-potential IDOs, NFT sales, and Gaming projects.
Polkastarter aims to be a multi-chain platform and currently, users can participate in IDOs and NFT sales on Ethereum, BNB Chain, Polygon, Celo, and Avalanche, with many more to come.

Website | Twitter | Discord | Telegram | Instagram | YouTube | Poolside Podcast
Polkastarter Blog - Latest Polkastarter News & Updates Newsletter
Join the newsletter to receive the latest updates in your inbox.
---