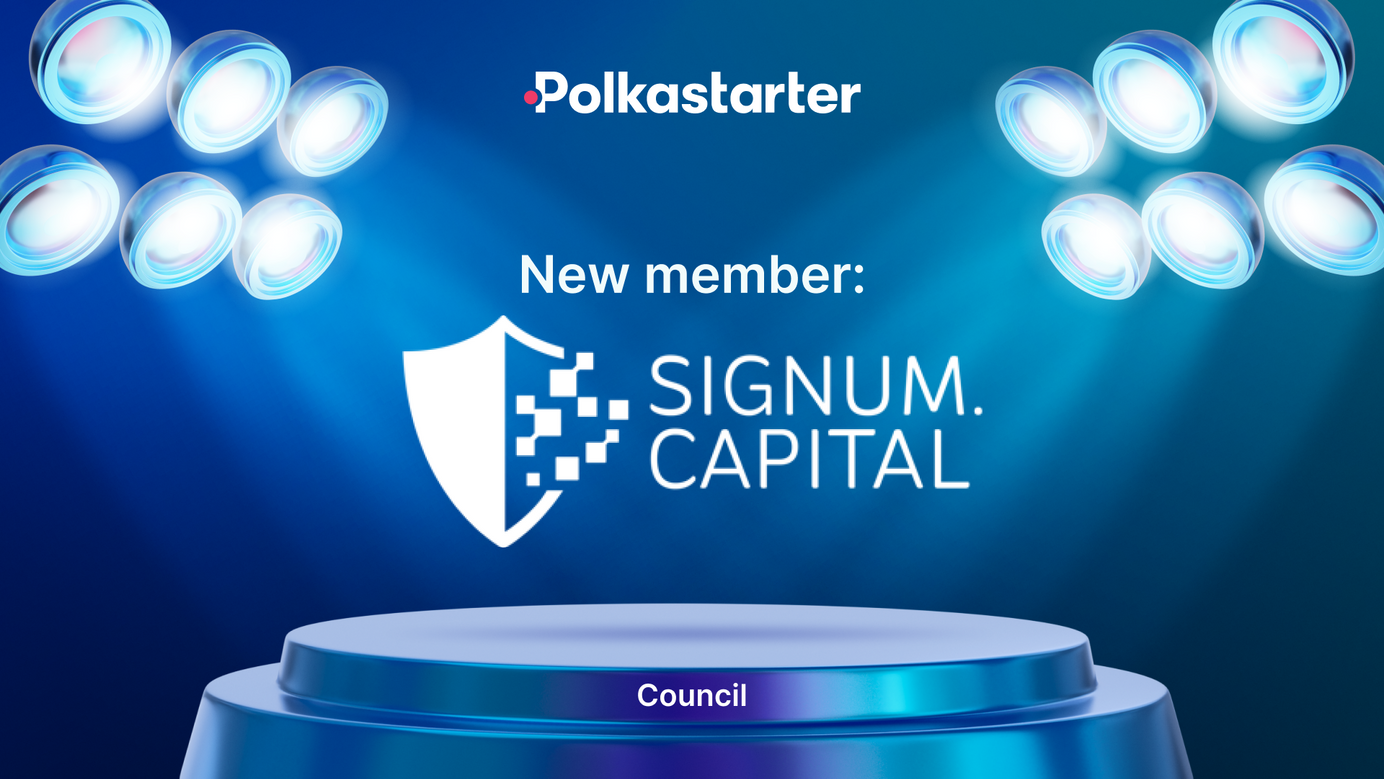 Signum Capital joins the Polkastarter Council
The distinguished blockchain VC and long-time Polkastarter backer is the latest member of the Council.
With a role to ensure the highest quality of IDO participants and provide post-IDO support, the Polkastarter Council is an independent body of leading companies, projects and individuals from the blockchain and cryptocurrency industry. The Council is responsible for selecting IDO participants and represents the expertise and know-how of the Web3 ecosystem. It further reflects the Polkastarter vision to become the leading launchpad in blockchain and digital assets and helps projects gain additional market access via its industry-leading network and competence.

Signum Capital is a Singapore-based venture capital firm focusing exclusively on blockchain-enabled companies and game-changing projects in the space. Investing across all stages of development, Signum Capital has a mission to realize the future of the blockchain economy. Signum's participations in pre-sale stages of token generation events and equity investments have led them to invest in various notable projects, including Polkadot, Moonbeam, Acala, Mina Protocol, OpenDao, Fantom, Qredo, Zilliqa, Kyber and many more.

"Polkastarter and Signum Capital are aligned in their mission to further develop the blockchain ecosystem, enable the most innovative projects in the space to gain market exposure and actively support them along their way to success." according to Signum Capital. Signum Capital's exceptional track record of investing in game-changing technologies have earned them pioneer status around the industry and their broad understanding of the crypto market makes them an invaluable member of the Polkastarter Council. Together with their early involvement with Polkastarter, their joining of the Council will invariably result in an enhanced selection process and improved support for IDO participants.

"Signum Capital joining the Polkastarter Council marks yet another important milestone in the development of the entity and will significantly boost the Council's ability to both hone the selection process, as well as provide projects with improved counsel. We have known Signum Capital since the early days and cannot wait to further work together to bring blockchain's most innovative projects to market and beyond."
- Daniel Stockhaus, CEO at Polkastarter

About Signum Capital
Founded in 2017, Signum Capital is a Singapore-based venture capital firm investing exclusively in decentralized technologies, crypto assets, and blockchain enabled products that are changing the industry landscape.

Media Contact Signum Capital: contact@signum.capital
Website | Twitter | LinkedIn


About Polkastarter
Polkastarter is the fully decentralized and compliant launchpad for blockchain and digital assets projects. The Polkastarter IDO selection process, know-how and network enable projects to receive the unique opportunity to launch their idea and subsequently receive long-term growth support. By choosing Polkastarter, projects are able to increase their exposure, grow their respective communities and tap into the blockchain ecosystem's leading pool of advisers and partners. At the same time, IDO participants are given the chance to participate in early-stage blockchain investments, in a secure and compliant environment across multiple chains, including Ethereum, Binance Smart Chain and Polygon.

Media Contact Polkastarter: press@polkastarter.com
Website | Twitter | Discord | Telegram | LinkedIn | Instagram
Polkastarter Blog - Latest Polkastarter News & Updates Newsletter
Join the newsletter to receive the latest updates in your inbox.
---