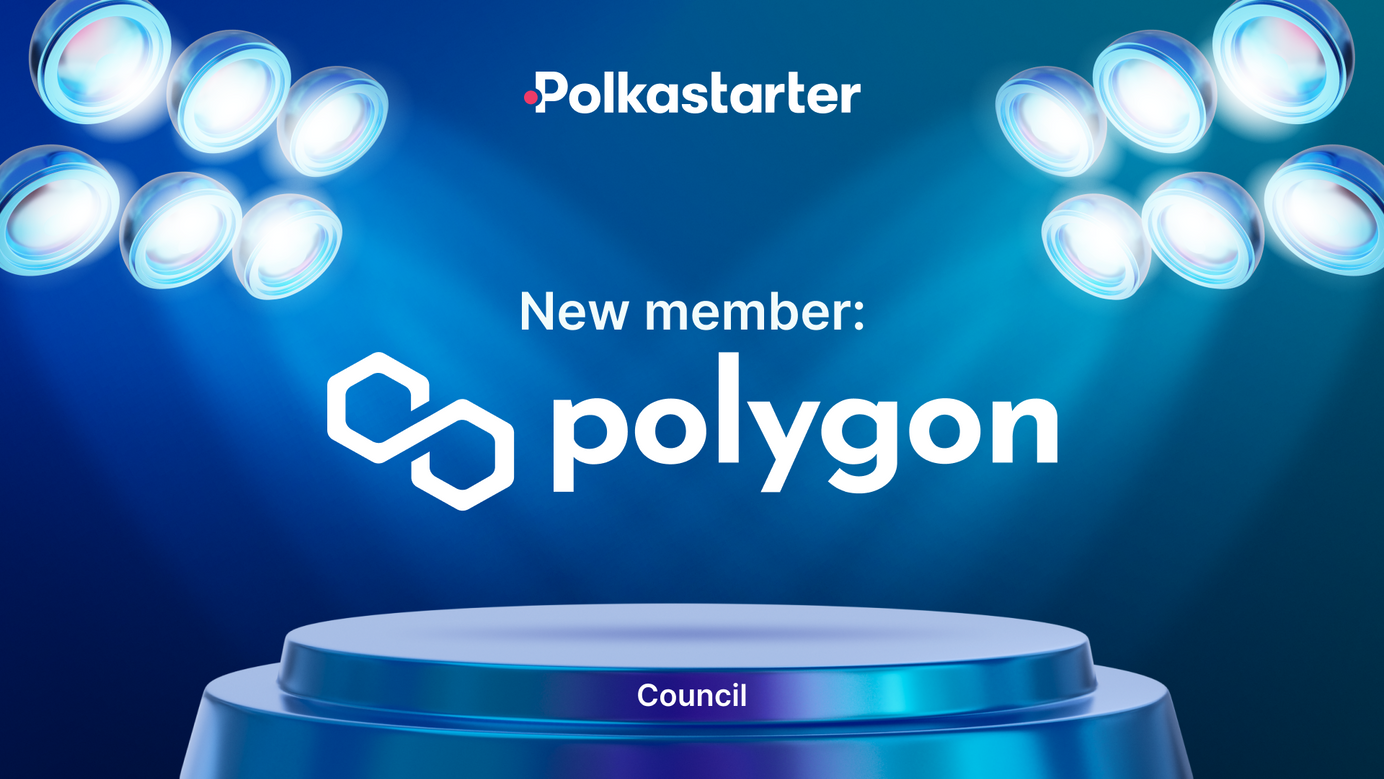 Polygon Joins the Polkastarter Council!
Leading multi-chain, Ethereum-compatible protocol Polygon joins the Polkastarter Council.

In April, we announced that Polygon had joined the Polkastarter Council!

The Polkastarter Council is a critical part of the Polkastarter ecosystem. Composed of companies, projects, and individuals, the Council is an independent arbiter in the selection process for Polkastarter IDOs. Among a growing and increasingly varied blockchain ecosystem, we are proud to welcome so many of the most talented names in the industry onto the Council.

Polygon is a protocol with a mission to build "Ethereum's internet of blockchains." Its vision is a multi-chain ecosystem that is Ethereum compatible, allowing the Ethereum ecosystem to grow infinitely without sacrificing scalability or performance. Polygon enables this with a toolset that lets Ethereum developers quickly deploy customized, Ethereum-compatible blockchains. These blockchains leverage a Proof of Stake commit-chain built by Polygon, which allows for rapid transaction speeds with secure settlement on the Ethereum mainnet.

Polygon and Polkastarter both emphasize a multi-chain approach to the blockchain ecosystem. Scalability, performance, user experience, and adoption are encouraged by solutions that provide people with robust optionality without locking them into any single one. The only way to allow this is to nurture an ecosystem that is varied (multi-chain), yet fundamentally interoperable.
"Polygon is proud to join the Polkastarter Council alongside so many impressive ecosystem participants. We have been watching the extraordinary growth of the Polkastarter platform over the last few months and have been impressed with the professionalism of the team and the strength of the community. Joining the Council provides us with the opportunity to support emerging teams that are building fundamental components of the Web3 ecosystem." - Sandeep Nailwal, Co-founder at Polygon.

Polkastarter is no stranger to Polygon, either. Many of our past IDOs are involved in the Polygon ecosystem and either beginning to explore or already integrated with the protocol. EPNS - a protocol for decentralized notifications for Web3 - announced a pilot program to enable notifications on Polygon. Dfyn is a multi-chain DEX that launched on Polygon and will continue expanding to more networks. Ethermon - an NFT application to catch, train, battle, and trade monsters - has released custom "mons" that are catchable only on the Polygon network. And that's just the beginning of our relationship with Polygon; we have more announcements coming soon.
"Polygon is a tremendous force in the ecosystems of interoperability, scalability, and multi-chain growth. Their place on the Polkastarter Council will be a tremendous asset to the continued quality of the projects that fundraise with Polkastarter and to the evolution of the entire protocol." -- Daniel Stockhaus, CEO Polkastarter
About Polygon
Polygon is the first well-structured, easy-to-use platform for Ethereum scaling and infrastructure development. Its core component is Polygon SDK, a modular, flexible framework that supports building and connecting Secured Chains like Plasma, Optimistic Rollups, zkRollups, Validium etc and Standalone Chains like Polygon POS, designed for flexibility and independence. Polygon's scaling solutions have seen widespread adoption with 350+ Dapps, ~128M txns and ~1M+ unique users.

If you're an Ethereum Developer, you're already a Polygon developer! Leverage Polygon's fast and secure txns for your Dapp, get started here.

Website | Twitter | Reddit | Discord | Telegram

About Polkastarter
Polkastarter is the fully decentralized protocol for launching new ideas. Our curation process and industry access enable us to offer the best new projects in blockchain and digital assets.
With Polkastarter, decentralized projects can raise awareness, build a loyal community, and receive long-term support. Users of the platform will be able to participate in a secure and compliant environment, and use assets both in and beyond the current ERC20 standard.

Media Contact Polkastarter: press@polkastarter.com
Website | Telegram | Medium | Twitter | Instagram
Polkastarter Blog - Latest Polkastarter News & Updates Newsletter
Join the newsletter to receive the latest updates in your inbox.
---